Bulls Getting Ahead of Themselves?
As of this moment, the S&P 500 is up over 1% for the day.  Our MarketMood Indicator called this an up day and our daily trading indicator (CDMS) said it would be a good day to watch for scalp buy opportunities.  That makes it a day for celebration, right?  Not exactly. 
Today's mood pattern reflects "wrong assumptions" and "denial."  This is almost always followed by an immediate reversal when some undesirable reality breaks through, usually the following day (which happens this time to be a Saturday when the market is closed).  From a technical perspective, our momentum indicator (MAM) is reading mega-uber-overbought for a third day in a row, which cautions at least a quick, yet sizeable pullback.  Our weekend data is reflecting an up market open for Monday, yet it also points to a volatile mood and hot tempers that could lead to new geopolitical flare-ups or other themes of violence in the news.  
There are no near-term MMI signals for shorting at this time, only a caution that there is something just around the corner that we are not able to see and it may be premature to signal the "all clear" quite yet.  Let's go over what a few of our charts say about  where we are at:
On the immediate time frame, the MMI vs. S&P chart displays a market a bit ahead of itself as was seen in the latter part of June.  

The MMI2 daily chart appears like at least a brief pullback is "missing."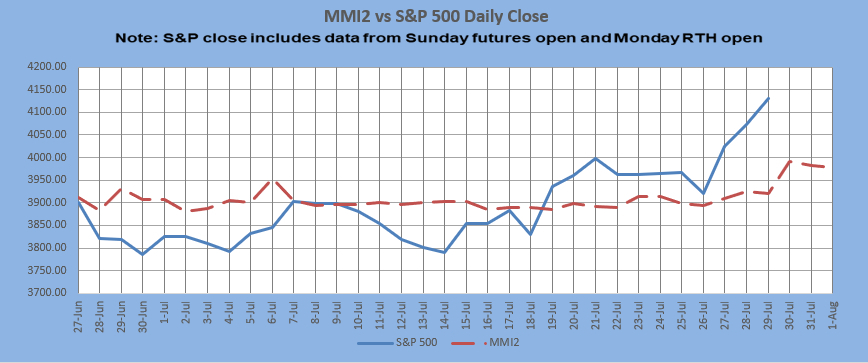 Finally, our weekly chart implies a topping and pullback can be anticipated over the next few weeks:

In summary, while it's certainly possible that the low in the market is in for now, and again, none of our immediate or daily signals are saying to short, there are reasons to be cautious in the near term and to be prepared for a bit of turbulence through the first few weeks of August.