Break Down Too - Market Analysis for Sep 21st, 2020
As we saw today, both GLD and silver broke their immediate bullish smaller degree set ups, and made it quite clear that their respecting pullbacks have not completed. And, in both patterns, I am expecting at least one more lower low before I would consider them completed.
In the GLD, I have outlined several times that the best bullish scenario we had on the chart was a possible leading diagonal, but I simply do not trust leading diagonals as strong trading cues. Therefore, the market was going to have to prove it to me, as it was equally likely for it to be an e-wave of a b-wave triangle. Today, the market made it clear it was the b-wave triangle. However, the decline did not start out with a clear 5-wave structure, which makes me now consider this c-wave of iv as an ending diagonal. That means that the next lower low we see in GLD can finally complete this entire correction which we began back in early August.
But, I am still going to need to see a clear 5-wave rally off whatever low we strike to make it highly likely that wave iv has completed and wave v has begun.
In silver, the current decline seems to be a c-wave, and we seem to have completed the 3rd wave in that c-wave. As I noted in prior updates, should the market fail to hold that 26 region of support, it would open the door to a drop as deep as the 22 region. Clearly, that is the path chosen by silver today.
So, at this point in time, I am not going to attempt to micro count silver. Rather, I am going to expect a "bounce" which will likely be the 4th wave within this c-wave, which will set up the positive divergence I like to see in the MACD on the 144 minute chart to prepare us for an imminent bottoming in silver. Therefore, as it stands right now, I have no clear indication that price has yet struck a bottom.
Lastly, the GDX has still been holding the support for the purple wave [4] triangle by the skin of its teeth. Moreover, the rally we have seen off that low has not been blowing my socks off, and is clearly not providing us any indications that this 4th wave in GDX has yet concluded.
As you know, GDX had to hold over the 39.29 level, and begin a clear 5-wave rally through 43.65 to strongly indicate we have begun the 5th wave to 55+. At the time of my writing this update, I have nothing clear to suggest this will be the case. Rather, unless the market shows me something more bullish into tomorrow, I think the probabilities have been moving towards a test of the 37 region. Whether we see an e-wave in the green b-wave triangle or whether we see a direct break down below 39.29 is not something I can yet discern. But, the main point is that unless the GDX makes it VERY clear that we are developing a 5-wave rally off today's low, I am starting to more strongly consider a test of the 37 region can occur before this wave [4] concludes.
Overall, I think we are finally getting close to the point where we only have a few squiggles left to complete this pullback which began almost two months ago. In fact, I think we are likely within a week or two of striking that bottom, and starting the next rally phase I expect over the coming months.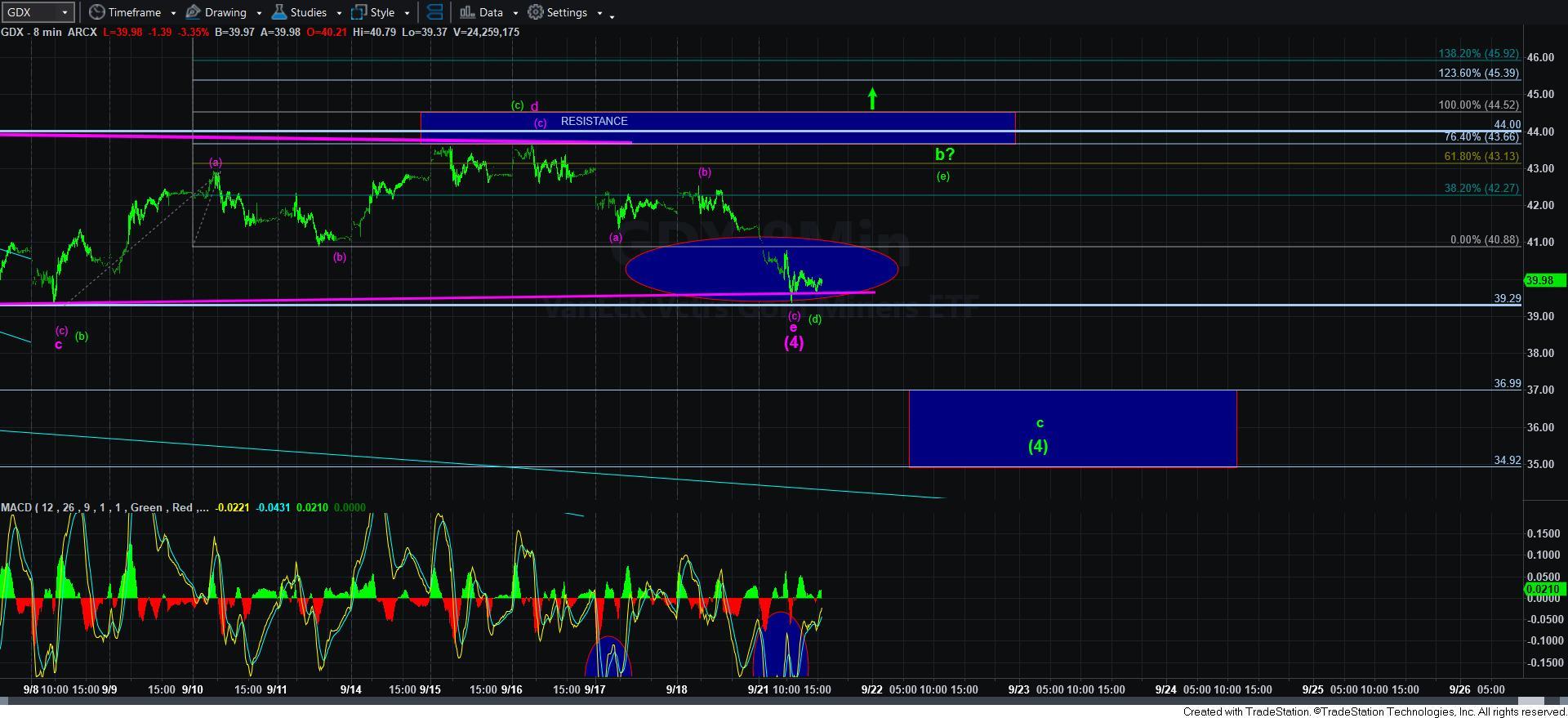 GDX8min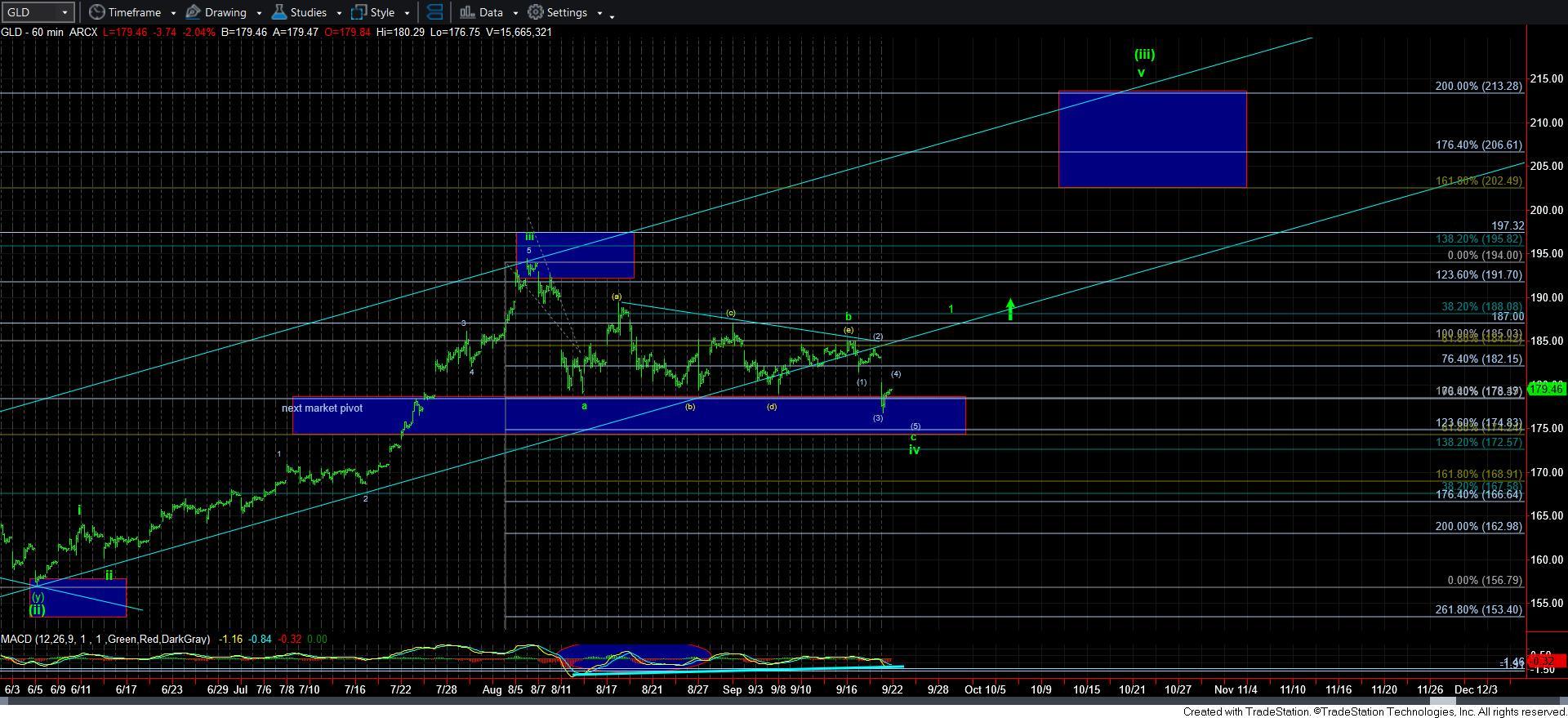 GLD60min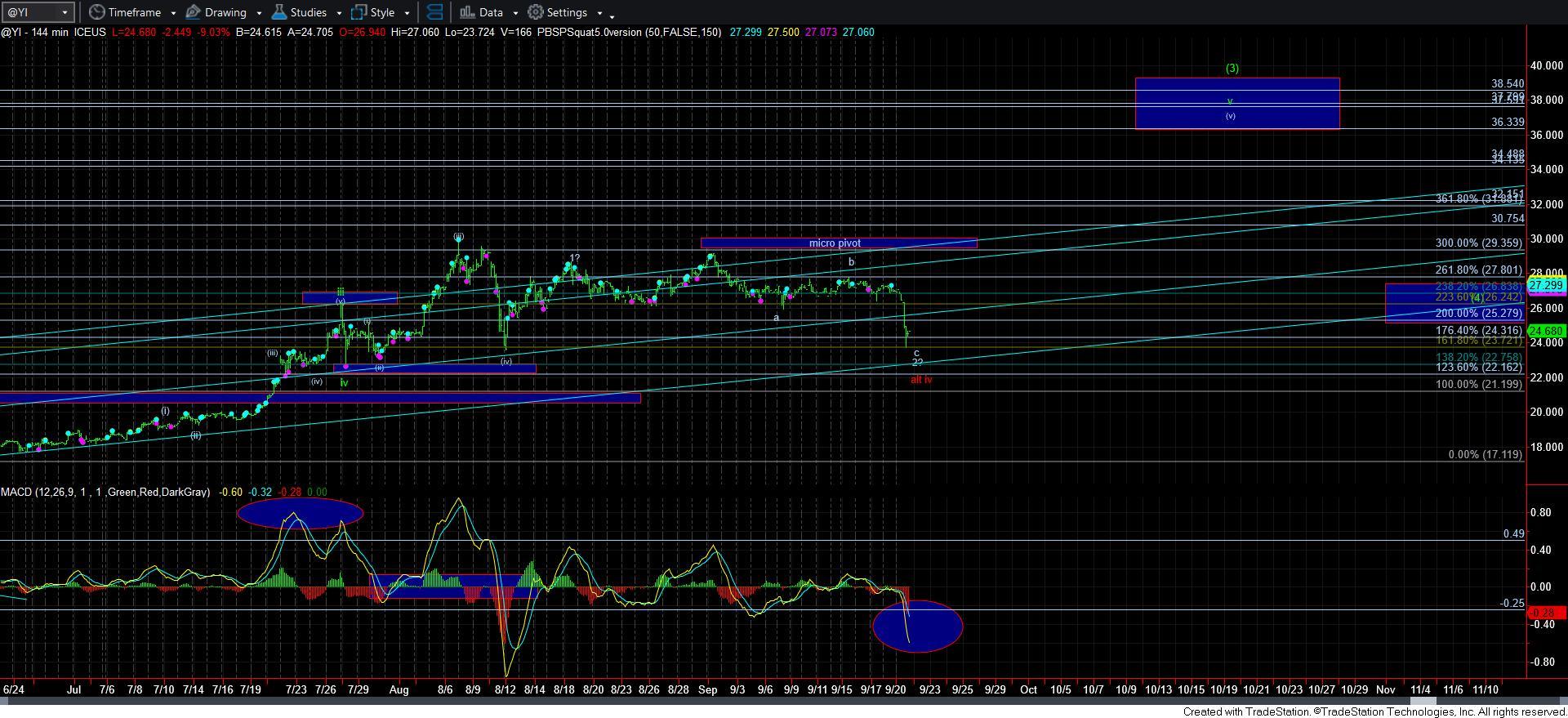 silver144min