Are We Setting Up For More Market Downside?
Last weekend, we were looking for a rally towards the 2800SPX region, followed by a downside reaction, and the market certainly complied. With a high struck this past week at 2789SPX, we saw the market back off that region, and drop down towards the next support box we then placed on our chart.
With the action we have seen this past week, the market is still suggesting that we can be heading down towards the 2440-2530 support region one more time to complete wave (4).
So, let's again go through what we need to see to keep pressure down towards the 2440SPX region. With the market moving higher on Friday, it suggests that we could see further retracements higher early in the coming week. But, as long as we remain below the high we struck last week, pressure will continue to remain down, with an ideal target at 2440SPX, wherein a=c in this potential wave (4).
While I am uncertain as to whether we have a 1-2, i-ii in place (which would keep this retracement below 2730SPX), of it is a larger i-ii, which would suggest we can rally as high as the 2765-70SPX region before turning down, the next 5 wave structure to the downside will get me immediately bearish in the coming week.
Larger degree market support now is 2600-2630SPX, with a break below that clearly pointing towards 2530SPX next. However, I do want to note that holding that support can still maintain the alternative count in blue, or even have us consider a triangle for this wave (4). For this reason, it is important to see a break of the 2600SPX region to make a drop to at least 2530 a much higher probability, with an ideal target in the 2440SPX region.
Alternatively, as we have discussed so many times before, if the market has already completed wave (4) at the February lows, then we will likely see an impulsive rally take us through the resistance noted on the 5-minute chart. Such a break out would open the door to us being in wave (5) already, which is targeting the 3011-3223SPX region, with my preferred target being in the 3223SPX region. But, as I have noted many times, I just don't see this as the greater probability at this time, and the market will have to prove this intention to me, as presented in the blue count.
It would seem the next two weeks are quite pivotal as to whether we see a lower low for wave (4), below that struck in February. For now, I am still looking lower until the market proves otherwise in the blue wave count.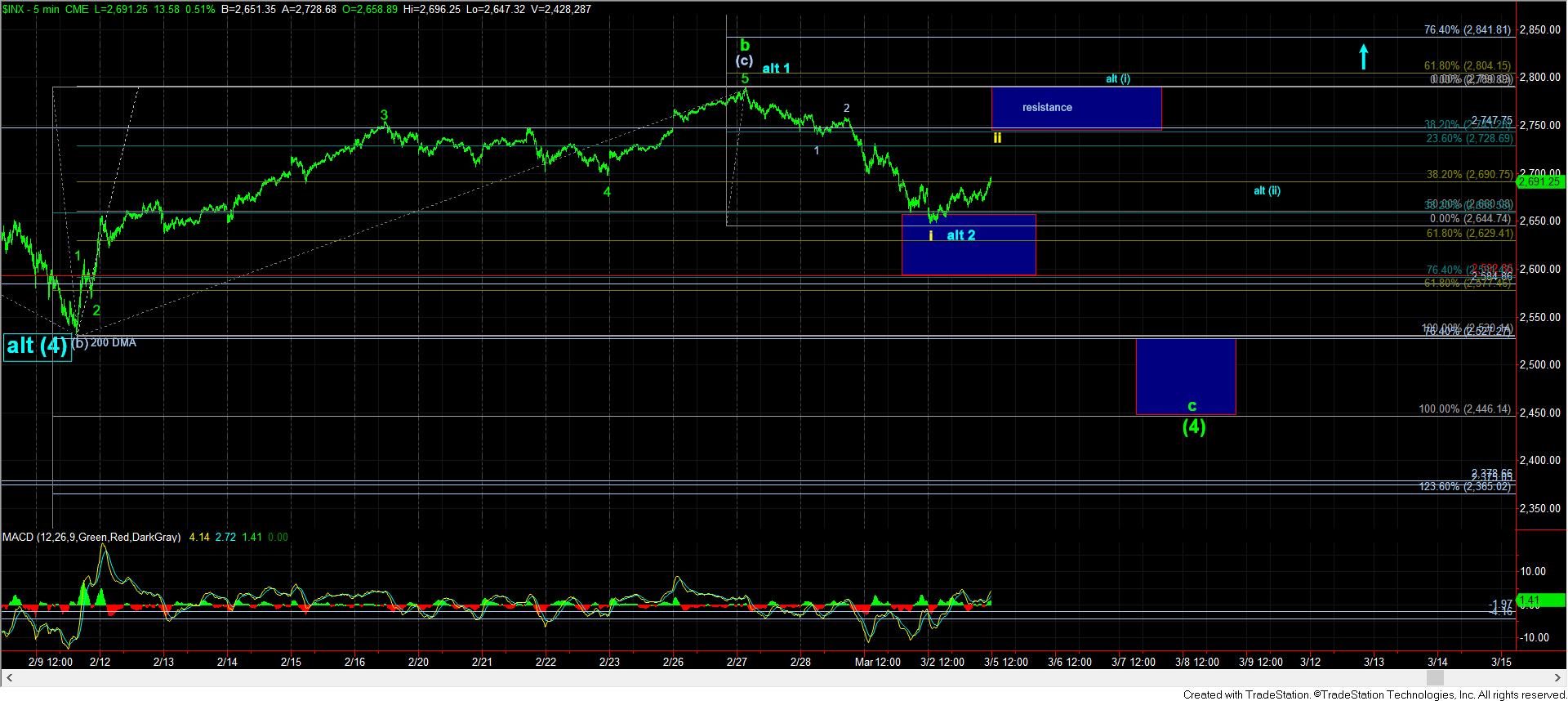 5minSPX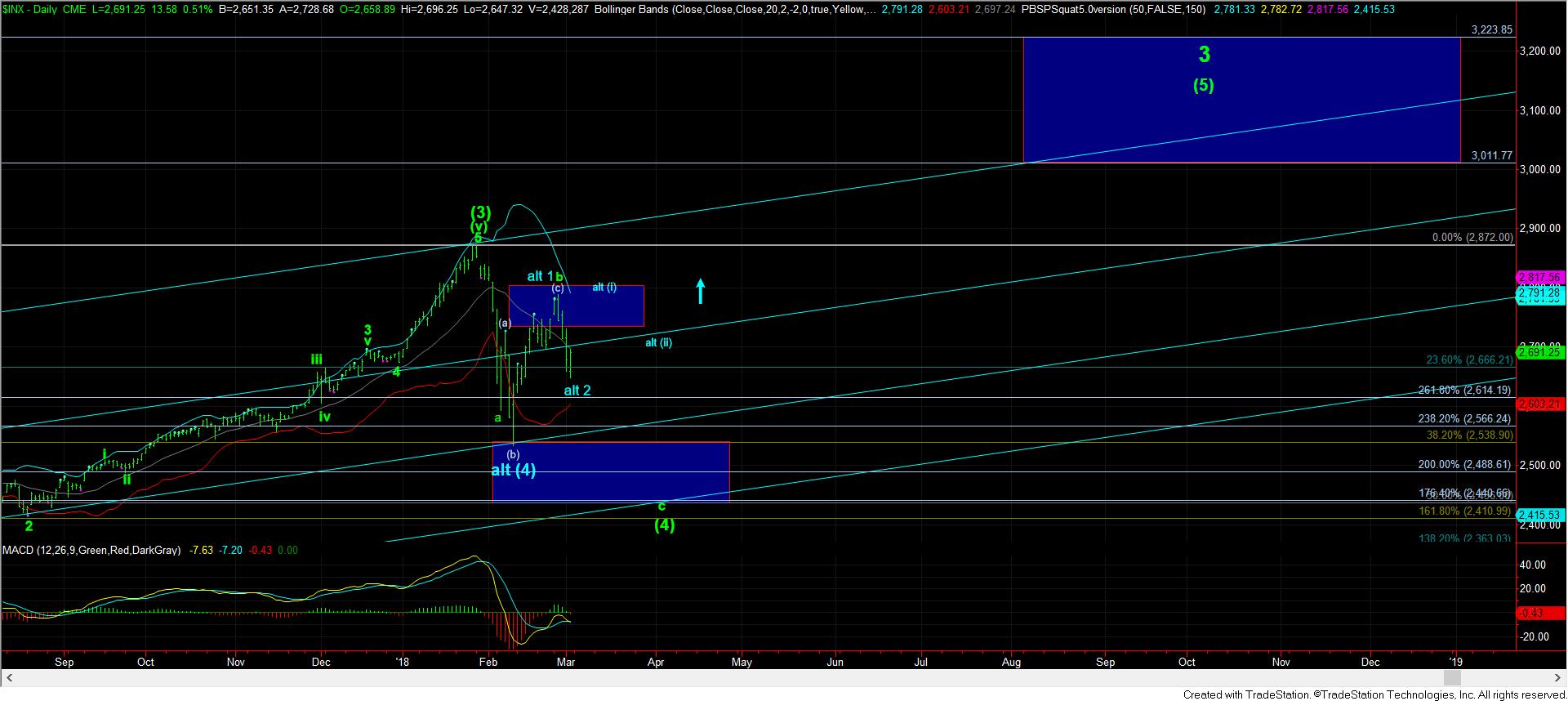 1SPXdaily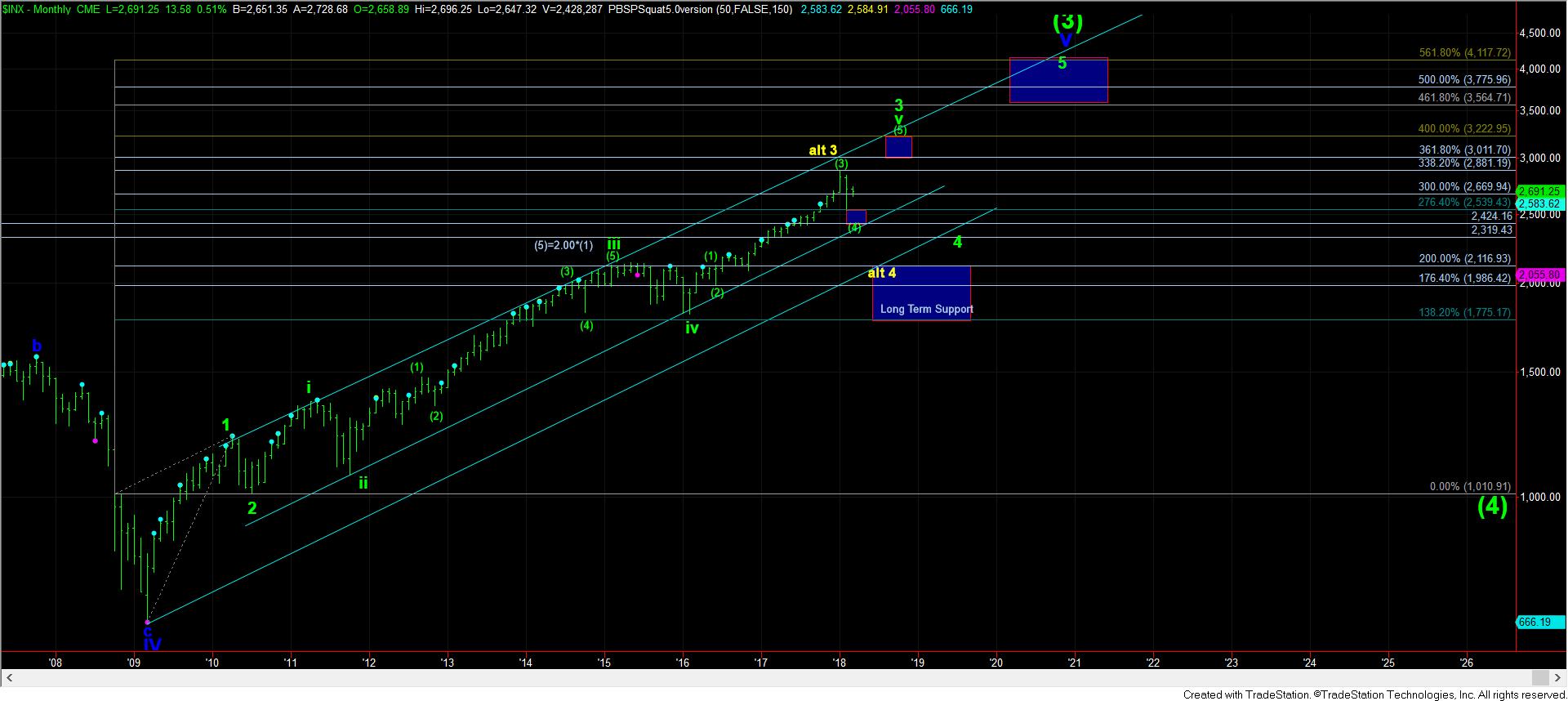 LONGTERMSPX