Are We Setting Up Another Major Move Higher?
As I say all the time, price is more important to me than anything else when I do my analysis. So, while the technicals still look like they need more of a reset, price MAY be suggesting we are starting the next bigger move higher. So, how will we know.
Well, GC has now pushed above the prior high. Could that be all of the wave ii we get? It is absolutely possible, and will become probable if we get the next [i][ii] upside trigger. As you can see, we still have not completed the next 5 wave move off the low. And, if we do, it will likely be pointing us towards the next major resistance region, which is likely due to psychological reasons - - $2,000.
But, the other issue with that region is that it is also the 1.00 extension off the low struck at the end of 2022. Therefore, should the market rally up towards that region, my primary count will be wave [i] of wave iii. Thereafter, I would expect a corrective pullback or consolidation. And, you can choose to buy that pullback/consolidation. Your stops would then be set at the .618 extension of waves [1] and [2] in the 1930 region. And, should the market provide us with the [i][ii] set up and then break over the wave [i] high, I think we see a rather strong rally pointing us to towards the 2140 region, and maybe even higher depending upon the extensions we see.
When it comes to silver, there is no clear wave structure we have seen for quite some time, as we have been in the middle of an overlapping mess. Clearly, we have enough structure in place to consider wave ii to have completed. But, I need to see a 5-wave rally for wave 1 take shape in the coming days. That means we must see immediate upside continuation to complete wave 1. Should we see that, and then see a corrective wave 2 pullback thereafter, the next move back over the high of wave 1 will likely send us into what may be one of the strongest moves we have seen in silver in quite a number of years. So, I will be waiting for that trigger before I get more aggressively long.
Now comes the problem child. . . GDX. Yes, I am still bullish for GDX. But, I just don't have any indications of a 2nd wave. And, it's the 2nd waves that set up the rest of the structure for waves [3], [4] ad [5]. So, I am still somewhat feeling this out for a bit. Needless to say, a break out through resistance will force a count of wave [3] no matter what. But, I do not want to have to back into that, as that is what we may be forced to do in SPX. And, I would much prefer a standard structure so we can get much more aggressive with lower risk.
So, for now, GDC and silver have potential to lead us out of this recent consolidation. The next few days will be the tell. So, before we begin to lick our chops, let's get the set up and the break out. The next segment of the rally will likely be very strong once it confirms.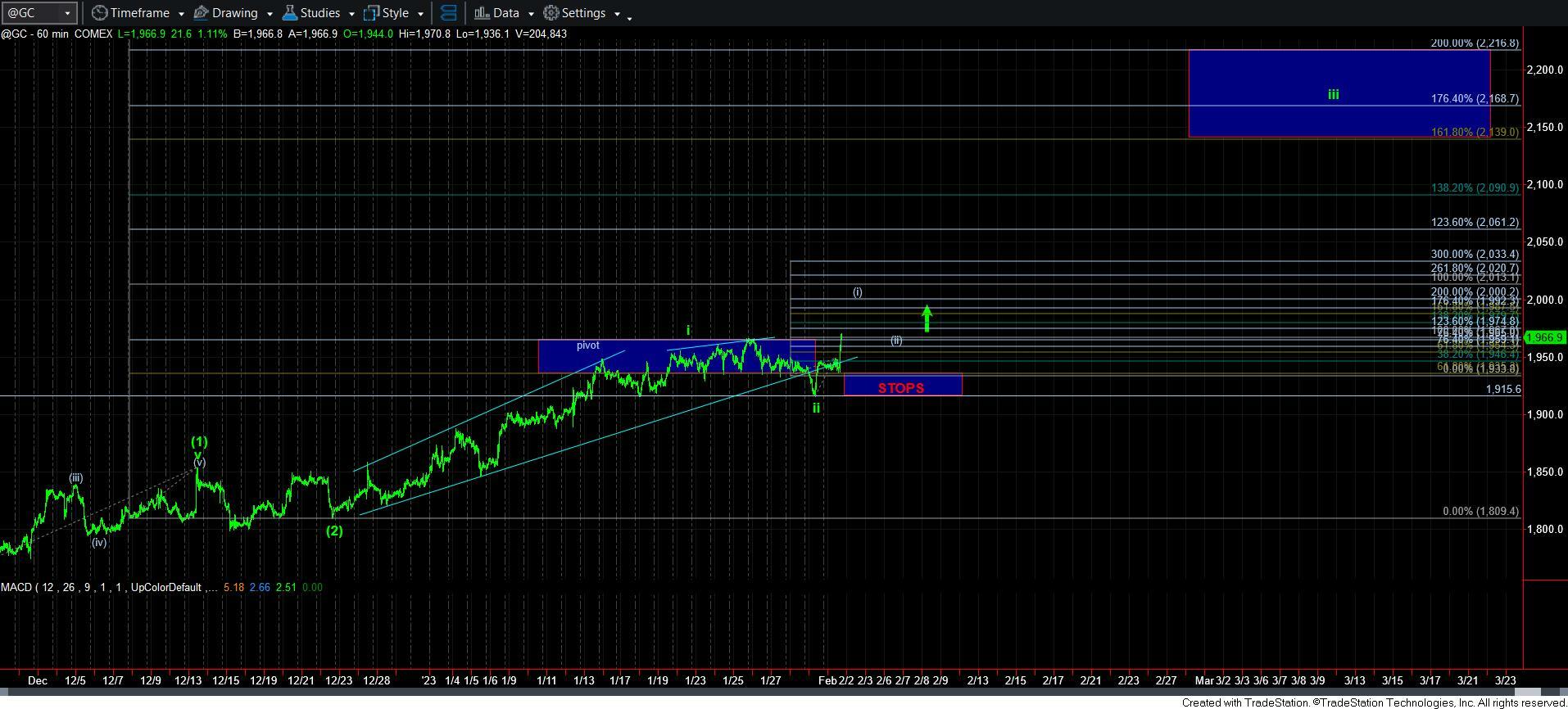 GC60min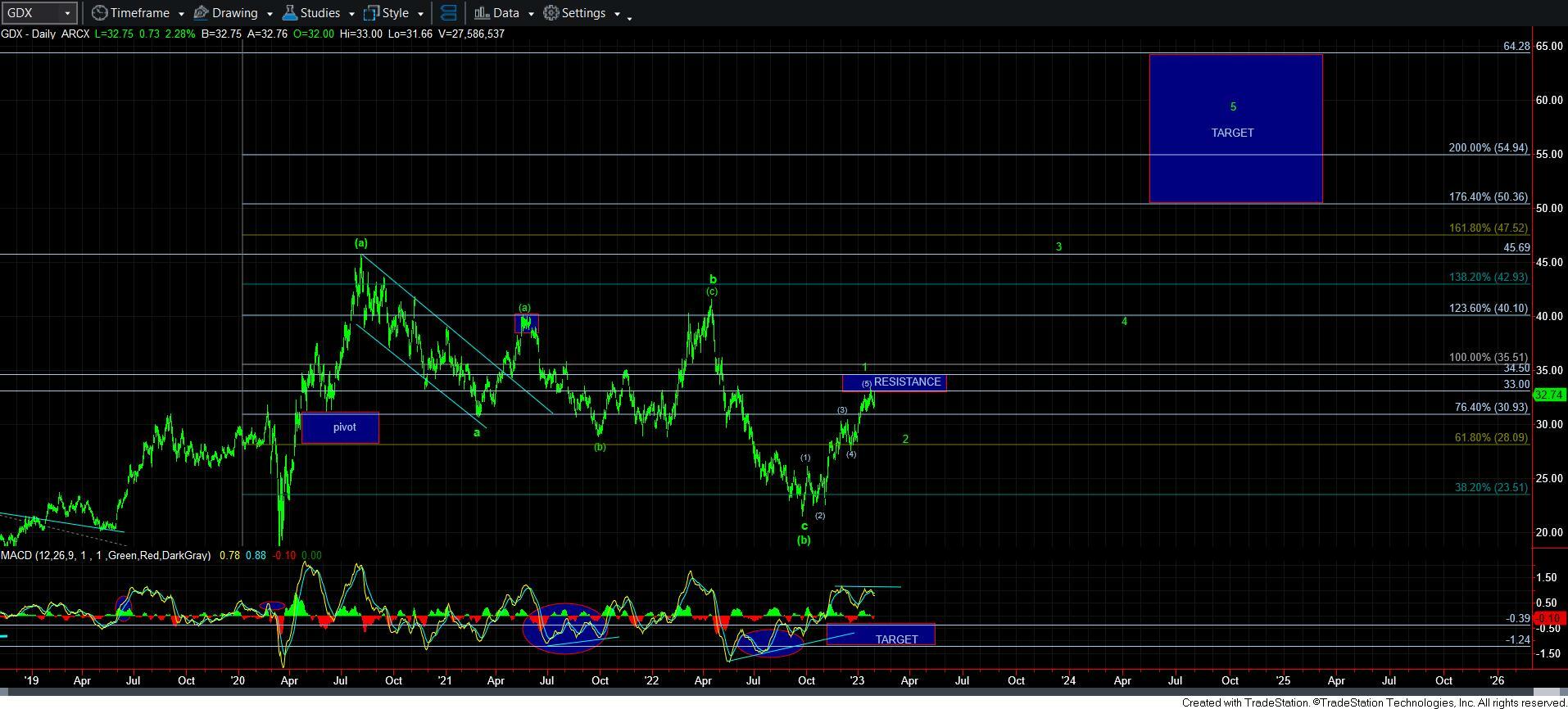 GDXdaily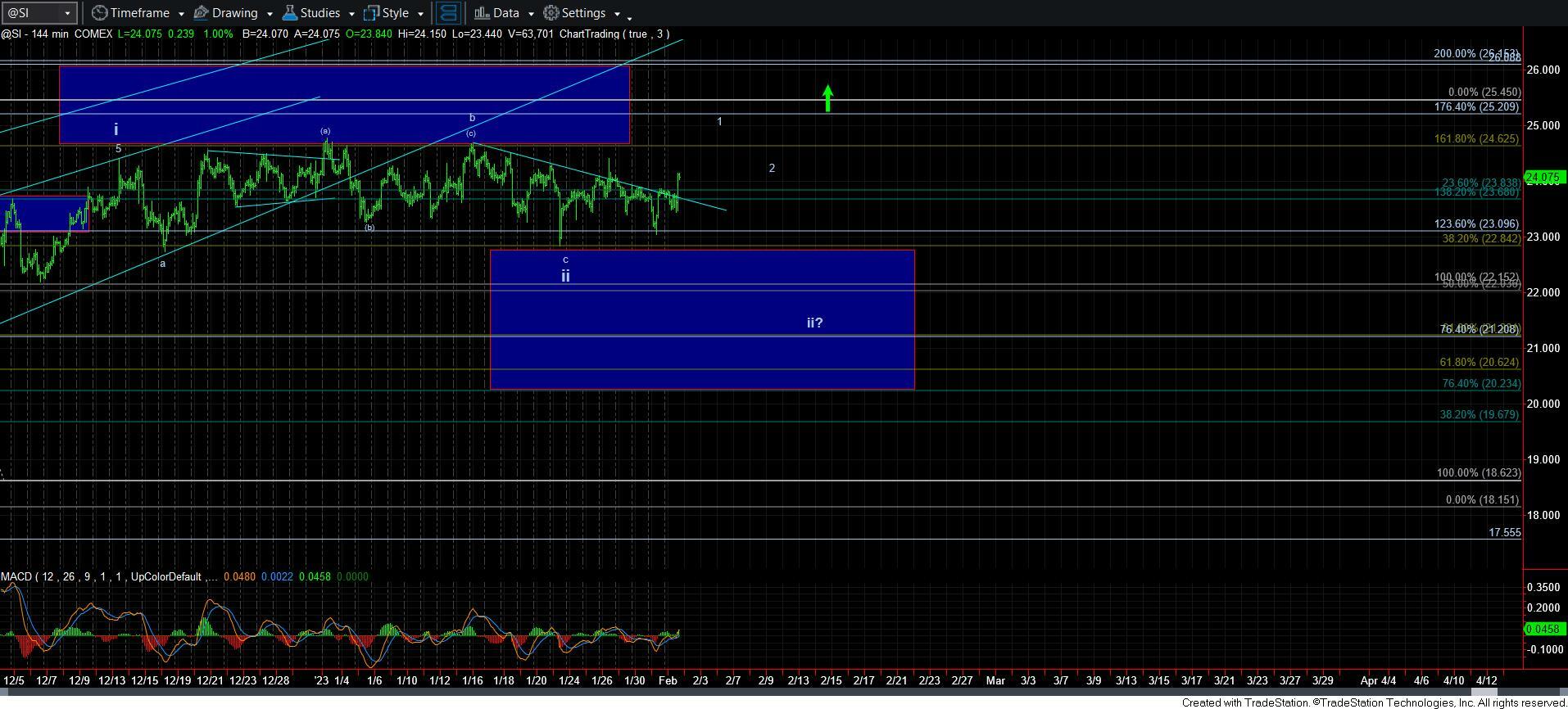 Silver-144min