When I looked at the market on Sunday, it looked like the bulls had a fighting chance to build a set up to 4300SPX sooner rather than later. Yet, as I have noted for the last two weeks, the market needed a little time to clarify its intention. So, I was being patient for the market to give me clues as to its intention.
Once we reached the high we struck on Monday at around mid-day, I sent out an alert to the members of ElliottWaveTrader explaining that it was time to reduce risk, as the bulls had a lot to prove and we may be striking a high that can set us up for a decline to 3800SPX.
And, as the day progressed, we developed a smaller degree 5-wave drop off those highs. And, I told our members that they should now be on high alert for the potential that we can drop down to the 3800SPX region and take the scenic route to 4300SPX instead of the direct path.
As we went into Tuesday, the market gave us a larger degree 5-wave structure to the downside. So, it was time to prepare for a retracement and a follow through to the downside. And, this morning, these are the charts I posted to our members as the market progressed to our wave 2 topping target: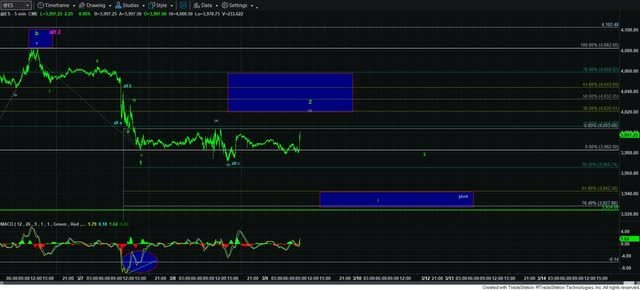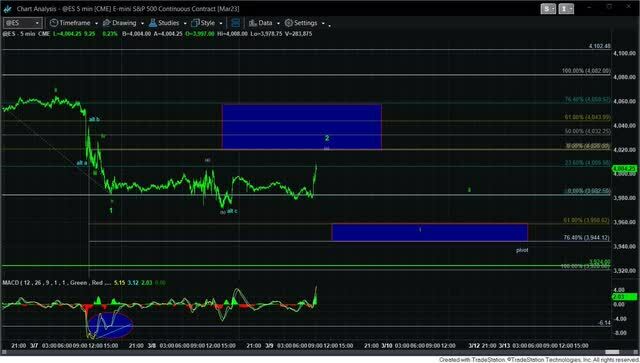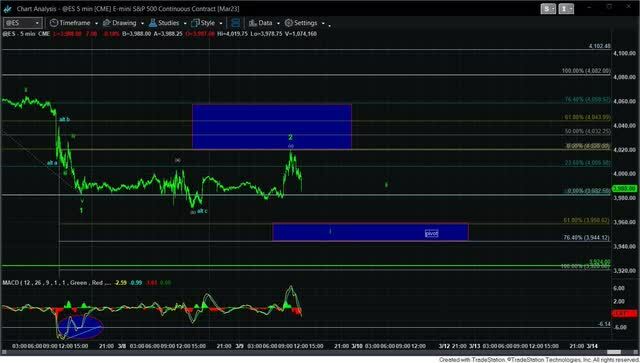 And, as we now know, the market continued down quite rapidly from there, as my next lower target was the blue box below the market, as you can see from the charts above.
And, as one of our members noted during the day today:
"I'd like to coin a new term: Avi-ously. I don't know what he sees, but his methods and analysis are not of this world, at least not my world. But, Avi-ously, he knows. Props to our Big Guy."
At the close of the market, he posted again:
"And I quote from his 14:16:44 post, "if we break down to the 3912/20ES region and come back up through the pivot, that would be a first signal that downside may not fulfill its full targets....the market is set up to target the 3810SPX region. But, we will watch how it handles the pivot in the coming day or two to make sure."

Look where we bottomed at 3:20PM and look where we closed. Now, we still have to see if we can get up through the pivot, but Avi-ously, I'll be watching."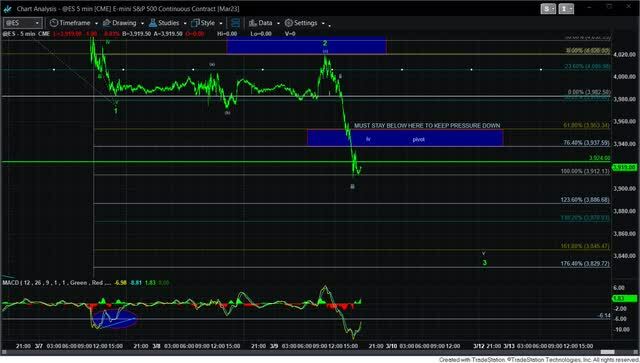 Now, with the market breaking down below that blue box – which I outline as a market pivot, it has now become our resistance. And, this is the key. We expected the market to bounce back to the pivot from below, which it did at the end of the day on Thursday. If we are able to hold this pivot into tomorrow morning, then we have a set up that is pointing us down to the 3810SPX region over the coming days.
However, if the market breaks back out over that pivot, we will likely move into more whipsaw trading unless we see a CLEAR 5-wave rally begin with that break out.
For now, pressure is down. But, know where that can change.
And, if you wonder why I continue to do what I do, it is due to our members telling me how much of a difference we make in their lives, as this one did today:
"Before coming here I would have puked to death in such moments, now I am popcorn watching and unloading my hedge/short at support. So happy to have found you Avi. Told you several times but you changed my life, and therefore my family's future."
Have a good evening.
Editor's Note: On Friday, the market came back to test the pivot from below, and then continued down to Avi's next target in the 3829-45SPX region, with the low of the week struck on Friday at 3846.