A Very Pleasant Update For Metals Bulls
The metals have performed quite wonderfully early this week if you are bullish the complex. And, they have stopped me out of most of my hedges while I have been out in religious observance of the Passover holiday the last two days.
In fact, with silver's move off last week's low, we now have 5 waves up off its March lows, and the laggard in the group is showing bullish intentions. Moreover, GLD has broken out higher as well, and has provided us with a nice 5 waves up off its March lows.
As far as GDX is concerned, it looked bullish even last week, and the only question is how accelerated its bullish count was. However, the only larger degree pullback I can see of any potential on any of the charts is presented by the yellow count on the GDX chart. But, at this time, due to the patterns seen in the GLD and silver, I am not placing a high probability on that potential. Rather, that will remain as my alternative "bearish" count.
For now, while there is still a little room higher for metals to complete the move up started this week, I would like to see a high-level consolidation take hold into next week in the complex. But, please remember that the complex has been setting up for a heart of a 3rd wave for quite some time now, which is why I have noted time and again that I will not sell any of my positions. Of course, the market can always surprise us by continuing to power higher directly in the heart of its 3rd wave, but my preference now is for a consolidation/pullback to take hold, to fill in wave (2) in GLD and wave 2 in silver.
Based upon some of the feedback I have been getting of late, I think I have caused too many people to focus on the micro-counts a bit too much, which has caused more "emotion" than investors should be having in this complex. So, I will likely be keeping my weekend and mid-week metals updates focused more on the bigger picture, which has remained quite bullish the entire time. (And, yes, that still applies even in the yellow count on the daily GDX chart, as that will simply provide people with another huge opportunity to add to their positions).
Lastly, since the complex bottomed a year and a half ago, pullbacks have been quite deep as the market likely needed to scare everyone into believing the bear market is back. But, once we truly transition into a bullish trend, pullbacks will become very shallow. So, as far as the pullback I would like to see from this region, I am unsure if the shallow pullback's will begin right now. But, I will assure you that once this complex really gets moving, it will not allow many to board the train. For this reason, I have noted dozens of times that I will not be selling any of my long positions, as the market is set up quite bullishly on the long-term time frames.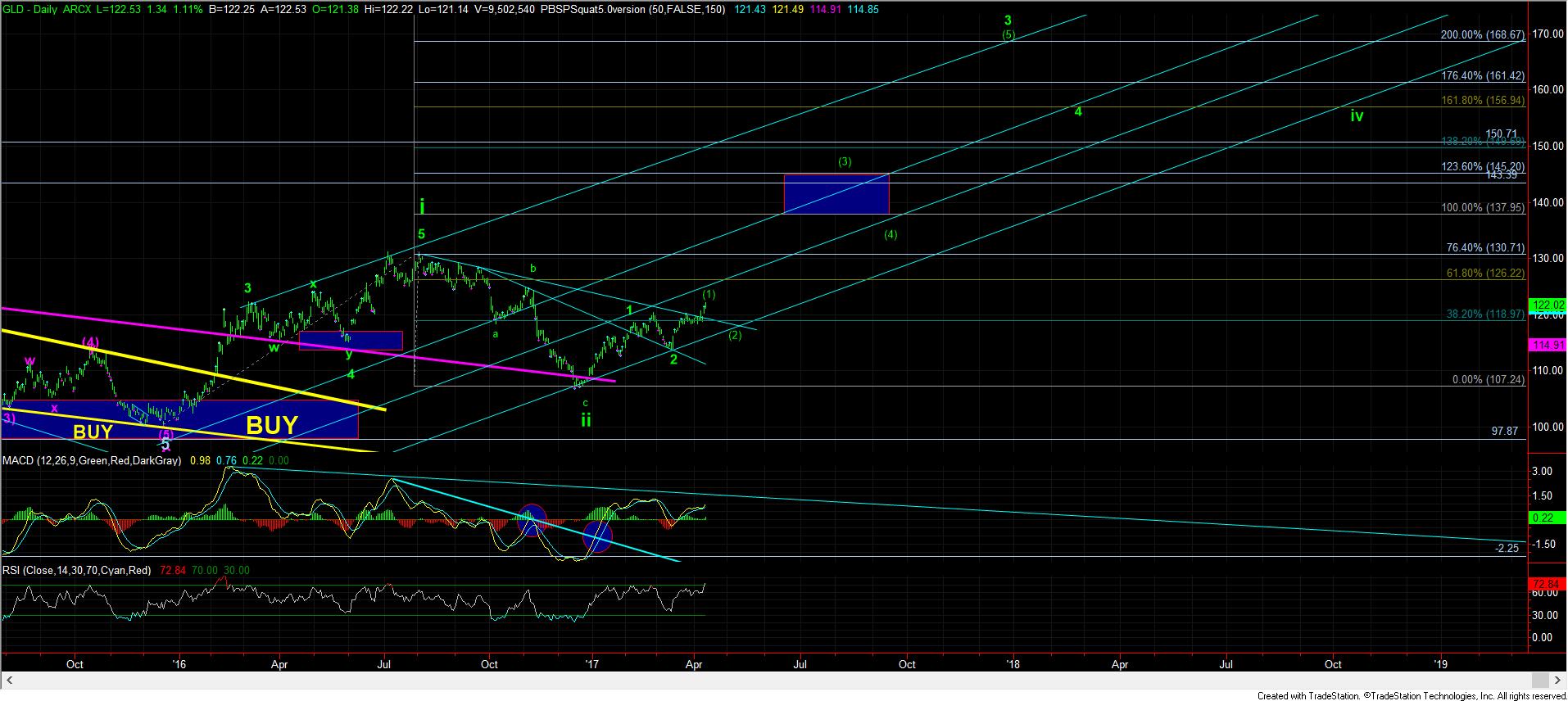 GLDdaily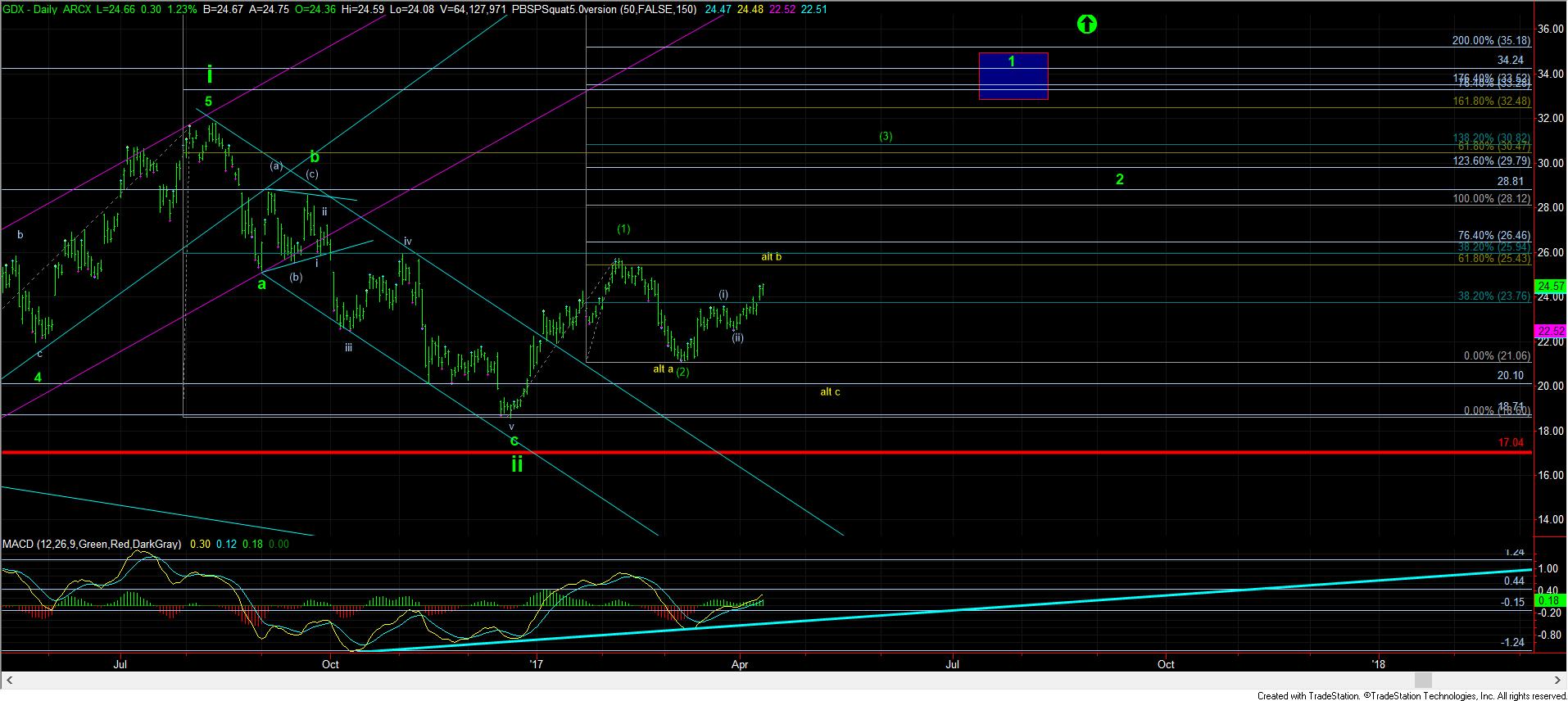 GDXdaily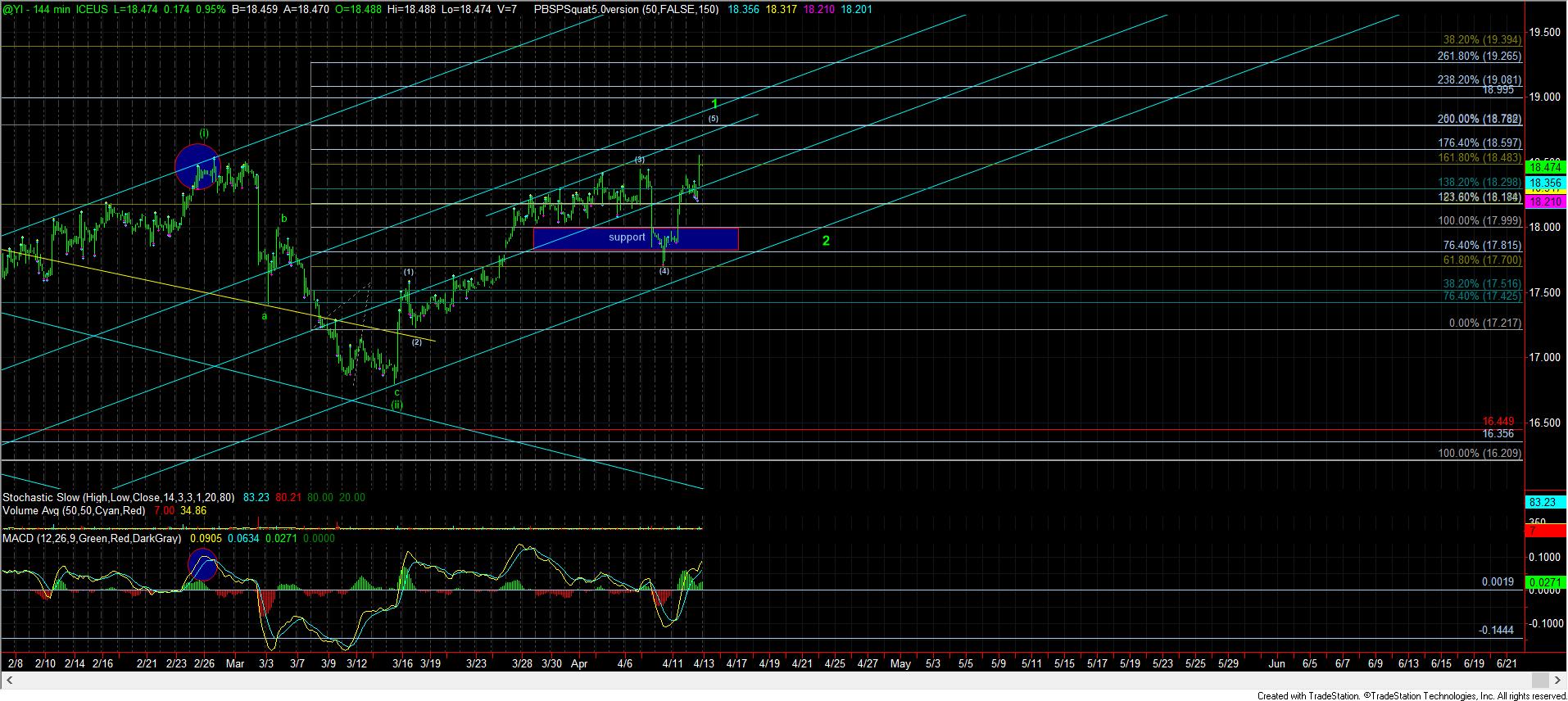 silver144min