5 Up In The Some Metals Charts
While many of you have been discussing this in the chat room, it is true that we can count 5-waves up in GDX and GLD. However, the move up in silver is not as clearly counted in such a manner.
Yet, however you view the chart, in my humble opinion, it is not likely that this 5-wave rally is going to project to take us to a major break out just yet. Rather, even if we do see a more full 5-wave rally off this week's low, it will likely only challenge the highs recently struck in the complex. And, in my opinion, this is likely a c-wave rally within a larger b-wave structure. The question is if we can challenge those highs or not?
In the most bearish case scenario right now, this 5-wave rally may be all of the c-wave we get, as noted in the alternative [b] wave on my charts. But, in order to make this the primary expectation, we will need to break down below this week's low. Should that occur, then my primary count would have us already in the c-wave down in what I am counting as a 2nd wave.
However, if the market can pullback correctively off this recent rally, and then rally back over the high we strike in this rally, then I am going to expect for us to challenge the prior highs in a more protracted b-wave rally.
Many of you are wondering why I am not viewing us as having potentially bottomed in a pullback which can begin the next phase of a bullish move. Well, it is rather clear that both gold and silver made their lower lows this week on a 3-wave decline, which, to me, suggests that the low struck was a b-wave, as shown in my charts. For this reason, I am viewing this 5-wave rally as a c-wave.
In summary, the next pullback in the market will tell us if we can challenge the prior highs before this pullback runs its course or not. If the next smaller degree drop is clearly corrective, and we are then able to take out the highs we strike in this current rally, then we will likely challenge the prior highs. Alternatively, if we break down below this week's low, then we are likely heading down to complete this correction sooner rather than later.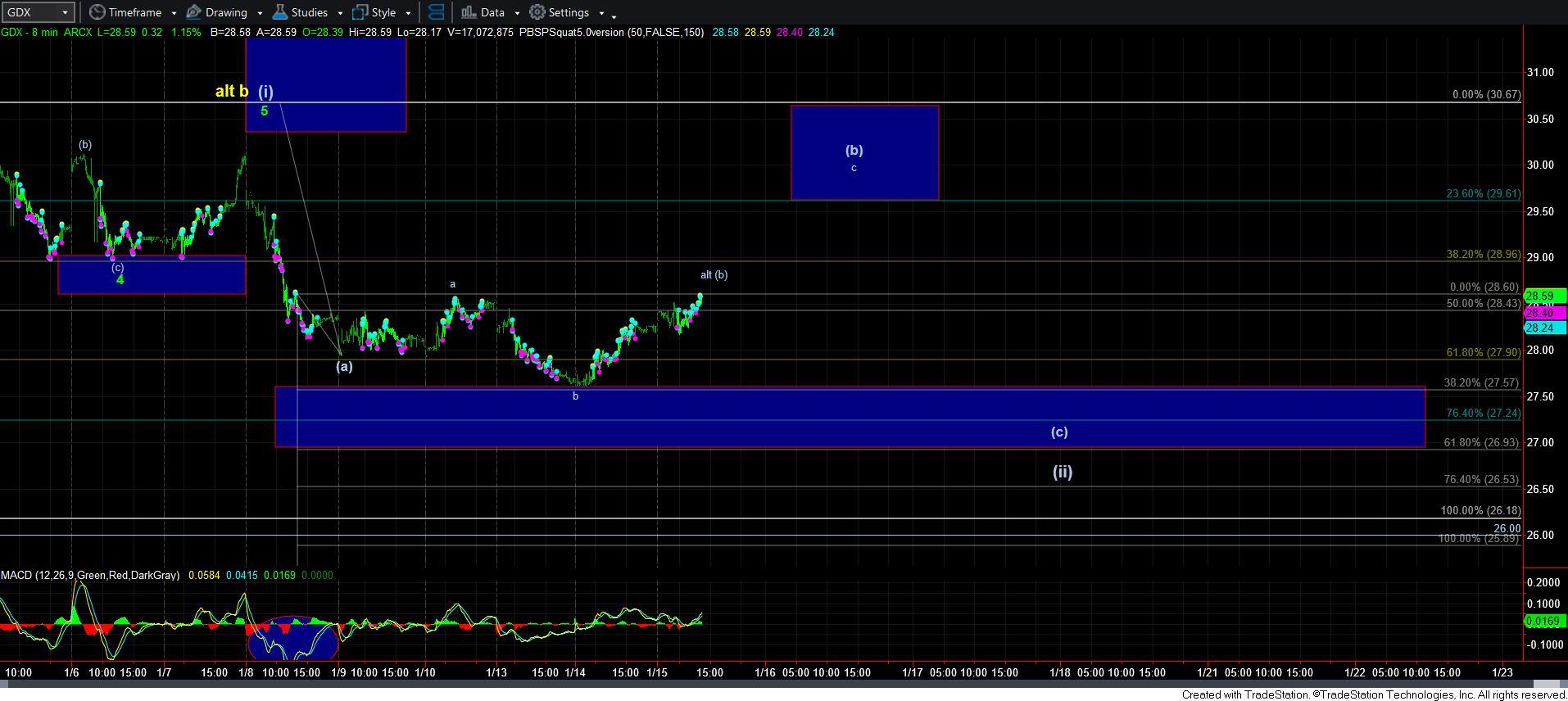 GDX-8min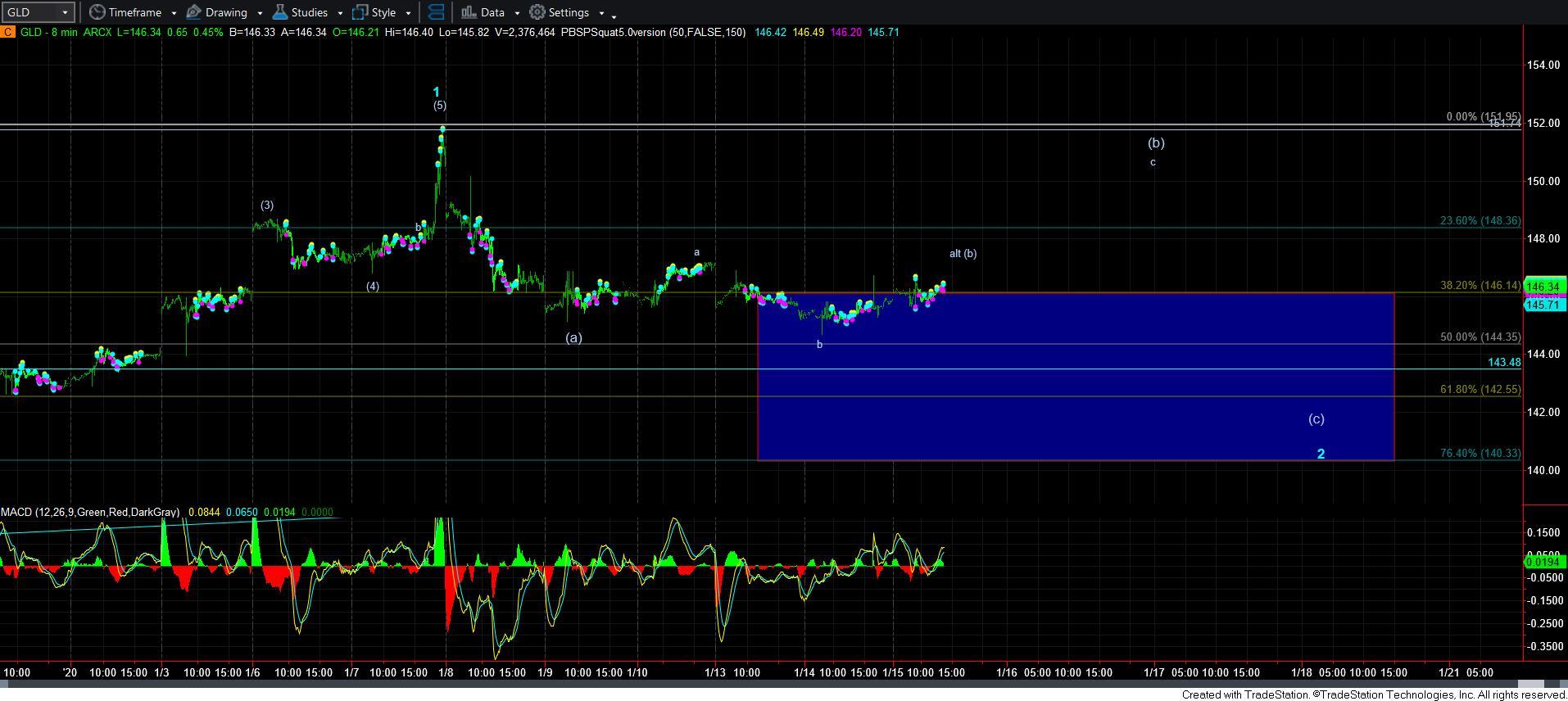 GLD 8min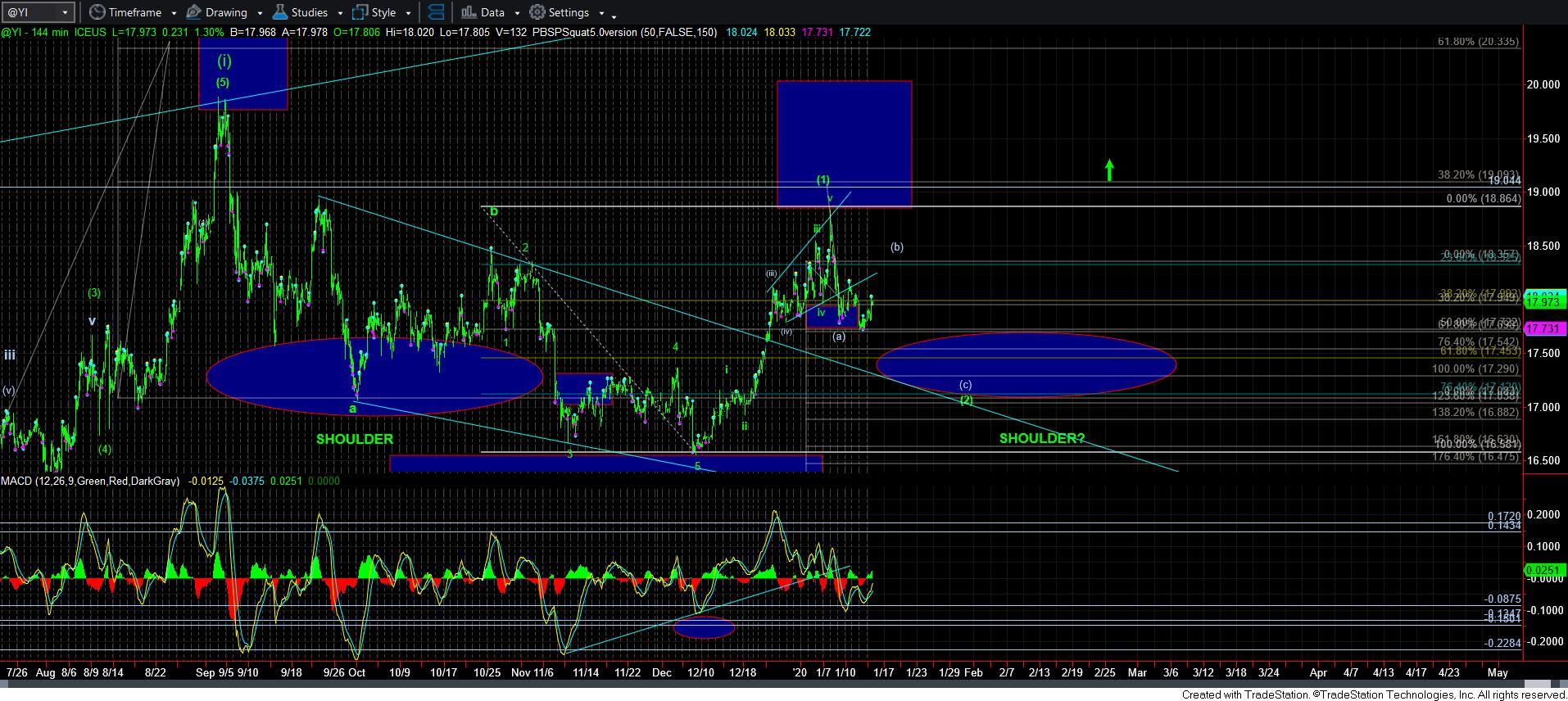 silver144min