3850 Conquered After Multiple Attempts
Today's price action showcased a decisive breakout above 3850 on the Emini S&P 500 (ES) that everyone has been waiting for the past few days. It was a gap up and go acceleration structure as we discussed at the open, meaning a classic trend day up into 3900 target. This was also the strong continuation that could've come after yesterday's afternoon breakout, but delayed into today.
Price is now trending above the daily 20EMA + 4hr 20EMA going into Friday's weekly closing print. A rare moment for this year and may change the landscape for next few sessions.
Key ideas for Friday July 8th:
Ongoing trend week up, expecting buyers to attempt to close weekly at highs, see if they can entice FOMO (fear of missing out) into next week.
Short-term bullish biased when above 3850 given Thursday's decisive breakout.
At this point, any ES dip is considered buyable when above ES 3850, our line in sand.
3900 target fulfilled Thursday so remaining target is 3950 for Friday going into 8:30am jobs report.
If the above scenario occurs, expect further continuation into 4000-4015 gap fill next week.
If no dip/shallow dips, use immediate supports 3865/3880 to look for scalp long opportunities when in accelerated uptrend during intraday.
Below ES 3850, recent daily breakout turns into a trap/failure. 3800/3740 at risk again.
In addition, NQ high of day = 12168, nearly hit our 12200-12300 immediate target in 1 session. Short-term buyers remain in full control when above daily 20EMA 11900.
As discussed Wednesday, key mega-cap tech stocks formed higher lows and higher highs structure on the daily chart Wednesday and had a full blown breakout Thursday.
Scale profits and manage risk accordingly during bear market rallies.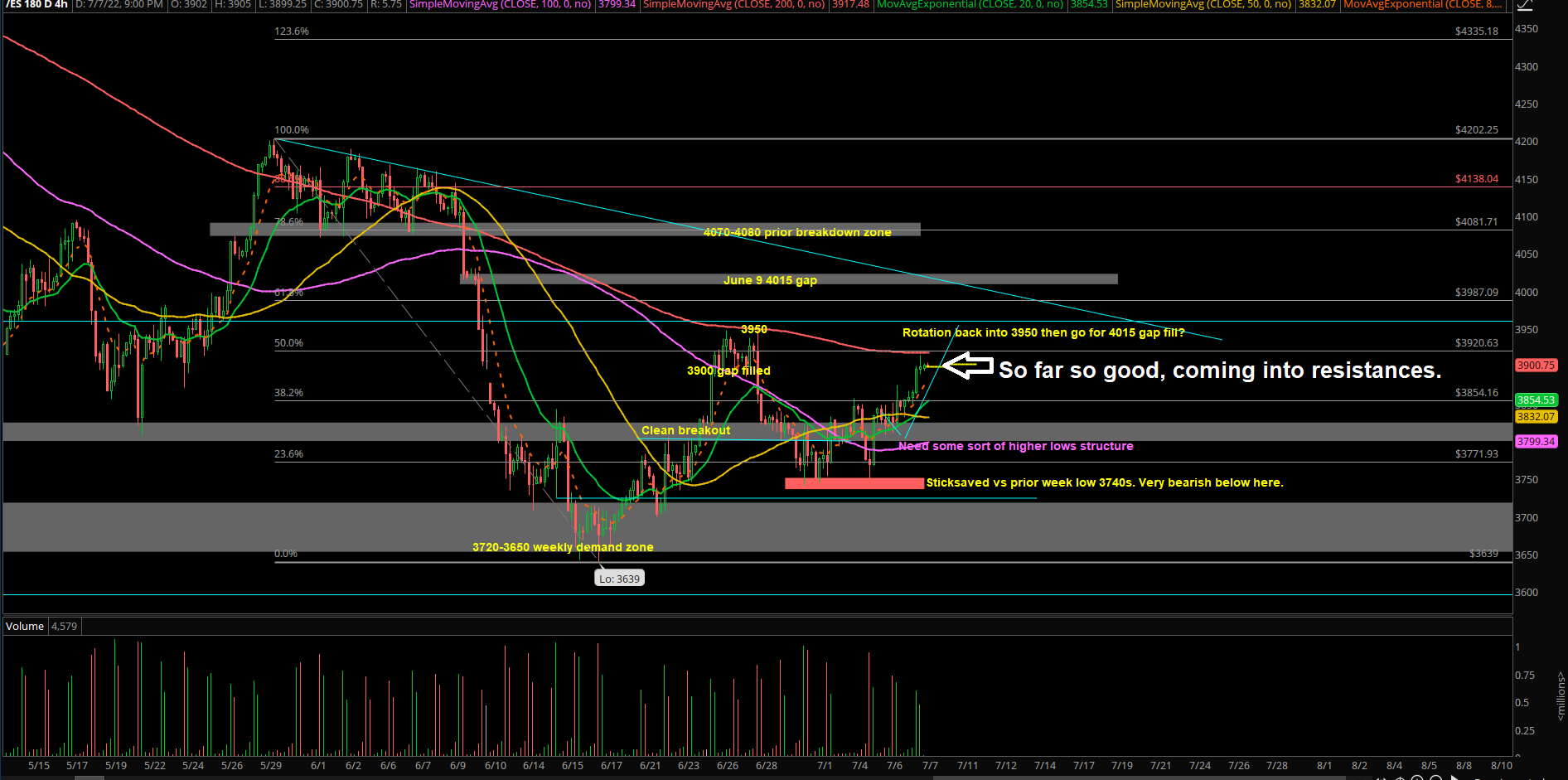 ES JULY8_GAMEPLAN