Market Analysis for May 16th, 2022
Going into tomorrow's timing catalysts, retail sales data +ECB+J Powell speeches....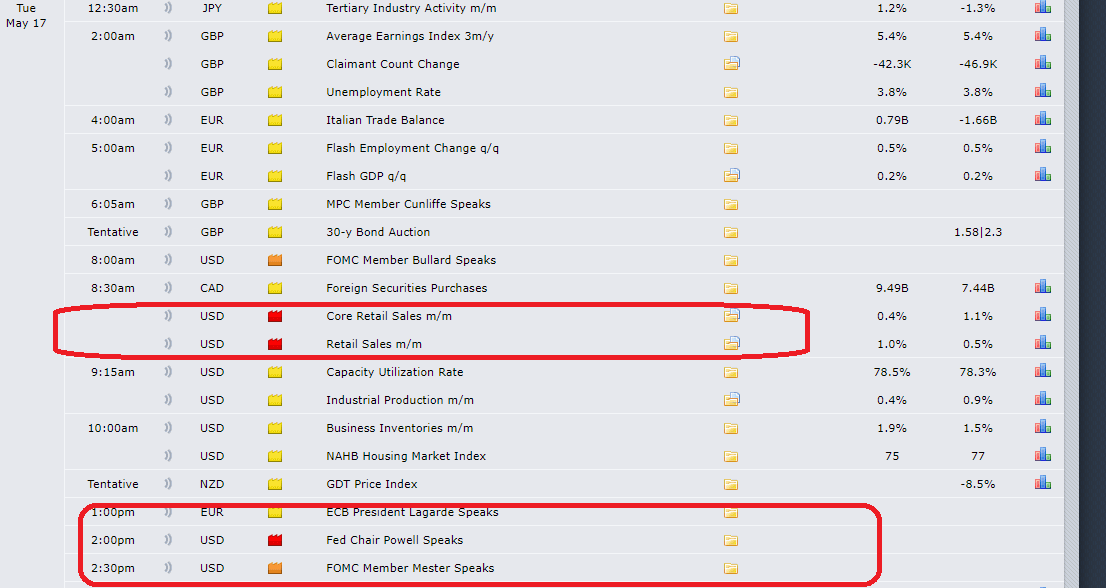 Nothing has changed in terms of our overall parameters...copied and pasted
Current parameters:

Overnight range = 4042-3981, market is working off of the end of last week's bounce by showcasing an overnight bullish consolidation pattern. It's also one of the rarer incidents in past few weeks that price is currently hovering above 4hr 20ema 
Short-term is attempting to change trend to be short-term bullish/deadcat bounce having legs if price action show follow through vs. the multi-day resistance of ES 4050 
Need to wait and observe how market reacts vs multi-day resistance of 4050 
Does it reject back down to 3950-3900 or start to build a setup for 4100-4130s backtest
As of writing, we are neutral on intraday direction given price is stuck at 4010s going into RTH open. Market is waiting and figuring out if there's commitment from end of last week's deadcat bounce assault. Good to be observation mode going into the new week as market also waiting for Tuesday timing catalysts of retail sales data+ Fed Powell
Zooming out back into the daily timeframe, picture remains unequivocally bearish given the down trend model for the past few weeks-months. When trending below ES 4100/4135 on a daily closing basis, bounces are being treated as deadcats. Meaning bulls would a couple days staying above 4135 to really showcase a change of character on the daily timeframes.
Overall, last week's provided a massive hammer formation indicating some sort of a floor. Bulls would need to do more to prove themselves. We currently do not view ES 3850s and NQ 11680s as "the bottom", merely just a temp bottom for now as price action still in discovery mode + the trending downtrend model. Wait and see.
To summarize, we need to see how price actions reacts vs 4050 after RTH open. 

Could buyers showcase some strength on a day#2 by taking out this multi-day resistance in order to open up a bigger leg bounce into 4100-4130 (or higher)
Reject 4030s-4050s and keep the market fighting in a 4050s-3950s range heading into Tuesday timing catalysts
Break 3900 this week and we would need to prepare for lower lows again as 3850s become at risk. (opens 3750-3700)

Most likely prepared for sort of rangebound trading for the first 1-2 sessions of this week. Know your timeframes here, intraday vs. short-term swing vs. investor.