Market Analysis for Apr 18th, 2022
E-mini S&P 500 Futures: Keep It Simple Stupid –Daily 20EMA Trend Down, Bulls Running Out Of Time
Copying and pasting a section from our ES trade alert room's premarket gameplan report. FYI, the ES trade room provides real-time entries and exits with pre-determined stoploss and target levels alongside with real-time lessons on strategy/risk management/psychology/momentum. We specialize in quick intraday alpha setups and short-term swings with duration of 2-5 days and occasional 10-15 sessions holding period (some key levels + strategies have been redacted for fairness to subscribers). In addition, we share bonus setups across commodities such as GC/GOLD,CL/Crude oil, PL/platinum,ZS/soybeans and individual stocks from time to time in order to generate more alpha/outperform.
Context section:
Starting from mid Jan 2022, since the decisive breakdown below the trending daily 20EMA + 4650s area, the market has continued trading in a massive sideways range of 4630s-4100s. And within this period the majority of time has been spent between 4585-4250.
In addition, no short-term directional trend that has outlasted for more than 2 weeks before it reversed into the other side testing extremes. Whipsaw environment.
Feb's monthly range = 4586-4101.75
March's monthly range = 4631-4129.5
Ongoing April month range = 4588-4355.5
April's monthly price action continue to be trading entirely within the previous month indicating indecision and consolidation before the next decisive monthly move (eventually outside the range)
Zooming in: If you recall, last week's expected initial range was 4525-4400 since the Monday April 11th report. In reality, the weekly range played out as 4491-4375.
For the most part, all dips into 4380s-4400s were bought throughout the shortened holiday week. However, by end of the week price confirmed that bears were in full control with the short-term downtrend with Thursday closing around the week's low.
Current parameters:
Overnight range = 4390-4355.50, current price = 4375
Price is hovering around the 50% retracement of the March-April monthly ranges
Short-term bears remain in full control. Price is trending below daily 20EMA with zero indications of temporary bottom in place at the moment.
4350/4320 are key supports/on-trend targets for bearish momentum since last week
Conversely, bulls are running out of time given last week's context, they must provide a daily close above 4425/4446. The latter level represents past 2 session's high area + trending daily 20EMA resistance + April 4th weekly lows
Two main scenarios for today:
1) Stay below 4390-4400 immediate res, attack 4350 target again after RTH open
2) Recapture 4390 ONH /4400 key level quickly, open 4425 for backtest
Gameplan is great, but execution is key, adapt in real-time with the flow. Be water
Level by level approach, keep it simple stupid
Bigger picture:
Ongoing short-term bear trend below daily 20EMA. Daily closing prices need to ultimately remain below 4425/4444 in order to keep downside pressure going. The 50% fib retracement of March has been fulfilled at 4380s. Next logical target would be the 4350/4320 area, the latter being 61.8% retracement. (Sunday overnight lots = 4355s)
For bulls to reverse this short-term downtrend, needs a daily close above 4425 (prior couple session's high area +trending daily 20EMA) for initial confirmation of some sort of range low being in place and having a reference point. This must be followed quickly by a breakout above 4444. Otherwise, we cannot see a sticksave in place because the April 11th week played out as a bearish continuation model. Level by level approach, we cannot revisit 4500-4520 or above without first reclaiming some key resistances.
Also, important to keep an eye on NQ 13800-13850 major support area, higher timeframe buyers may show up and defend this region for a bigger sticksave/bounce. A lot of megacap/tech stocks at an important juncture as well and acting fairly weak.
In addition, NQ key resistance for this week is 14280, which represents the high area of past 3 sessions. Downtrend pressure continues until this level is recaptured on a daily closing basis.
Based on overall context, we're likely more near a temp range low/weekly low for ES+NQ so need to be careful of being overly confident on the bearish side here. Remember, zero confirmation at the moment because of the daily closing prints needed. Just need to be adaptable here because if price action keeps cascading down with lower highs and lower lows, then we have a lot more points to fall before the ES 4100-4200s range low. (100% retracement)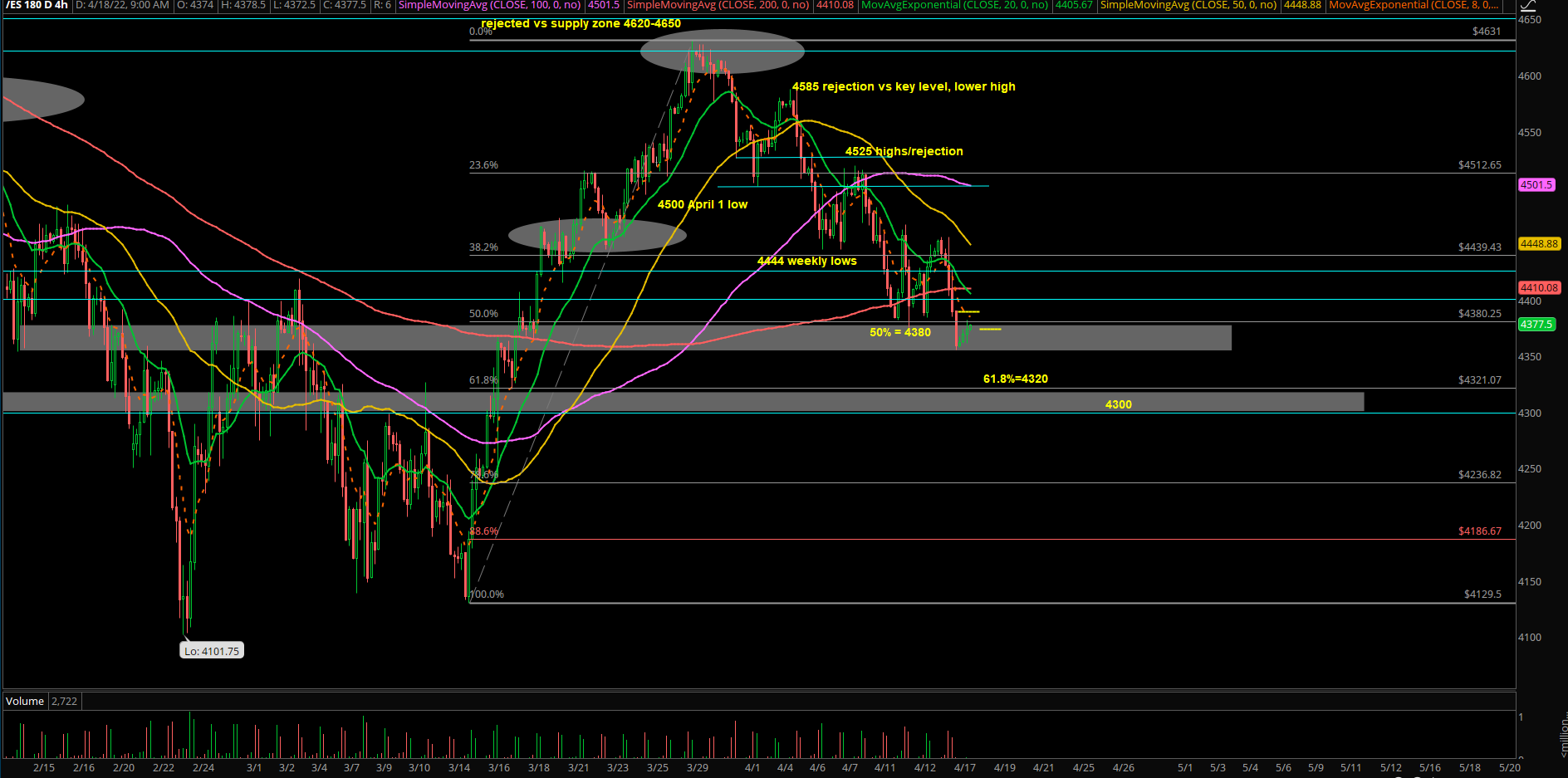 ES APRIL18_REVIEW