Market Analysis for Mar 8th, 2022
E-mini S&P 500 Futures: Keep It Simple Stupid – Moment Of Truth Vs. Line In Sand
Copying and pasting a section from our ES trade alert room's premarket gameplan report. FYI, the ES trade room provides real-time entries and exits with pre-determined stoploss and target levels alongside with real-time lessons on strategy/risk management/psychology/momentum. We specialize in quick intraday alpha setups and short-term swings with duration of 2-5 days and occasional 10-15 sessions holding period (some key levels + strategies have been redacted for fairness to subscribers). In addition, we share bonus setups across commodities such as GC/GOLD,CL/Crude oil, PL/platinum,ZS/soybeans and individual stocks from time to time in order to generate more alpha/outperform.
Context section:
Ongoing downtrend below the daily 20EMA since mid Jan 2022 breakdown of 4650
Capitulation was observed on Thursday Feb 24th with tech V-shape bottom by 10AM, further confirmed with the strong DAILY close across the board via ES NQ +AAPL+AMZN+GOOGL+TSLA+MSFT…etc.
ES completed a +6.8% bounce off the 4100 floor and NQ completed +8.8% off 13k floor
We're still treating 4100s low as in for the foreseeable future, good tradeable reference point as long as any backtests into 4150-4200 area holds at all times in order to revisit 4485-4500 range high targets
First week of March, the bears made a hard rejection of the trending daily 20EMA resistance vs 4400~4420 area. Therefore, bulls' breakout attempt >4400-4420 failed
3/7 failed to hold key level of ES 4250, it paved the way into a massive ES -3% and NQ -3.7% downtrend day with price action closing at the lows
Overnight hit the bottom end of our 4150-4200 must hold key zone. Sticksaved at 4138 thus far and bounced almost ~100 points to a high of 4233. Nothing real for bulls until >4250 (yesterday's breakdown trigger must get reclaimed ASAP)
Current parameters:
Bears have fulfilled all their short-term targets since Monday 3/7's decisive breakdown below 4250 into 4238/4225/4200/4165/4150
This is the moment of truth for the bigger picture due to Monday's RTH session orderly liquidation structure
If you recall, the 3/7 bulls failed to sustain the massive overnight sticksave from 4238->4325, which caused a liquidation break into our 4150-4200 must hold area
4150-4200 must hold area for 4550-4585 to be valid, otherwise shit hits the fan
O/N globex continues to be easier to execute than RTH as the key levels hit and provide smoother train rides, the 4150 key level last night around the EU open provided at least +50 bankable points with little pain
Overnight range = 4233-4138, 95 points width, decent sticksave going into the open
Current price = 4205, RTH is looking to open +0.2% or +7 points gap UP vs Monday's close of 4198.
A daily break above 4250 confirms stabilization event; gummy bears and we squeeze back into 4285/4300/4325 for eventually breakout attempt into 4550-4585 bigger picture
A daily break below 4150 confirms more downside pain because the it reduces the chance of 4100 March LOW holding and opening up LOWER LOW potential into 4080/4050/4000/3980
If price is trading between 4250-4150, wait patiently for the setups to take place, bi-directional trading opportunities allowable using our key levels/alerts. Massive 100 point range from overnight+yesterday
Focus and generate alpha during 9:30-11:30AM, which is generally the best time for RTH execution in the long run. Almost always 1-2 good setup(s) within that timeslot
Enhancing your PnL/time executed is a key component of actually winning in the markets. Capture your chunk and leave, reset mental capacity
Keep it simple stupid, we operate a level by level approach, know your timeframes
Gameplan is great, but it's all about real-time execution here. Adapt, be water
Bigger picture:
For the past few sessions, we've been adamant about the 4150-4200 support area that needs to hold at all times in order to revisit 4485-4500 range high
Based on current homework, we've changed the range high to 4550-4585
Yesterday's decisive close at 4198 which is below the 4250 opened up a few complications. (the bulls failed to sustain the 3/7 overnight rally and print >4325/50)
If you recall, one primary scenario would be IF below 4250, then the 4200-4150 revisit may be at risk of making LOWER LOWS instead of anticipated higher lows. If sellers take advantage this could cause a liquidation break into 4080-4050/4000, which is below the 4100 current low.
Our primary expectation is first couple weeks of March is all about base building and we eventually attack 4550-4585 range high. If that occurs, then we could discuss bigger levels such as 4650. (7.8% away from current price of 4315)
Moment of truth, bulls would need to build that higher lows/inverted H&S = pattern
What are the key levels to be aware of?
Resistances 4200, 4212, 4225, 4250, 4280, 4300, 4325, 4348, 4350, 4375, 4385, 4400, 4420, 4450, 4470, 4485, 4500, 4520, 4535, 4550, 4565, 4585, 4600, 4620, 4640, 4650, 4685, 4700, 4713, 4728, 4740, 4750,
Supports 4185, 4165, 4150, 4100, 4080, 4050, 4000, 3980
(for those that need a little more hand holding or explicit direction, plot these horizontal key levels or at least the first 3 resistances/resistances and see how they help you, review daily)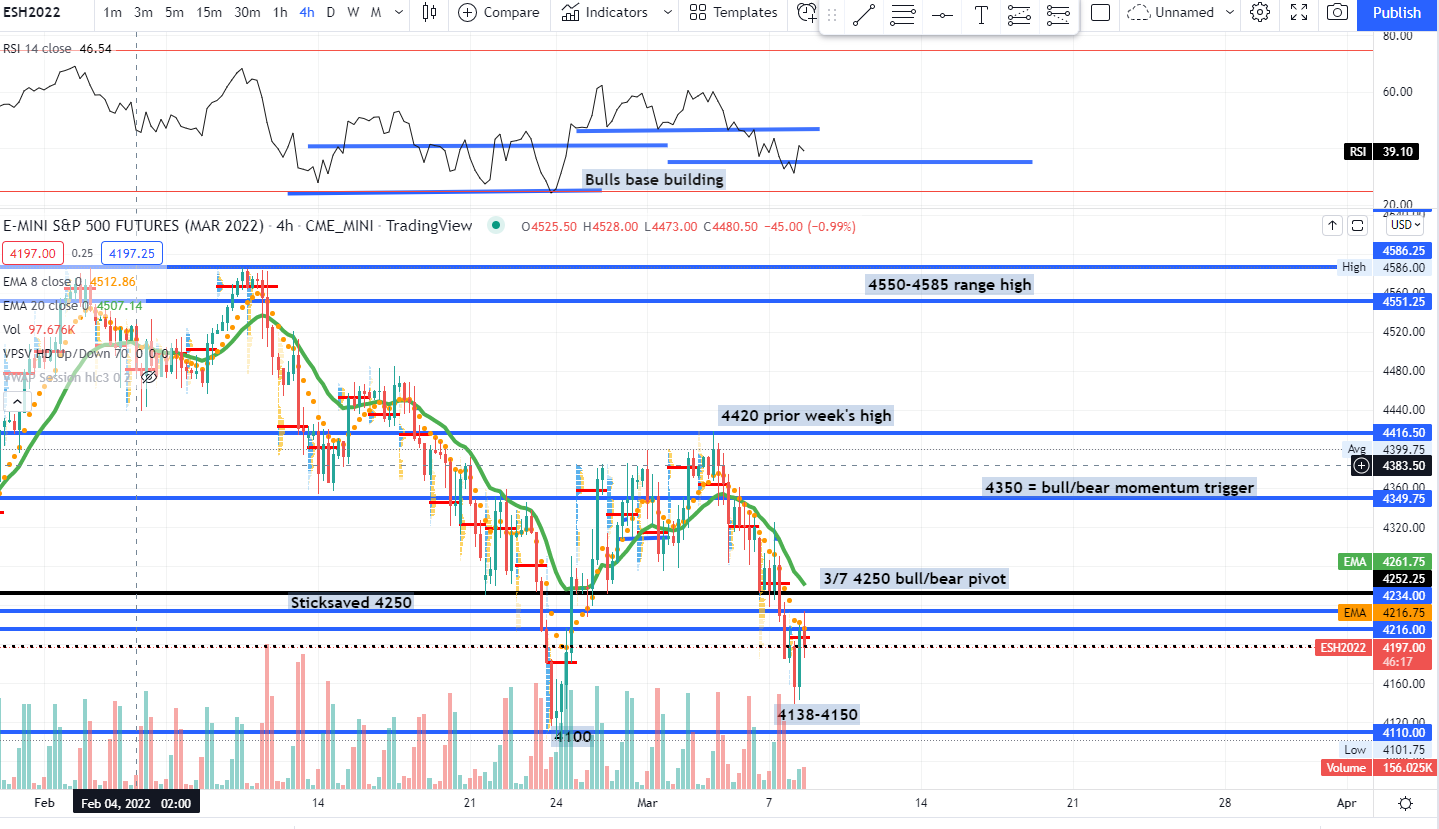 ES MARCH8_REVIEW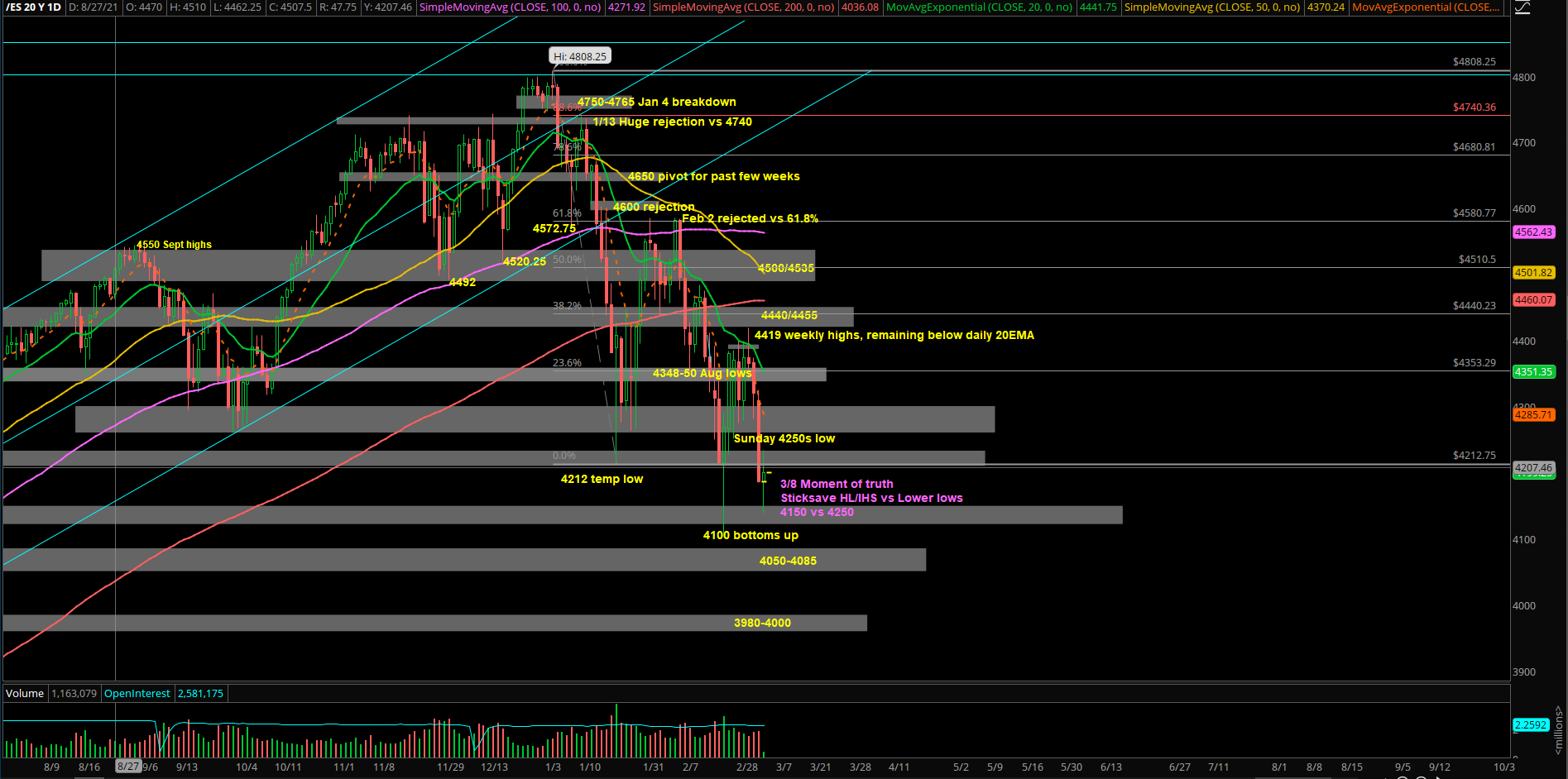 ES MARCH8_REVIEW2