Market Analysis for Feb 24th, 2022
E-mini S&P 500 Futures: Keep It Simple Stupid – Below Jan Lows, The Capitulation
Copying and pasting a section from our ES trade alert room's premarket gameplan report. FYI, the ES trade room provides real-time entries and exits with pre-determined stoploss and target levels alongside with real-time lessons on strategy/risk management/psychology/momentum. We specialize in quick intraday alpha setups and short-term swings with duration of 2-5 days and occasional 10-15 sessions holding period (some key levels + strategies have been redacted for fairness to subscribers). In addition, we share bonus setups across commodities such as GC/GOLD,CL/Crude oil, PL/platinum,ZS/soybeans and individual stocks from time to time in order to generate more alpha/outperform.
Context section:
Feb 23 morning broke below our key level of 4300, it was the first clue on downside price expansion given the overnight bull setup turned into a bull trap/liquidation pocket
In addition, this was confirmed with a decisive breakdown below the multi-day key level of 4260.
2/23 EOD closed at 4220s, which is around Jan 2022 lows of 4210s.
Zooming out to daily timeframe, price remains decisively below 4350-4348 key zone indicating bears still have full control in regards to momentum.
4212/4200/4165/4150, all our short-term downside targets have been fulfilled since yesterday's 4260 multi-day breakdown
Current price hovering at ES 4125. We're mainly watching for the ongoing capitulation show vs 4080-4050 region just below here, need to see how RTH reacts because that's when the real big players have forced decisions to make
Current parameters:
Overnight range = 4225-4101, 124 points width, opening as -2.3% GAP DOWN vs Wednesday's close of 4420s.
Primary expectation for today is that all rallies should sold when below 4165
A bearish consolidation which could backtest 4100/4085/4050 in next 36 hrs
Expecting bears to try and end this week around the weekly lows on Friday if bearish momentum remains strong
Conversely, an intraday break above 4165 would open up 4200/4212 immediately and we get a more well rounded balance day before Friday's weekly closing print
Mental note: many forced hands here, especially the bigger players, we don't need to have a strong opinion. Day trader's paradise in this environment
Focus and generate alpha during 9:30-11:30AM, then enjoy the finer things in life. Making money is one thing, but enhancing your PnL/time executed is a key component of actually winning in the markets. Capture your chunk and live life to the fullest
Gameplan is great, but it's all about real-time execution here. Adapt, be water
A DAILY break back above 4225 would confirm some sort of temporary stabilization/capitulation event
A DAILY break back above 4350-4348 in the bigger picture would be needed to begin talks about a solid bottom
Overall, slightly bigger picture, mainly watching 4050-4080/3980 max overshoot area for some capitulation signals given the current structure
What are the key levels to be aware of?
Resistances 4150, 4165, 4200, 4212, 4225, 4260, 4280, 4300, 4325, 4348, 4350, 4375, 4385, 4400, 4420, 4440, 4455, 4470, 4485, 4500, 4520, 4535, 4550, 4565, 4585, 4600, 4620, 4640, 4650, 4685, 4700, 4713, 4728, 4740, 4750,
Supports 4100, 4080, 4050, 4000, 3980
(for those that need a little more hand holding or explicit direction, plot these horizontal key levels or at least the first 3 resistances/resistances and see how they help you, review daily)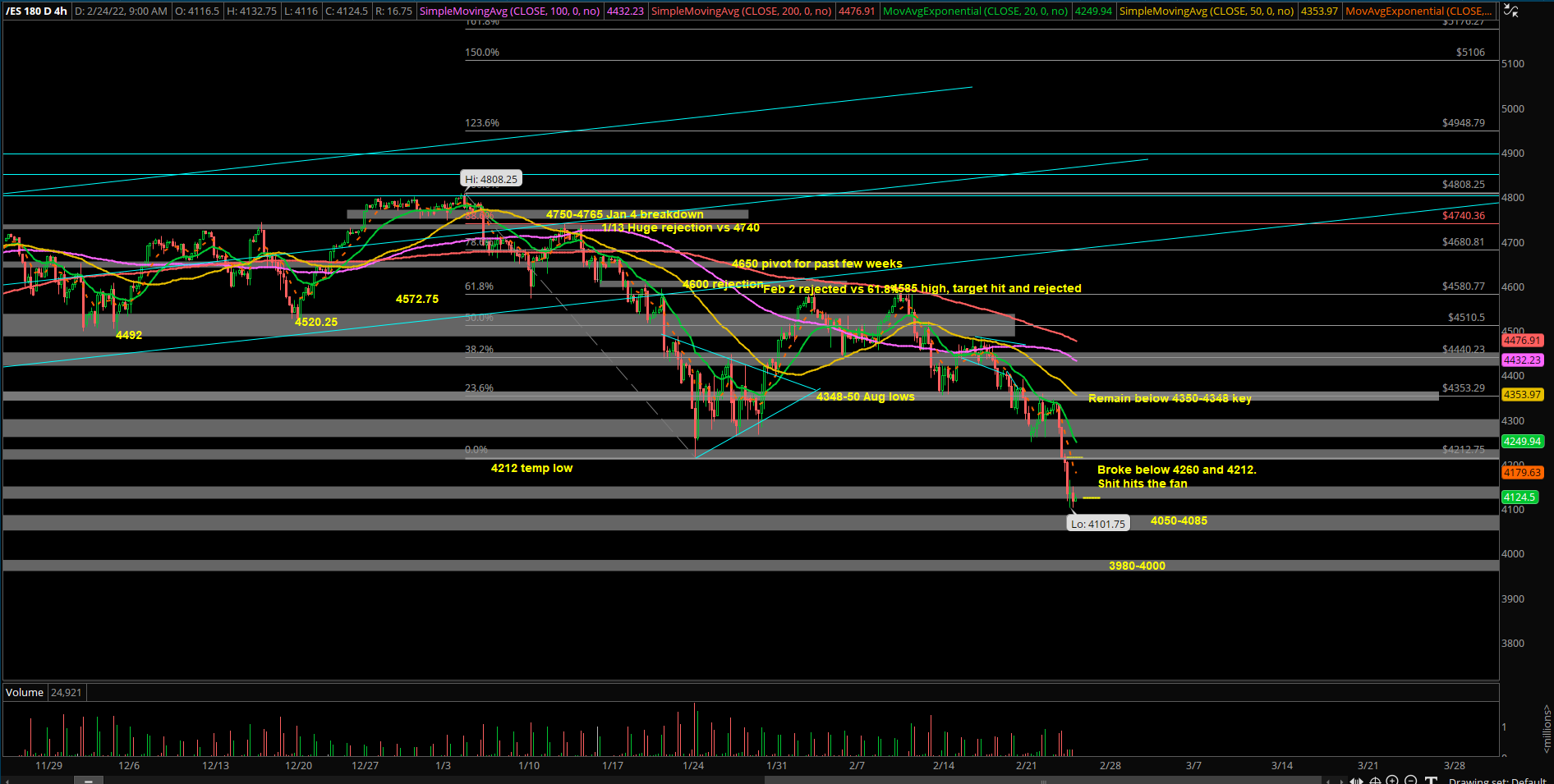 ES FEB24_REVIEW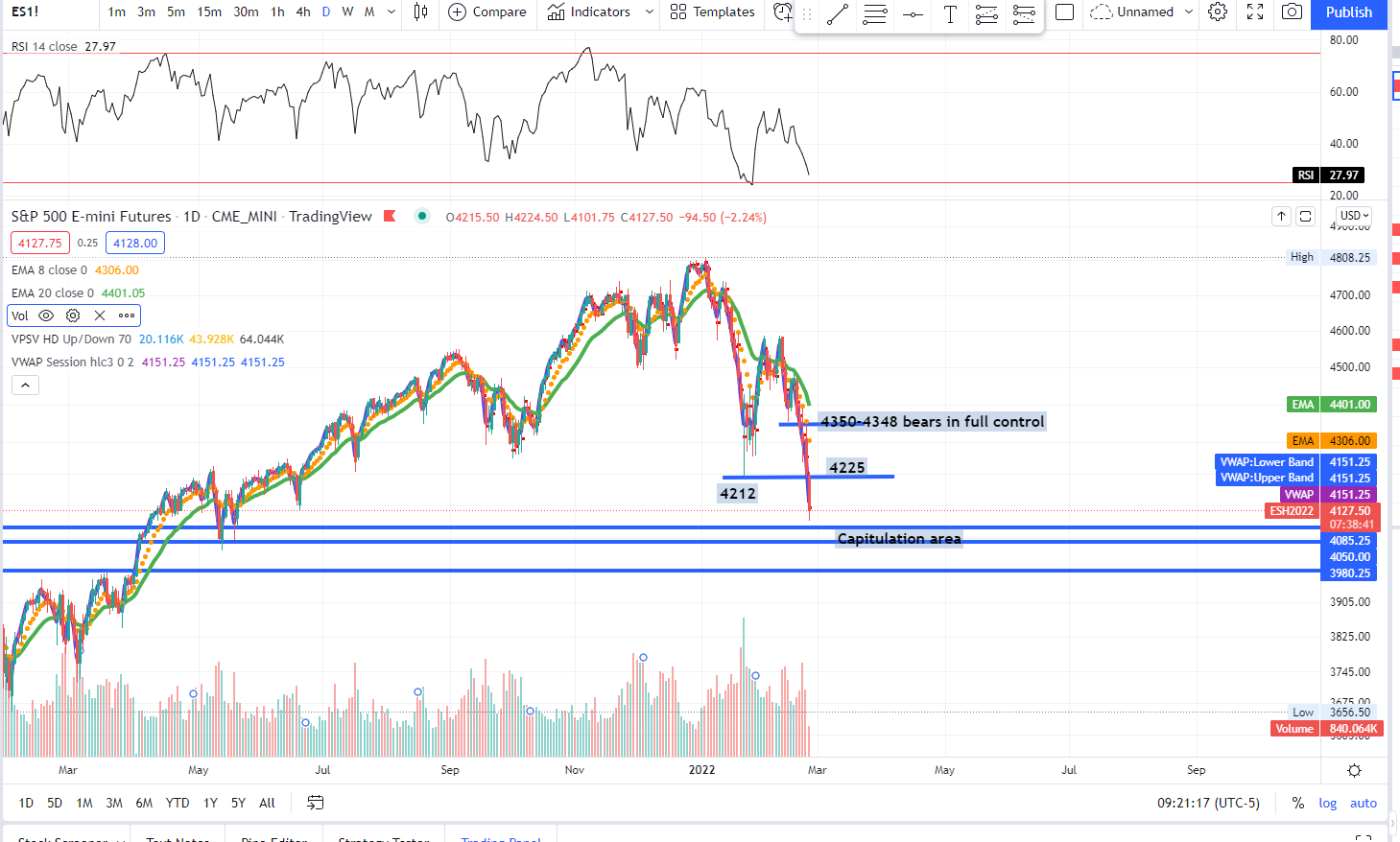 ES FEB24_REVIEW2