Market Analysis for Feb 18th, 2022
Friday Feb 18 Gameplan
Context section:
1/18-1/21 a decisive +massive WEEKLY breakdown occured on ES+NQ as price closed below the multi-month trading channel and below the WEEKLY 20EMA. Volatility+price expansion (weekly closed at 4390)
1/24-1/28 a massive WEEKLY sticksave from Monday 1/24 ES 4212 lows + NQ 13700s, with price action ending near the high of the week at ES 4420s and NQ 14400s, confirming Monday's temporary bottom setup (weekly closed at 4423)
1/31-2/4 4395-4586 confirming the higher lows and higher highs formation and the market stabilizing compared to previous weeks (weekly closed at 4492, +1.5% vs prior week)
2/7-2-11 double top rejection vs 4585, weekly closed at 4400s, -2.2% vs prior week
2/14 price sticksaved at 4354 during overnight, then higher lows at 4357 during RTH
2/15 gap up and held for the entire RTH session, bullish consolidation mode
2/16 red to green day, bottomed at 4422, decent sticksave vs our 4420 key level
2/17 ES trend day down -2% closing at the lows around 4370s, NQ -3% trend day down
The longer price action stays in a massive range bound of 4200-4700, the better it is for bulls due to stats. Especially, if price action keeps holding above our 4348-4350 key level.
Current parameters:
Overnight range = 4412-4359, 53 points width, opening as FLAT vs Wednesday's closing print of 4375. Overnight 3AM EU open did a decent rejection at 4412 and now hit a temp low of 4350s
Current price = 4375, meaning price action still chopping around within our bigger range levels. Today is going to be way more complicated than initial expectations because it's monthly OPEX and we're heading into long weekend with a weak structure lacking a climax/liquidation event.
The chances of getting trapped is high here. Be patient and wait for levels to hit, try not to chase then execute when the opportunity is screaming at you. Don't overtrade
Primary expectation for today is bearish consolidation/trend continuation focusing on bearish setups into 4350-4348 that could open a quick liquidation event into 4320/4300/4280. This is valid only when below 4420 resistance and especially when price sustaining below 4400. In simplest terms, look for lower highs and lower lows pattern to ride.
Conversely, a break above 4420 after RTH open would create an even more complicated scenario of attempting another feedback loop squeeze. Because it would mean 4350-4348 support has held once again after numerous amount of times in the past 2 weeks. Above 4420, opens 4440/4455/4470
Focus and generate alpha during 9:30-11:30AM, then enjoy the finer things in life. Making money is one thing, but enhancing your PnL/time executed is a key component of actually winning in the markets. Capture your chunk and live life to the fullest
Gameplan is great, but it's all about real-time execution here. Adapt, be water
Zooming out a little, we're still treating low of week already in from Monday 4350s, but bulls need to be aware of the chance of getting stampeded near EOD into the weekly closing print if remains <4420. 4350-4348 on third/fourth try backtest basis is not strong.
Bigger picture:
ES 1/24 4212 temp bottom + NQ 1/24 13700s temp bottom
Chances are 4212 temp low is becoming a solid low of Q1 2022 (ongoing process)
If one was bear inclined on the markets making a new lower low vs the current lows, we would need to see at least a couple DAILY closing prints below ES 4348-4350 in order to change this opinion
The longer price action stays in a massive range bound of 4200-4700, the better it is for bulls due to stats. Especially, if price action keeps holding above our 4348-4350 key level. Sellers being unable to break below 4440 would be your first hint of gummy bears
If one was to take their best shot from half court here, the best bet is a quick throttle towards 4585/4600, stabilize, form another daily higher lows then head into 4650/4700 next few sessions
Reality: this is exactly what is occurring for the past few sessions, market rejected vs 4585 last week. Backtested vs 4348-50 key support this week by holding 4354 low of week in order to form the next daily higher lows.
As of writing, Feb 18th, bulls are at risk here so they need another sticksave. Current weekly low =4354, current overnight low = 4359. Holding on by an inch
Wait and see how WEEKLY closes.
What are the key levels to be aware of?
Resistances 4385, 4400, 4420, 4440, 4455, 4470, 4485, 4500, 4520, 4535, 4550, 4565, 4585, 4600, 4620, 4640, 4650, 4685, 4700, 4713, 4728, 4740, 4750,
Supports 4375, 4350, 4348, 4320, 4300, 4280, 4260, 4225, 4212, 4200, 4165, 4150
(for those that need a little more hand holding or explicit direction, plot these horizontal key levels or at least the first 3 resistances/resistances and see how they help you, review daily)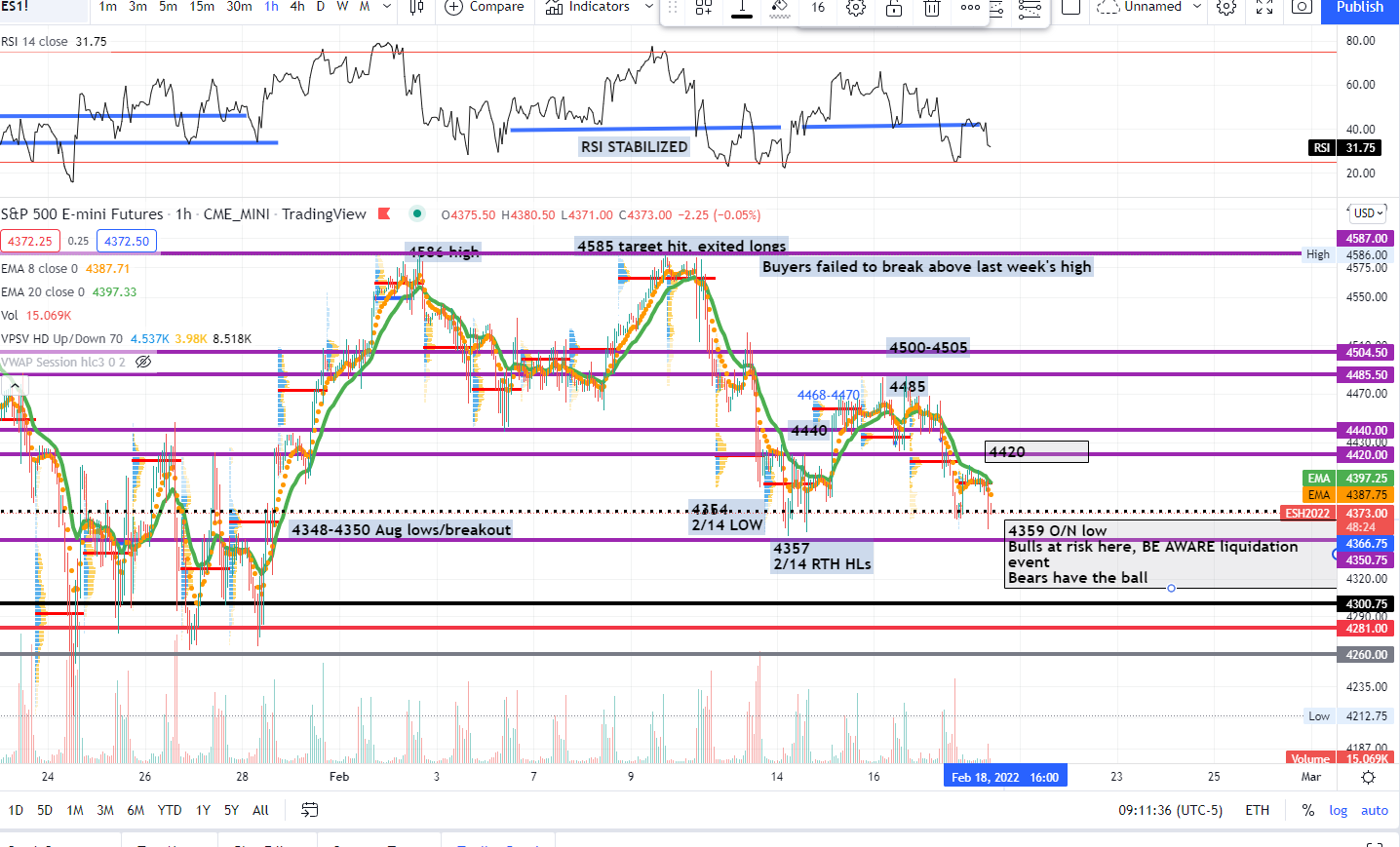 ES FEB18_REVIEW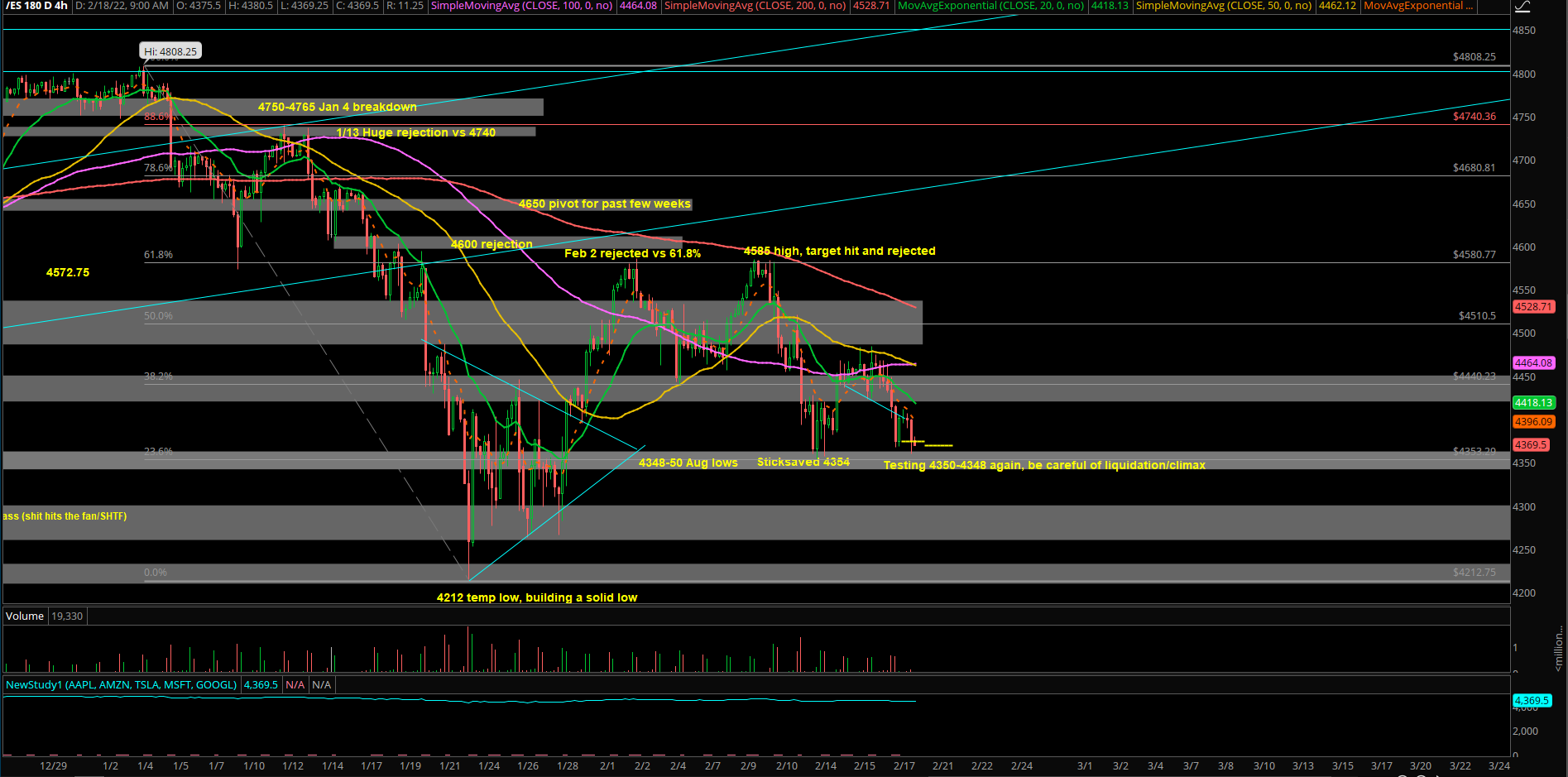 ES FEB18_REVIEW2