Market Analysis for Feb 11th, 2022
E-mini S&P 500 Futures: Keep It Simple Stupid – Simple Inside Week, Rangebound Continues. Are You Winning?
Copying and pasting a section from our ES trade alert room's premarket gameplan report. FYI, the ES trade room provides real-time entries and exits with pre-determined stoploss and target levels alongside with real-time lessons on strategy/risk management/psychology/momentum. We specialize in quick intraday alpha setups and short-term swings with duration of 2-5 days and occasional 10-15 sessions holding period (some key levels + strategies have been redacted for fairness to subscribers). In addition, we share bonus setups across commodities such as GC/GOLD,CL/Crude oil, PL/platinum,ZS/soybeans and individual stocks from time to time in order to generate more alpha/outperform.
Context section:
1/18-1/21 a decisive +massive WEEKLY breakdown occured on ES+NQ as price closed below the multi-month trading channel and below the WEEKLY 20EMA. Volatility+price expansion (weekly closed at 4390)
1/24-1/28 a massive WEEKLY sticksave from Monday 1/24 ES 4212 lows + NQ 13700s, with price action ending near the high of the week at ES 4420s and NQ 14400s, confirming Monday's temporary bottom setup (weekly closed at 4423)
1/31-2/4 4395-4586 confirming the higher lows and higher highs formation and the market stabilizing compared to previous weeks (weekly closed at 4492, +1.5% vs prior week)
Monday 2/7 was an inside day, both sides failed to capitalize on their respective intraday breakout 4500s+/breakdown 4470s setup. Lots of trapped market participants
Tuesday 2/8 was an inside day of last Friday's range, yesterday's sellers tested into 4455 lows, buyers absorbed all selling pressure and closed the day at 4520 HIGH OF THE DAY
Wedesday 2/9 was a gap up and go as expected, HLs+ and HHs into EOD 4580
Thursday 2/10 was a double top rejection vs 4585 key level (last week's high area), intraday low was 4476 and session closed at 4498
The longer price action stays in a massive range bound of 4200-4700, the better it is for bulls due to stats. Especially, if price action keeps holding above our 4348-4350 key level. Sellers being unable to break below 4440 would be your first hint of gummy bears
Current parameters:
Overnight range = 4500-4454, 46 points width, opening as -0.03% FLAT, backtested against the 4440-4450s range low zone of past few sessions and held
The chances of getting bodybagged here is quite high here given the context+structure of how this ongoing week went, inside week + inside/rangebound Friday
Primary expectation for today is range/balance day which could evolve into a full flown stampede if below 4440 or above 4585. Bi-directional = be expert at flip flop
Current price = 4495, key sup levels are 4470/4455/4440, key res levels are 4500/4520/4535. Execute
When price expansion occurs above 4585, then 4600/4650/4700 are next
When price expansion occurs below 4440, then 4400/4350-4348 are next
Focus and generate alpha during 9:30-11:30AM, then enjoy the finer things in life. Making money is one thing, but enhancing your PnL/time executed is a key component of actually winning in the markets. Capture your chunk and live life to the fullest
Gameplan is great, but it's all about real-time execution here. Adapt, be water
Bigger picture:
ES 1/24 4212 temp bottom + NQ 1/24 13700s temp bottom
Chances are 4212 temp low is becoming a solid low of Q1 2022 (ongoing process)
If one was bear inclined on the markets making a new lower low vs the current lows, we would need to see at least a couple DAILY closing prints below ES 4348-4350 in order to change this opinion
The longer price action stays in a massive range bound of 4200-4700, the better it is for bulls due to stats. Especially, if price action keeps holding above our 4348-4350 key level. Sellers being unable to break below 4440 would be your first hint of gummy bears
If one was to take their best shot from half court here, the best bet is a quick throttle towards 4585/4600, stabilize, form another daily higher lows then head into 4650/4700 next few sessions
Reality: this is what is occurring at the moment, market rejected vs 4585, now waiting to form the next daily higher lows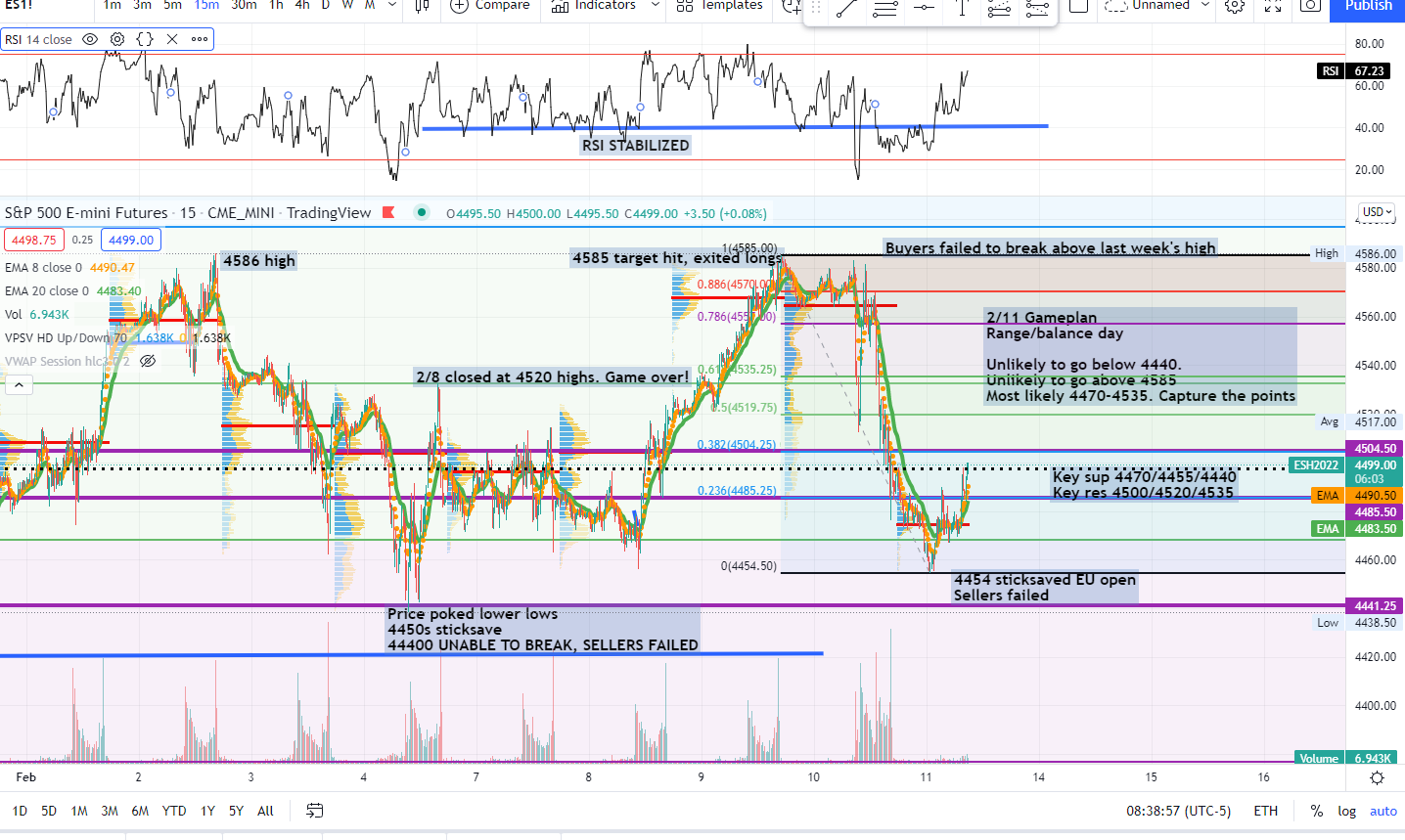 ES FEB11_REVIEW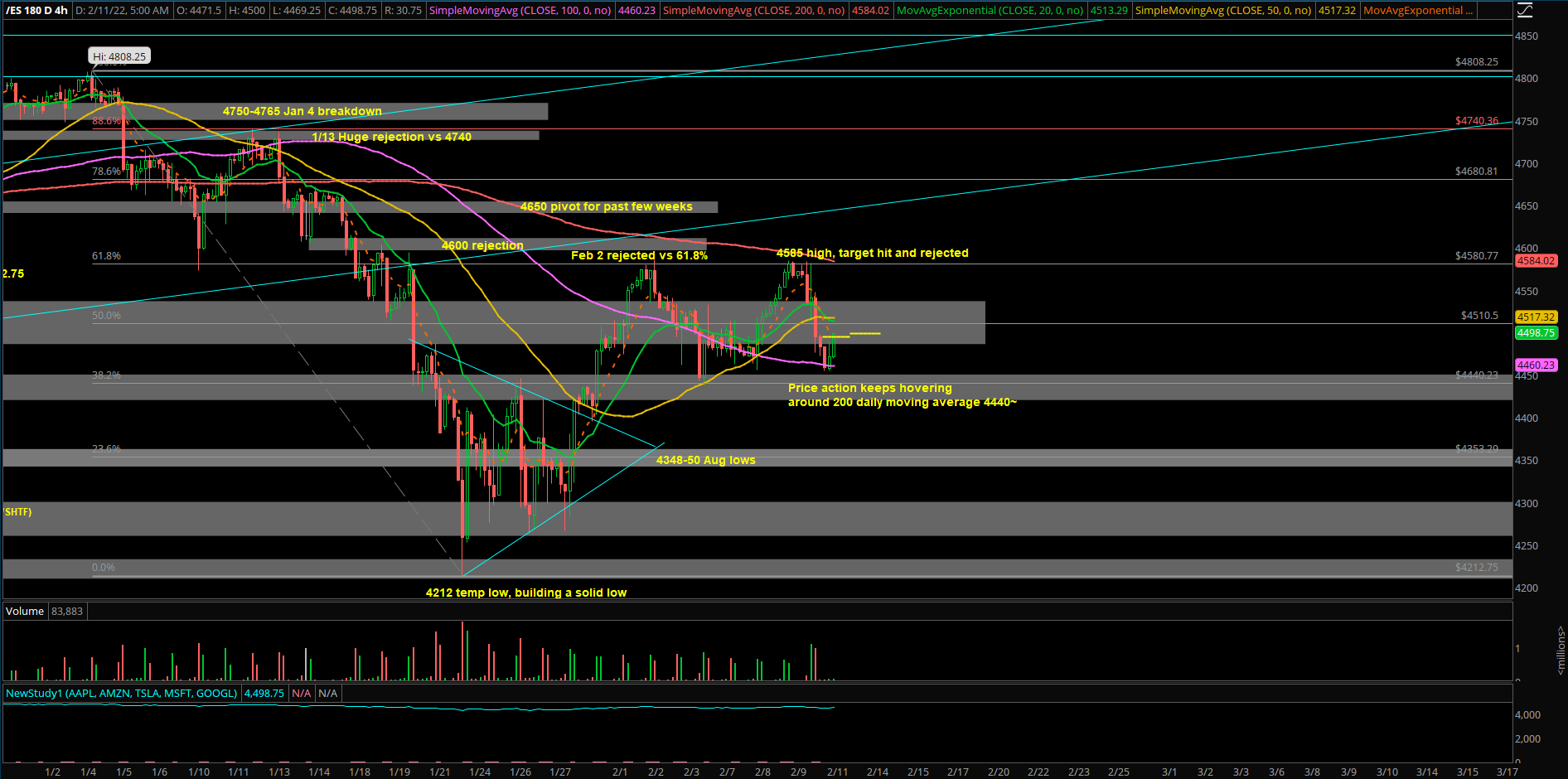 ES FEB11_REVIEW2