Market Analysis for Jan 28th, 2022
Friday Jan 28 Gameplan
Context section:
1/18-1/21 a decisive +massive WEEKLY breakdown occured on ES+NQ as price closed below the multi-month trading channel and below the WEEKLY 20EMA. Volatility+price expansion
1/24 if you're just looking at the closing % basis on the day, most would overlook the capitulation event that took place followed by a massive relief bounce into a gap fill
At the lows of 1/24 session, ES -3.9% and NQ -4.9% losses before closing green and at the highs of the session.
ES closed at 4405 vs Friday's 4385. Intraday low was 4212.75 (4.6% off lows)
NQ closed at 14501 vs Friday's 14442. Intraday low was 13706 (+5.8% off lows)
1/24 overall capitulation +temporary bottom: price action undercut the Q4 lows and finally found a bid and have reset the extreme oversoldness with 200 ES/ NQ 800 points bounce. However, that is just a day#1 event, what occurs during day#2 and day#3 is more important in regards to the bigger picture
1/25 decent day#2 showcasing massive demand which is a big shift from previous sessions. Intraday low 4270s->4400 highs ->4350 closing print
1/26 decent day#3 showcasing a massive rejection after the FOMC and sold off into the range low. Overnight picked up the bids at bottomed vs
1/27 decent day#4 confirming that the 200~ point range is still intact, bulls failed to break above our 4420 key level +bears failed to break decisively below our 4325 level. Meaning there's still no verdict on the winner on this range, capture the points
Price expansion and volatility is not over yet, there's a large amount of very important earning this week from the megacaps/bigcaps alongside with post FOMC shenanigans.
Lastly, this ~200 point (4212-4440) massive range worth of trapped market participants. You do not want to stand in the way once it breaks out, it will be violent. Will you survive and come out on top?
Current parameters:
Overnight range = 4356-4266, the stalemate continues as market stuck in this massive 200 point range
Same mentality as the past few sessions, our goal/job is to capture a few points here and there vs the pre-determined key levels offering optimal risk/reward
Now, ES hovering at 4310s, market is basically opening flat vs yesterday's closing print
Most dangerous open of this week so far because there's no sustained momentum from overnight session
Market has been trading in a 200~ point range for majority of the time this week. Meaning, it's time to get out of this range and bodybag a few market participants judging by the large amount of extreme traps/breakout/breakdown failures
This week's ongoing trend has been large downside since last Friday's closing price, and if you follow momentum, Fridays are typically the continuation of the ongoing pattern
Main focus this morning should be judging which side will get bodybagged as we wait for a winner/great opportunity to attack the key levels


4356-4266 or 90~ pt range overnight within the overall 200~ point range of this week
Immediate supports are 4260/4280 for reaction, wait for RTH open
Immediate resistances are 4325/4350 for reaction, wait for RTH open
A decisive break above 4350 O/N highs could entice large buyers to step into play and head into 4400/4420 prior day's high. Then, see if momentum sustains for a breakout attempt for 4420->4500-4520 (bigger picture)
A decisive break below 4260 O/N lows would entice large sellers to revisit overnight 4212 weekly lows and possibly more price expansion to the downside into 4150-4100 (not our primary scenario at the moment given the overall context, but my opinion is irrelevant when price discovery and liquidation occurs)
When market changes, you must adapt or risk getting fked. Be fluid like water!
Bigger picture (unchanged):
Given the 1/18-1/21 recent breakdown below key WEEKLY trending supports and backtesting near multi-month support zones…
All short-term bounces that are staying below ES 4500/NQ 15500 are treated as relief/deadcat bounce at the moment (on a daily closing basis)
We would need to see a couple days worth of daily closing prices above ES 4500/NQ 15500 to re-evaluate and assess the damage repair process/potential basing pattern
Until then, we cannot talk about ATHs again as many things have been broken with the recent price+volatility expansion. Day-by-day approach until bigger confirmations come into play
Monday 1/24 provided a reference point in regards to the current temporary bottom setups of ES 4410s/NQ 13700s, but we need to monitor how it does on day#2 and day#3. Again, a lot of megacap/bigcaps report earnings soon alongside with Weds FOMC so this environment we must stick with day-by-day approach. Capture a few points here and there when as price discovery takes place vs our pre-determined key levels
Tuesday 1/25 day#2 confirmed that there's still a lot of demand in this recent selloff, 4270s low held, intraday higher lows and higher highs into 4400~, then closed at 4350. Overall, this is the type of action of what intermediate bulls/positional traders want to see as the market is attempting to base.
Wednesday 1/26 day #3 decent price discovery post FOMC, swinging from one extreme to another. Most of what we feared played out as price rejected vs 4420-4450 and sold down into 4300~ and below. Now, many are trapped given yesterday's session and especially the overnight ramp. We need to be very aware that the market is getting ready to expand outside of this massive 200 point range. As of writing, gummy bears are at risk again due to the overnight sticksave
Thursday 1/27 day#4 the chop continued as bulls failed to break 4420 and bears failed to break 4325, same old range until it gets violent (price/range expansion)
There's still no verdict, so trade accordingly as we capture the range till it stops working. Hit it and run
What are the key levels to be aware of?
Resistances 4320, 4348, 4350, 4375, 4385, 4400, 4425, 4450, 4465, 4477, 4485, 4492, 4512, 4520, 4535, 4550, 4565, 4585, 4600, 4620, 4640, 4650, 4685, 4700, 4713, 4728, 4740, 4750, 4770, 4785, 4800, 4835, 4850, 4900, 4950, 5000
Supports 4320, 4300, 4280, 4260, 4225, 4212, 4200, 4165, 4150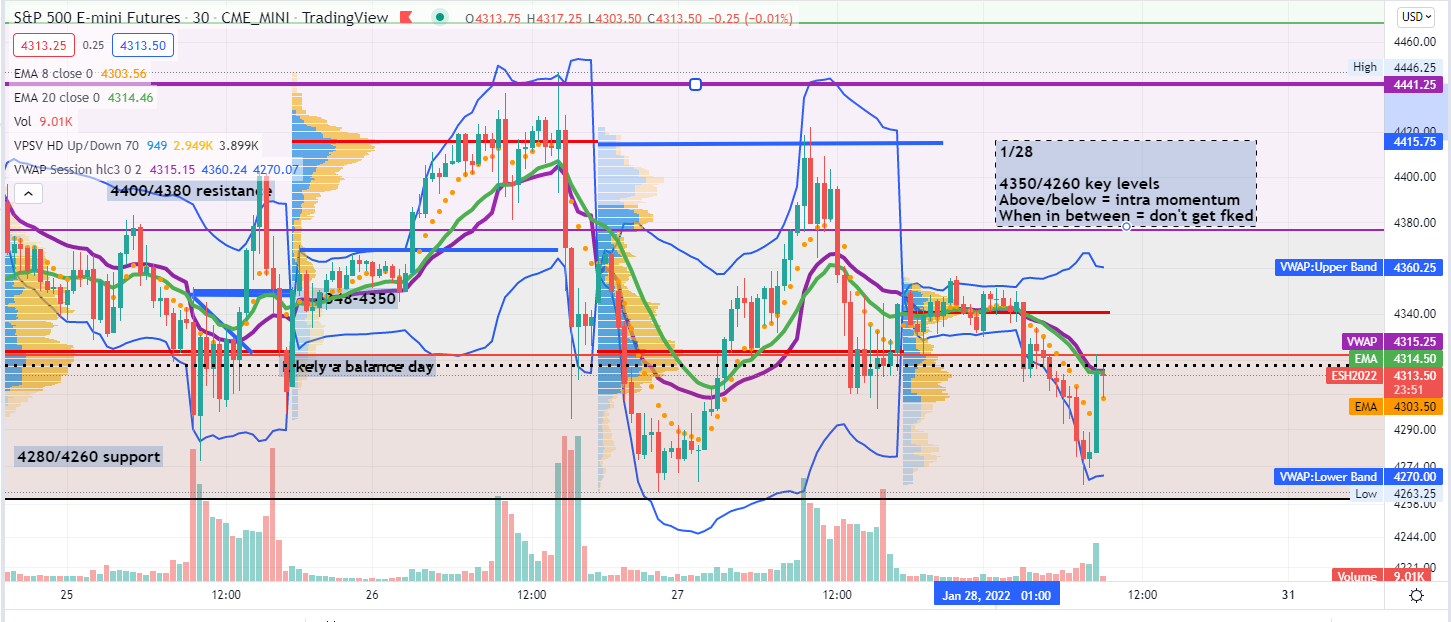 ES JAN28_REVIEW