2 Dividends To Reach $2 Million In Retirement
Have you ever started a project only to abandon it halfway through? People are becoming increasingly interested in creating things themselves, thanks to the development of DIY thinking and the popularity of Instagram, Etsy and Pinterest.
Perhaps you have pals who have thrown themselves headfirst into a project and slammed into reality. In principle, it was a fantastic idea. However, their practical talents and capacities to complete the project were insufficient.
Others may achieve the majority of their objectives but never quite make it to the finish line. Have you ever visited a friend who has recently refurbished their kitchen? It's breathtakingly gorgeous.
While outlet covers aren't life-changing, the tendency to never quite cross the finish line puts many retirees at risk. Of course, we all fantasize about a wonderful retirement. We dream about a retirement filled with free time, friends, travel, hobbies, and a plethora of other activities. We might even read the fine print and increase the 401(k) match as much as possible.
When it comes to retirement, we don't have to give up or wait. Whether we are ready or not, time will propel us across the finish line. Life circumstances, such as your department being downsized at work, can also create this. Other situations, a person's health may cause them to retire earlier than planned.
Today I'd like to present you two excellent income-generating ideas to assist you cross the finish line and arrive in retirement success. By including these selections in your retirement portfolio, you can increase the value of your retirement.
Pick #1: BCX
BlackRock Resources & Commodities Strategy Trust (BCX) - Yield 4.8%
BCX is a monthly income-producing investment with diversified exposure into the energy, mining, and agriculture sectors.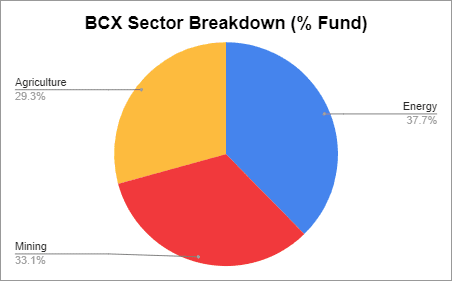 Source: BlackRock Website
The fund's top 10 holdings constitute 42% of its assets.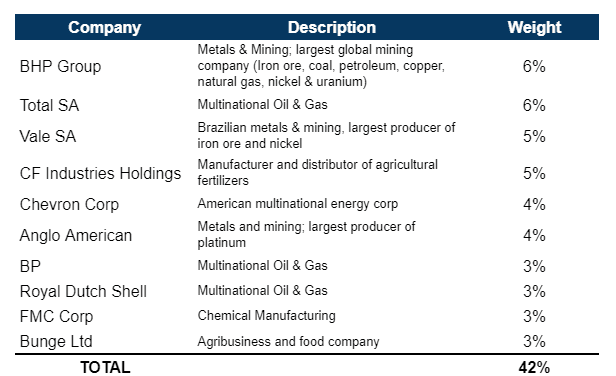 Source: BCX Annual Report
93% of the fund is invested in large-cap securities and derivatives with exposure to commodity or natural resources companies in the U.S., U.K., and Canada
The CEF currently trades at a ~2.5% discount to its Net Asset Value and yields more than 2 times that of the SPDR S&P Global Natural Resources ETF (GNR). It carries a gross expense ratio of 1.3%.
With its 4.8% monthly dividends, your income portfolio is sure to get a boost from BCX as we see accelerating demand for commodities.
Pick #2 ECC
CLO CEFs (such as ECC) have been one of our favorite sectors for several months now. The main reason being that the massive defaults predicted by the market and reflected in CLO prices simply are not occurring.

    Source: TCW
The financial system is awash with liquidity, and only the most distressed companies are unable to refinance. Yet even today, CLO equity positions are priced as if default levels are high. This means we can still buy CLO funds at very attractive prices and collect higher than average yields.
Down the road, when short-term rates start rising, CLOs hold variable rate loans. This means the interest they collect will rise, while the primary leverage for these funds are fixed-rate baby bonds and preferred shares. Collecting rising interest payments while paying a fixed rate on debt is a recipe for growth in a rising rate environment.
With CLOs, we can receive high-yield today. Collecting very generous dividends while we wait. And when interest rates rise, they will be even better.
Conclusion
The starting gun is fired for the retirement race the moment you take your first breath. Many people wait until their 20s or 30s to begin saving for retirement. Many people do not take it seriously until they are in their 40s or even 50s.
 Each of us will reach the finish line at a different time. I want you to come in strong at the finish line and enjoy your retirement.  The benefit these two picks will provide to your portfolio is that they can help push your portfolio across the finish line with success.  Furthermore, they provide a large amount of immediate income that you can start enjoying right away.
===========
Want to access our full report, all our top picks, and portfolio?
We invite you to take a 15-day free trial to our service. It is the #1 Service for Income Investors and Retirees. By taking the free trial, you will have access to our model portfolio targeting a +9% yield by investing in dividend stocks, bonds, and preferred stocks. Test it for yourself, I am confident that you will like it!