You Were Warned - Market Analysis for Jul 25th, 2022
As the market has been pulling back, it has been providing us with the expected whipsaw action that we see during these pullbacks. And, yet, many are surprised and some even amazed at how we can know that a whipsaw environment is at hand.
Well, allow me to pull the curtain back and explain. It is actually quite simple. When the market moves in 3-wave structures, it tells us that the nature of the market is "whipsaw." But, when the market provides us with a standard Fibonacci Pinball structure, then we can expect a trending and relatively predictable type of market.
So, when the market broke upper support last week, it told us that we have moved into what will likely either be a 4th wave in yellow, or a bigger b-wave in green. Both of those are corrective structures, and tell us that we are in a whipsaw environment.
And, as with most whipsaw environments, it is not advisable to trade very aggressively, as traders can often get "cut-to-death" during these types of environments. That is why it is so important to understand the nature of the market environment before you put money to work.
That being said, I noted that I would really likely to see the green count take shape. And, thus far, the market seems to be agreeing. But, that means we are likely in a b-wave pullback. Now, I cannot say that with extremely high confidence, but it does seem a bit more likely at this time.
The one complication I am seeing is that the ES provided us with a bigger [b] wave retracement than what we experienced in the SPX. Therefore, it makes me question whether the [b] wave within the green b-wave has actually completed. So, I am leaving a bit more room overhead to around the 4000ES region for a bit of a larger [b] wave.
Now, another point I made this morning is that the potential [a] wave was quite shallow, as it slightly exceeded the .236 retracement of the a-wave. Normally, the [a] wave will target the .382 retracement, which, in our case, is in the 3900SPX region. Therefore, there is some potential that what I am showing as the [a] wave low may actually only be an a-wave within a bigger [a] wave low.
So, to try to put this complication somewhat simply, as long as the market remains below the 4000ES region, I am looking for a deeper retracement over the coming days in the b-wave in green.
Again, I am going to warn that trying to provide a specific path within a corrective structure such as this is akin to throwing jello for distance. So, please keep that in mind if you are attempting to aggressively trade in this environment.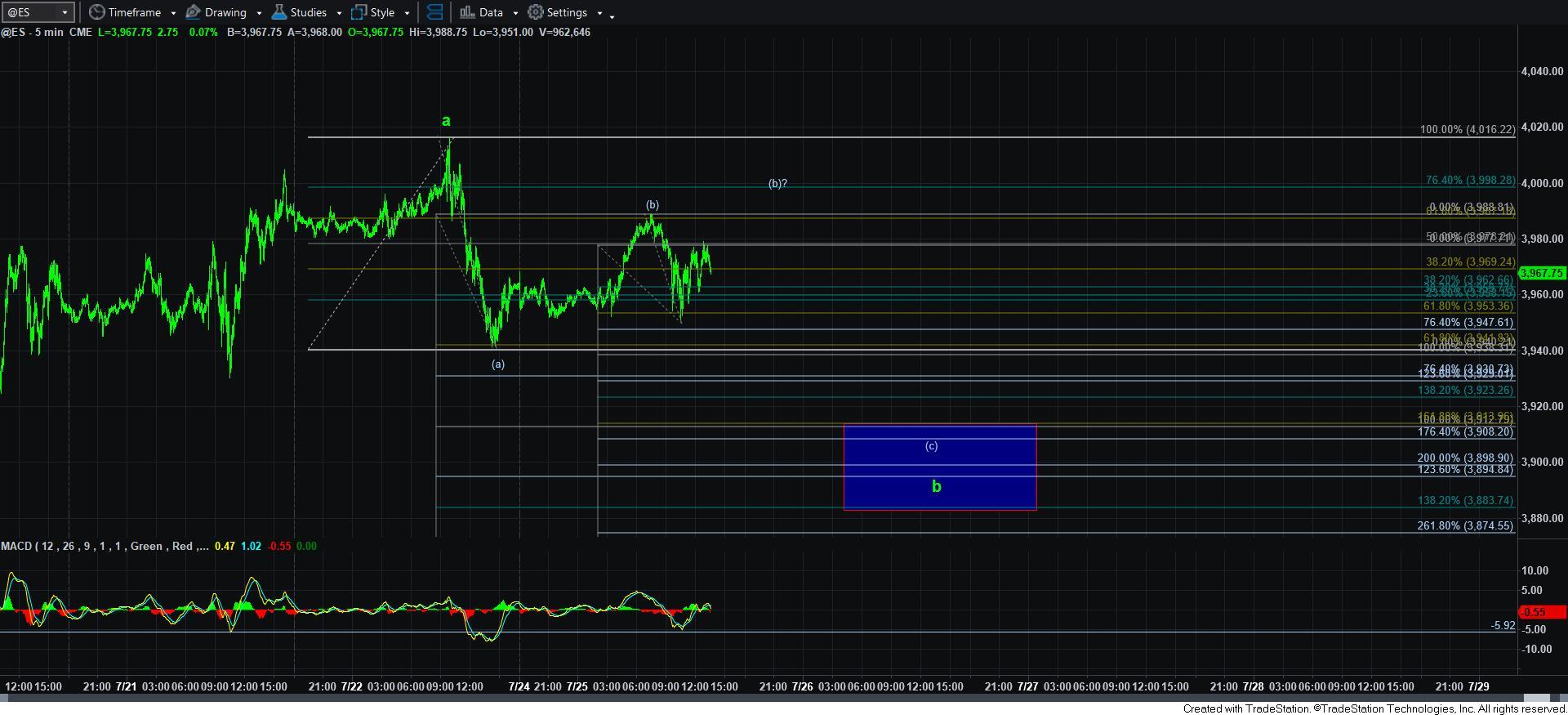 5minES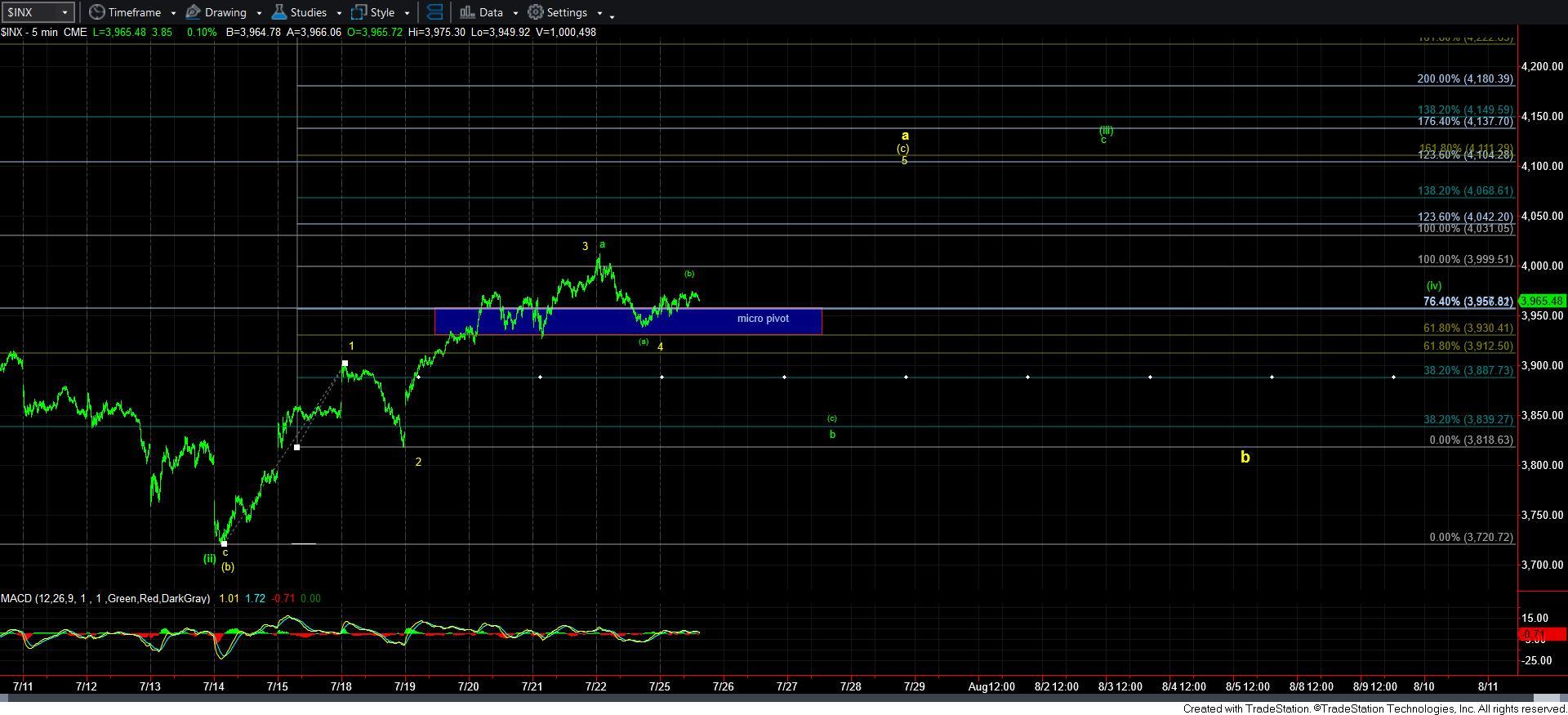 5minSPX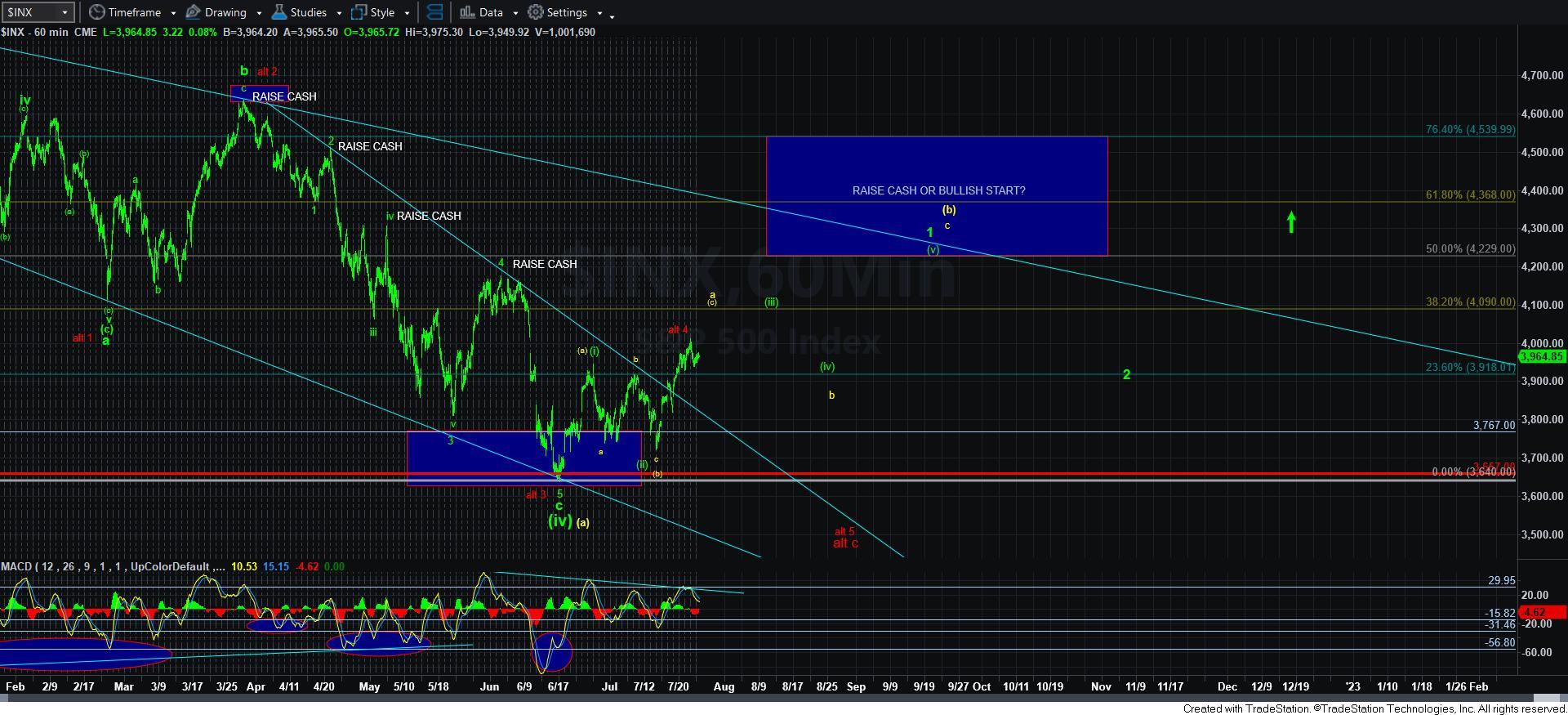 60minSPX