With today's pullback, I think I have to start taking the yellow count much more seriously at this time.
The main reason I am beginning to view that with higher probabilities is that the current structure does not seem to project beyond the 3000 SPX region. And, as I have been noting this week, wave [3] within a diagonal often targets the region around the 1.236 extension of waves [1] and [2] which is the 3000 region in our case. Of course, if the market can blow past it and take us to at least 3060, then I can retain the green count as primary. But, as it stands right now, the structure seems to be hinting towards the yellow count right now.
So, I am going to try to simplify the analysis today and break it down into support and resistance.
Our primary support is the 2880/2900SPX region, which was tested today. As long as that support holds, I can maintain an expectation to attack the 3000 region. But, as noted, it does not seem as though we have strong projections to be able to take us through that region at this time.
A break down below 2880SPX is a very strong warning to the bullish side of the market in the near term, and a sustained break down below 2860SPX points us down to the 2600-2700SPX region for wave [4] in yellow.
As you can see from the 60 minute chart, I still have the purple count target at the lower end of the chart. But, the only way I will consider that at this point in time is if the market breaks down below the 2600SPX region. This means that my primary count remains bullish. But, if the yellow count is playing out, we can see a strong decline as deep as 2600SPX and still maintain a bullish count, as shown in yellow.
Lastly, not to sound like a broken record, I still feel quite strongly about the fact that most investors do not need to be involved in the market after garnering 70% of the rally off the March lows. The last potential 30% carries with it a lot of risk, and a wave ii retracement (after all 5 waves is able to complete) will still likely take us lower than where we reside today. So, please consider the amount of risk you are willing to accept in the market right now relative to the potential reward.
But, the main point is that as long as we continue to hold the 2880/2900SPX support, then 3000+ remains in the cards in the near term. Below it, and it opens the door to 2600-2700SPX.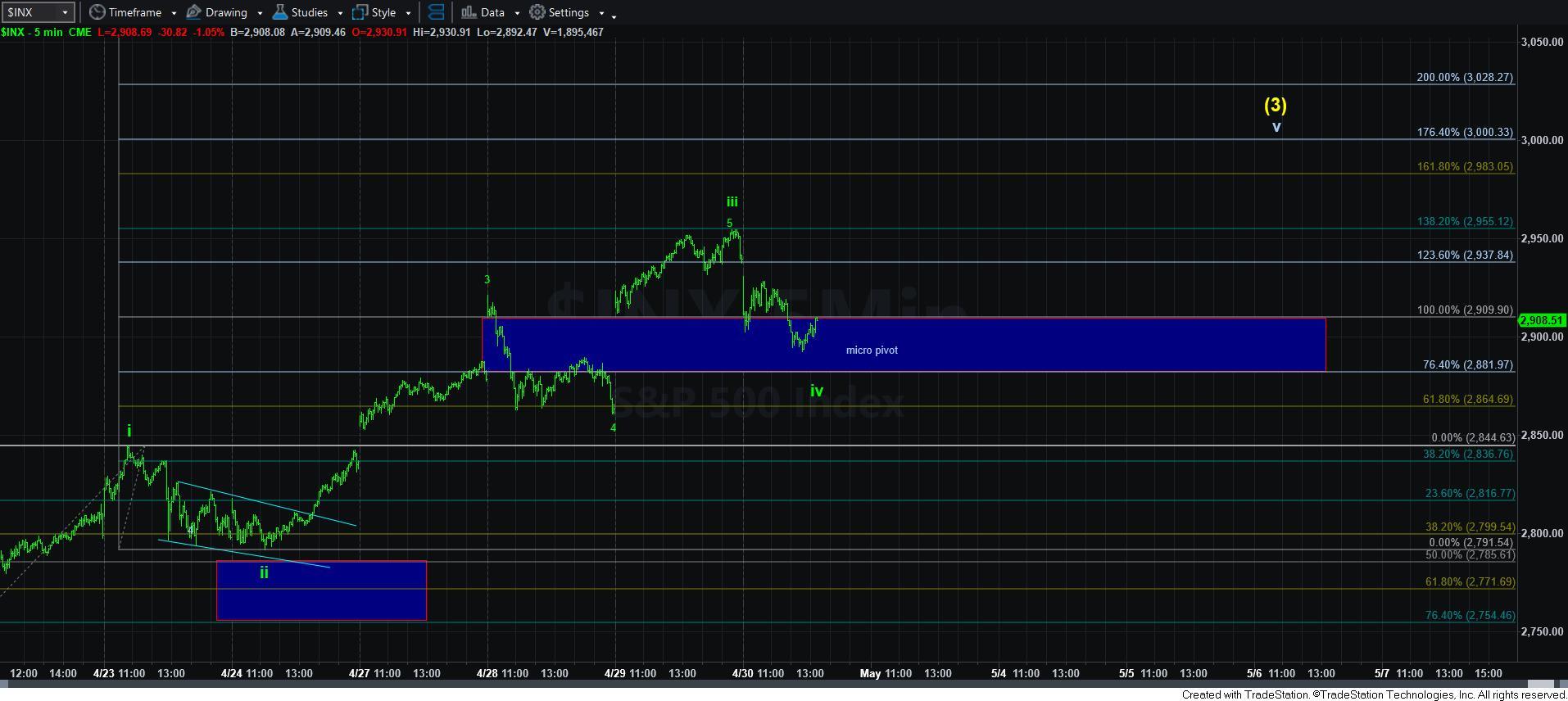 5minMicro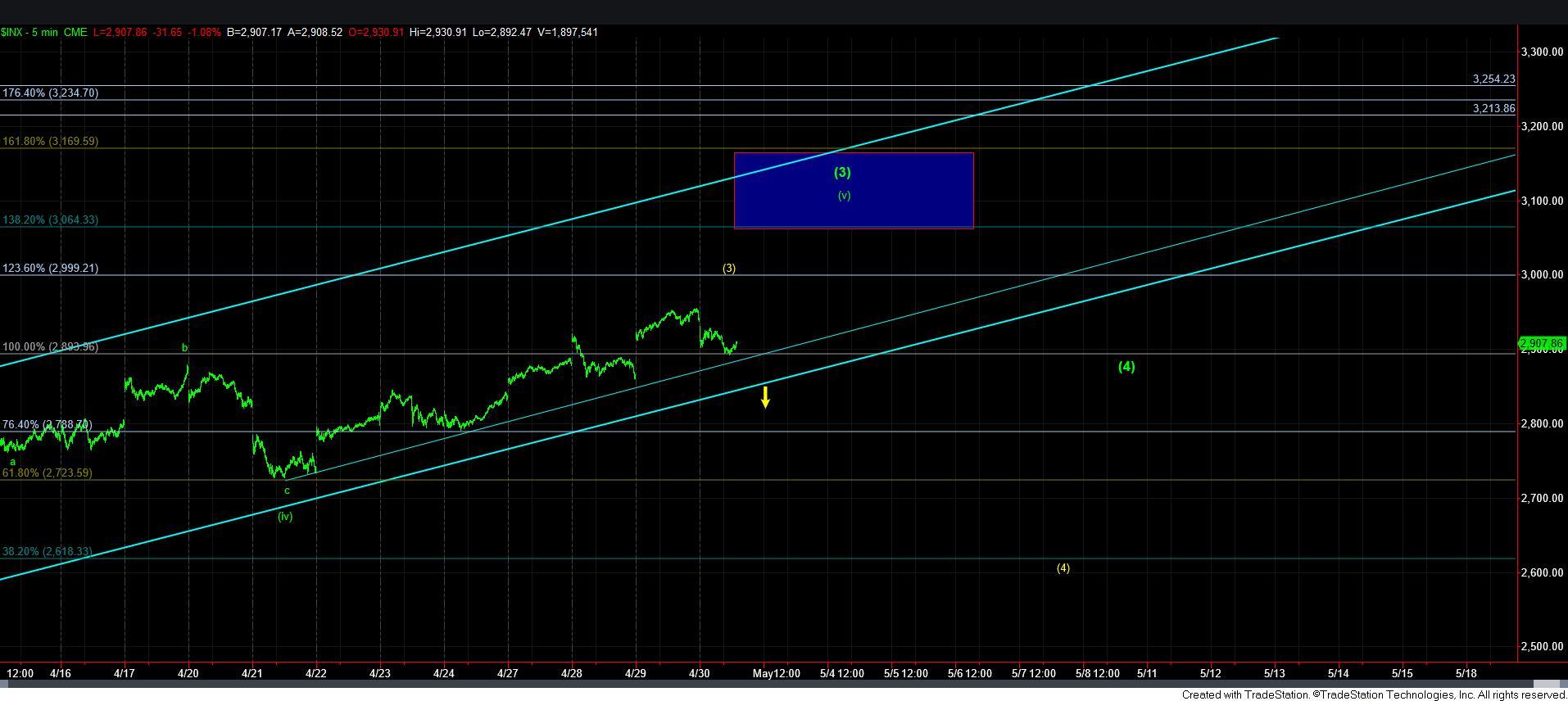 5minSPX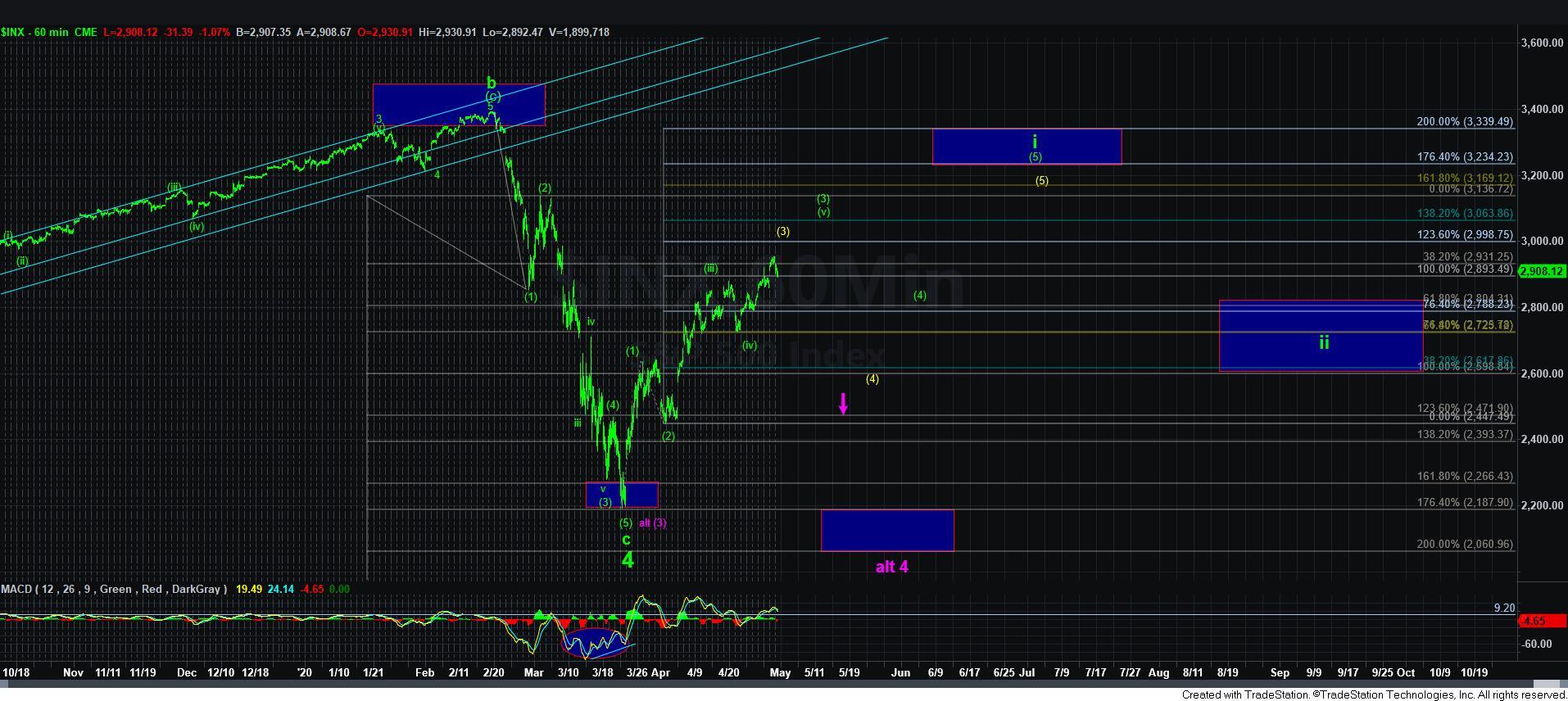 60minSPX