Will The Market EVER Come Down Again?
I was reviewing anecdotal sentiment over the internet, and many are starting to post immediate targets of as high as 2700SPX in the coming months. While I do see the potential for the SPX to approach the 2600SPX region, I think people are starting to get carried away due to the extreme bullish sentiment this market creates when it rallies like it has over the last week.
But, yes, the market will come down again, and it will likely come down farther than any believe right now. Yet, that is wave (4) business, and the market is still providing us extensions within wave (3).
As far as wave (3) is concerned, we are still tracking two potentials – the standard impulse in wave 5 of (3), and the ending diagonal.
As you can see from the attached 60-minute chart, the ending diagonal now has the minimal waves needed to consider it completed. But, just because we have a minimum number of waves in place does not mean that this is the higher probability at this time. Rather, the bulls still have the ball, and have not even come close to fumbling yet. This still keeps us in a buy-the-dip mode, unless the ending diagonal can break support to suggest we are going to see a bigger break down sooner rather than later.
The current micro count has us completing green wave iii within grey wave (iii), as presented on the 5-minute chart. But the question is how extended this wave iii is going to take us. If we are unable to break back below today's low at 2529SPX, it leaves the door open to extend to the top of the trend channel in the 2541SPX region. Even though we have exceeded the standard target for this wave iii (2527-29 region - 1.618 to 1.764 extension of waves i and ii), this often happens in very strong 3rd waves. And, until we are able to break back below 2529SPX, this can extend even further.
However, a break back below 2529SPX would suggest we are in green wave iv, which now has support between 2515-22SPX. The bullish count would suggest that we should hold over the 2515SPX level, and provide us with a 5th wave to complete grey wave (iii).
For now, as long as we remain over the 2515SPX region, we are still looking higher in just grey wave (iii) alone. But, should we break below 2515SPX from here, that is the initial signal that the ending diagonal may have completed. But, remember, unless we see a strong break of 2496SPX, we really cannot place too much reliance upon the ending diagonal pattern, because this bull market has been exceptionally strong.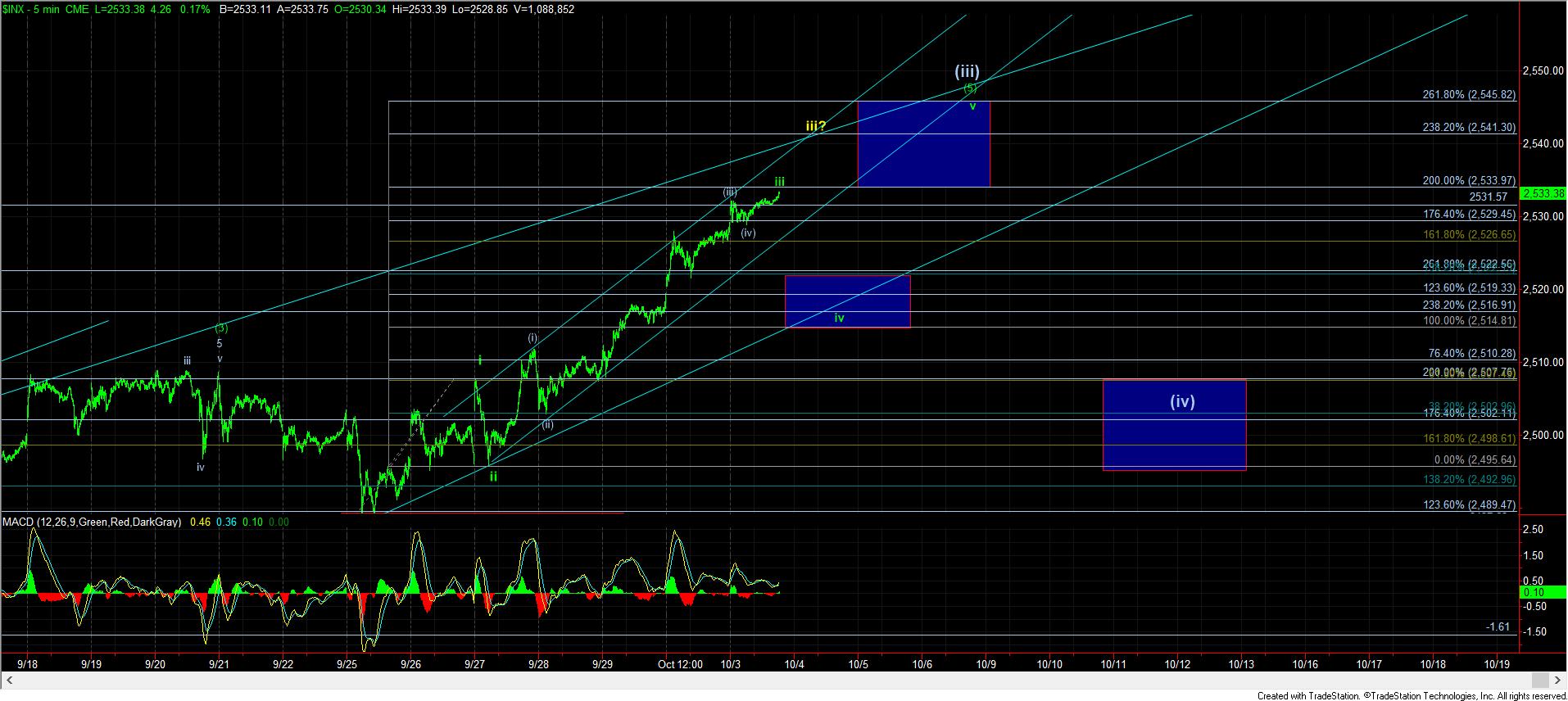 5minSPX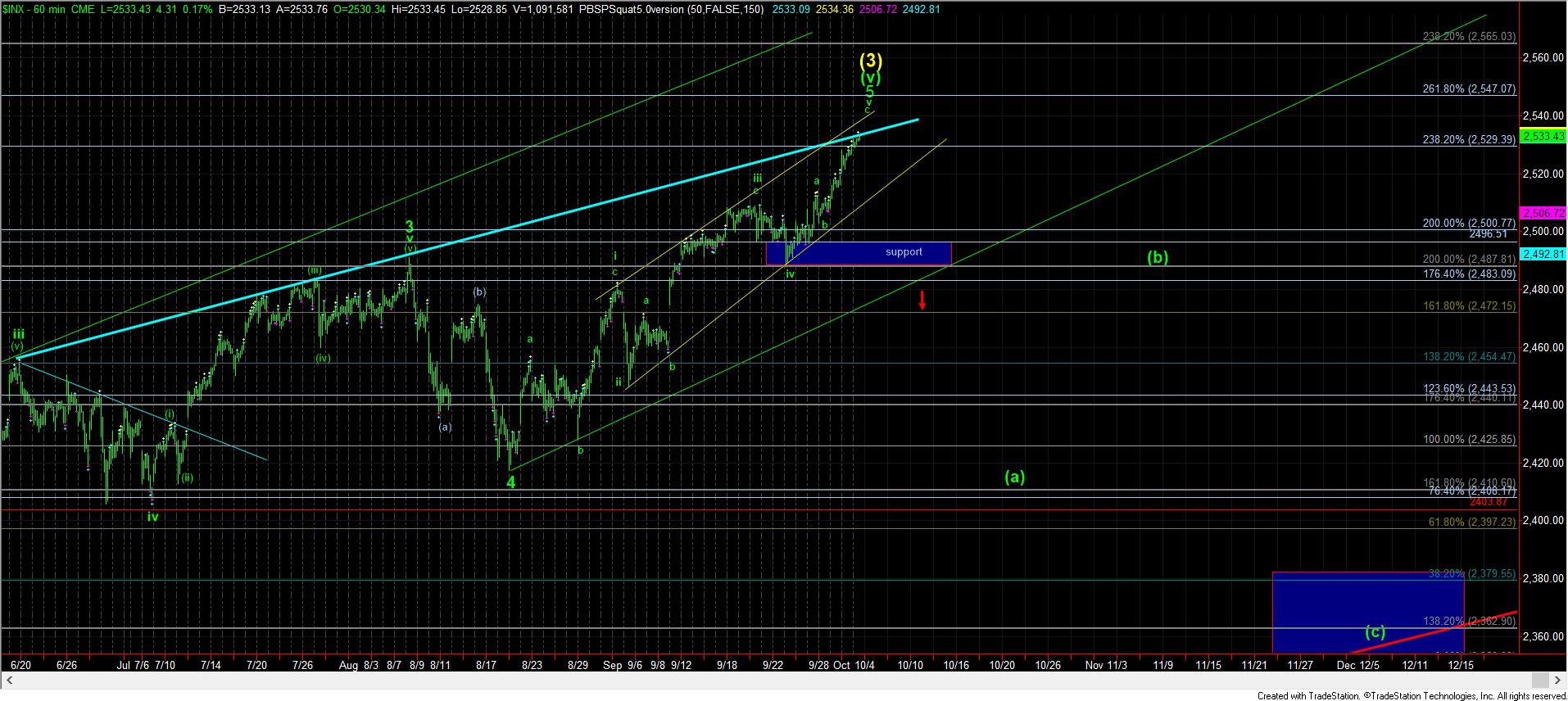 1-60minuteSPX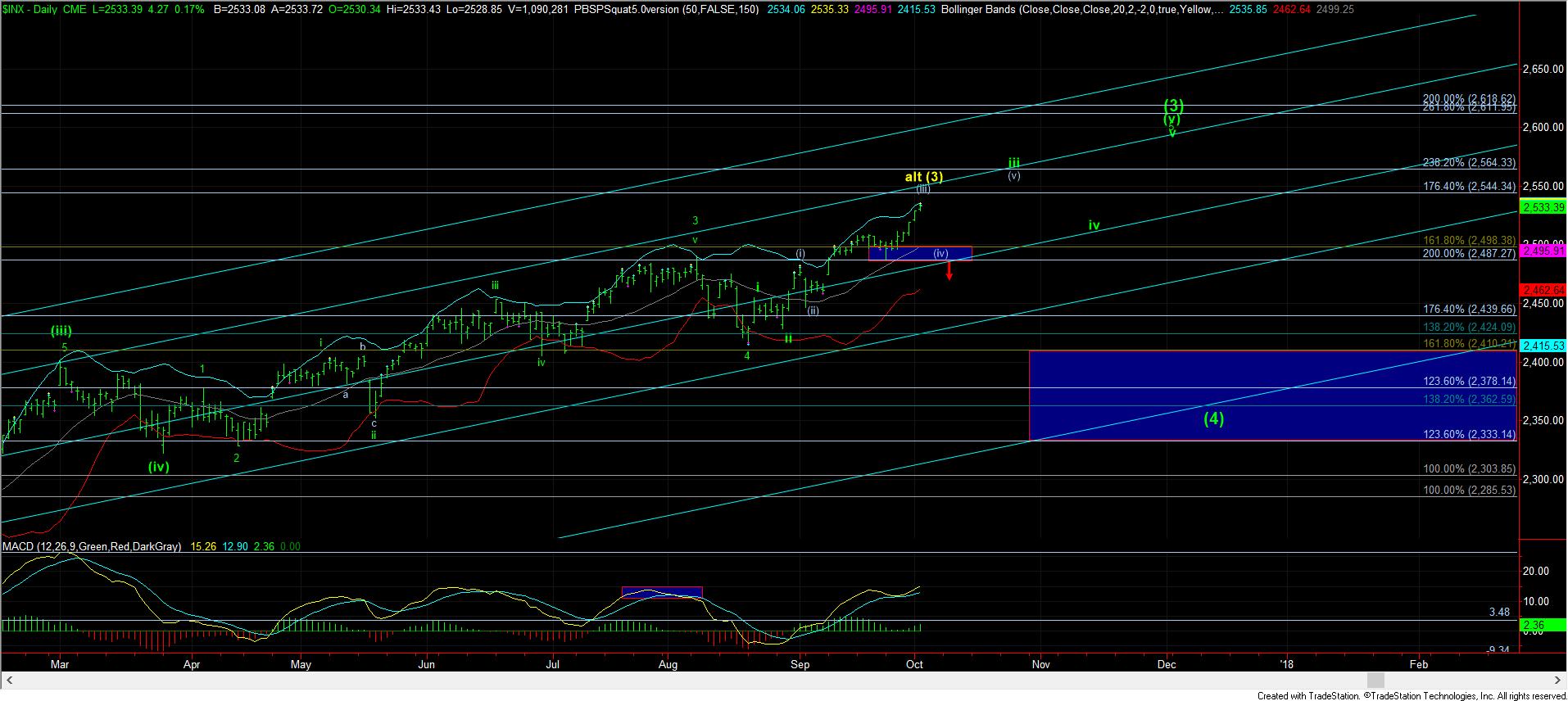 1SPXdaily