Will The Market Attempt One More Whipsaw?
With the market breaking down today, it has certainly opened the door to a direct move to lower lows. While I would love to be in that camp right now from a high probability perspective, the manner in which we have dropped still leaves the door open for the triangle pattern to whipsaw market participants one more time.
While my initial expectations were that a break down below 2640 would increase the likelihood that we are heading down to lower lows within an immediately bearish pattern, the manner in which we have dropped has not made me highly confident in that immediate potential.
You see, if the market had provided us with a solid 5 wave structure off last week's high to 2640 or below, I could have counted that as wave 1 down in the c-wave of the green count, which would have been pointing us directly towards lower lows. But, that is not what we got.
While, the drop we have experienced MAY still be a 1-2, i-ii downside set up towards those lower lows, the triangle pattern we have been following has been strongly left on the table due to the lack of a clear initial 5 down off the highs.
Moreover, based upon the micro structure and the larger than standard extensions we experienced today, as Garrett posted earlier today we have to view support for the (b) wave of the d-wave in the triangle count as maintaining support between 2592-2617SPX. So, unless the market can solidly break that support, it may give market participants another headache with another "surprise" rally back up over the highs we struck last week, which would then complete the d-wave of the triangle structure. That ideal target region would be the 2740-2775SPX region.
While the action today as certainly narrowed the six possibilities that I was tracking in my mind yesterday, and we have more defined parameters than we did yesterday, it does not make this trading region any easier. But, a move back up through the 2645SPX level would certainly open the door to a rally for the completion of the d-wave, whereas maintaining below that level keeps the pressure down.
So, if you are trying to trade this region, please make sure you understand the parameters as presented to us today by Mr. Market, and just be very prepared for the potential whipsaw action so that you don't get caught in aggressive shorting positions.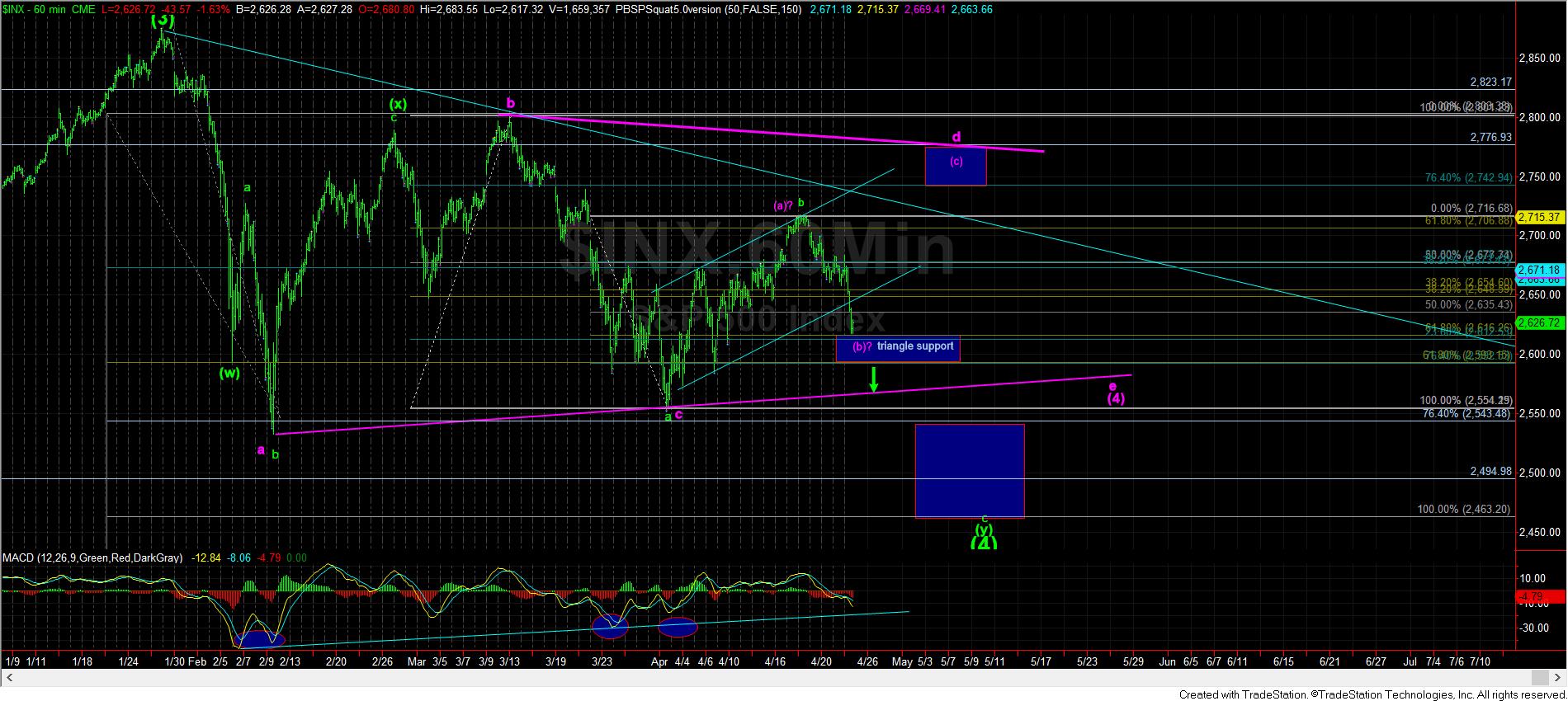 60minSPX