Wild Action - Market Analysis for Dec 1st, 2021
Normally, when I see wild action like this, it is often suggestive of corrective wave structure, or an ending diagonal to a c-wave. Therefore, as I have been warning all morning, we will need to see an impulsive follow through over 4650SPX to suggest that wave iv is done.
As the market began a rally overnight, I outlined a pivot on the ES that had to hold, and then pointed us up to the 4650 region to potentially complete a 5-wave rally. That seems to be what we completed this morning at today's high.
However, in order for me to now be confident that wave iv has indeed completed, I need to see a rally over today's high, which should point us back up to the prior all-time highs to complete wave [i] of 5 of [3]. Thereafter, I would expect a corrective wave [ii] to set up the real break out to 4960SPX. And, this is the set up for which I suggested many to wait to trade the rally more confidently to 4900+. I am still of the same opinion.
With the back and forth action of late, I need to a bit more confident from the wave structure that we have indeed bottomed. And, until that happens, there are two potential paths which can point us lower. I have added the c-wave ending diagonal structure in blue on the 5-minute SPX chart, which would suggest a test of the 4540/50SPX region before this wave iv completes. Alternatively, if we break below that support, then the yellow count begins to gain in probability, as outlined over the weekend.
For now, I need more confirmation that a bottom has indeed been struck, and that confirmation will come in a break back out over today's high. While we have a (1)(2) micro set up developing, I need confirmation to see it as reliable. Moreover, a break below yesterday's low will invalidate this potential.
So, I am going to remain a bit more patient as the market continues to swing back and forth in this region. And, a break out over today's high without breaking below yesterday's low will go along way to pointing me back up to the 4960SPX as my high probability target.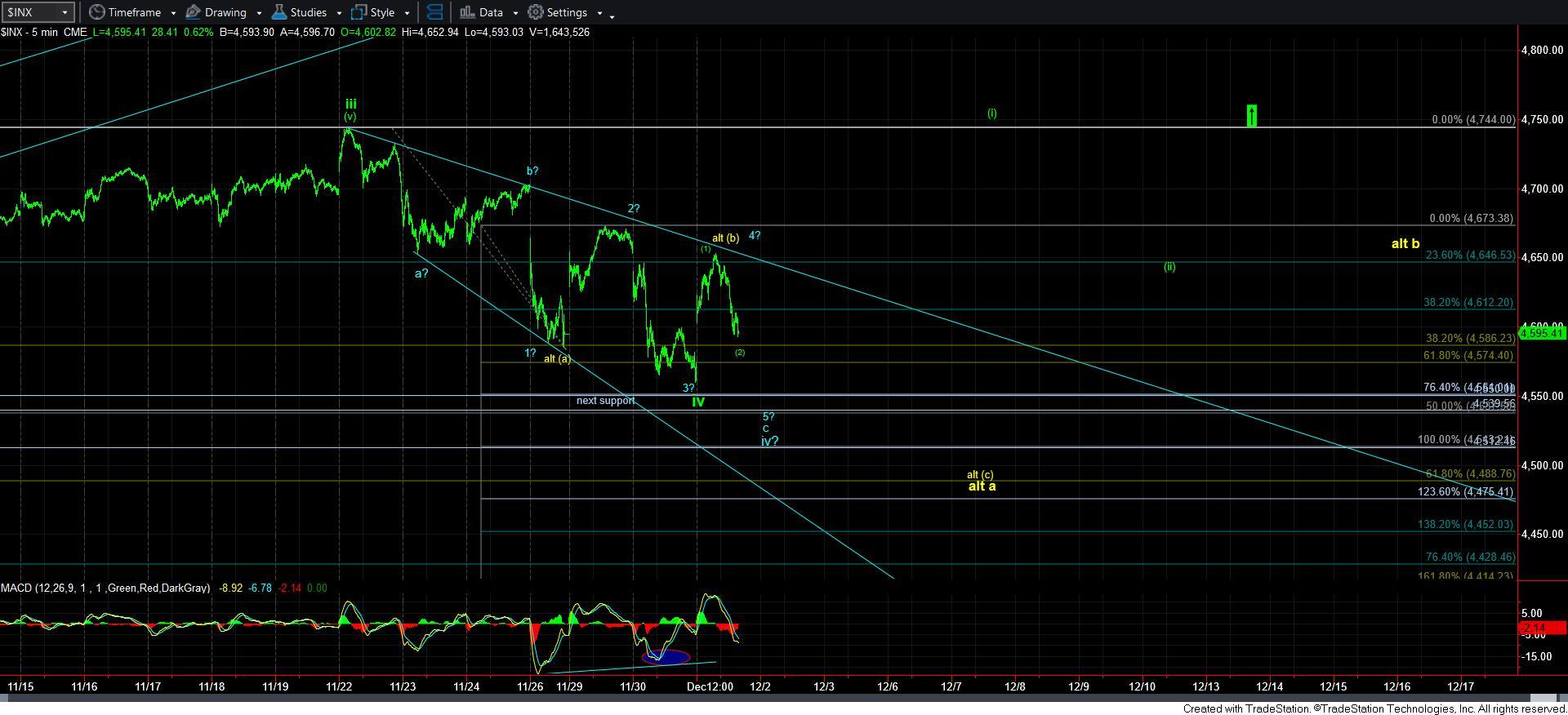 5minSPX
60minSPX