Whipsaw Continues - Market Analysis for Oct 5th, 2021
For anyone who has experience with a 4th wave, you know one of the hallmarks of corrective action is whipsaw. And, this current corrective action is no different.
With the move through the micro pivot I outlined yesterday, the market gave us early warning that something else other than a standard impulsive structure to the downside was taking shape.
With the rally thus far, there is potential that we have a bottom in place. And, as we did earlier this week, we will need to seek confirmation before we can be more certain that the bottom is indeed in place.
Our initial confirmation comes in completing a 5-wave structure for wave [i] of i of 5 of [3]. For those that need a bit more detail on that, please see my weekend update I posted this past Saturday night.
Specifically, we will need to see 5-waves complete for wave [i], followed by a corrective wave [ii] pullback, thereafter followed by a rally over the high of wave [i] to provide us with a strong initial signal that wave 4 is indeed complete, and that wave 5 has begun, pointing us to 4900SPX over the coming months.
In the meantime, I have to note that I have a very hard time counting a clearly completed 5-wave structure into the low we struck this week. That leaves the door open for the yellow count I have outlined on the 5-minute SPX chart. It suggests that we are working on a larger 4th wave flat, which can provide us yet another test of the upper support region to complete wave v of c of 3.
The most prominent ratios we see within flat patterns is the a=c relationship. When I take into account the futures action, the a=c would point us towards the 4383SPX region. Therefore, if the market tops at the 4383SPX region, and then turns down in a clear 5-wave structure, we will have to prepare for another lower low before this 4th wave completes.
Moreover, if the market is unable to complete 5 waves up, and then breaks back down below the micro support noted on the 5-minute SPX chart, we are likely still within wave 4 and will likely see lower lows.
So, despite the whipsaw, the market is still providing us with strong parameters. At the end of the day, anything less than a bullish confirmation, as outlined above, keeps pressure to the downside. But, once the market provides us with a [i][ii] set up and then triggers with a rally over the high of wave [i], then we move into bull mode again. And, the only reason I have the green count as my primary is due to the oversold nature of the market and the positive divergences, which I have been highlighting regarding the daily and 60-minute SPX charts of late.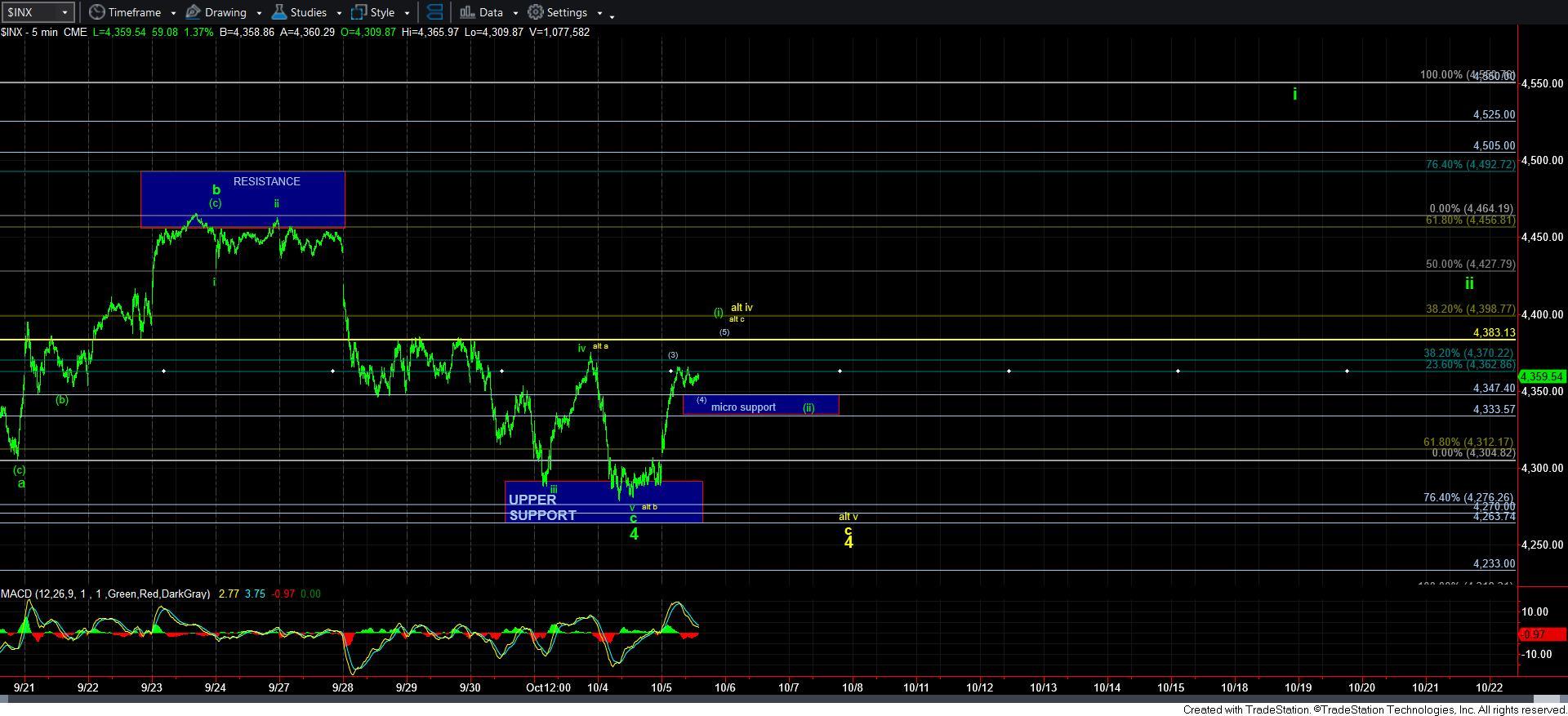 5minSPX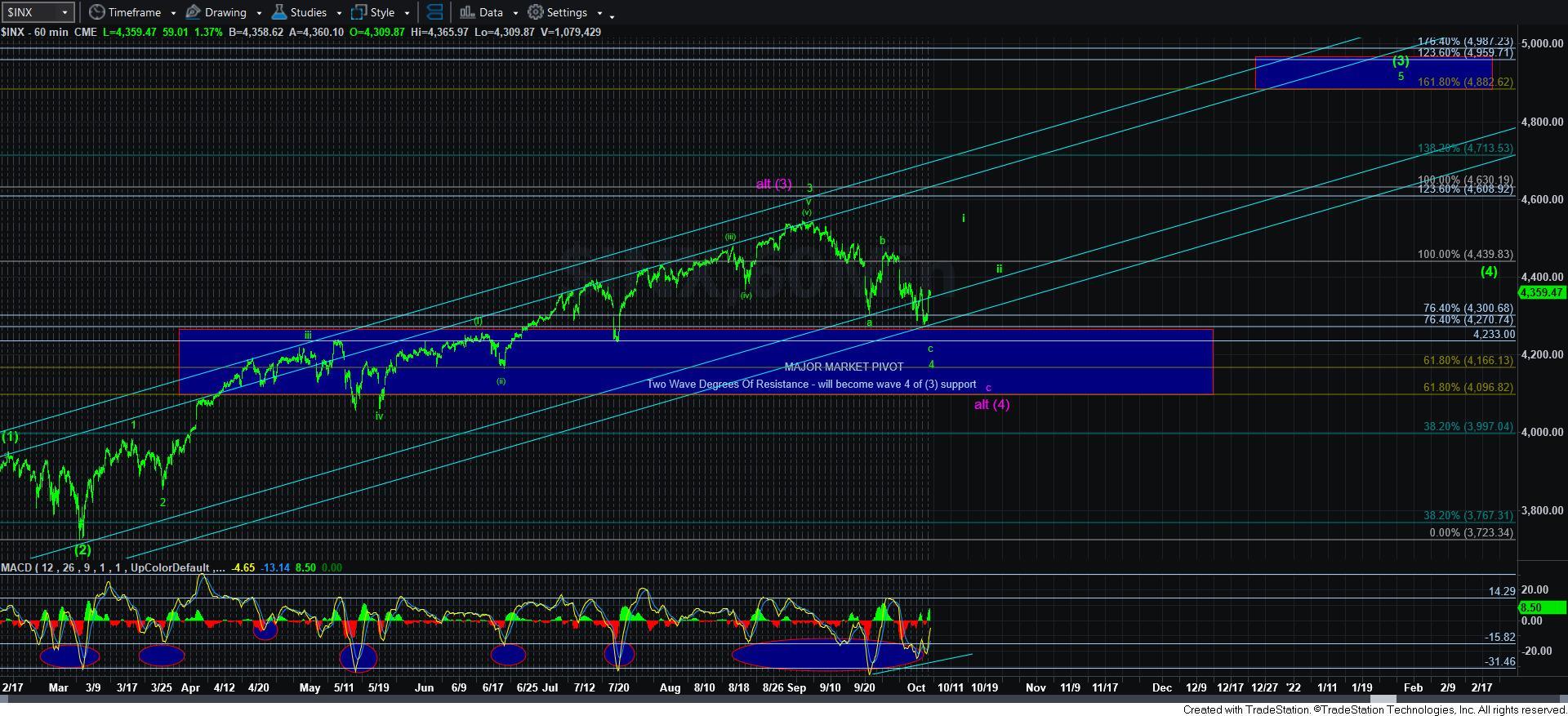 60minSPX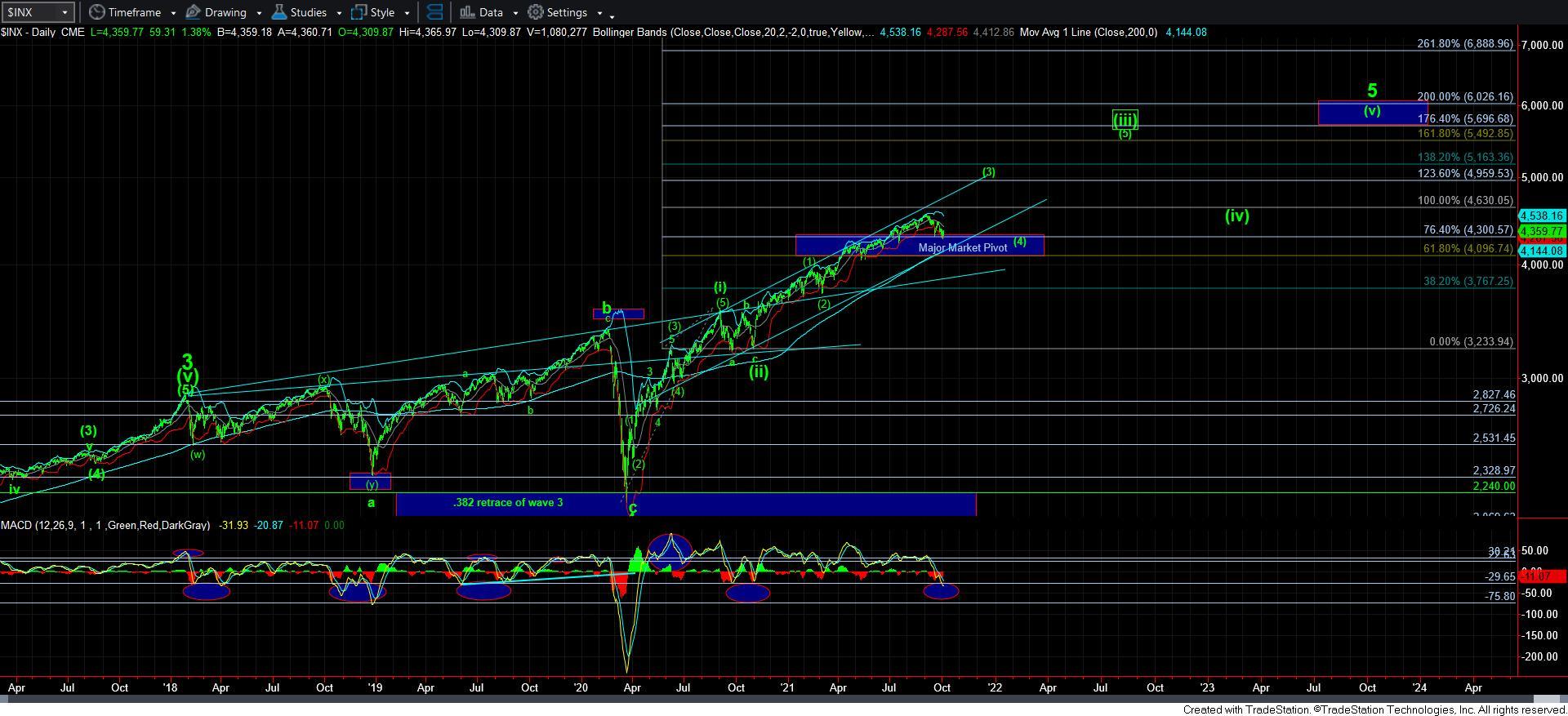 SPXDaily