Yesterday evening, I tried to explain the alternative and more aggressively bullish count that I am presenting in yellow. And, the higher we go, the more likely we are completing wave 5 of [3] sooner rather than later.
While my view was that we were going to see a strong rally for wave 5 of [3], seeing a direct move up without any pullbacks was clearly not within my expectations. And, the reason it was not is because it is not typical to see a rally begin off the lows struck a month ago in the manner in which we began this rally.
So, when I question how the market is taking shape in the SPX, I often will look for clues in other charts. And, my first choice is the IWM. What the IWM tells me is if we do not see a break down below 233 very soon (to suggest we will see a standard wave ii pullback), then it means we are already well on our way to our target for wave 5 of [3]. And, if we are indeed already on our way, then I am going to have to assume we may come a bit short of the target box, as I will view the target now as between 252-259.
How high we can go in the SPX is still a bit of a question to me. I have no structure that points up to the 4900SPX region, but that is the typical target one would look towards for wave 5 of [3] in a more direct fashion. Yet, as I just said, I simply have no way to outline a structure that can take us there in a direct manner.
In the meantime, we have two supports that are going to have to guide us. The first support is 4620SPX. And, if the market breaks below that support, then we will likely test the 4545/50SPX region.
Again, seeing such a large extension within the structure we developed off the lows struck a month ago is highly unusual and does not provide me with a lot of clarity as to how high we can rally. But, what I do know is that if we cannot break down below those supports, then the path will continue to be higher in the coming several weeks. We need to break below 4545SPX to suggest that we will see a standard 2nd wave.
However, in the event that we do continue higher directly, then it would mean that our structure is going to become a bit more advanced from a timing perspective. Initially, I did not think we would complete this 5 of [3] before the end of the first quarter of 2022. Now, it is something we may complete before the end of 2021. Thereafter, I think we have to assume that wave [4] will take us back down to the 4300/4400SPX region into early 2022. But, this also means that we can still likely head up to the 5163SPX region in 2022, with some potential to even rally as high as the 5500SPX region in 2022, as I outlined last night.
So, depending upon how the next week or two develops, the market should firm up how we will trade the SPX for 2022. However, while we will again revisit the 4300/4400 region, it may not be until we are in wave [4].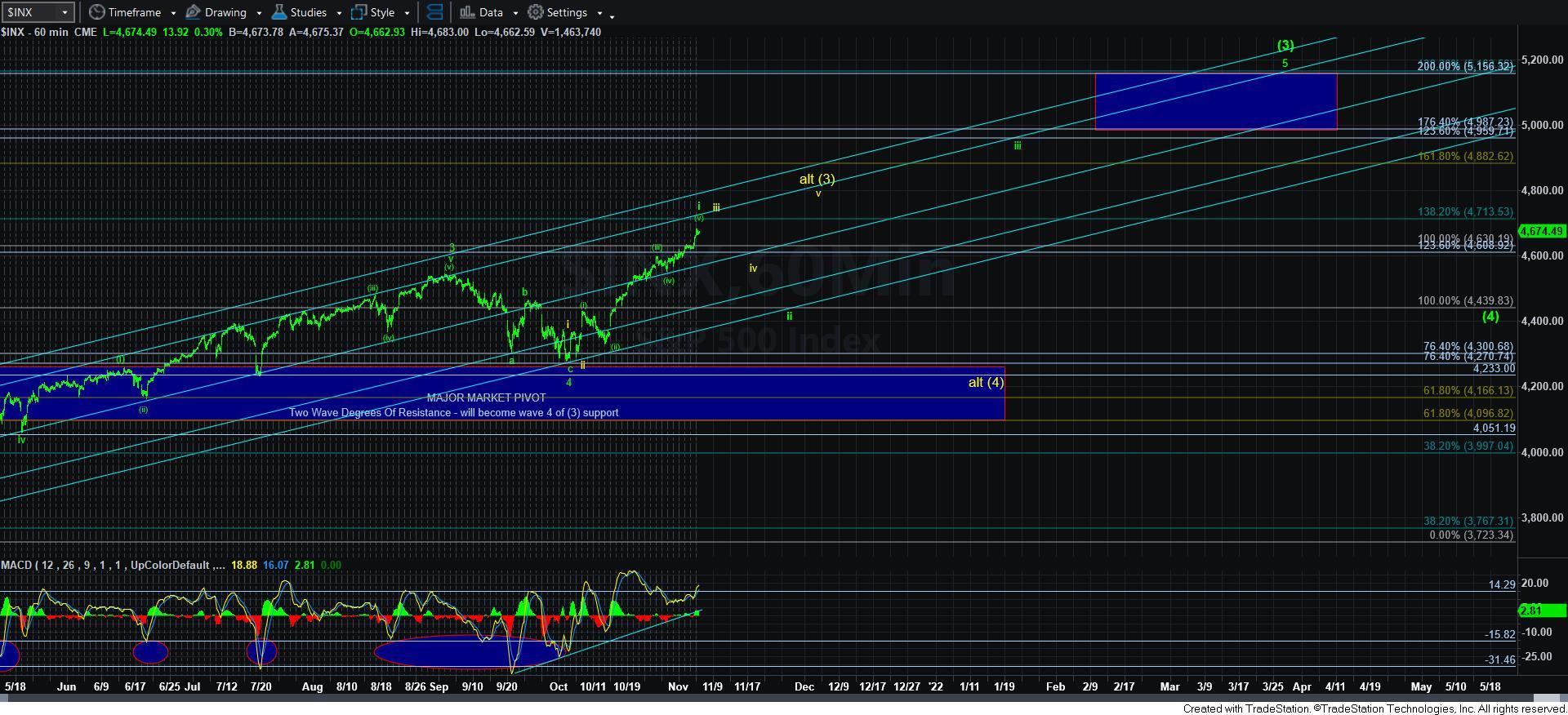 60minSPX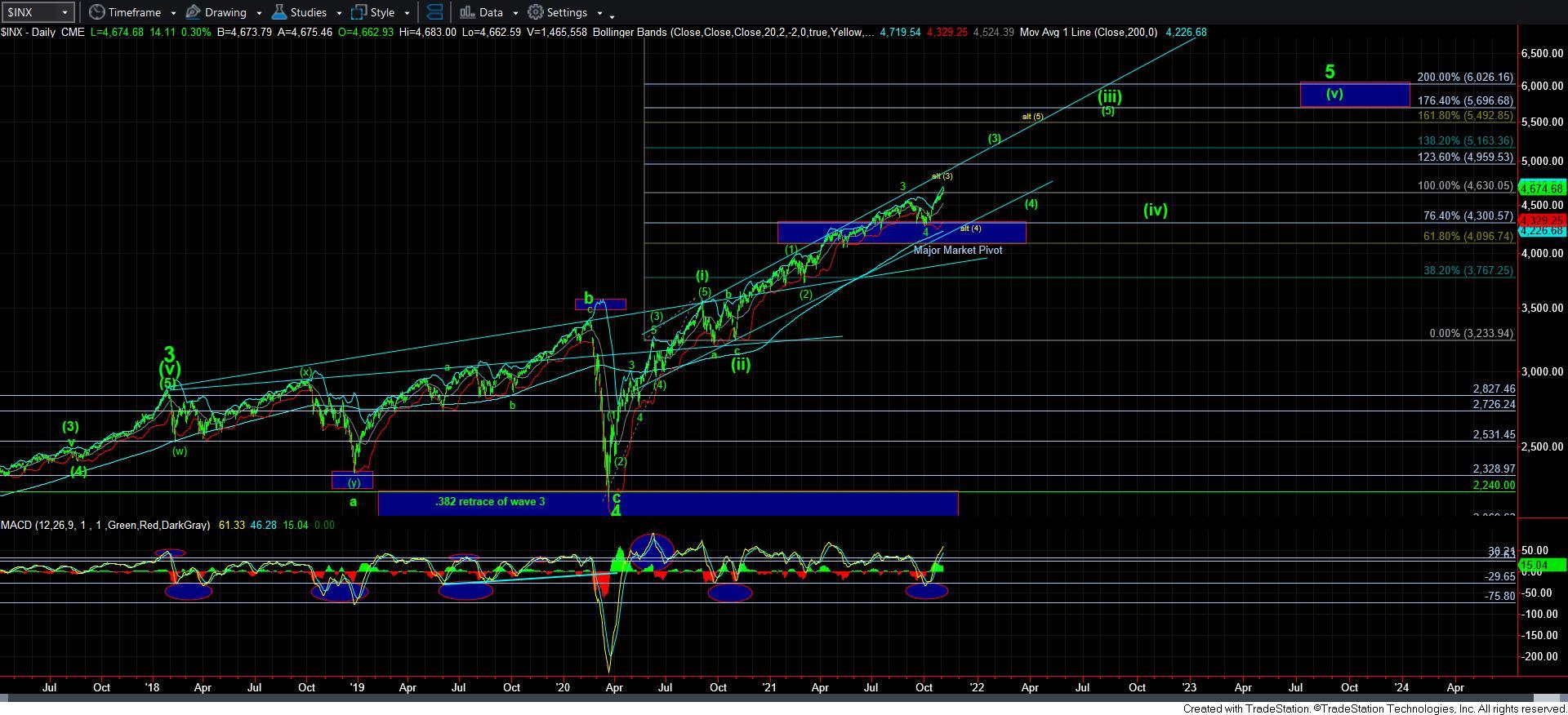 SPXDaily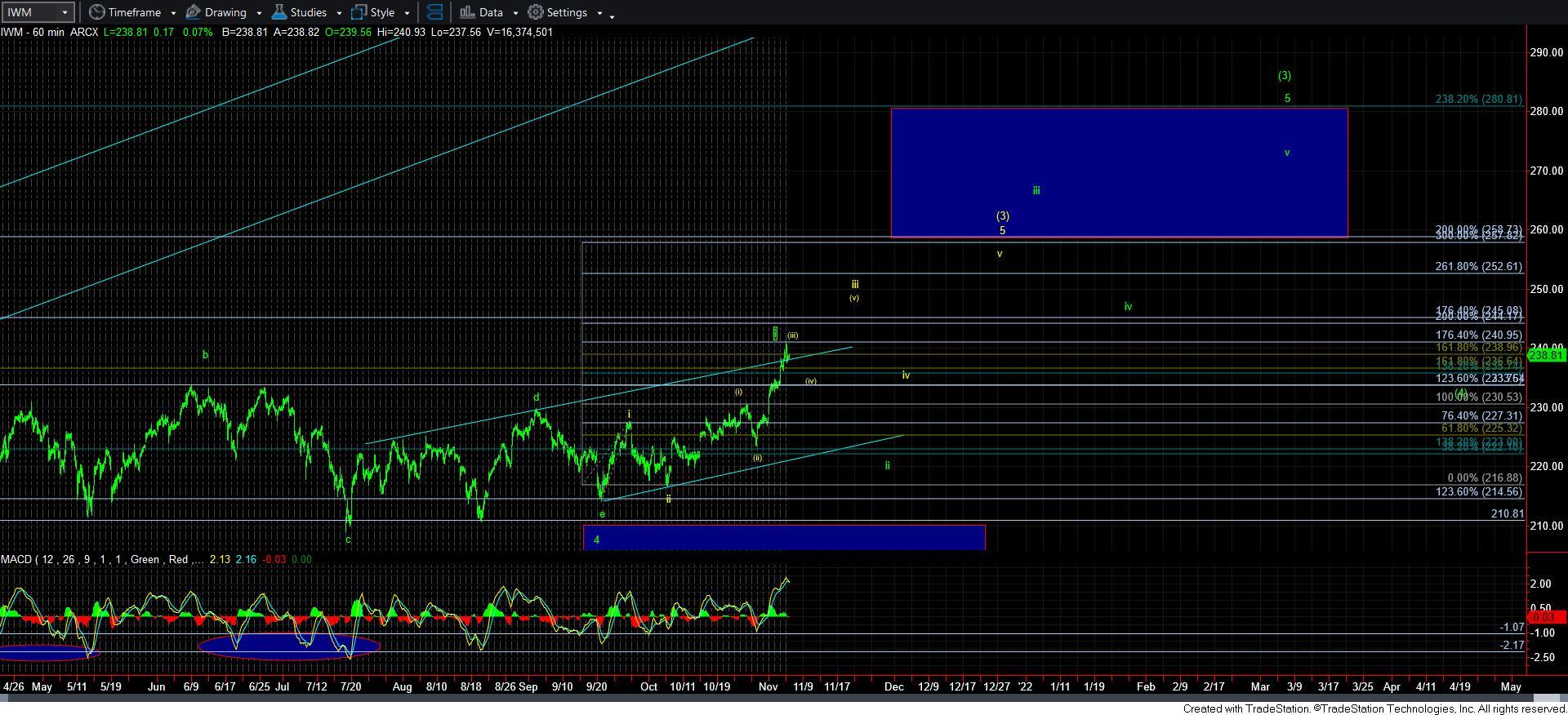 IWM60min