What Will It Take To Form A Top?
Well, the simple answer is a break of support. As I highlighted recently, the market has enough waves in place to consider the rally off the June low as completed. However, as we know, bull markets love to extend. And, until we are able to take out the 2950 support on the S&P 500 (SPX), extension potential remains on the table.
With today's rally off support, the market has not yet completed 5 waves up based upon my micro count on the ES futures. But, there is clearly a micro structure to complete that as I write this.
Yet, even if we do complete 5 waves up, that may still be an a-wave of a corrective a-b-c rally structure, which would suggest the market has indeed topped out. Moreover, the inability to rally to a higher high would make it much more likely that this rally was an a-wave as presented in red, as it means we have topped out at the .382 retracement of the decline from the all time high, which is a standard target for an a-wave retracement.
But, as it stands now, I have no way to discern if the structure is going to point us to a higher high in the dark green wave v, or if we are going to stop at an a-b-c corrective structure. We will need to rely upon our Fibonacci Pinball structure to discern that. Allow me to explain.
Assuming we do complete 5 waves up as outlined on the 5-minute ES chart, then we would likely see a corrective pullback in a wave b/(ii). From wherever that wave b/(ii) bottoms, we will calculate the projected Fibonacci extension levels to the upside. And, once the market gets to the 1.00 extension then the .618 extension becomes VERY important support. If we are able to hold over the .618 extension at all times after striking the 1.00 extension, then it points us to a higher high in the dark green wave v. However, should we break down below the .618 extension after striking the 1.00 extension, then it should confirm that the rally is only an a-b-c structure, as outlined in red, and it points us down towards the 2940 SPX region, and potentially a lot lower.
So, it may take another day or two to discern if the market has yet another extension higher, or if we have finally topped.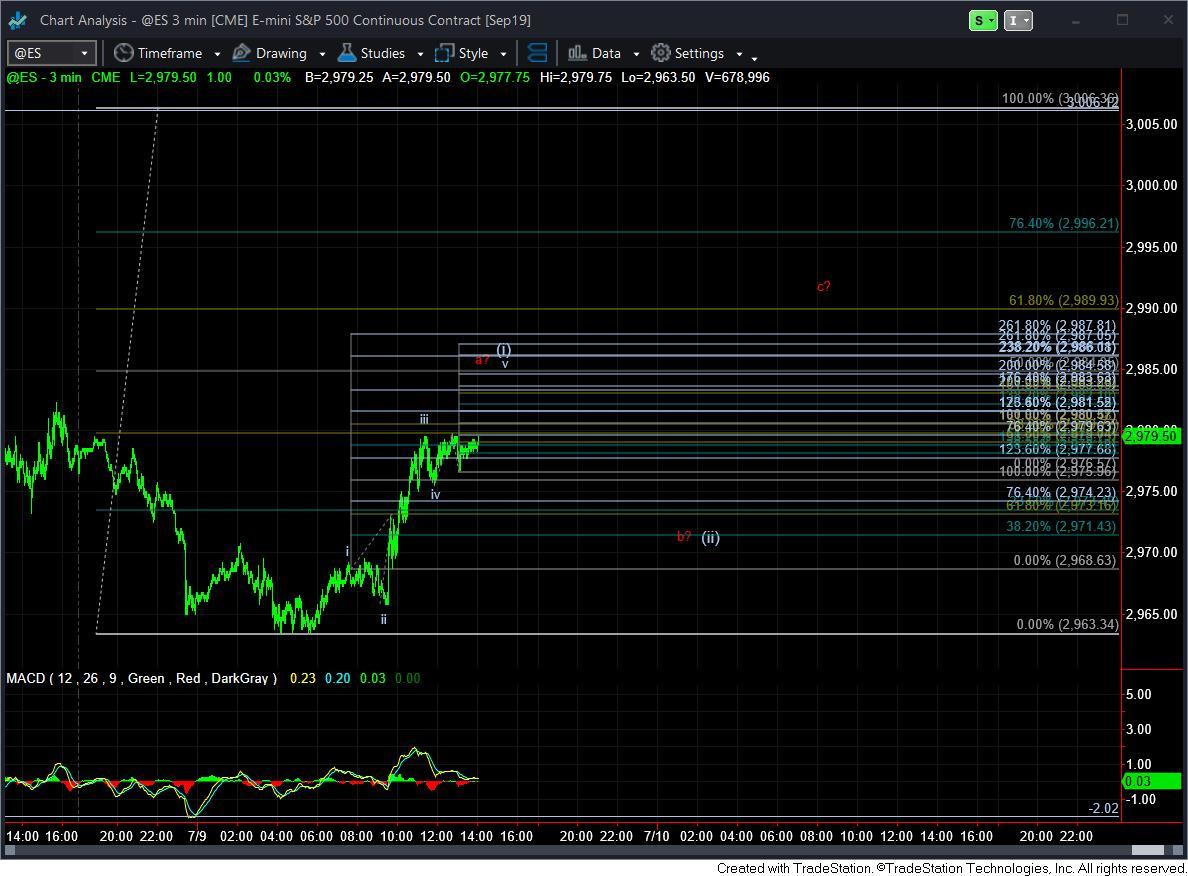 3minES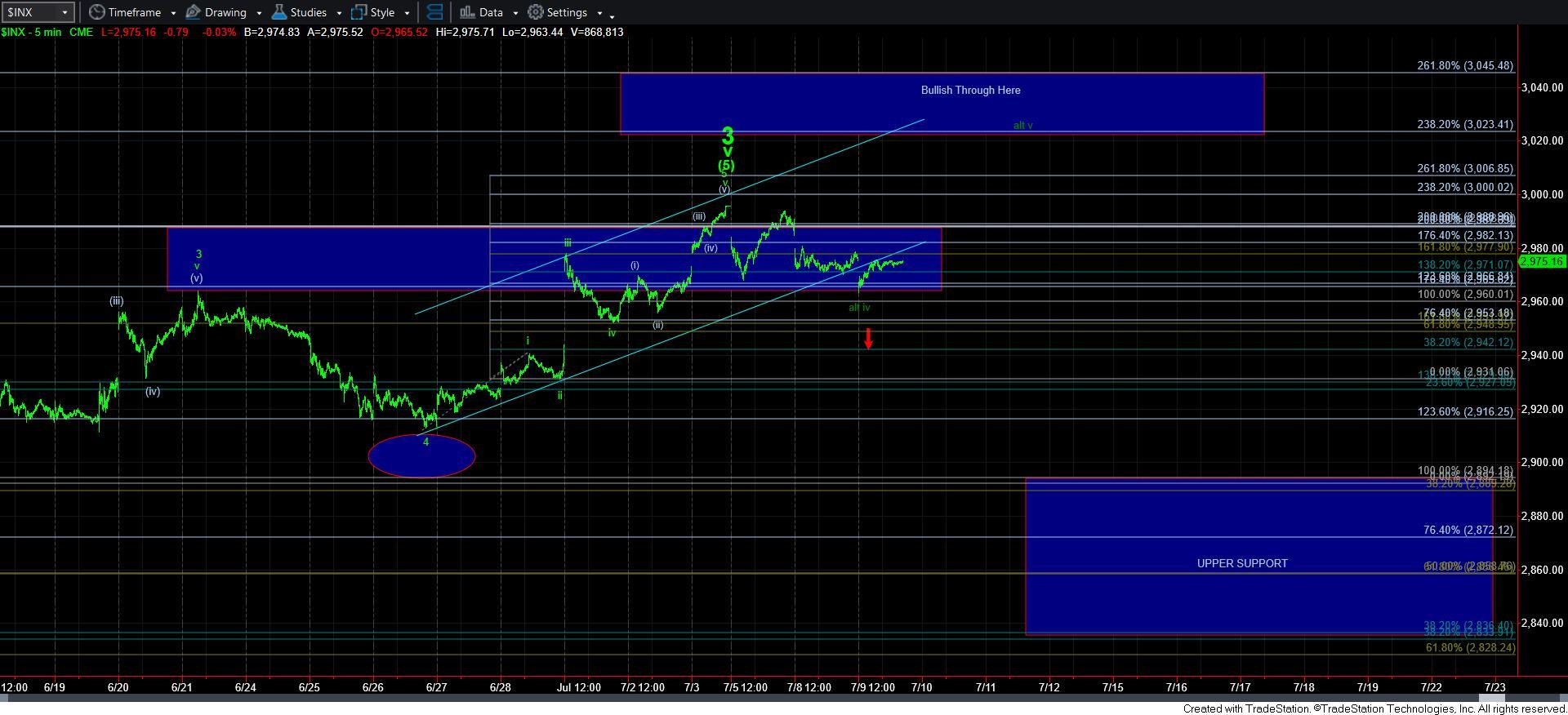 5minSPX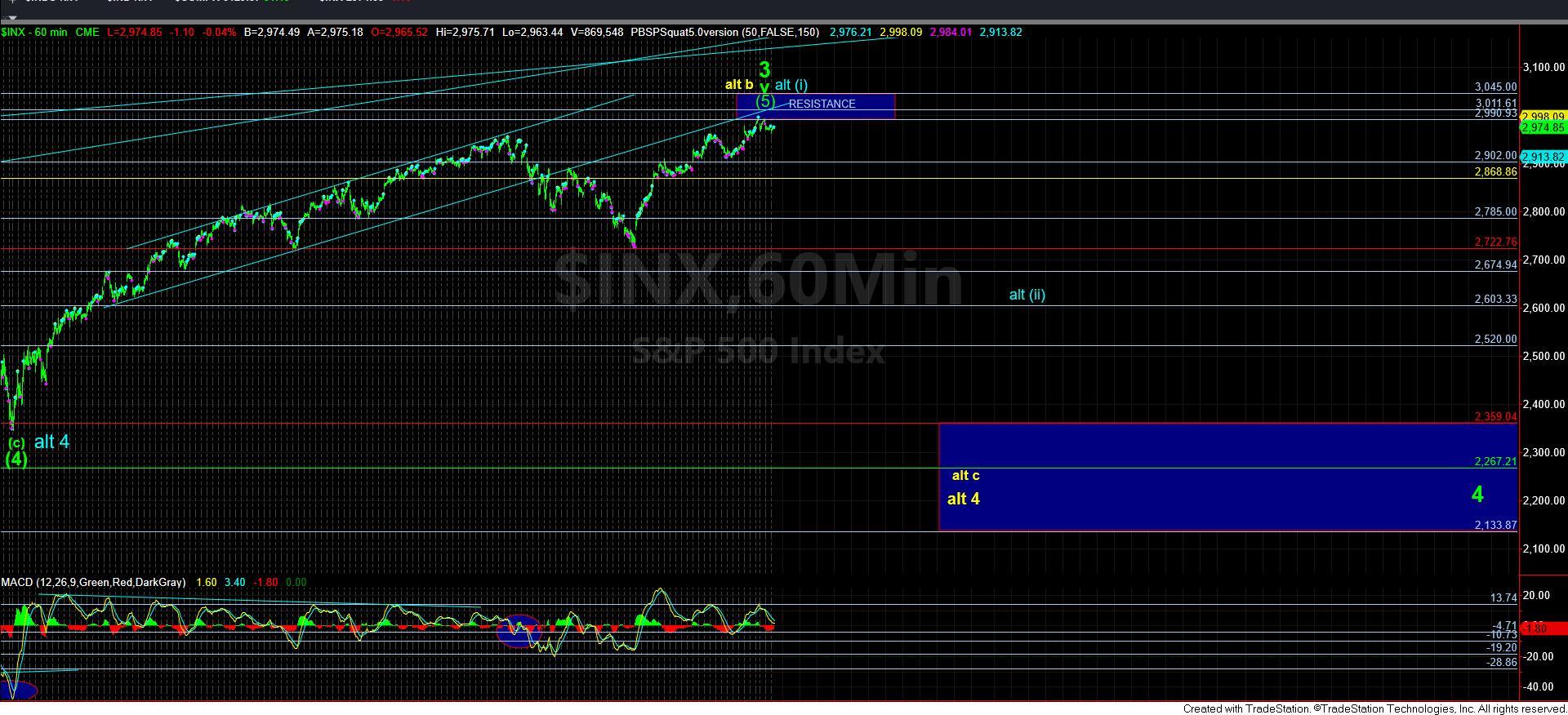 60minSPX