What Will It Take For This Bottom To Be The Bottom
Today the market continued to push higher after finding at least a local bottom on Friday and is trading up over 2.5% from the close last week. Furthermore, we have pushed up over the lower resistance level at the 3738 level that I noted last week, giving us the very early signal that a bottom is indeed in place.
Now, while this push higher is certainly a very good start to what we are looking for in bottoming action, we still have yet to see a full five-wave move up off of the lows or a break of the larger degree resistance zone overhead, thus giving us further confirmation that a bottom is indeed in place. So, while we are off to a good start here, we do still have a bit more work to do before we will have further confirmation that a bottom is indeed in place for the larger degree wave (4).
Although we do have a bit more work to do before confirming a bottom, the action thus far up off of the lows is still following a very clean fib pinball pattern into the current levels as shown on the ES chart. The micro wave (ii) hit key support at the 61.8 retrace almost on the nose, then pushed higher moving through the 61.8-76.4 pivot one at the 3705-3714 zone. We then moved through the 100ext and have moved into the standard target zone for a micro wave (iii) up off of the lows having hit the 161.8 ext of the initial move up off of the lows. Since hitting that level we have seen a fairly standard corrective consolidation and we now look to be attempting to form a wave (iv), still needing another wave (v) to finish off an initial five wave move or a larger wave (1) up off of the lows. Support for that wave (iv) comes in at the 3748-3731 zone and as long as that zone holds on any pullbacks we still are setup to see another push higher to finish off a full wave (v) of (1) up off of the lows. If we can indeed see that full five up off of the lows into the 3803-3847 zone, then I would be looking for a wave (2) pullback which should then be followed by another break back over the highs and over the 3925 level to five us final confirmation that a bottom of all of the wave (4) has indeed been struck.
If we are unable to hold over the 3731 level, then it would make it more likely that this is only going to see a three wave start to this move up off of the lows which would open the door to a number of potential paths as we move into the rest of the week. As we still would be under the 3925 resistance level overhead we still could count any three wave move up off of the lows as part of a wave 4 as shown in purple still needing yet another lower low to finish off the larger degree pattern. We could, however, also be looking at the start of a larger corrective pattern as shown by the yellow path as those potentials are now on the board as Avi laid out in the Weekend update. We would, however, still need to push back up over the 3925 level for those larger corrective patterns to come into play and by far the cleanest path forward at this point in time would be to see a full five up off of the lows followed by a break over 3925.
So, as long as we are holding over micro support at the 3731 level and the potential to see an impulse form off of the lows, this is the path I am going to focus on. If we begin to break support then I will look at those paths again, but for now and as of right now this action is supportive of this attempting to form a larger degree bottom.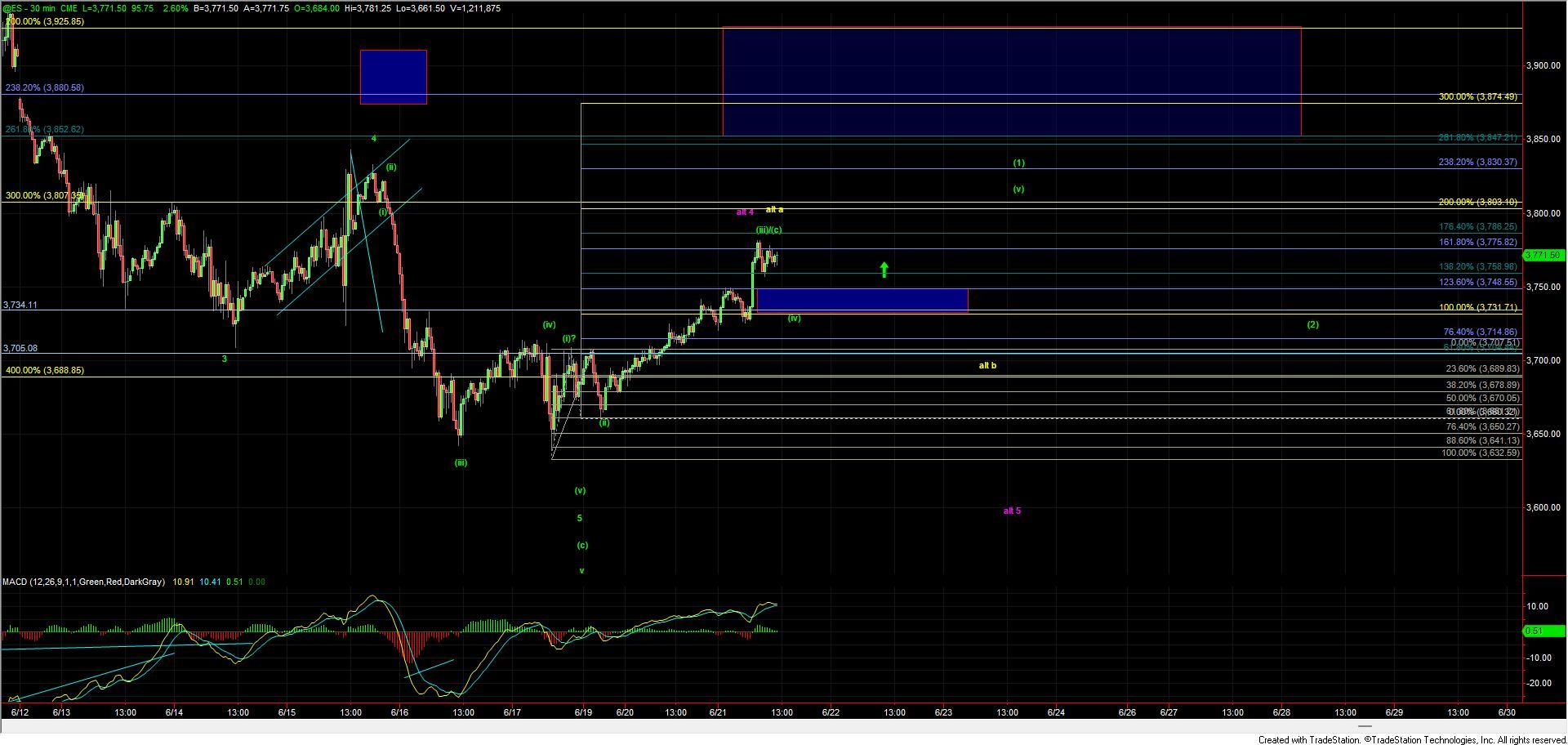 ES 62111 30m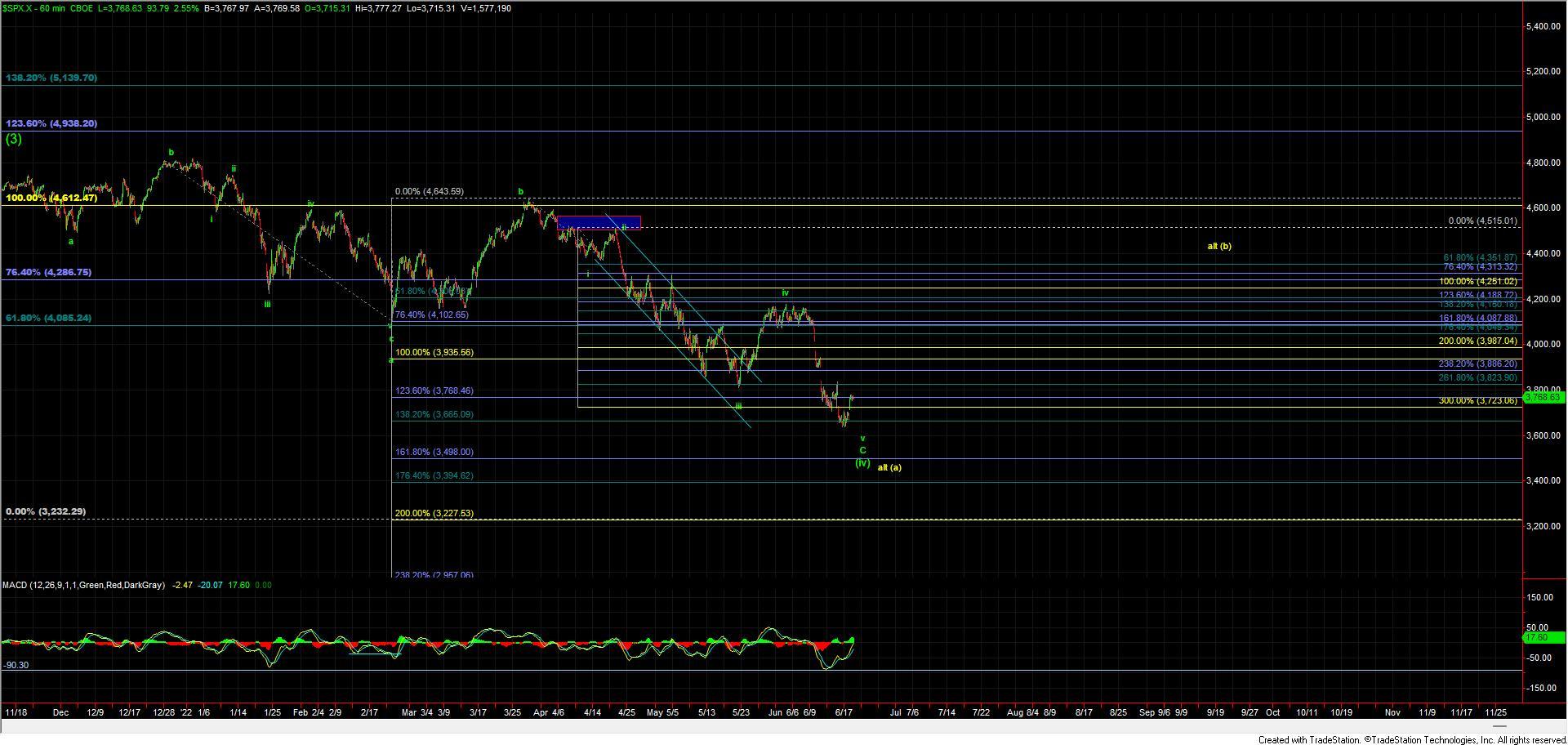 SPX 62111 60m