We May Have One More Upside Whipsaw
While our expectations remain to the downside to sub 2700SPX in the coming weeks, the path to that next drop has become quite clouded with this whipsaw.
Before I go into the analysis, I want to address I question I have been getting of late. As we came into this week, I noted that a break down below 2899SPX would open the door to the 2700SPX region. My expectation was that a break of that 2899SPX level would invalidate a potential extended 5th wave higher in the (c) wave, and suggest that the b-wave was completed and that a c-wave down would begin.
However, while the break of 2899SPX invalidated any potential 5th wave extension higher, it became clear that the top we "confirmed" with that break was only a larger (a) wave within the b-wave off the recent low, rather than all of the b-wave. So, again, the break of 2899SPX confirmed that the top had been struck, but it was only a high to a bigger (a) wave than all of the b-wave. I hope this clarifies this issue for those that have been asking.
As we look to the current structure, the whipsaw we expected has certainly continued. And, unless you came into the week understanding that you are in a corrective structure, this action has likely surprised you. But, as I say, this is the context that Elliott Wave provides to the market structure, which told us to expect whipsaw. And, the market has certainly delivered.
At this time, there is still potential for even more whipsaw. The high we have struck so far really does not count well as all of the b-wave. While I can count yesterday's high as a very unusual completion to a b-wave with no standard relationships within the structure, we would need to break the support between 2814-2838SPX to make that a higher probability.
The more standard structure expectation would be to see this as the (b) wave within the b-wave, which means we may yet see another (c) wave rally before we are ready to drop down to the 2600-2700SPX region.
So, in the larger degree, not much has changed in our overall expectations. However, it seems as though the market is trying to shake out as many traders as possible before it begins the decline we expect to take us to 2700 and lower.
5minSPX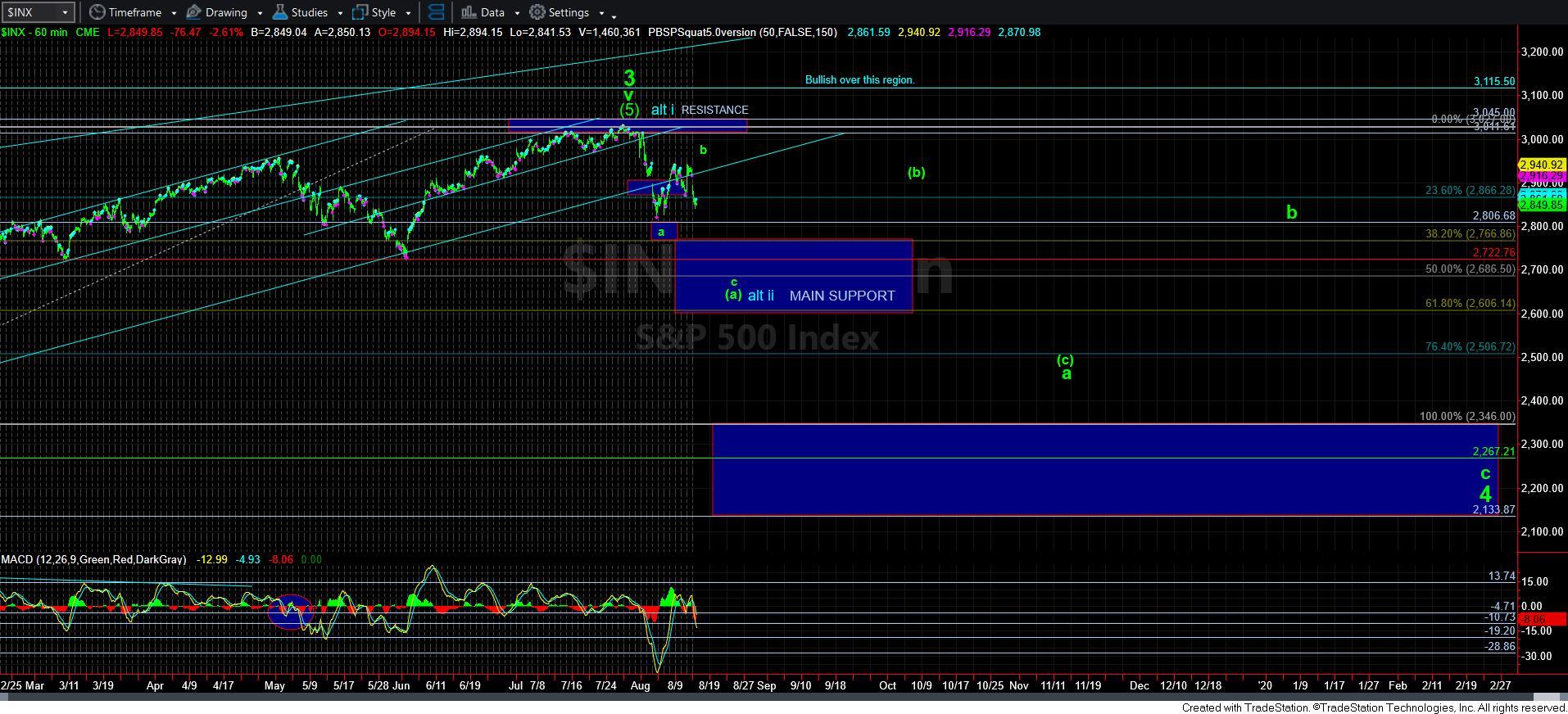 60minSPX