We May Be Settling Into The Correction
While the market "seems" to be trying to bottom here, one of the questions everyone has is if this is ALL of wave (4) already, since the futures have hit the target box on the daily chart. And, my answer is that it is unlikely that this is all of wave (4), especially since the rally we have seen off the overnight lows has been very corrective thus far.
Now, if we are in a corrective structure, I will warn you that there will be many stops and starts, many big moves up and down, and much of all of that will be in furtherance of the variable wave structure we lovingly know as wave (4). Remember, 4th wave within the Elliott 5-wave structure are the most variable of all the waves. So, expect a lot of chop.
Currently, I think we seem to be playing out in a b-wave rally, assuming that the a-wave has already completed. The main problem we will have with targeting the b-wave is that the ES/Futures had a lower low than the one seen in the cash index, which makes the retracement percentages different between the two charts. So, I will be tracking both until we have enough of a pattern in place to be able to identify the point of confluence between the two charts. Unfortunately, this does happen when you get extensions in the futures that are not often seen in the cash index. But, ultimately, I trust the cash index more.
So, again, we are likely within a b-wave rally, and if it is very straight forward, then we could be heading up to the 2700-2730SPX region (range is due to differences in ES/SPX). But, if I were to go solely on the cash index, I would have to view that as only the (a) wave of the (b) wave. This would mean I would expect this b-wave to take some time, and preferably at least the rest of the week or into next week too. So, yes, I would almost prefer if the market would slow down a bit.
Ultimately, the greater probabilities suggest that not only will the SPX cash index strike the box and match the levels struck in the futures, but there is now a good chance we may even see the lower end of the blue box in the lower 2400SPX region. But, remember, as long as long term support holds, this is setting up to head to 3000 later this year, with the potential to even target the 3223SPX region.
1SPXdaily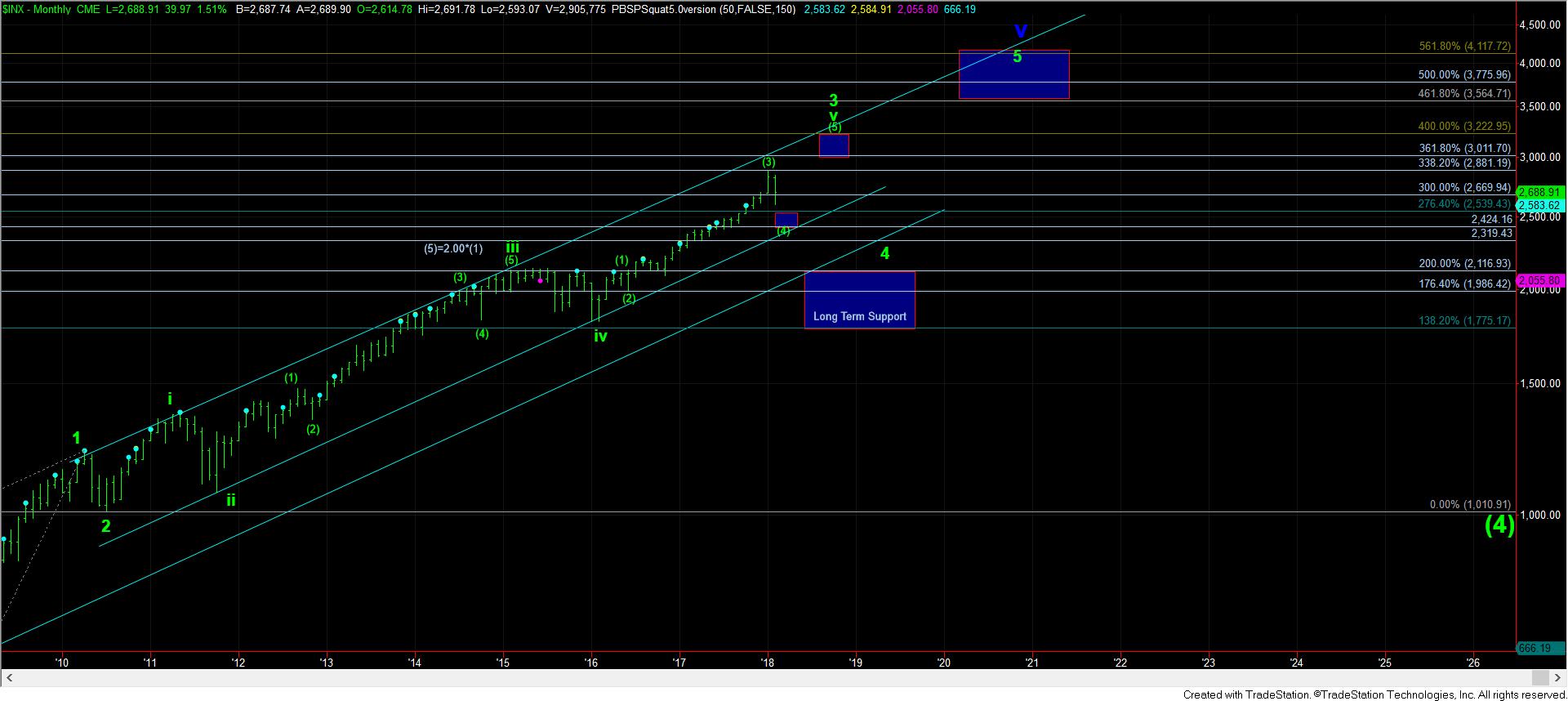 LONGTERMSPX