I have told you many times in the past that I never take the market for granted, and am always looking for where I can be wrong in my primary assessment of the market. And, while my primary expectation has been that we have begun wave 4 already, the ES MAY develop 5 waves off the 2600 region low. (I want to note that the SPX does not have as clear a 5-wave structure adhering to Fibonacci Pinball targets in the same manner as is possibly seen in the ES). Should the ES rally higher into tomorrow, it adds a significant amount of complication to our process, and opens the door to a 5th wave rally to new all-time highs.
Allow me to explain. The other day, I sent out an update as to why I view this bottom at 2600 as not likely being the end to an expanded wave (4) - the 4th wave of this last 5 wave structure to complete the wave 3 off the 2009 lows. The main reason was that the c-wave of a 4th wave is a 5-wave structure, our recent drop from the all-time high was a clear a-b-c drop with proportions that presented us with an almost perfect a=c.
However, in the minority of situations, we can see a WXY pattern in a 4th wave, wherein the Y wave presents us with such an a-b-c structure. Moreover, we bottomed at the exact point where W=Y. Moreover, I noted at the time that I wrote that update that the only way I would even consider this normally low probability potential is if we see a CLEAR 5 wave structure off the low we strike in the 2600 region. So, while the ES may provide us with such a structure if it is able to continue higher, the SPX is still quite a ways off. In fact, it would need to rally to at least the 2764SPX region for me to consider it as a potential 5 waves up off the 2600 region now.
Now, in the minority of circumstances, a-waves can be 5 wave structures, whereas the majority of the time they present as only 3 wave structures. So, this is why we are now presented with a much more complex market structure. You see, this rally can be wave (i) of wave (5) to the 3000 region, or it can simply be an a-wave in a larger a-b-c structure for the b-wave rally.
But, as my writing this update, we still have not attained the levels we would need to see to even consider this as a 5 wave structure just yet. So, I am just laying the ground work in the event we do see a further continuation rally into tomorrow.
In either situation, I would still expect a pullback in a b-wave or a wave (ii) into the same general region for next week. And, if you so choose, you can go long on that pullback.
Should we have to deal with this further complication, I will treat it in the EXACT same manner in which I handled the market into September. I will continually move support higher as the market continues higher. In fact, under all these circumstance, I would still expect the market to exceed the 2800SPX region after the next pullback. So, as we move higher, I will continually raise support. And, should we see a 5 wave structure break down below support, it will put us on HIGH alert that a larger degree c-wave down to the 2200 region is setting up.
The question that you have to ask yourself as an investor is whether that last run higher is worth the risk to you. For those willing to take that risk, the next pullback will present us with a buying opportunity on the long side for either a b-wave or a 2nd wave. As we move higher off that pullback we will move support up as we did in September, and should the market break a support, it would likely suggest that the 5th wave higher will not likely be seen and that a larger degree c-wave down has likely begun. Moreover, keep in mind that should we get this wave (5) higher, we will still likely drop back down to the 2600 region again for the a-wave of 4, and set up the decline for the c-wave of 4 towards the 2200 region later into 2019.
So, while I have been noting how treacherous this market has become of late, it has now taken it up one notch. And, for those that are interested, this 5th wave would project to a double top at 2950SPX up to as high as 3040SPX. But, once waves (i) and (ii) are in place (should the market even complete a wave (i) into tomorrow), I can identify the target region more clearly.
For now, I still maintain that this rally is an a-wave within a larger degree b-wave rally. Moreover, I am still expecting to exceed the 2800SPX region, which will be set up by the next pullback, potentially into next week.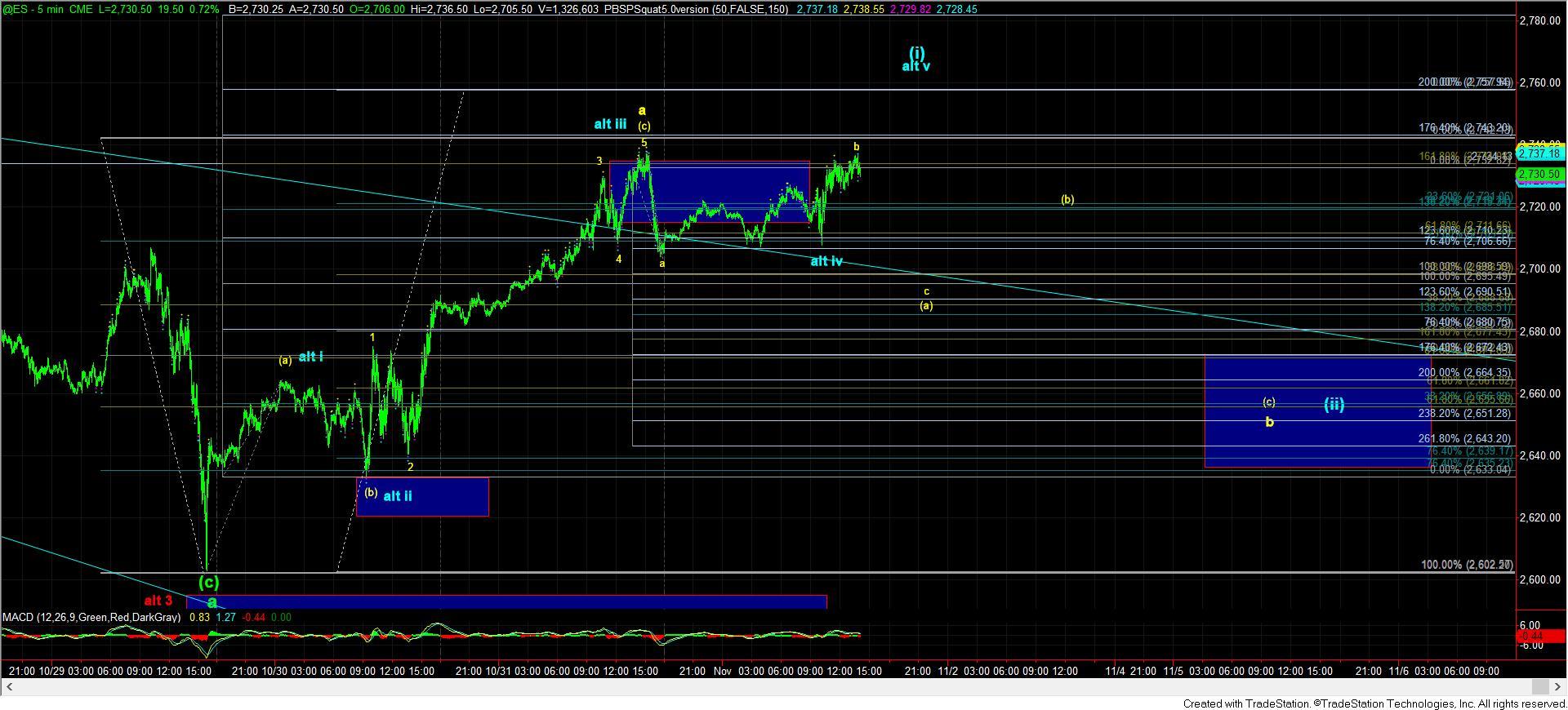 5minES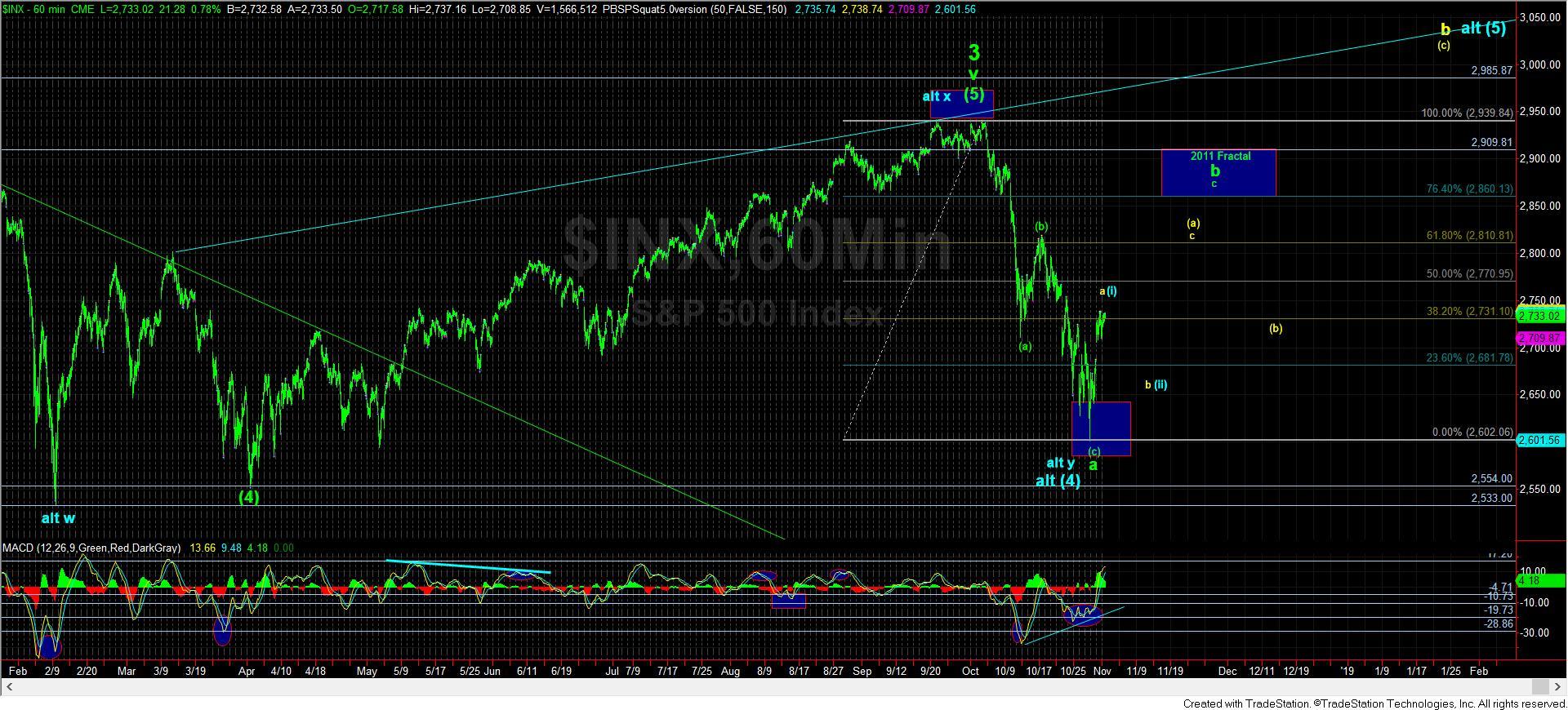 60minSPX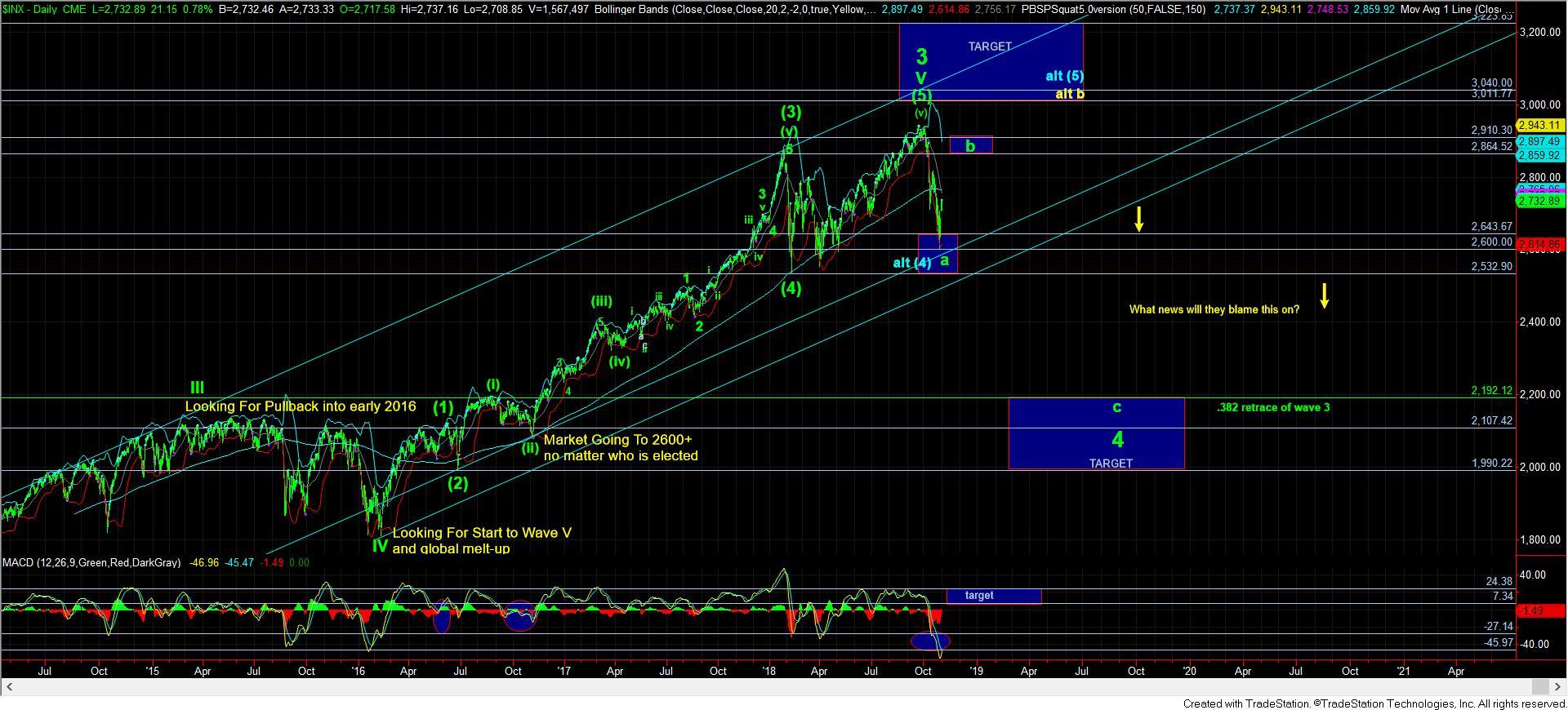 1SPXdaily