We Are Not Out Of The Woods Yet
While the market held the 3862ES support last night, the depth of the pullback for what should have been a wave [4] of [iii] of i was a bit more than I would have preferred. And, when I see something like that, it does begin to cause me some concern. And, this prompted me to send this out as an alert near the market open today:
"After completing my live video this morning, I do want to add a point to the membership about what I intend to do today. With the depth of the pullback for a bullish (4) of (iii) of potential wave i being a bit deeper than I would prefer (as the .382 retracement was 3880ES), I am considering getting some protection.
Let me explain. At this point in time, I still do not have 5 waves up to confirm wave i of 3. Moreover, we have come into a region that can represented a b-wave, as presented in the yellow count. Moreover, even if we do complete all of wave i later this week, we still likely see a wave ii retracement back to the region where we now reside.
So, when I see hints in the market that make me "nervous," I do not mind buying a bit of protection to let me sleep better at night. Again, this is just my own positioning I am speaking of, as I am simply buying some insurance until we complete 5 waves up off last week's low. Nothing more than insurance. I want to be clear that I am not shorting the market, nor am I playing downside potential aggressively. I have nothing telling me to do so at this time, especially for as long as we remain over 3860ES. So, I want to be very clear in how I am personally looking at the market right now in the short term."
While the market can certainly still rally to complete waves [iii], [iv] and [v] of wave i of 3, I am now taking the perspective that the market is going to have to prove it to me. I would love to let go of my protection on a wave ii pullback, but the structure is getting me a bit concerned.
At this point in time, if the market should break support I would have to view it as wave [2] in yellow being in progress, as we would then be too large for a continuation of a wave 2 of [3].
For now, as long as the market continues higher into tomorrow to complete wave [5] of [iii] of i, then we remain on track for starting wave 3. However, if we see more weakness that breaks below today's low, then it would concern me that we are really in wave [2], rather than in wave i of 3. While a break below today's low can still be within a leading diagonal for wave i, I do not rely upon them before they have completed, and have provided us with a corrective wave ii thereafter. They are simply too unreliable for me to adopt them this early on the in count. So, either the market provides us with what we need for wave i of 3, or it is best to remain protective, as we can still see a bigger wave [2] pullback in the coming weeks. I said this was an important week, and I was not kidding.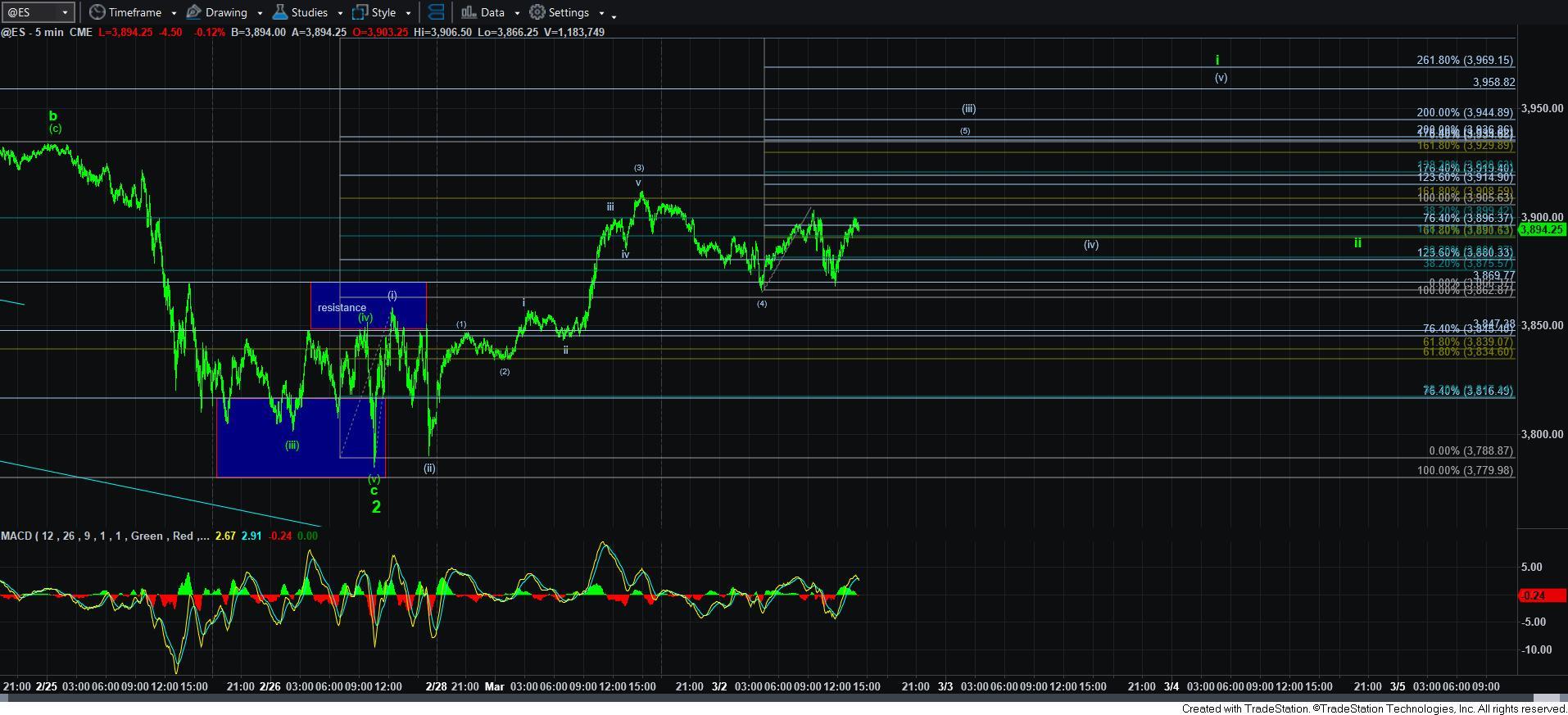 5minES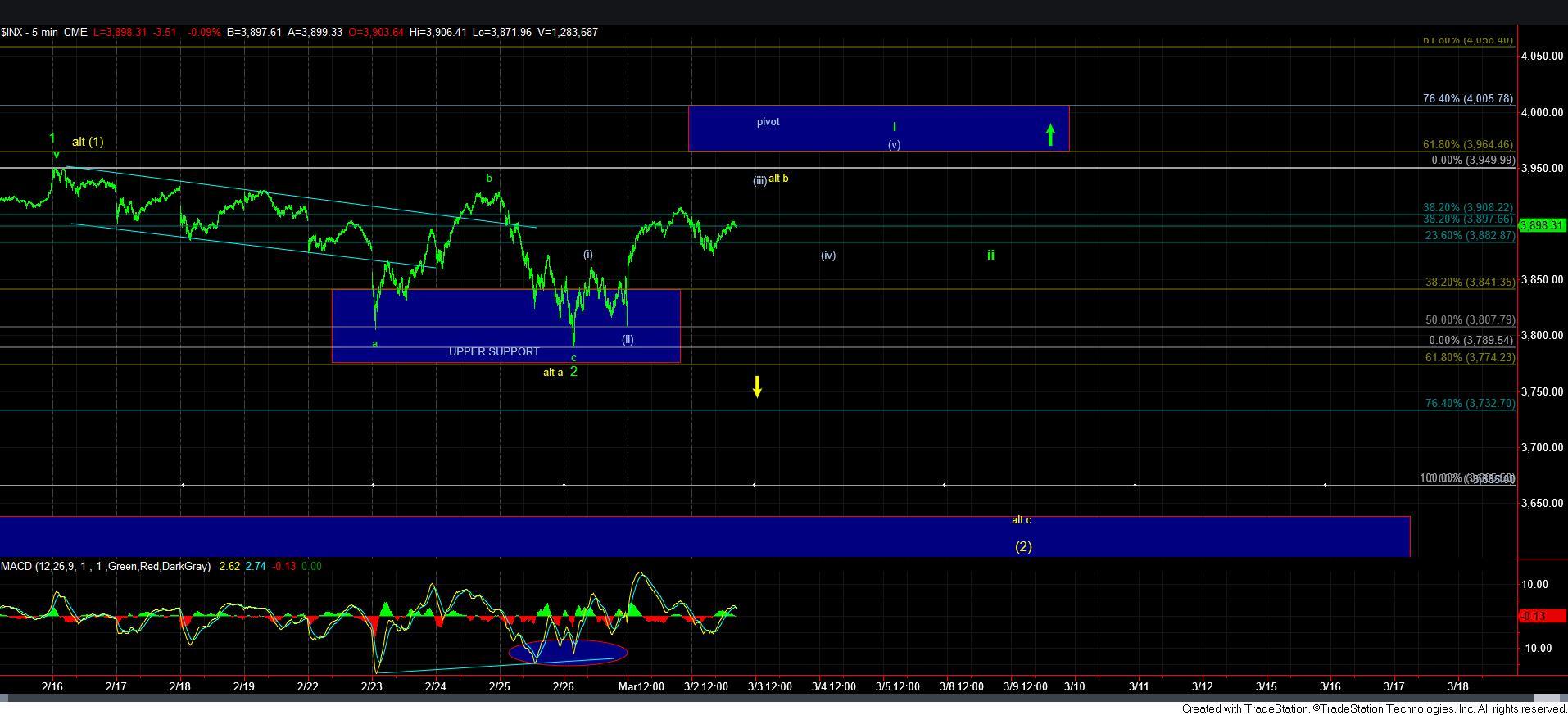 5minSPX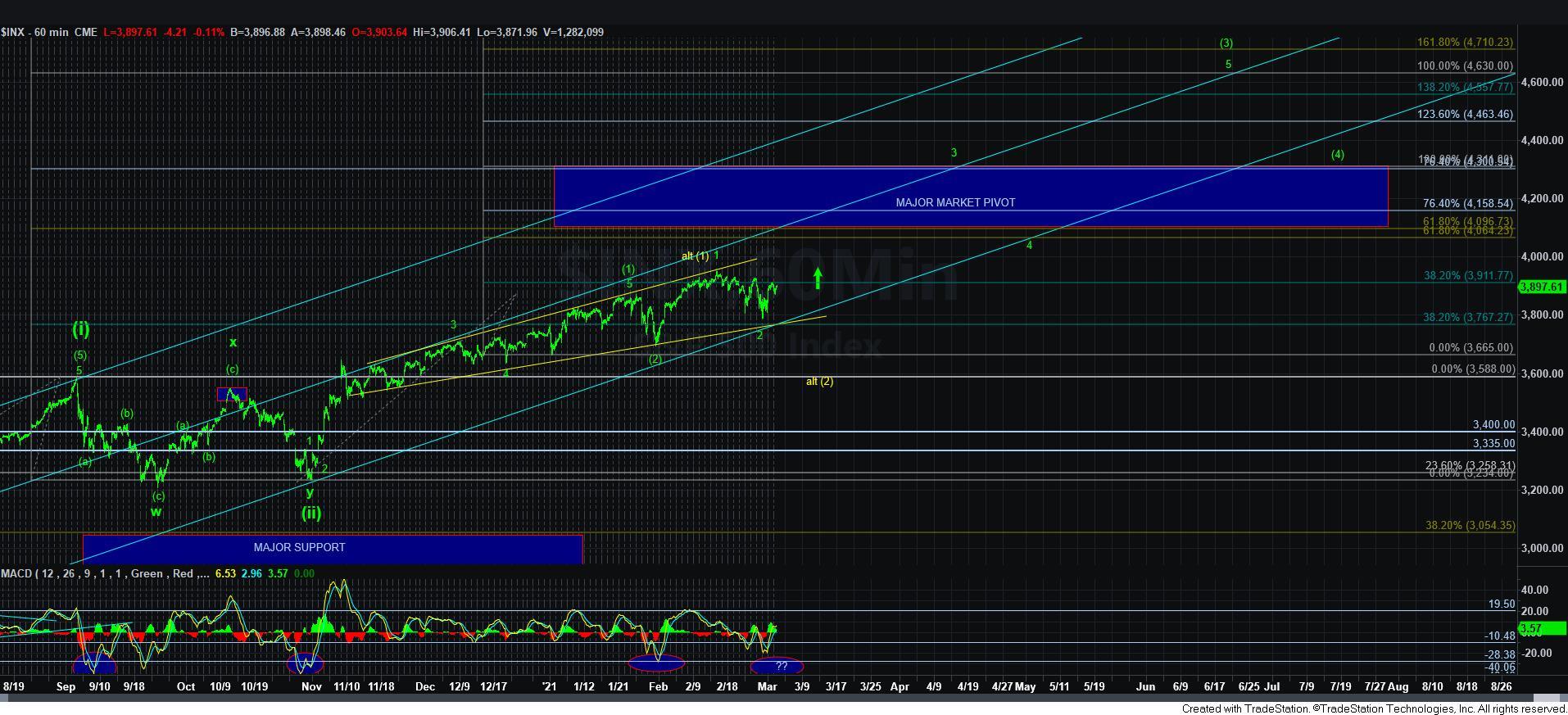 60minSPX