Well, the market certainly held our pivot support yesterday, and approached the next resistance region today in the 3011-15SPX region. Yet, we came up a bit short.
So, in taking a step back, I need to see the market break down below yesterday's low of 2984SPX to suggest that this segment of the uptrend has likely completed. Until then, the market can continue to probe into the major resistance region we highlighted last year in the 3011-45SPX region.
However, when we do break down below 2984SPX, we will need to see a sustained break down below 2955SPX to suggest we have begun a drop to at least the 2820SPX region.
But, now, I want you to take note of the alternative noted in yellow on my 60-minute chart. I have made this my alternative count for various reasons. And, if the market breaks down below 2984SPX and is unable to see a sustained break of 2955SPX, then the yellow alternative will become applicable. That count suggests that this rally off the early October low is taking shape as an ending diagonal. This count was formerly the dark green count, but I wanted to simplify the chart somewhat.
Again, I apologize for presenting complexities to this structure. But, I can only provide to you what the market provides to me. The market has been presenting as a complex corrective structure since we topped in July. And, I think I would be doing you a disservice in attempting to over-simplifying the market structure.
Ultimately, as I highlighted in prior updates and my live video, even after we see the next drop in the [c] wave down to at least the 2820SPX region, I still think we will be coming right back up to this region even in a b-wave. In fact, I think there is good potential for that b-wave to even make a higher all-time high before it completes.
So, as I have been trying to outline, the market may not provide us with a larger break down within the larger degree wave 4 until we move into the first half of 2020. We are likely in for several more months of whipsaw.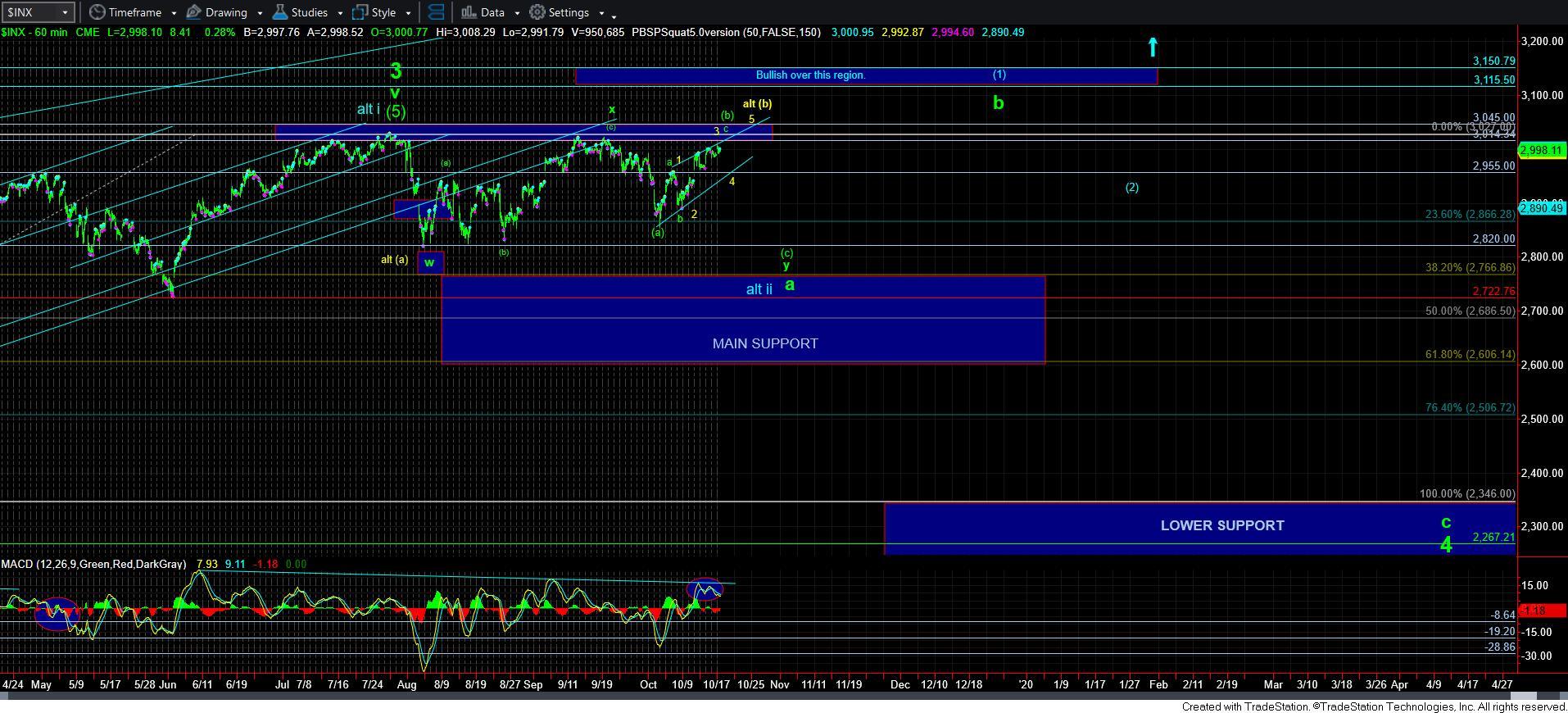 60minSPX