Two Further Pieces Of Advice
I wanted to add another update this evening for two additional pieces of advice.
First, due to the overlapping structure, I still have no clarity as to how wave 1 down in green will take shape towards the 3300SPX region. I think the manner in which I have it now presented on my 5-minute chart is a bit more likely. It suggests that we are potentially in wave iii in the leading diagonal for that wave 1. That would give us a target around 3380SPX for wave iii of wave 1 down. But, again, I cannot say this is a high probability expectation due to the overlapping nature of the decline thus far.
Moreover, if the market is able to move over what I am counting as a wave ii in this bigger wave 1 down in the c-wave of [ii], then I will primarily view that as a 5th wave to an ending diagonal in the [c] wave of the dark green b-wave on my chart now. I think this is a lesser likelihood now, but if we do break out over the high of wave ii before completing wave 1 down, I have to consider that potential. But, again, I want to reiterate that I am in the b-wave camp, even if we are able to make a marginally higher high – which is still a lower probability to me at this time.
Yet, until we actually complete a solid 5-wave downside structure for wave 1 of the c-wave down, I do not have a strong indication that we have actually begun the drop to at least the 3050SPX region.
And, lastly, I think the yellow count has been reduced in probability even more today, as we would need a rally that reaches the 3654SPX region for me to even consider that potential. (Even in the dark green count, I would not expect us to exceed the 3327SPX level, and that is still a lower probability right now).
Lastly, while we are tracking the structure as to how we set up a 1-2 downside set up for the c-wave of wave [ii] over the coming week or two, I want you to remain focused on your buy-list so that you have your plan in place when the market drops strongly in the heart of the 3rd wave in the c-wave, which will certainly freak everyone out and make you emotionally believe we are heading down to a lower low relative to the March 2020 low. Keep in mind that as long as we remain over 2700SPX, that is a very low probability in my humble opinion. So, please make sure your plan is ready to go.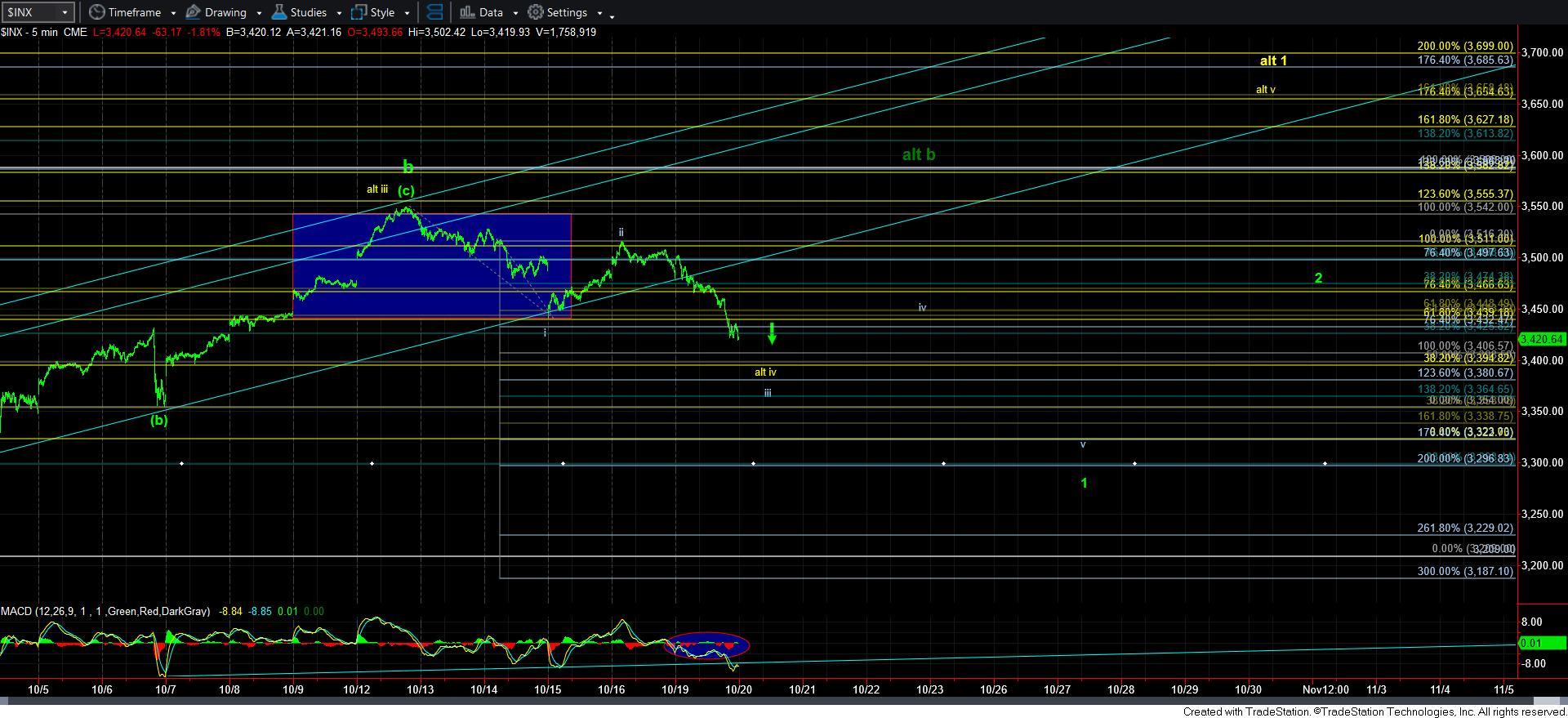 5minSPX