True Whipsaw - Market Analysis for Aug 24th, 2015
True Whipsaw
As one of most astute members noted today, "the goal of Elliott Wave analysis is to analyze sentiment, not participate in it!" So, as most of the market seemed to be "freaking out" when the &P500 opened and proceeded to drop to the 1867SPX level (on my platform) in a ridiculously extended 3rd wave, I put out the following update to the entire membership at Elliottwavetrader.net within the first 15 minutes of trading:
"We are now hitting the region of the .236 retrace of the larger degree wave 3. This SHOULD and often does mark a bottoming region for an a-wave."
From that point in time, the market rallied almost 100 points off that support level. As we headed higher, I put out a target in the 1953SPX region which was where I felt the market would turn down yet again. And, true to form, it dropped 80 points. But, the manner in which it dropped did not make me feel comfortable that we were going directly to lower lows, and we focused upon the 1874ES level as the support which could turn us back up strongly. And, yet again, the market turned up another 45 points from there.
So, yes, we had some phenomenal trading today, and for those nimble enough, there was well over 100 points of trading all in one day. But, the problem is that the decline stage – even as stretched out as it currently is - still does not look complete. I still think the market is setting up to strike the 1835-1867SPX zone one more time to complete this pattern off the recent highs, and to allow us to see a potentially larger rally into September. But, as I noted over the weekend, I don't believe that rally will be taking us to new all-time highs just yet. However, I will remain open to the potential since we have, today, struck the minimal target we had for this larger degree correction. Ideally, much lower levels will still be seen.
In the smaller degree pattern, my ideal is to see the highs today targeted and even moved over a bit, towards the 1975/80SPX zone for a larger degree corrective rally, setting us up for one more drop to complete this structure. But, make no mistake, as nothing maintains that we have to head higher to strike those lower lows. So, play this one step at a time, as the market does not always provide us with ideal set ups. But, lower lows are more likely than not at this point in time.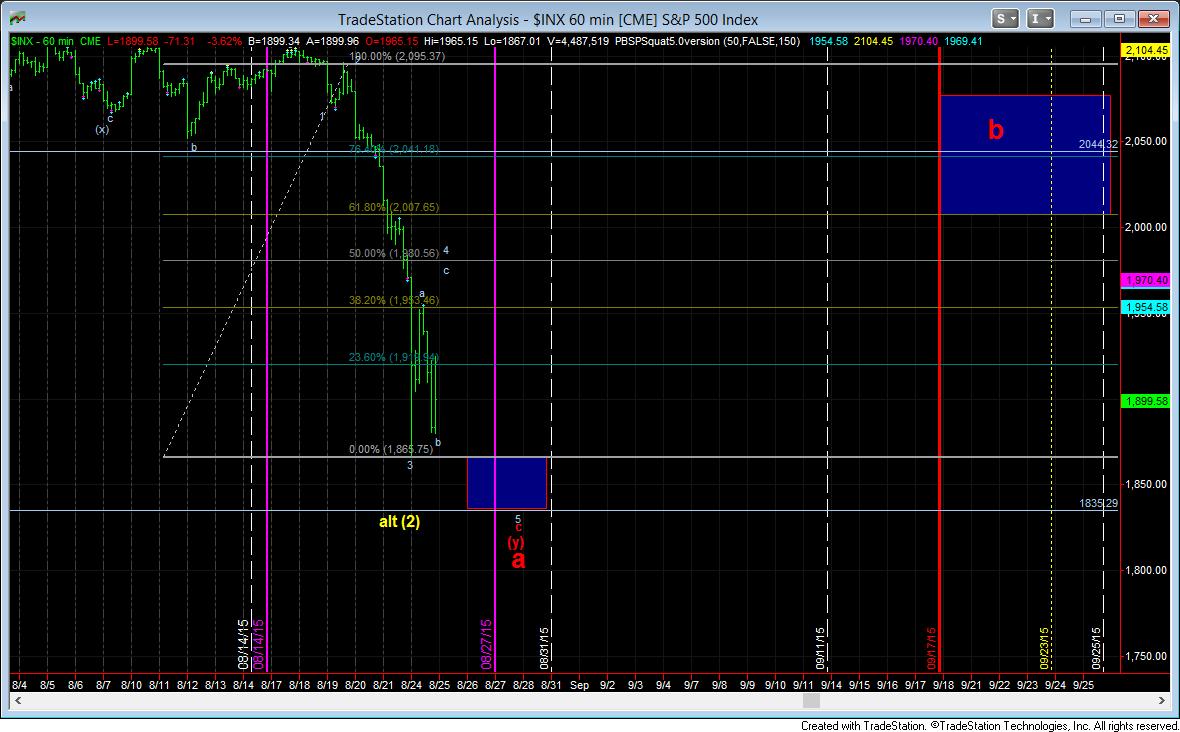 1turnchart