Trap Door Is Open AND We Have A Downside Set Up In Place
With the decline off the high last week completing 5 waves down below 2796 on the S&P 500 (SPX), the market opened a trap door below us which can begin a larger degree drop. That was yesterday's business.
Today, the market rallied back to the .618 retracement of that initial decline, and then completed 5 waves down off that .618 retracement. This sets us up in a i-ii, [i][ii] downside structure. This is a set up for the market to fall through the trap door below us, which would project us down to the 2640-2680SPX region for wave 1 of the c-wave down.
But, having a set up in place and actually triggering that set up are two different things. So, what I am highlighting tonight is that the market now has a strong downside set up – as long as we remain below today's high – but I cannot tell you if the market will trigger that downside set up.
A number of people asked me why I consider this 5-wave rally up in the SPX today as a c-wave in wave ii, so I want to take a moment to address that question. After the market completed 5 waves down into the low on Monday, it then came back down and made an ever so slightly lower low, and in a 3-wave structure. That often suggests that the lower low in 3 waves was a b-wave, with this rally being a c-wave, completing a wave ii. That is why I have the count noted on the chart as seen on the 5-minute chart.
So, when the market provides us with a set up like this, we need to see a break down below the market pivot, and then fail to move back up through it to be strongly pointing us down below 2700 in the coming days.
Alternatively, I want to note that the IWM can suggest a more protracted wave ii may be seen, with today's high only representing the a-wave of wave ii, with a push up towards the 2848 SPX region for a more protracted wave ii (presented in blue). But, I cannot say that I have a high confidence level in seeing a more protracted wave ii at this time, as we now have the minimal number of waves in place to begin the heart of a 3rd wave down (within wave 1 of c) as early as tomorrow.
So, while I can tell you that we have enough waves in place to consider the trap door below the market as having opened, and we have a i-ii, [i][ii] structure developing as I write this, I still cannot tell you if the market will fall through that trap door just yet. But, once it does fall through that trap door, I believe there is a high likelihood it will take us below 2700, especially if it follows the path outlined on the 5-minute chart. And, should we break down, I will clearly modify that market pivot as we head lower.
In the larger degree, I am still expecting that the market is likely topping out in a b-wave. The question with which we have been struggling is confirming that the larger pullback is in progress. As it stands right now, the set up is in place for such confirmation to be seen later this week. Whether the market actually falls through that trap door sitting below it is not something I can answer definitively. The market must answer it on its own through price follow through. But, as I noted many times, we need to see how the market breaks down below 2722 SPX to tell us which of the two counts we are tracking on the 60-minute chart. At this time, the green still remains my primary.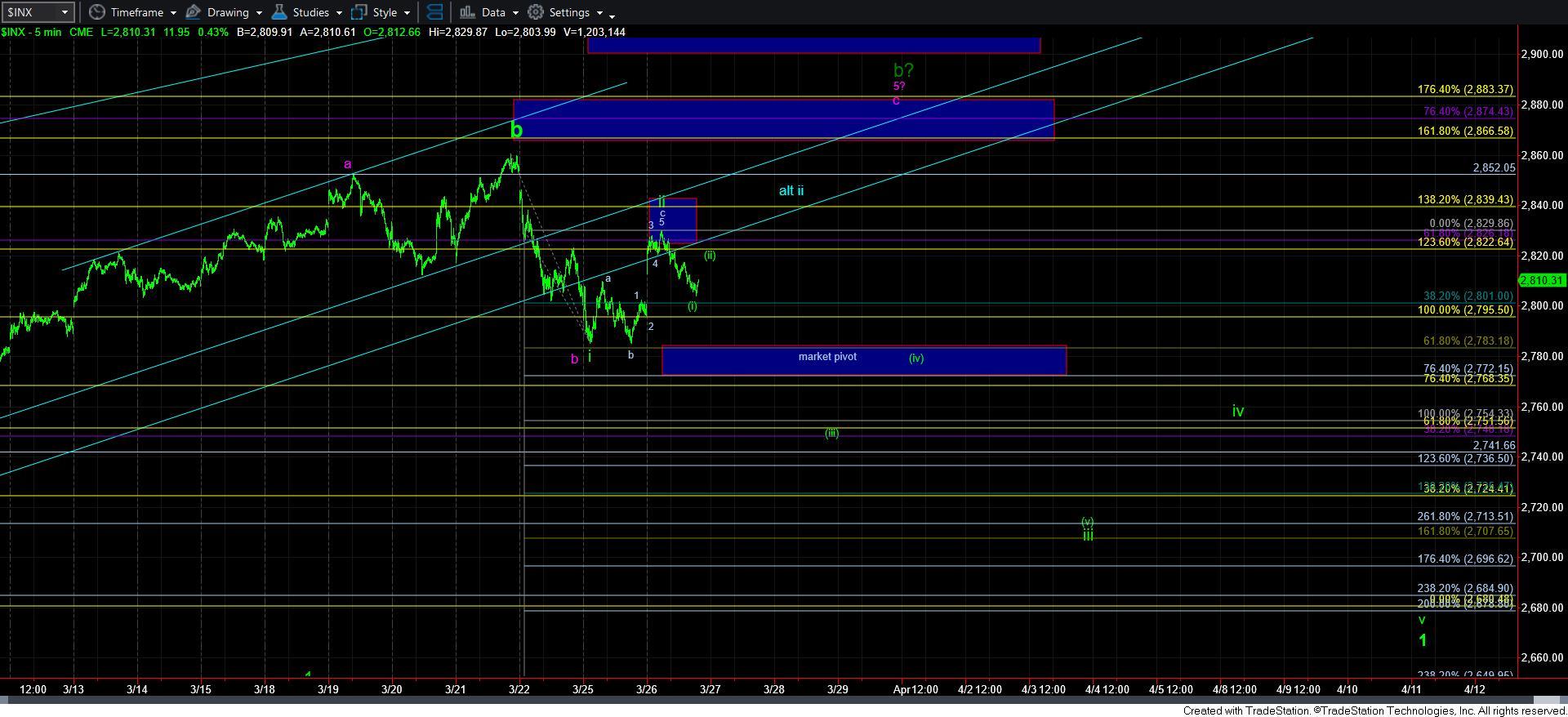 5minSPX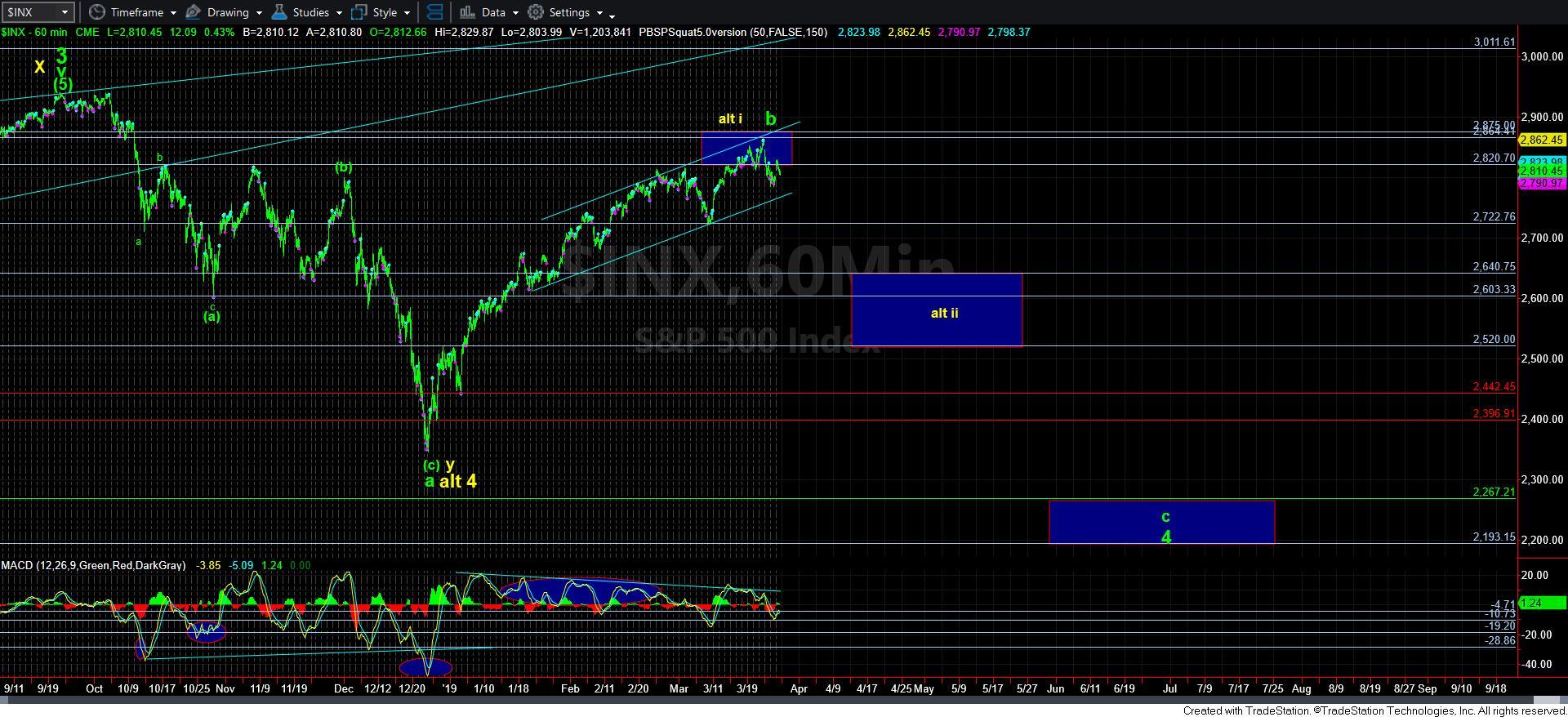 60minSPX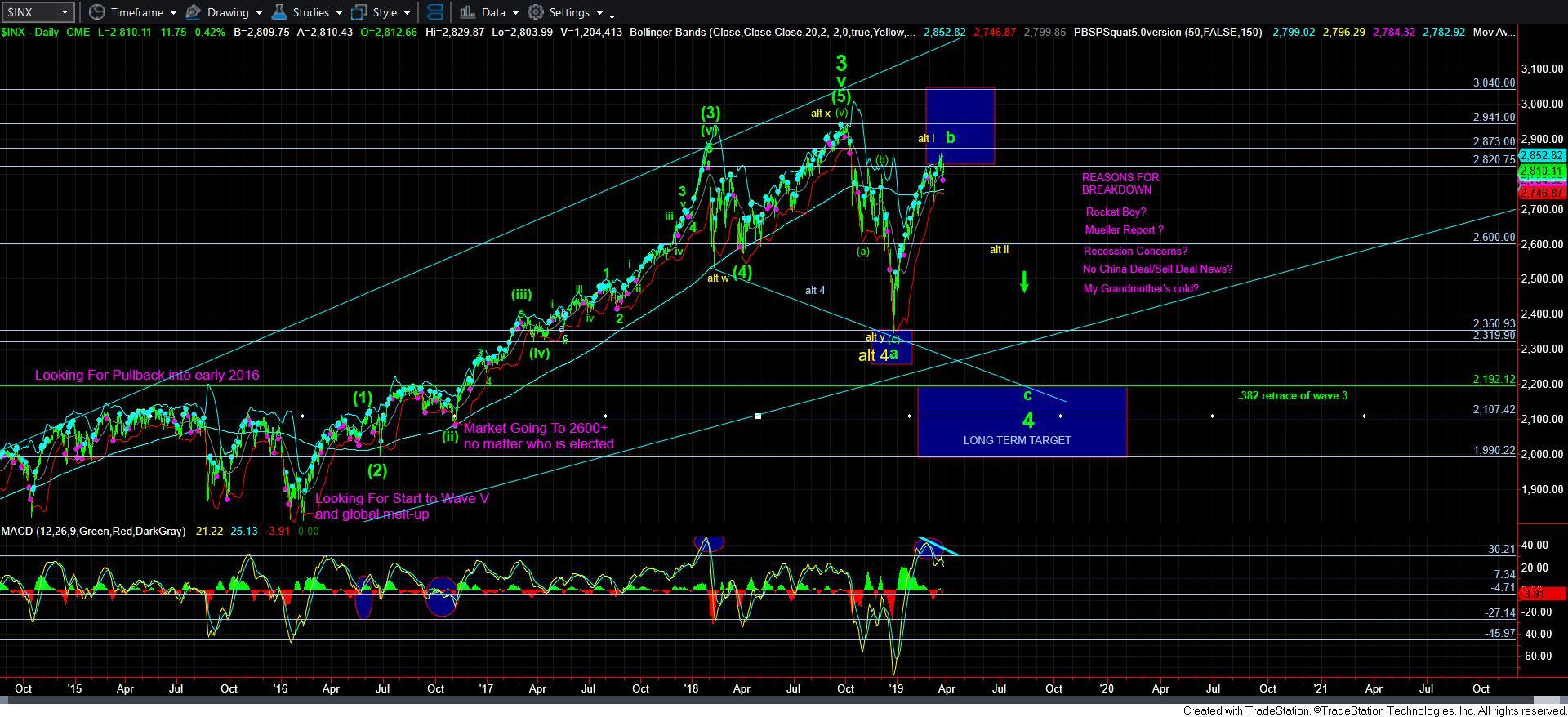 1SPXdaily