With the market dropping below 2796SPX today, the market has now opened the trap door, and set the trap. The question is if it will now walk into that trap.
In the most immediately bearish pattern on our 5-minute chart, we have a potential i-ii, [i][ii] to the downside. As long as the market remains below the 2815 region, this immediate downside set up will remain intact.
Moreover, if the market breaks down below the pivot I have now added to the chart, then it will become resistance on a wave [iv] corrective rally, as shown on the 5-minute chart. The ideal target for wave [iii] would be in the region of the 1.236 extension down in the 2752SPX region.
I also want to add a note to follow up on a post I made today. The main reason why I need to see the market break below 2722SPX is because until that level is broken, the market still retains some potential to head higher in a more protracted a-b-c structure to our target box overhead. But, once we break below 2722SPX, it will invalidate that potential, and provide confirmation that we are in the larger degree pullback we have been expecting.
Also, the structure with which we break below 2722SPX will give us a much clearer indication as to whether we retain our primary count in green – pointing down to the 2200SPX region – or if we will have to more strongly consider the alternative in yellow. As we stand today, I still retain the green count as my primary.
In summary, over our market pivot, we can still see more upside corrective action. However, once that pivot is broken to the downside and we drop down to at least the 2765SPX region, then the pivot becomes resistance, and as long as that resistance is respected, we have the potential to complete 5 waves down to complete wave 1 of the c-wave, as shown in green on the 5-minute chart.
In the smaller degree structure, 2815SPX is our most immediate level of resistance, which will keep immediate pressure to the downside to begin wave [iii] of iii in wave 1 down. A break out over that resistance would open the door to a larger i-ii structure noted in dark green.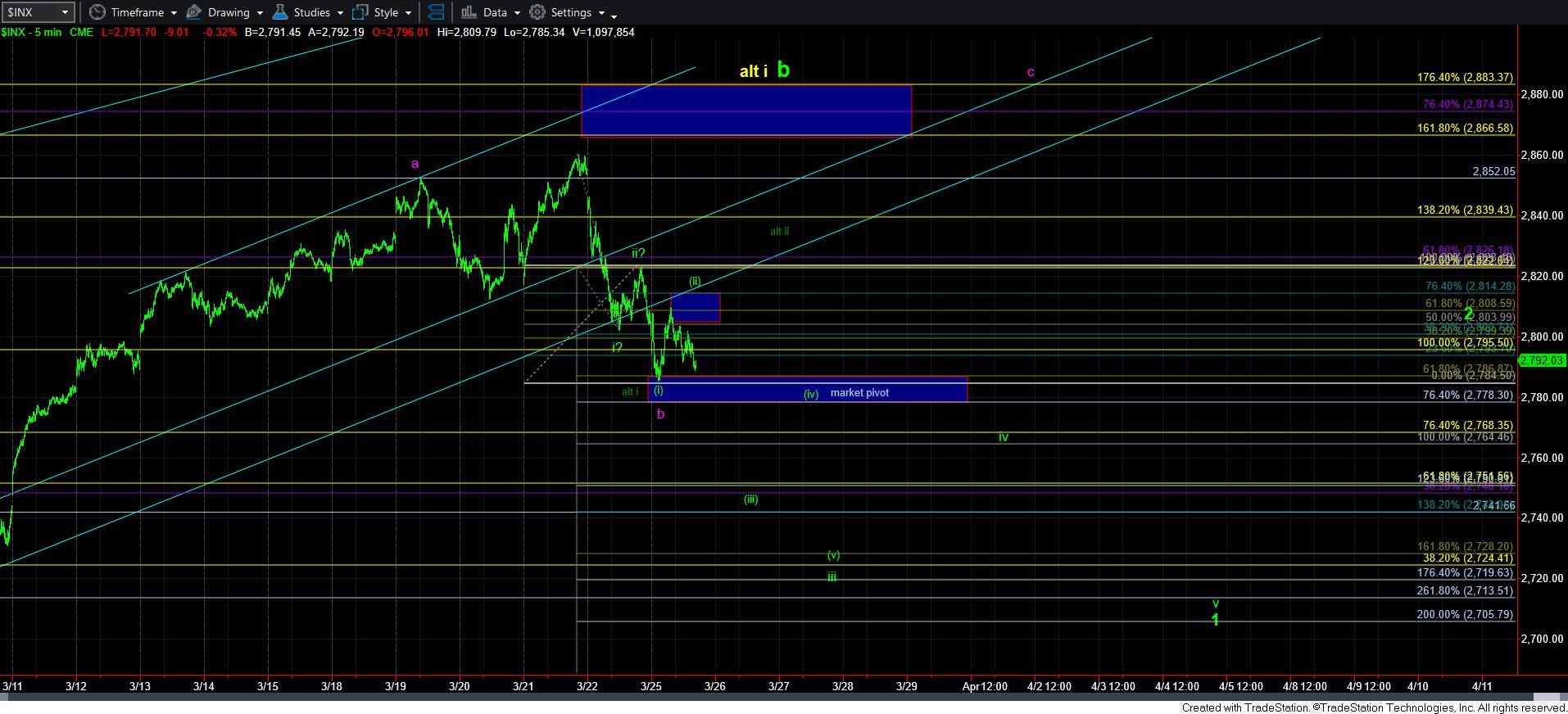 5minSPX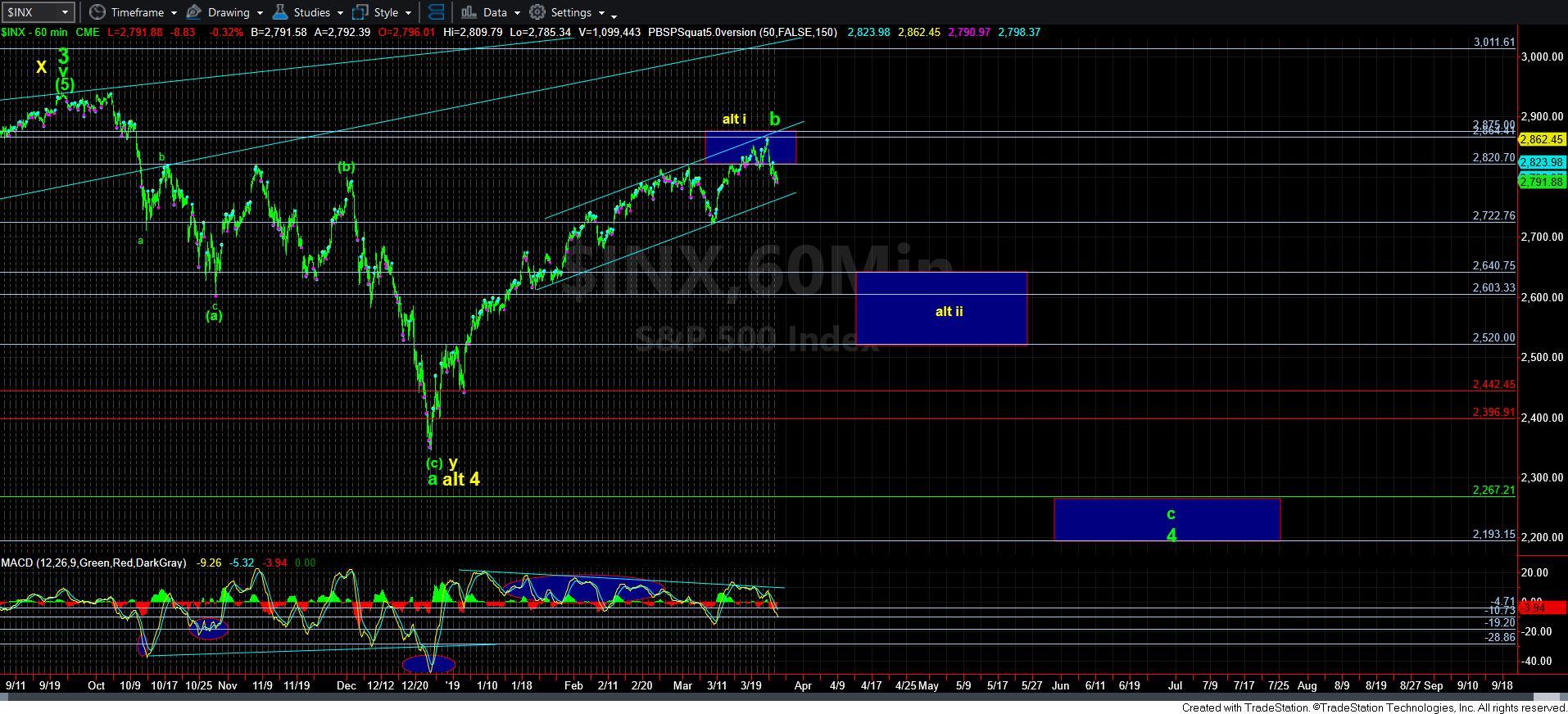 60minSPX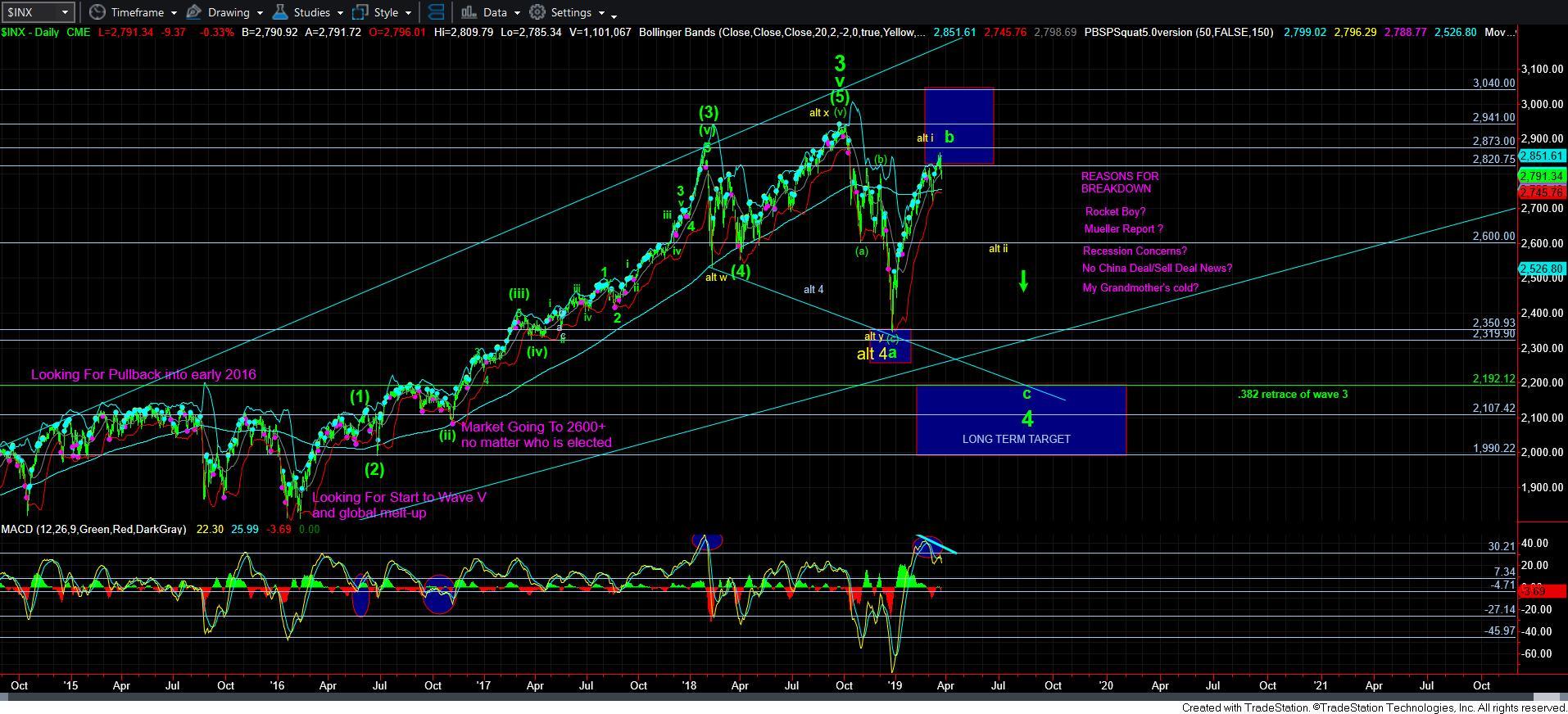 1SPXdaily