Transitioning To Wave [ii]
Much of this update was printed earlier this morning, so it may sound quite familiar - - that is, if you actually read my updates. (smile)
This is the point in time where the market now transitions from trying to complete an uptrend into trying to start a multi-month correction. So, as we have quite a full wave count to the upside, I still believe that trading to the upside carries with it much greater risk, even though there is still unmet targets overhead.
You see, we have enough waves in place to now consider all of wave (i) as completed. But, with as strong as this rally has been, we can easily view the top struck as an extension in wave 3 of (5) of (i), thus needing one more 4-5, with a rally into the 3440SPX region completing that 5th.
So, as I said over the last few days, our first support is in the 3360SPX region. We tested that region overnight, when the ES came to a low of 3345ES. However, should we break the overnight low in the ES, then I think we will continue lower into next week and test the upper support region in the 3240SPX region.
If you have been following closely, I have been saying that a sustained break down below the 3360SPX region will be our initial signal that a top has potentially been struck, but we still need to break down below the upper support to confirm that wave (i) off the March low has completed, and that we have likely begun a multi-month wave (ii)
As I have always reiterated, please recognize the context wherein we find ourselves in the market structure. This means that trading upside - for now - is a much higher risk. However, once we have confirmed that wave (ii) has begun, then we can begin to identify points at which we should begin to be adding to our long positions for the upcoming wave (iii), as we make our way to 5000+ over the coming years.
Lastly, until now, I have been saying over and over how much I like the potential for the market to continue higher to complete a nicer 5-wave structure back up towards the all-time market high. That was formerly the blue count. My perspective has now changed to a much more risk averse perspective in where I think we have enough waves in place to consider that entire rally (and the former blue wave count) complete. But, the door remains open for that rally to continue just a bit higher, at least until the market makes it clear that wave (i) is done by breaking our upper support region.
Consider that once we complete waves (i) and (ii), waves (iii), (iv) and (v) are much easier to navigate in the coming years, similar to what we experienced back in 2016. However, when trying to complete waves (i) and (ii), it does take a bit more patience. So, please continue to focus on the forest rather than the leaves right now, as the bigger opportunity likely lies below where market prices resides today.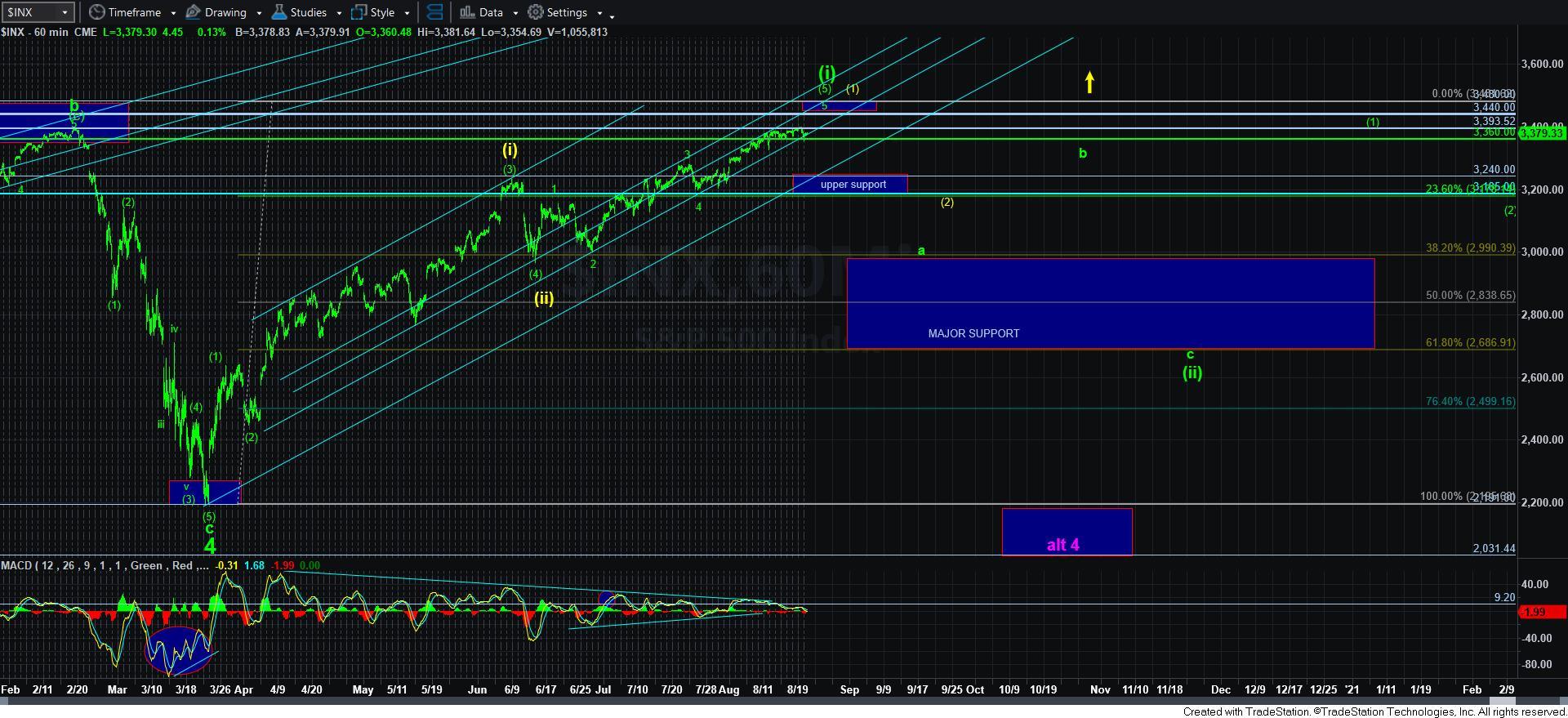 60minSPX