With the rally today taking us up towards the 2450SPX region, I think the probabilities have swung to us having begun wave [4]. And, while that is positive news, it also tells us that we are heading into a very treacherous trading environment. And, you MUST recognize that we are in a new environment.
Up until now, we have been identifying turning points in the market rather well, and many of our members have profited quite nicely from those turning points. Until now, we have been in an impulsive structure to the downside, which did make it easier for trading purposes.
However, if we have indeed moved into a 4th wave environment, it means that we have entered into a corrective structure, where patterns often tend to be 3-wave events. This will cause a lot of whipsaw for traders. So, again, you must recognize that we have likely moved into a different trading environment.
Ultimately, I would like to see this wave [4] in the SPX take us up towards our blue box target, with an ideal target in the 2600SPX region, as you can see from the 60-minute chart.
But, when you look at the 5-minute chart, you will note that there are several paths this can take (and probably many others that I am unable to foresee at this point in time). If the market is able to continue higher in the near term into the 2450-2470SPX region, then it is likely that all of the a-wave of wave [4] has completed. I will then expect a b-wave pullback to take shape back to the box on the 5-minute chart. And, as you can see, that is a 100 point target region. I will not be able to narrow a target for a b-wave until we see more of the structure take shape. As I have said before, that is what makes these corrective structures so treacherous.
However, if the market is unable to directly head to the 2450-70SPX region to complete the a-wave sooner rather than later, then it is entirely feasible we can drop down towards the 2230/40 region for the yellow [b] wave within the a-wave, and then rally back up to the 2450-70 region in the [c] wave of the a-wave, again, as shown in yellow.
So, I am hoping I am impressing upon you the treacherous nature of the environment we have likely moved into, and you trade accordingly. The easy part to the recent market action is likely over. . . . for now.
In the meantime, we will still need to allow the daily chart MACD to rise off the floor to set up a final bottoming structure for the wave [5] down. And, yes, that means that I do not think we have yet completed this correction. If we see a larger impulsive structure taking us to the wave [4] target and a bit beyond, then I will revise my expectations. For now, I still think we have more work to do before this c-wave completes.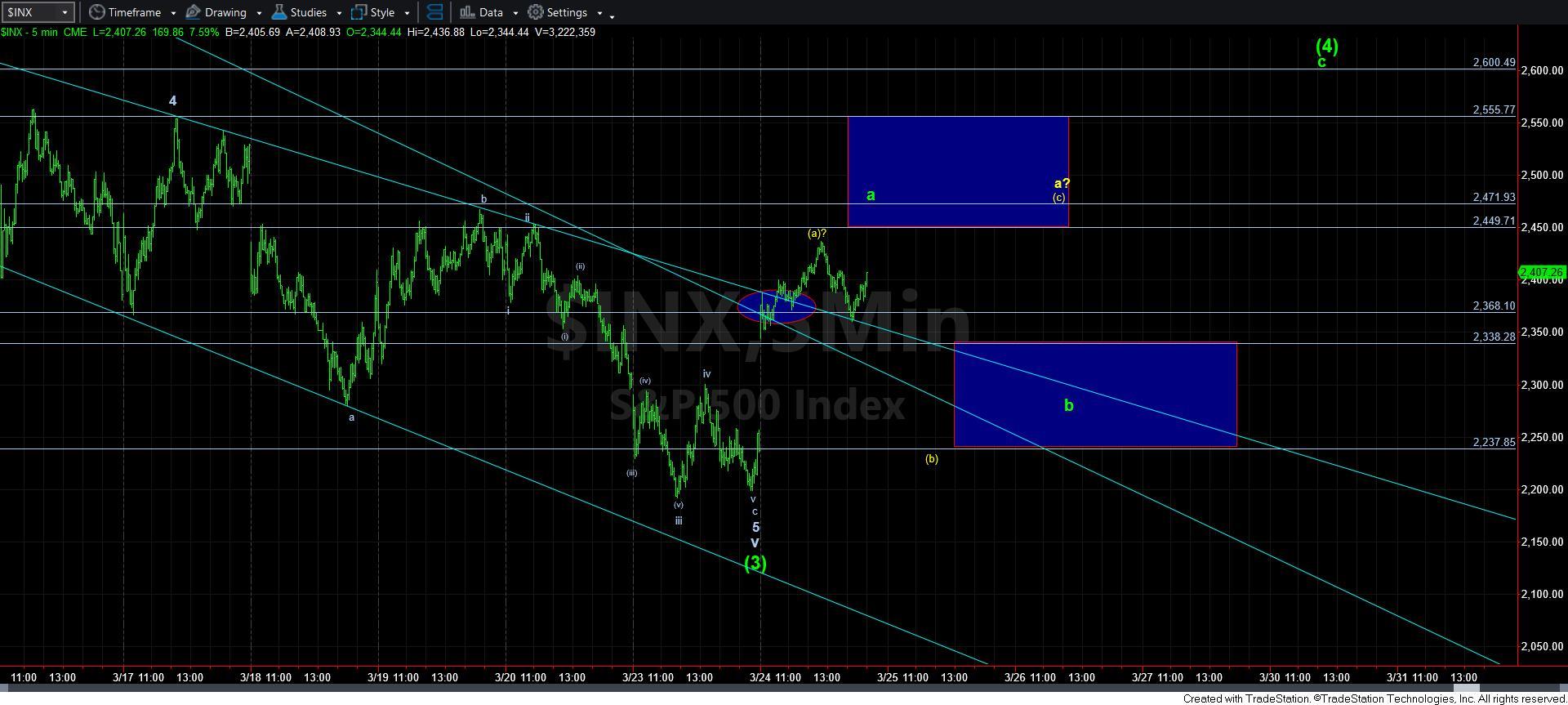 5minSPX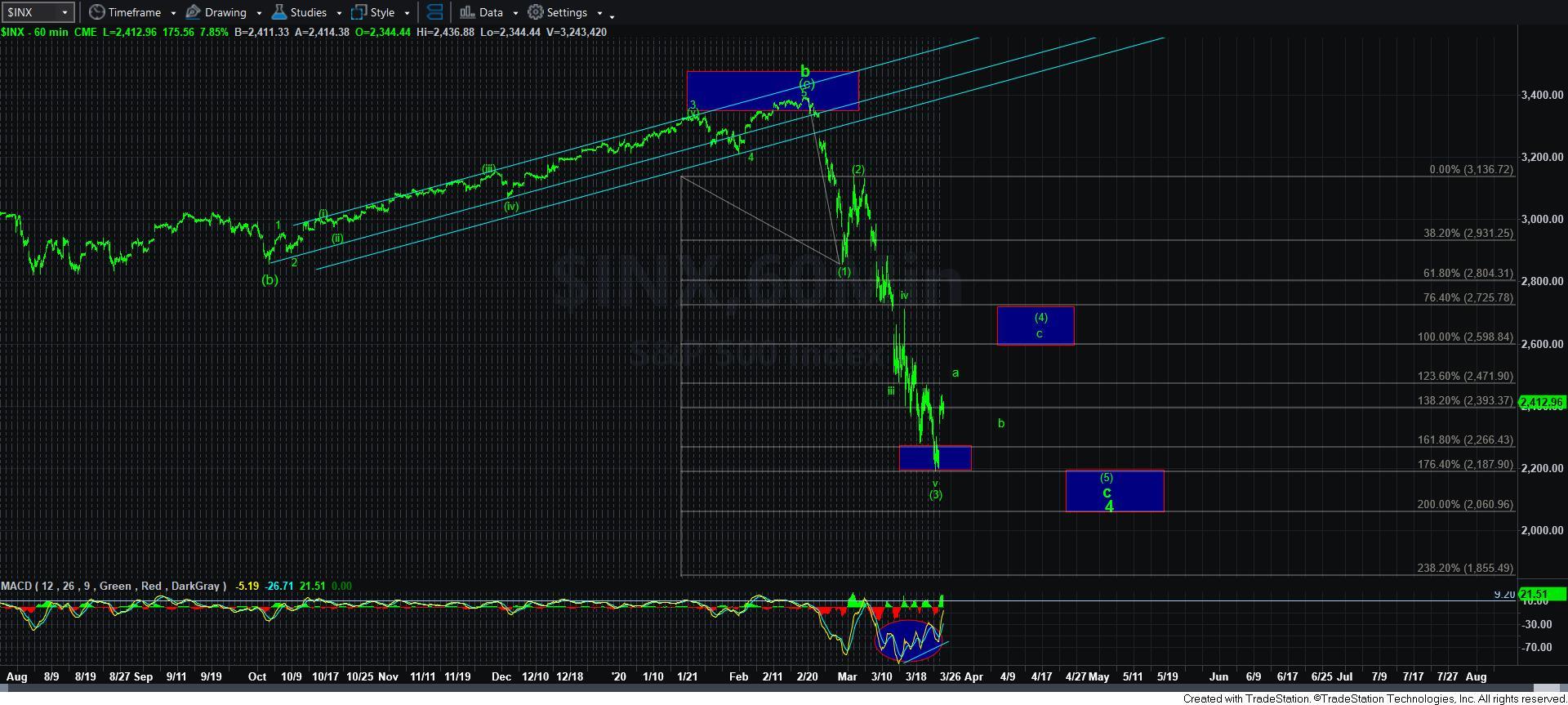 60minSPX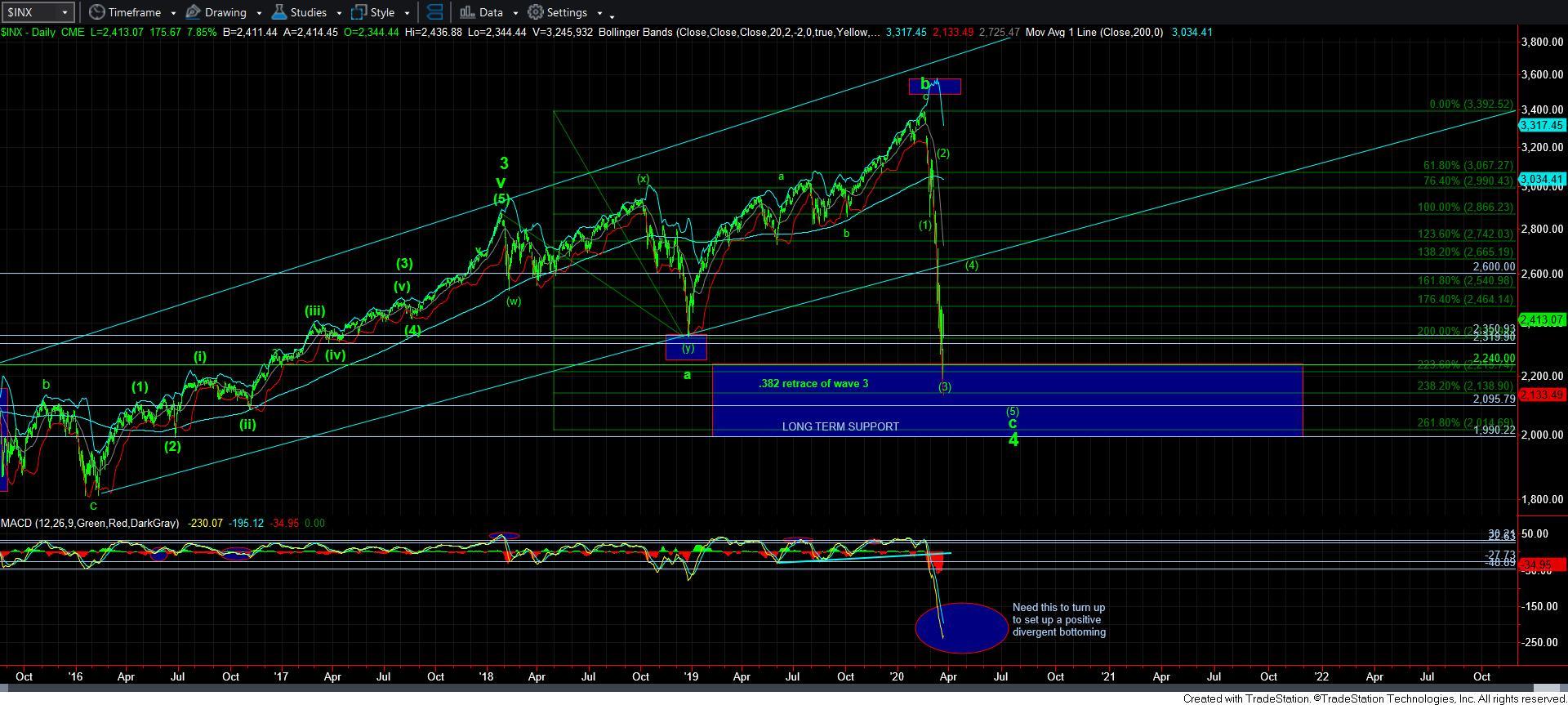 1SPXdaily