It was just a few days ago when I had to calm people down in our trading room and explain that the world was not coming to an end, and that it was not highly likely that the bull market off the 2009 lows was coming to an end either.
Yet, as we were bottoming in wave [3], I saw more posts about us going sub-2000 than I have hair on my head. So, instead in joining all the emoting, I was trying to have you focus upon the full wave count we were getting into those lows, along with the technicals on the 60-minute charts supporting our bottoming expectation. Moreover, once we confirmed out bottom, our target for the wave [4] in the SPX was at least the 2600SPX region.
And, amazingly, two days later, we are now at our target.
Before we bottomed, I was trying to prepare you that when we did rally in what I was counting as wave (4), many will begin to become certain that the bottom has been struck. Isn't it amazing how sentiment works?
Yet, my primary expectation remains that this is a wave [4] bounce.
Remember, from a technical perspective, when we were bottoming in wave v of [3], we saw positive divergences on the 60-minute chart, which is what gave us strong indications of bottoming before this rally began. Moreover, when we bottom in the 5th wave of this c-wave, we want to see those same divergences develop on the daily chart. Thus far, we have only begun to see the MACD on the daily chart move up off its extreme lows. So, we do not have this confirming indication on the lows just yet. But, the set up seems to be developing, as the MACD has begun to come off the floor. The lack of positive divergence on the daily indication is what is keeping me in the wave [4] count, at least for as long as we remain below 2725SPX.
But, there is a reason to have some doubt. You see, as I have been highlighting on the 60minute IWM chart as we were bottoming, we have enough waves in place to consider the c-wave as potentially completed. While I did not have the confirming indications on the daily technicals, I was raising this potential as we were bottoming. This is why I always buy my initial positions at what I believe to be the bottom of wave 3 in a c-wave.
To add to this potential, I have to note that the rally off the lows in SPX does look like a 5-wave structure into yesterday's high. While it is possible that a-waves can be 5-wave structures, it is much more common to see a 3-wave a-wave structure. So, when I see a 5-wave rally off a low, it does get my attention.
This brings me to another point I would like to highlight this afternoon. I find it hard to assume that wave [4] is only going to take us two days. Moreover, for this to be a straight shot directly to our target also seems quite suspicious to me. So, either I have the wrong count, and we are about to break out over 2725 in the yellow count, or we will be in for another surprise, as represented by the blue count I have added to my 60-minute chart.
That would mean that this rally is the a-wave of this wave [4], we would see a deep drop in the b-wave of wave [4] which would make everyone believe we are heading down to lower lows, only to turn back up and rip us back into our target box overhead for the c-wave of wave [4]. This would then point us down for the true lower low in wave [5]. And, it would have most investors reeling with this type of whipsaw.
While I cannot say this is what is going to happen, if the downside structure we see off this resistance region begins to take a corrective shape, then I will be on high alert for this potential in the coming days.
Ultimately, I want to reiterate that I still do not think that the bull market which began in 2009 has yet completed. Rather, I still believe we are completing the c-wave of wave 4 within that 5-wave rally off the 2009 low, and we have yet to begin the 5th wave higher with a minimum target of 4000SPX, with potential to see a blow off rally as high as 6000. We will not have a better idea of those upper targets until waves i and ii of wave 5 have completed.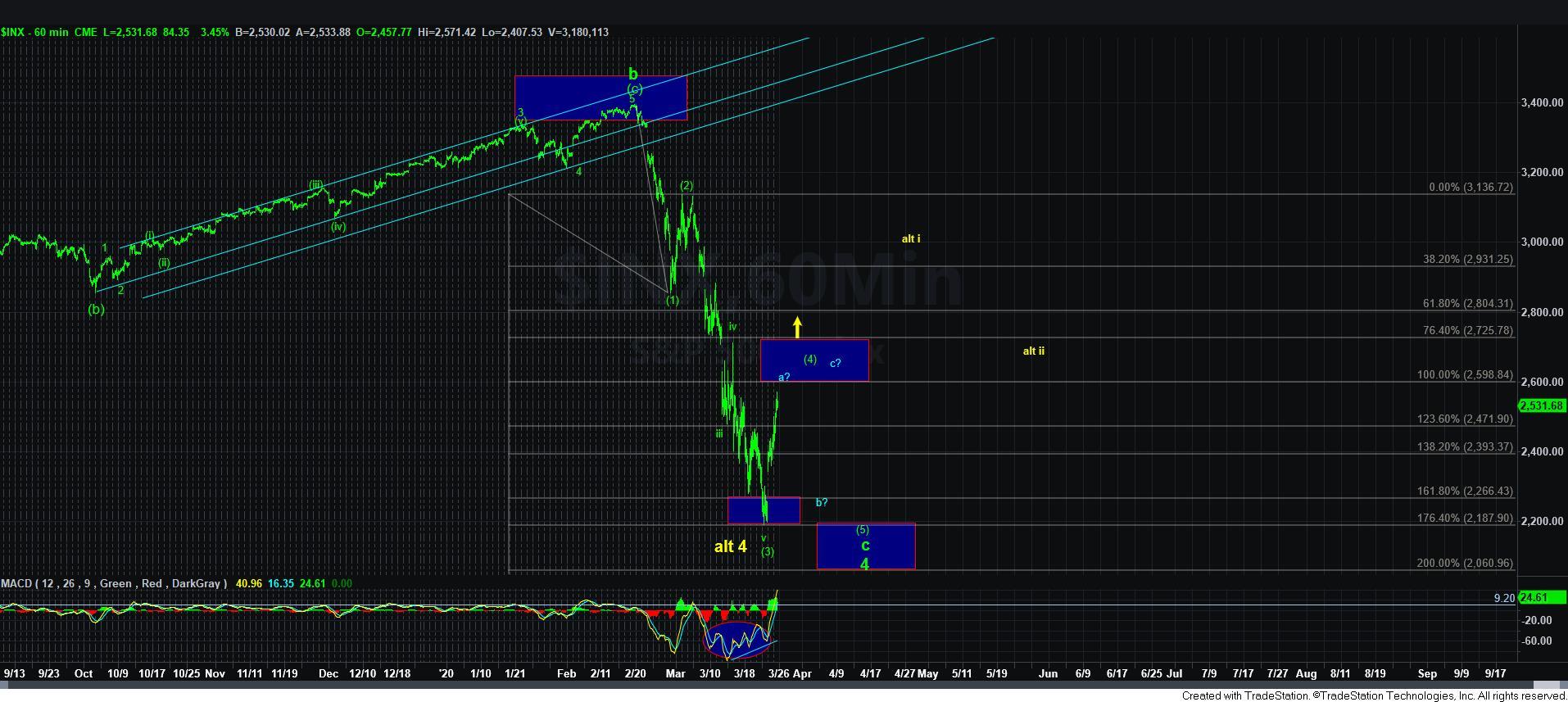 60minSPX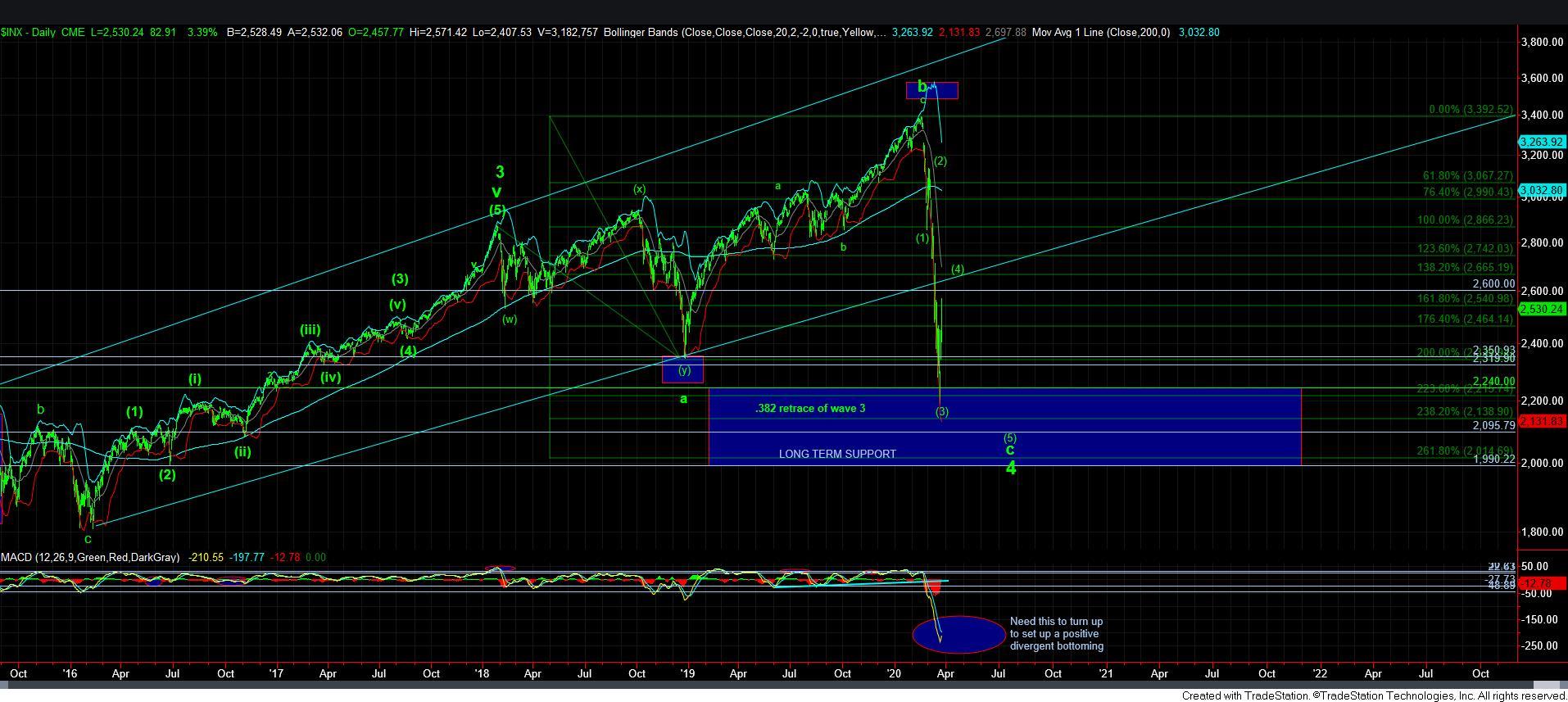 1SPXdaily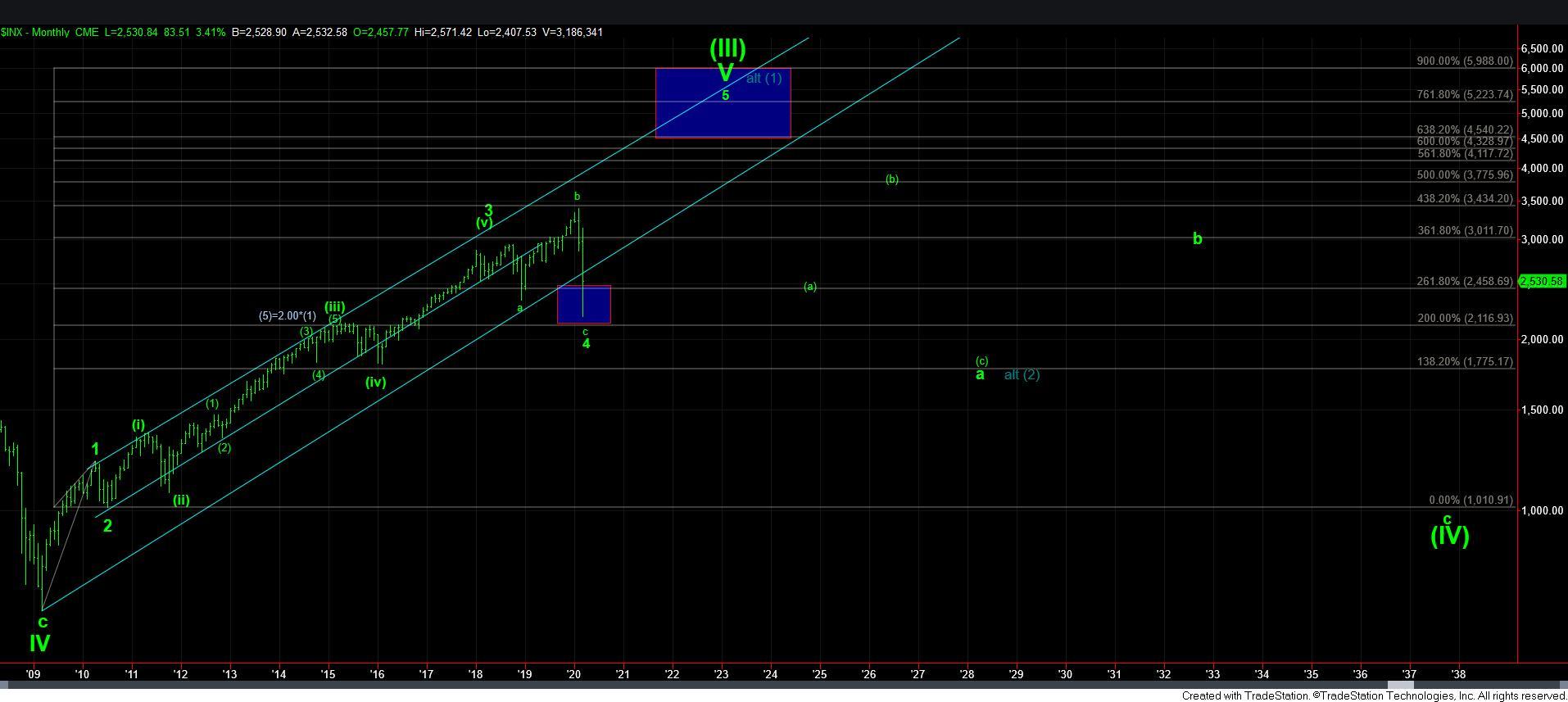 SPX LONGTERM