For almost a month, the market has been grinding, but within a general uptrend movement, as can be seen with the channel we have created on the 5-minute SPX chart. And, the markets ability to continually grind within that region has truly amazed me over the last month.
But, on the SPX chart, we are still hitting our head on resistance. But, we still have not broken any support. And, there comes a point where the market is going to have to finally make a decision.
As I noted over the last several days, if the market can break out strongly over the 3700 region, then the 3675SPX level becomes our support and it is our initial signal that the market has begun the rally to 4200/4300SPX in wave [3] of [iii]. As I also added this morning in an update, the ES chart counts a bit differently, and would suggest that a break out over 3725ES would be the appropriate signal level. But, if we see a break out over the 3725SPX level, then I would raise my smaller degree support to the 3694SPX level, based upon our Fibonacci Pinball structure.
Our support now resides at the low struck yesterday in the 3644SPX region, and as long as we remain over that level, the bulls remain strongly in control. We would need to see a break of that level, with follow through below 3594SPX to suggest that we are going to see a standard wave [2] pullback.
So, while I am bullish as we look towards 2021, I am still looking for a pullback in wave [2] for as long as the market continues to respect resistance. But, clearly, price is king, and if the market should tell us it wants to take a more direct path higher and sooner than I currently expect, well, I am clearly not going to fight the market.
Truth be told, this market makes me nervous right here because we have yet to see a standard pullback since March and we are quite stretched to the upside, with many charts providing us with negative divergences up here in multiple time frames. So, I am going to continue to expect a standard retrace until the market tells me otherwise.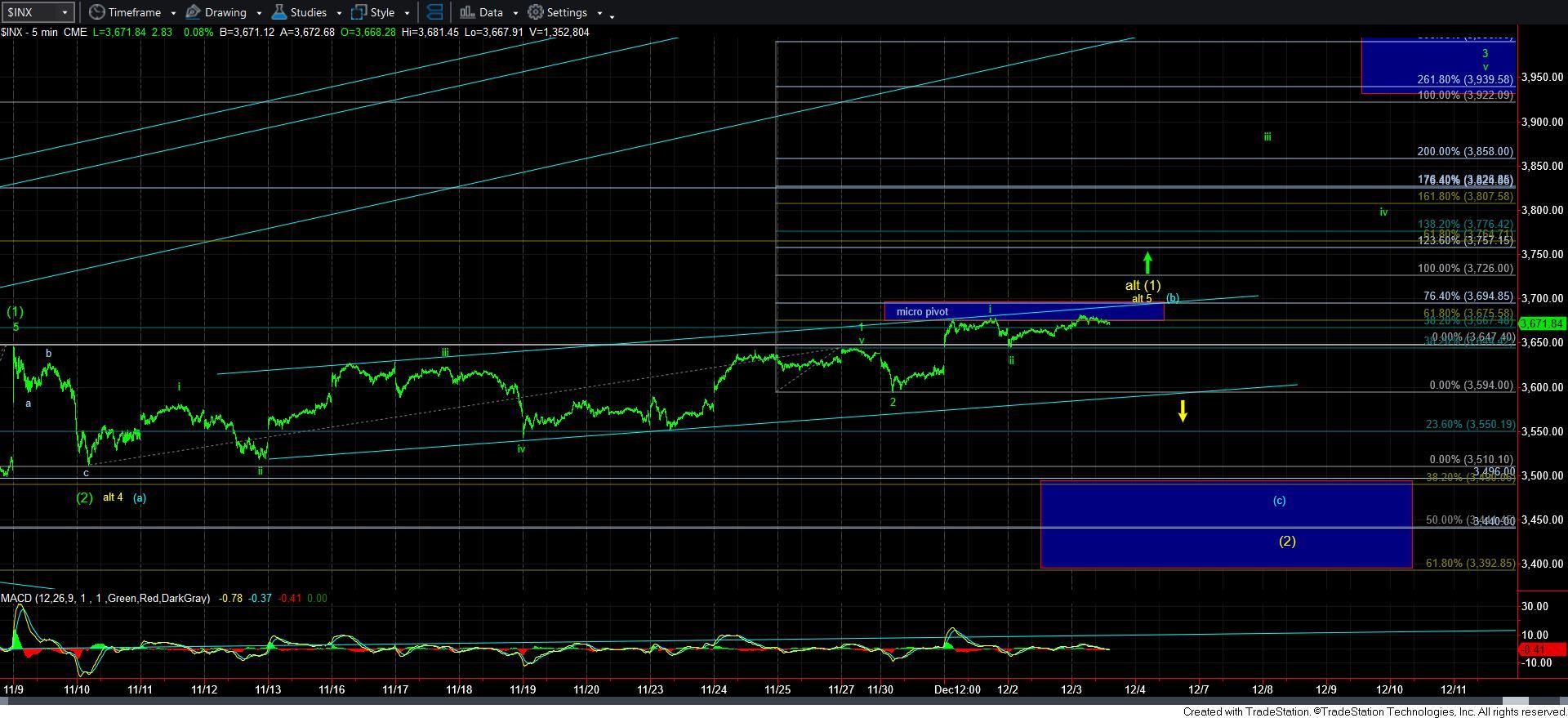 5minSPX