The "Easy" Part Of The Rally Is Likely Done
Last night, I placed before you supports which had to hold in order to keep the immediate pressure to the upside. And, despite a drop to the main support in the 2625/27ES region, we held support, and, today, struck the next target we presented last night in the 2695ES region.
At this time, the easy part of the rally has now completed. In fact, from here, there are three paths which I can foresee which can still take us higher to the blue box target overhead.
So, while you are likely scratching your head about having three different prospects before you, please remember that we are LIKELY still within a 4th wave, and within a b-wave of that 4th wave. So, all I am doing is trying to prepare you for market action that I can foresee. While I am sure there is still action that may happen which I cannot foresee at this time, for that we will have to adjust in real-time as it presents itself. And, thus is the nature of 4th waves. But, it certainly provides us with a certain amount of comfort in knowing to almost expect this whipsaw in this type of environment.
With us hitting resistance today, we have now struck the minimum target I had for this wave v of 3 in the (c) wave of b. This pattern has us targeting the a-wave high in the 2725 region. However, my true preference would be for levels as high as the 2805SPX region, but I cannot say that it is my primary count at this point in time. And, if we complete the standard 5 wave structure into the 2725SPX region over the next week, then I am not going to argue with the market. This structure is presented in grey on the 5-minute ES chart.
How the market navigates the next 2-3 days can be instructive as to whether we will only get towards the 2725SPX region, or if we can go higher. Ideally, pullbacks should now hold over the 2645-65ES region. If we see a pullback towards support, that would likely keep us in the grey count, as long as that support holds for wave 4.
Alternatively, a break down below 2645ES from this point forth can open the door to a bigger drop in the yellow count, which "should" then set up another rally towards the target blue box we have had on our charts.
Lastly, the blue count (which has been noted by Zac Mannes, our Stockwaves lead analyst at EWT), can provide us with a more direct rally towards the 2800 region, but we would need to see a move through the 2725 region in direct fashion to make that a higher probability.
Ultimately, I still think we can head higher in the market, but the smaller degree path is not as clear anymore. The manner in which we next pullback should be instructive.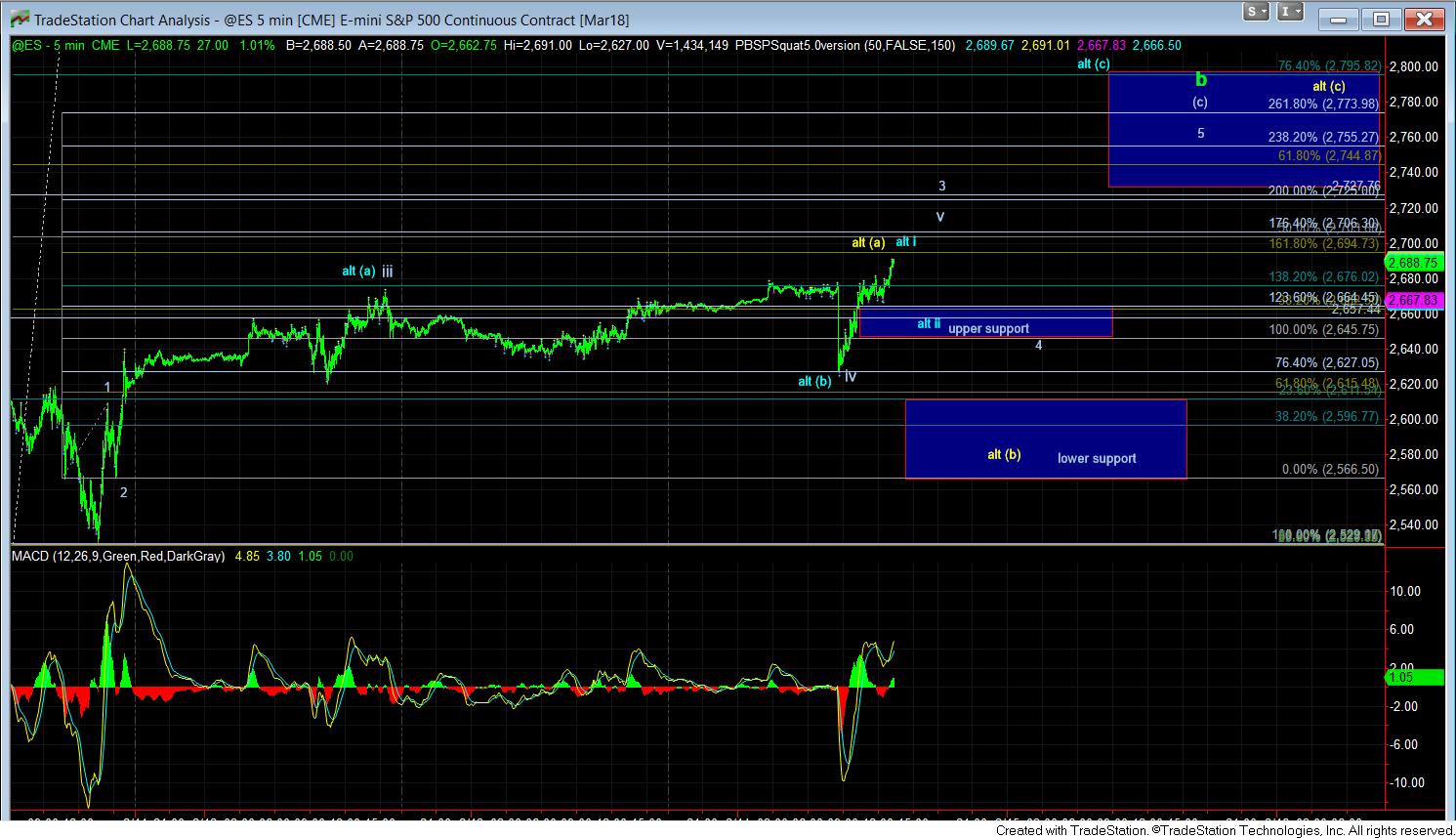 5minES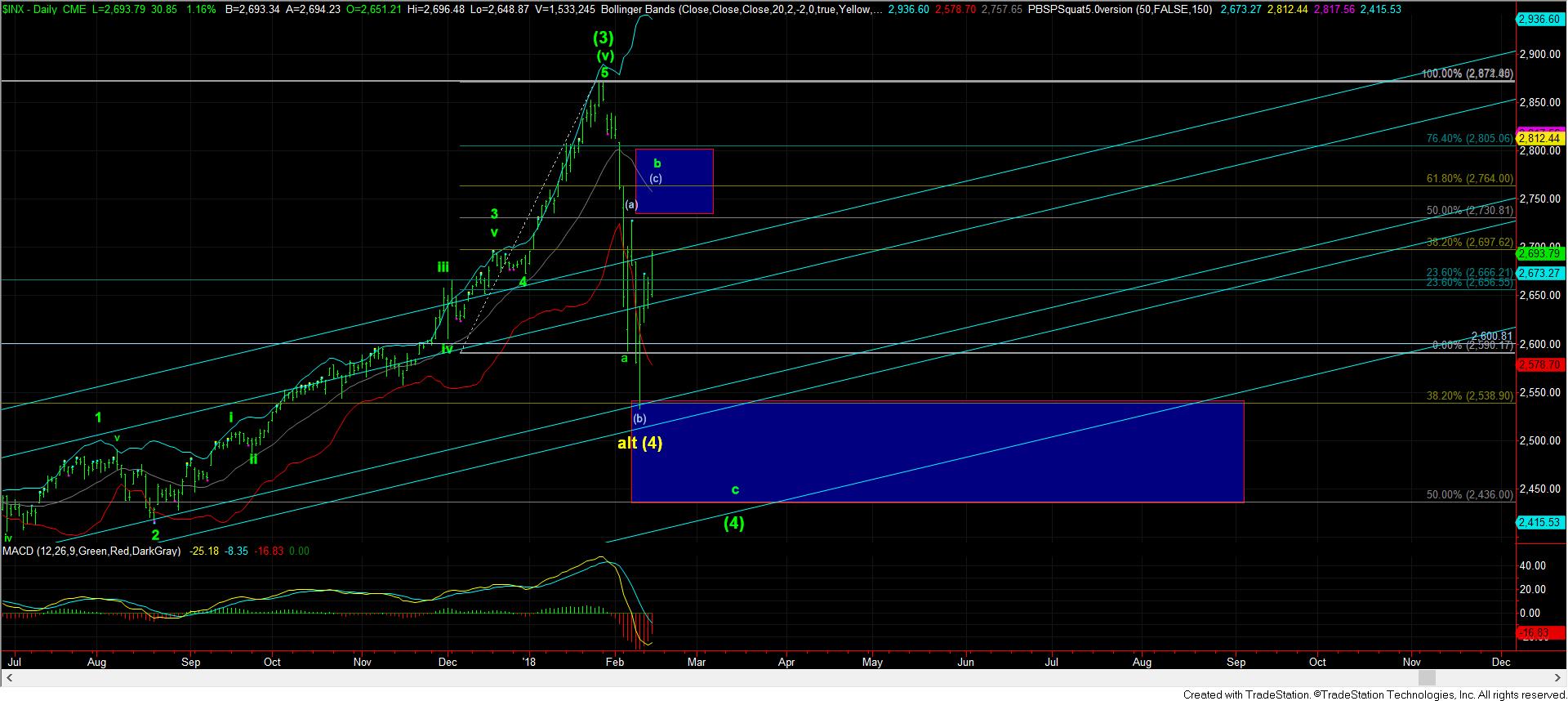 1SPXdaily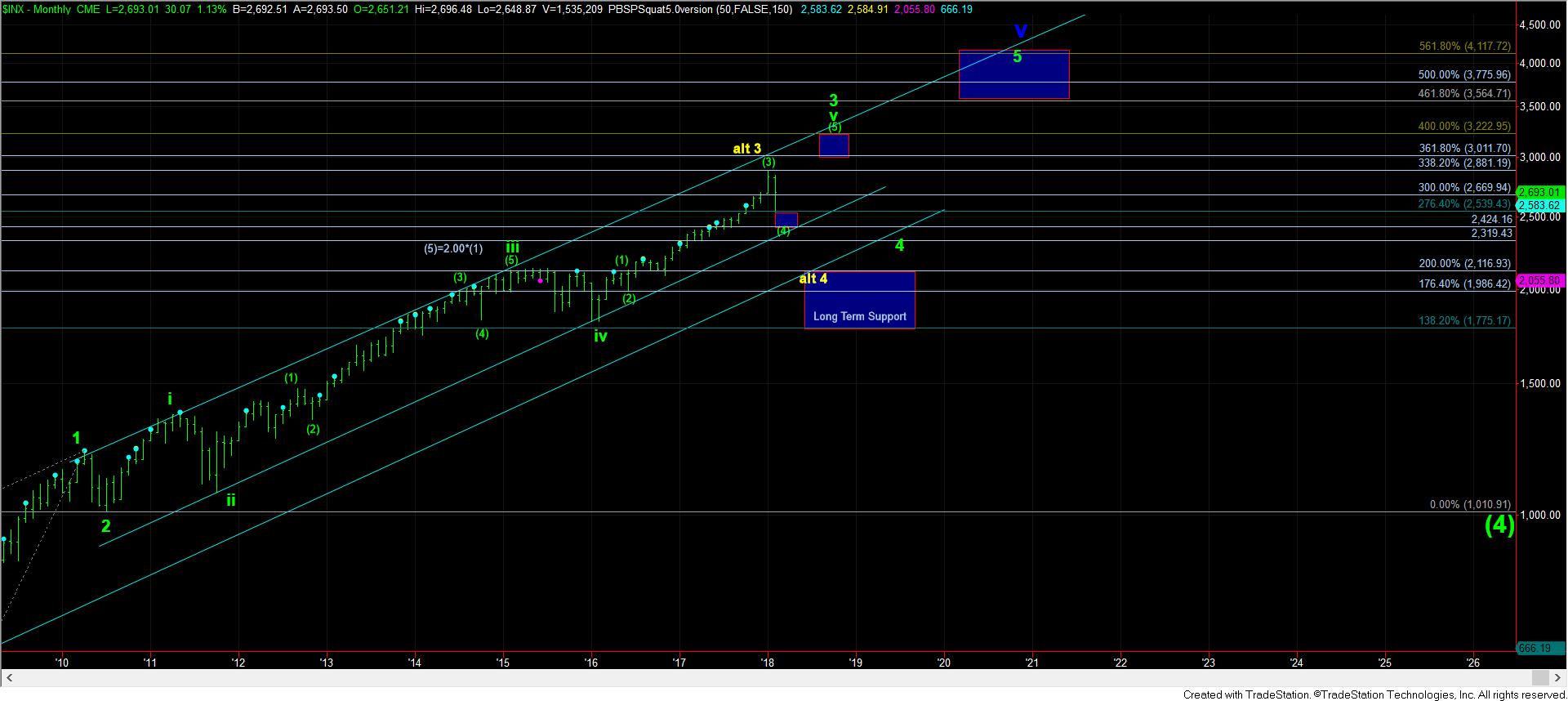 LONGTERMSPX