The Clouds Are Starting To Disperse
It's nice that we did not spend a lot of time in no-man's land, as the market is starting to clear up. But, that does not mean that our parameters have changed.
My primary count still remains that we are topping in a b-wave, as presented in green. Based upon the micro structure off the potential wave 4 low, our resistance is now 4440-4470SPX. As long as the market is able to continue to push higher towards at least the 4440SPX region, then I view that as completing the [c] wave of the b-wave rally off last week's low. Moreover, we are now within a stone's throw of my ideal target for this rally, which I outlined even as we were hitting the lows last week in the 4230SPX region.
And, of course, the alternative count still presents us as trying to extend up towards the 4550-4600SPX region to complete a larger wave 3 rally to the 1.236 extension of waves [1] and [2], as seen on the 60-minute chart, which is well within the expectations I laid out long ago for this wave 3 of [3] – based upon our Fibonacci Pinball methodology. This alternative is presented in yellow on both the 5-minute and 60-minute SPX charts.
In order for me to adopt the pattern that points us to 4550-4600SPX, one of two things have to happen. Either the market has to drop in a corrective manner towards the support box presented on the 5-minute SPX chart, and then provide us with a clear 5-wave rally off that box. Should that occur, then I adopt the yellow count, pointing us to the 4550+ region into August.
The other manner in which I adopt that potential is if we see a direct break out through 4475SPX. That would suggest that the pullback we saw this week was all of the b-wave we are going to see. But, that is a very low probability to me at this time. Yet, it is something I do have to consider due to how oversold we were at the lows we struck last week.
In the meantime, should we be able to continue to climb to the 4440+ region, then we will need to see a CLEAR 5-wave decline to focus my attention on our ideal target for the c-wave down towards the 4165SPX ideal target.
So, our parameters are rather simple. We have 4440-4475SPX as our resistance overhead. As long as we remain below resistance, then the manner of the next drop should settle this out. If clearly impulsive, then we are ideally targeting the 4165SPX region to complete the c-wave of wave 4. However, if clearly corrective in nature, then we will have to see how we rally off that support. If we see a 5-wave rally off that support, then we move into the yellow alternative, and look towards 4550-4600SPX into August.
Also, keep in mind that once the market makes wave 4 clear to us, then wave 5 of [3] and wave [4] will be much easier to prognosticate as we look towards the last half of this year, and into early 2022. So, while it still may take a few days more, I think the benefits of clearing up this region will likely last us many months.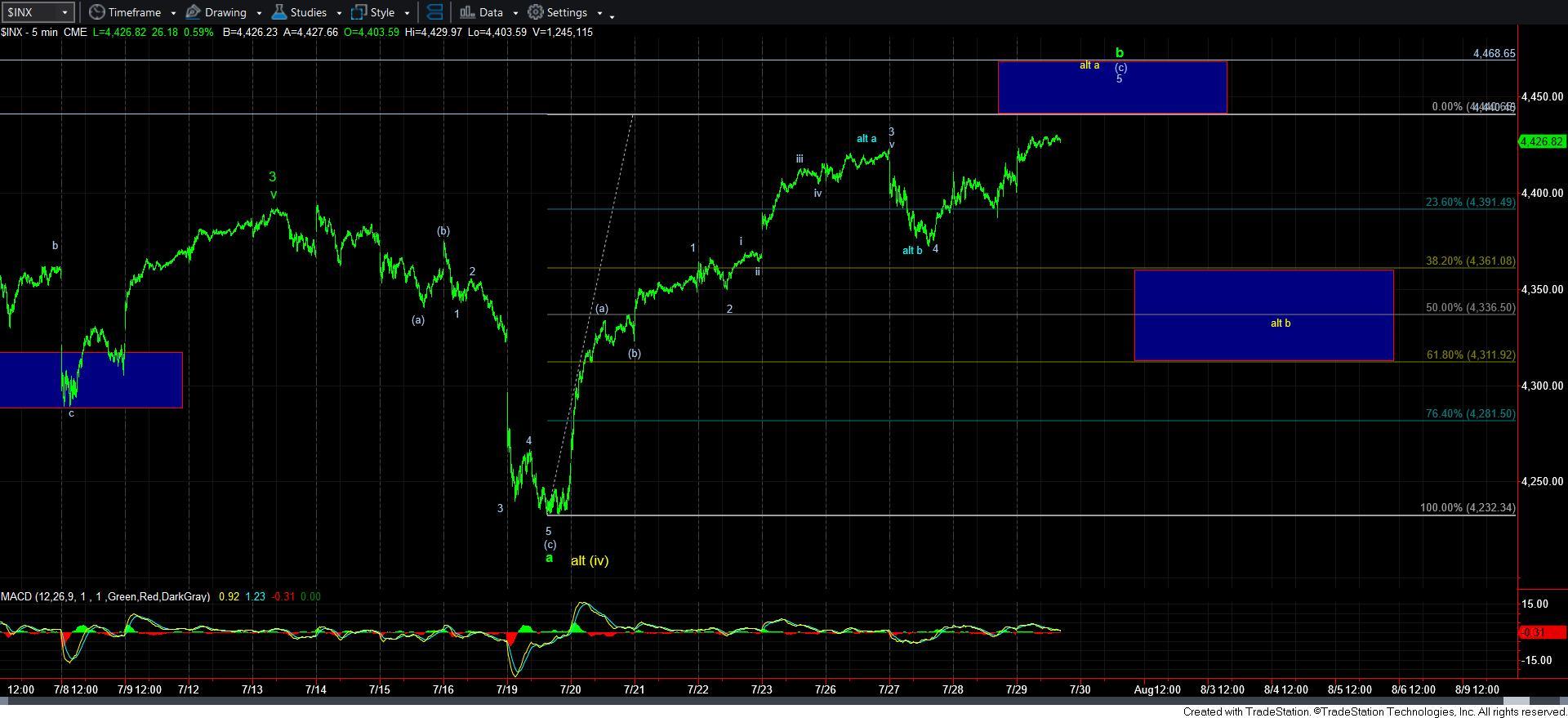 5minSPX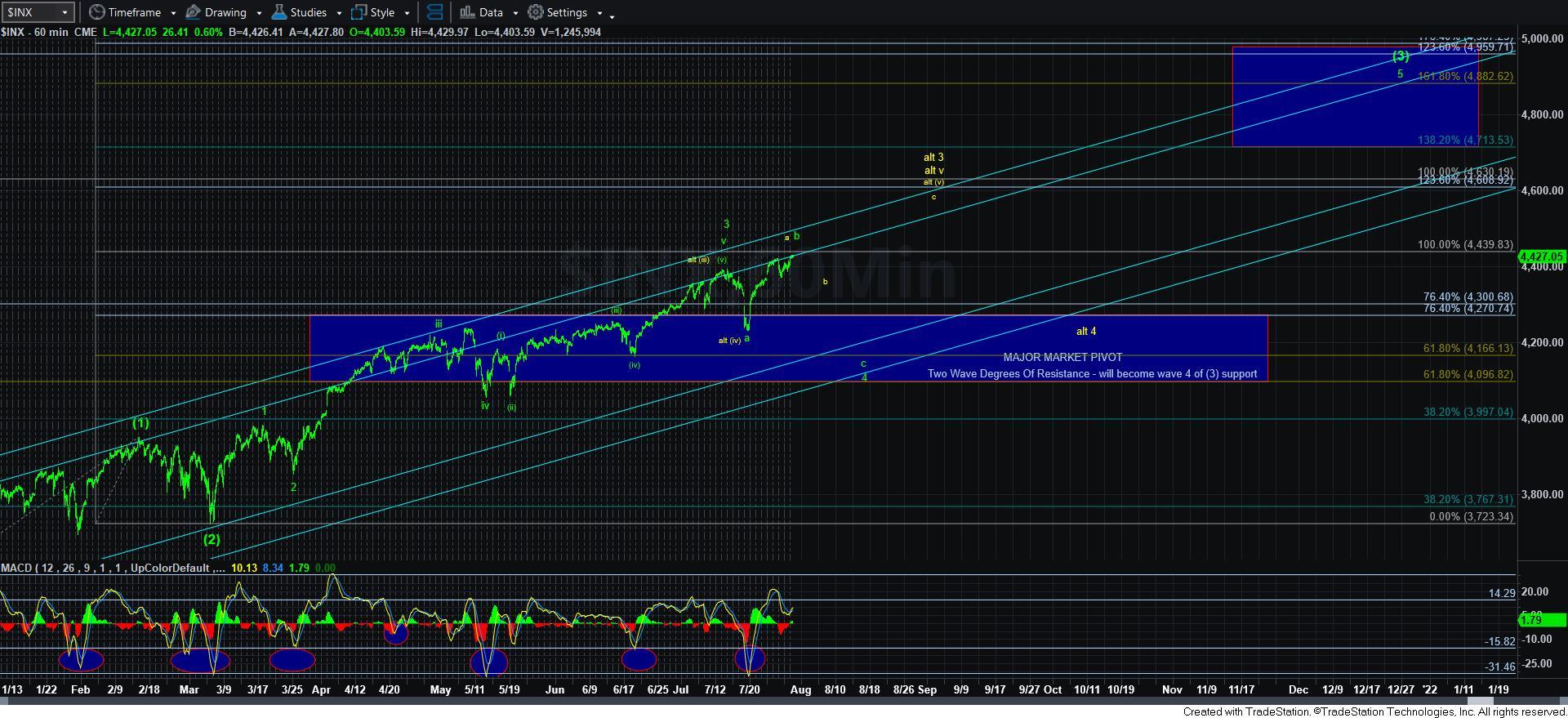 60minSPX