The Bulls Still Have The Ball
With the SPX extending today to the 3275SPX level, it gives me a bit more support for viewing this move up in wave [v] of 3 as an ending diagonal. As I highlighted yesterday, the 1.236 extension of waves 1 and 2 is the standard target for wave 3 in a diagonal, and should we pullback now below 3240ES overnight, then it would strongly support the wave count of this being an ending diagonal for [v] of 3 in blue.
While the green count is not "dead" at all, it is not something that I would say has the higher probability with the SPX extending higher today. Rather, the only way I am able to consider the green count as a higher probability at this time is if we see a 5-wave decline taking us below 3185SPX at this time. Unless the market provides us with that type of decline in the coming days, I have to give an edge to the bulls.
If the ending diagonal is the correct structure we are tracking up here, then it would suggest we will likely see much more whipsaw over the coming weeks. Consider that we still need a wave 4 pullback within wave [v], which will likely take us back down to the 3185-3200SPX region, followed by another rally in wave 5 of [v] up towards the 3305-3340SPX region, only to be followed by another larger degree wave 4 of [5] taking us back down towards the 3185SPX region yet again. So, even if we are heading higher in wave [5] of [i] in blue, there is still much more up/down structure we can see over the coming weeks.
In the meantime, the main point is that we can now move support up from 3115SPX to the 3185SPX region. And, unless we see an impulsive 5-wave decline below 3185SPX, then the bulls will retain the ball as they will attempt to drive it back up towards the prior highs in the 3400SPX region in the coming weeks.
And, while I do have the green count on the chart, I really have no clean way of viewing the micro structure to the upside as completed just yet. So, as noted earlier, the green count is fast becoming a lower probability, as the bears will have to prove it to me with a 5-wave decline below 3185SPX.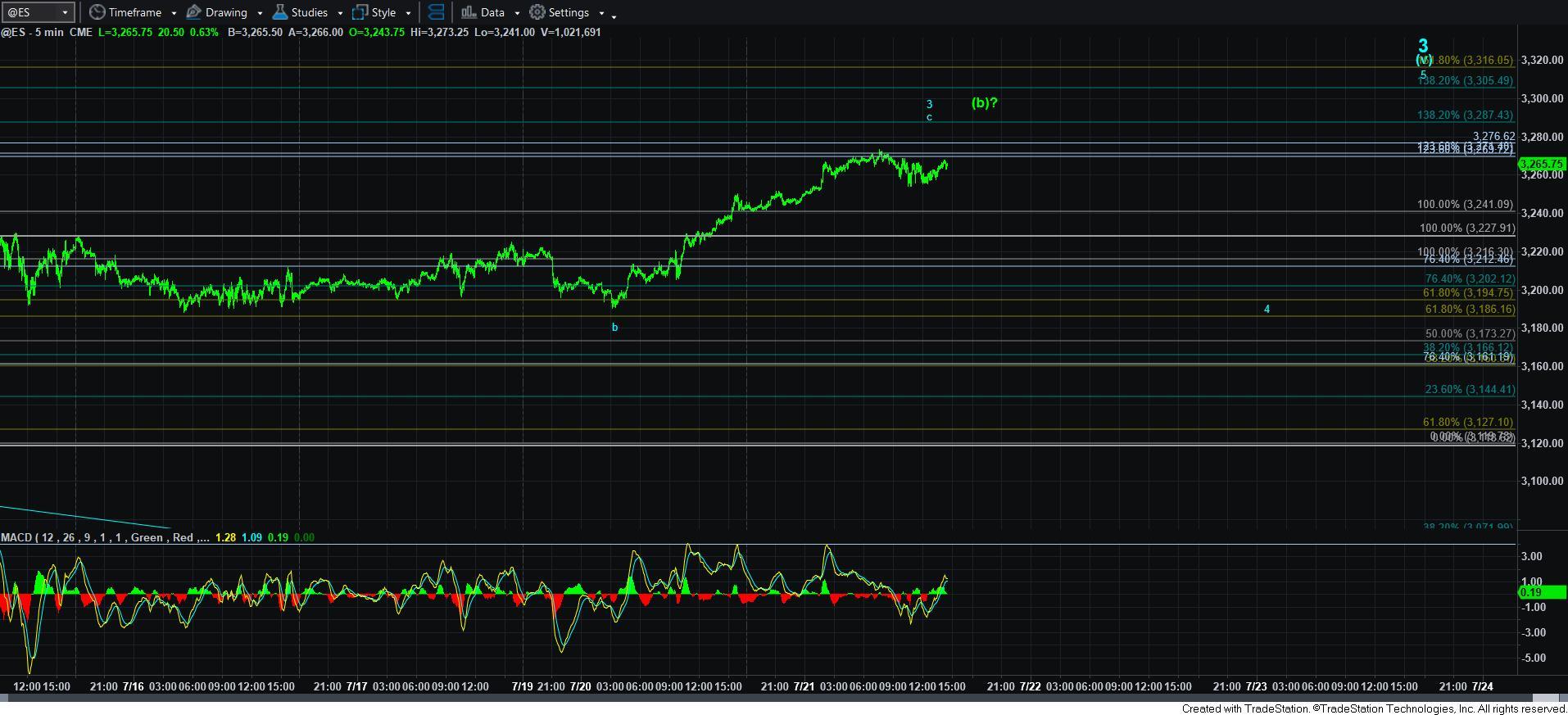 5minES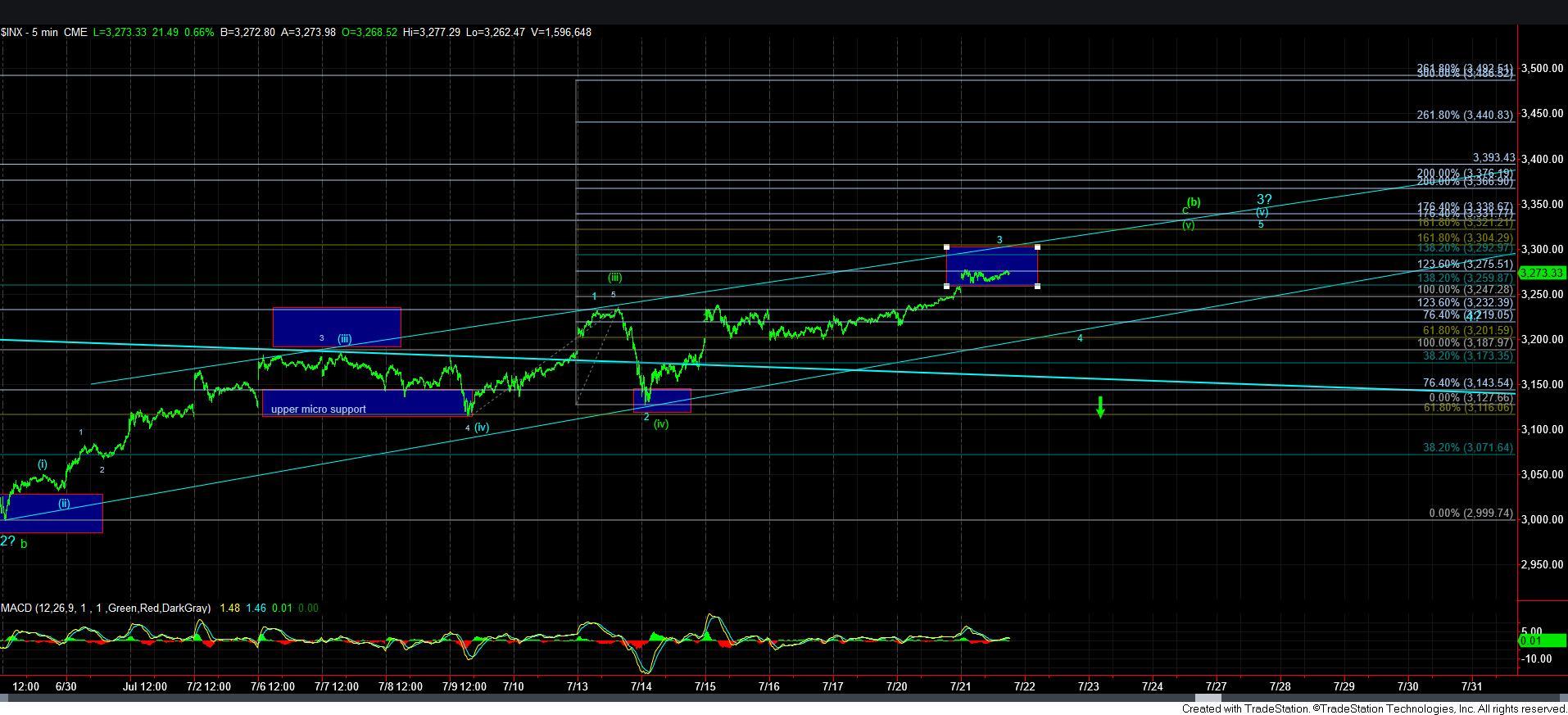 5minMicro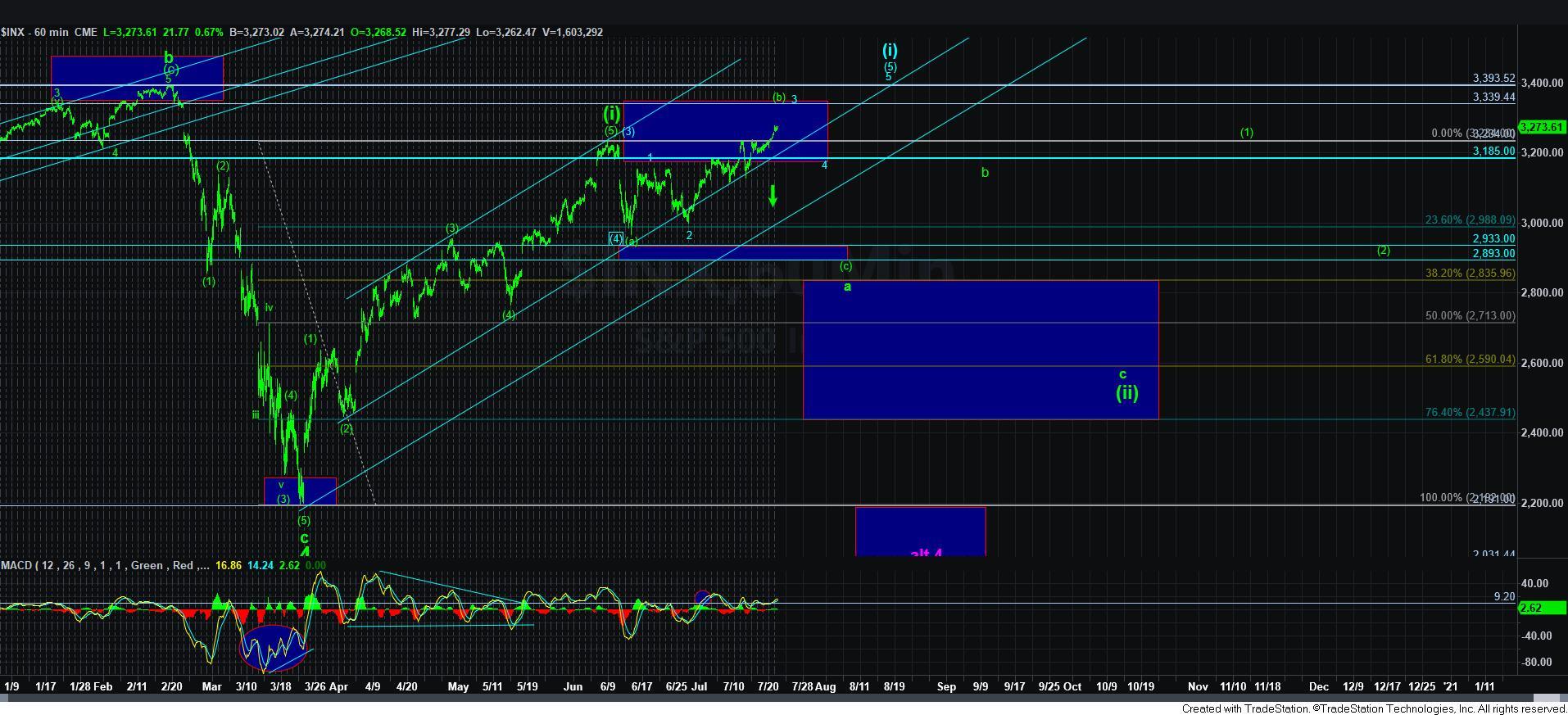 60minSPX