Tentative At Resistance - Market Analysis for Feb 1st, 2022
As if the market had a brain of its own, but it seems to know exactly where it has been these last two days. It has become quite tentative at the resistance region I was outlining yesterday.
Even though yesterday's analysis is still fully applicable, there are a few additional points I would like to make.
First, take note of the daily MACD as it has finally come up off the floor and begun its ascent. Should that MACD cross, then it would be an indication that the bottom to wave [4] has potentially been struck.
Second, you can juxtapose that with the MACD on the 60-minute chart, that has just struck the overbought point. If this is a corrective rally, as I currently suspect, then this is where it should top out and come down hard in a 5th wave lower. But, we should see a higher high on the MACD when the price strikes our targets for a lower low.
Third, while my primary perspective is viewing us as topping out in the [c] wave of wave iv, if we manage to break out through resistance, I would not be turning "bullish," per se. Rather, I would likely be turning near-term neutral. The reason is that there is potential that a 4th wave can still go higher than the standard target and still resolve lower, as in the case of an ending diagonal. And, since the initial decline off the recent highs had an a=c initial move down, there is potential for that to be the case.
What will turn me bullish is if the market continues through the resistance and completes wave 1 in the target box presented on the 60-minute chart. I will then be looking for a corrective decline, and will look to be a buyer within that wave 2 pullback. But, until then, I would have to say that a break out through resistance would only move me to being neutral, for now.
In the meantime, the market is still respecting resistance, and I have no reason to view it as anything other than the primary count I am presenting. But, as many of you who have been with me for some time know, I am always looking for where I can be wrong, and what I will be doing if that would happen. So, I wanted to provide you with my thought process in the event the market does break out through resistance.
For now, I want to see a CLEAR 5-wave decline off a high to strongly suggest that wave v down has begun in earnest.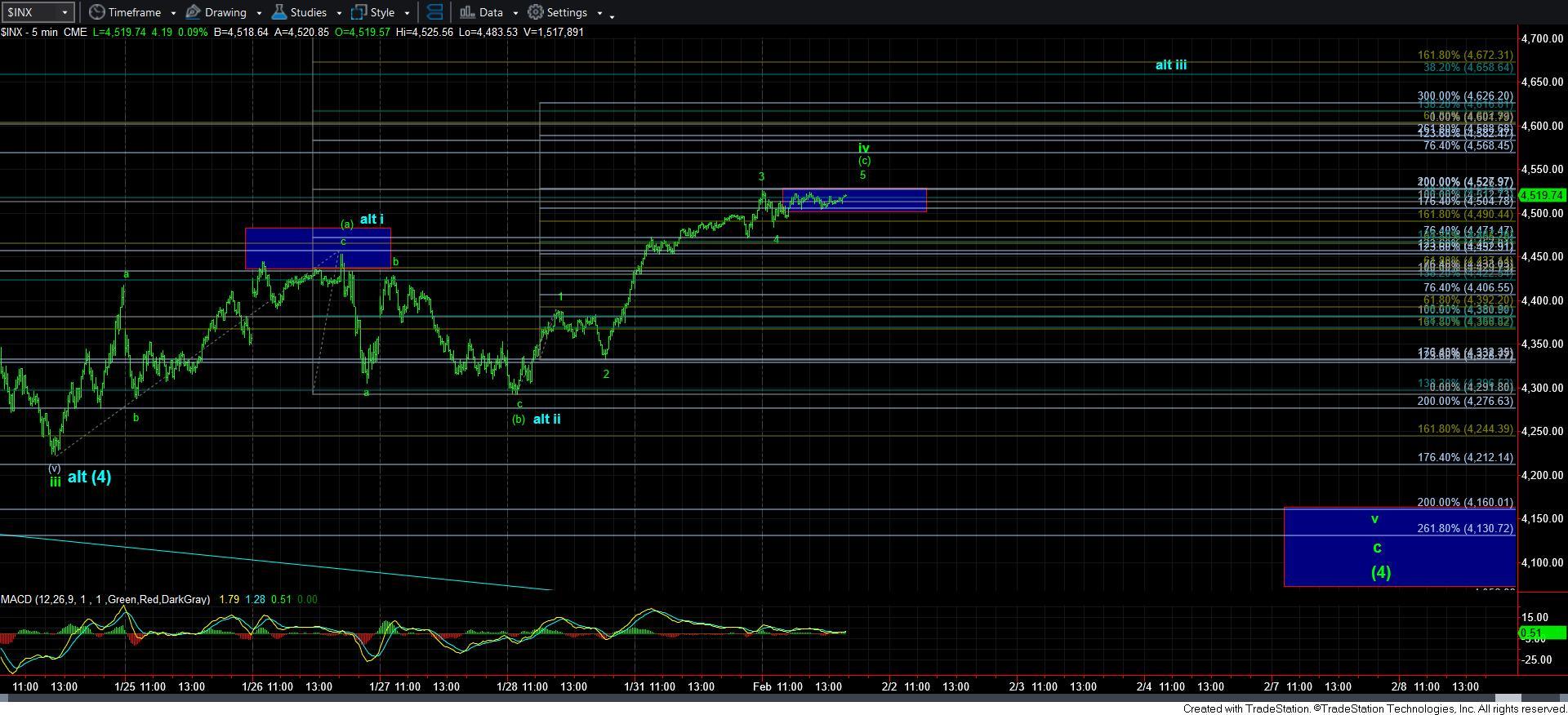 5minSPX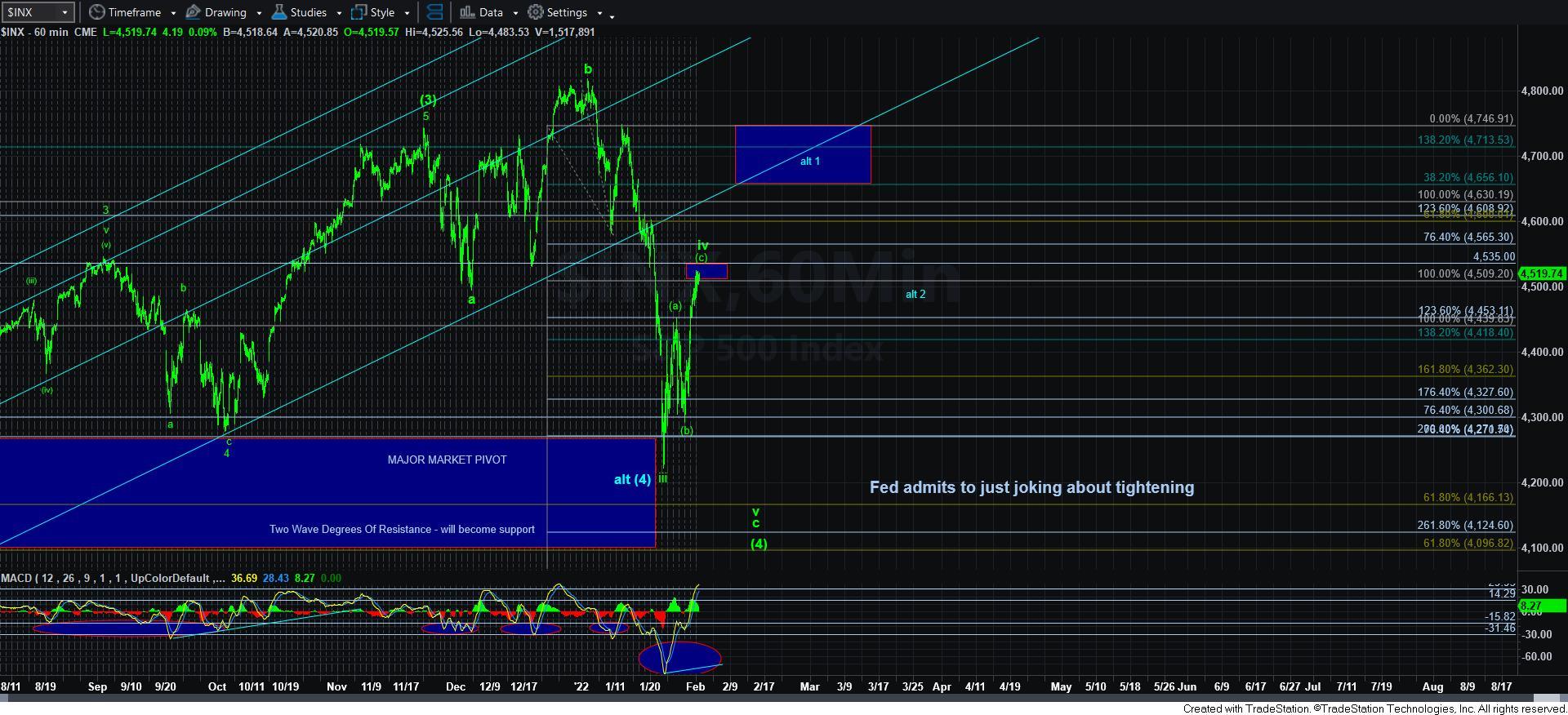 60minSPX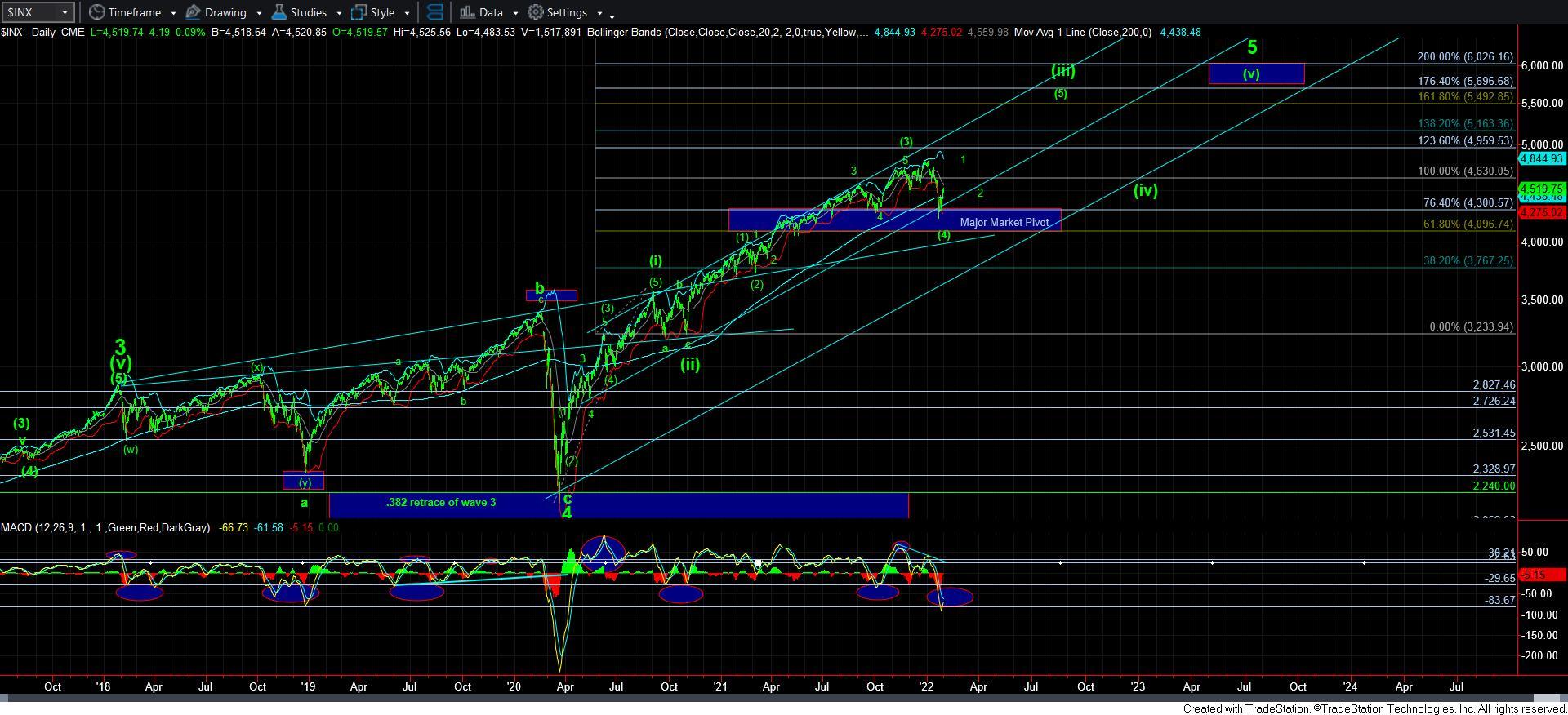 SPXDaily