As we rallied off yesterday's low, the market can certainly be counted as an impulsive structure off that low. In fact, we may even have a micro (1)(2)i-ii set up going into tomorrow, as presented on the micro-SPX 5-minute chart in yellow.
While many of you may be questioning why I am still looking up in the immediate term, it is purely because I recognize this is a larger degree bull market. And, if I see impulsive structures taking shape, then I have to give the bulls the edge. Today, I have two ways to count the rally off yesterday's low as bullish (yellow and blue), so I will need that to invalidate to adopt the triangle count, as I have mentioned so many times over the last week.
As you can see from the attached micro count, I have noted that the 2707-2711SPX is the lowest level support I am now willing to accept to maintain an immediate bullish count in the near term. A break down below that support will likely signal that we are in a c-wave down within the purple (a) wave of the e-wave of the purple triangle count. Ultimately, it means that as long as we hold that support, I am looking up to the 2760SPX region next. However, a break of that support suggests we will likely be heading down to the 2650SPX region to complete the (a) wave of the e-wave of the triangle, as noted on the 60-minute chart.
I have also attached a zoomed-in 5-minute chart, which presents a path up towards the 2830SPX region. But, as we are doing now, we will be tracking support as the market pulls back to make sure such support is maintained in order to keep our focus up that high. Moreover, if the market is able to see a sustained break out over the 2760SPX region, then it makes it much more likely that we can subdivide over the 2800SPX region in the coming weeks.
We developed the Fibonacci Pinball method of Elliott Wave for this exact purpose. It allows us to continually follow an impulsive structure to its conclusion, but it gives us early warning when that impulsive structure may invalidate. Currently, no support has been broken to give us warning that the pattern up over the 2800SPX region is going to invalidate. As we continue to rise, we continue to raise support. When we came into this week, the support was at 2693SPX. As of today, I can move that support up to the 2707SPX region.
So, I will see you all back here bright and early tomorrow as we track how the market plays pinball through these Fibonacci extensions and retracements.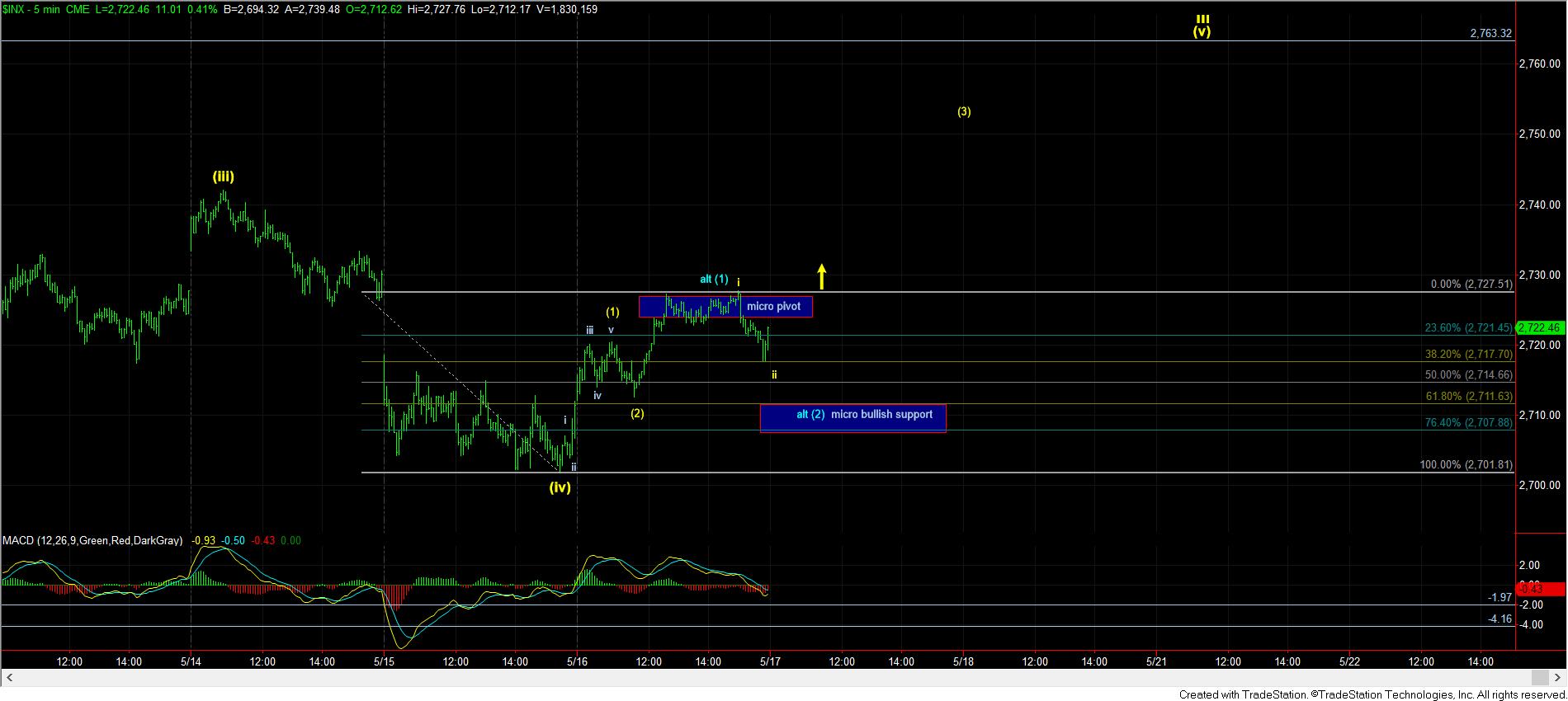 5minSPXmicro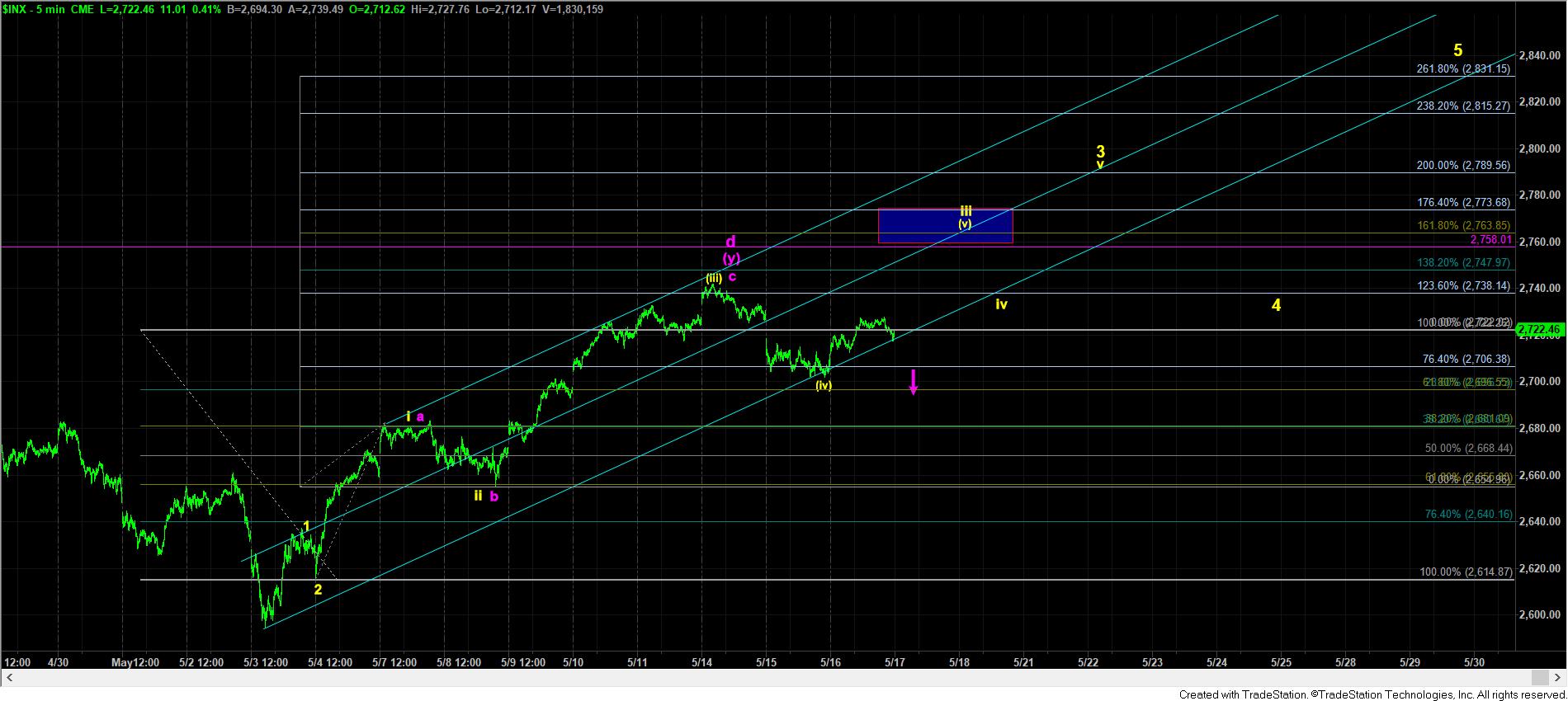 5min-zoomSPX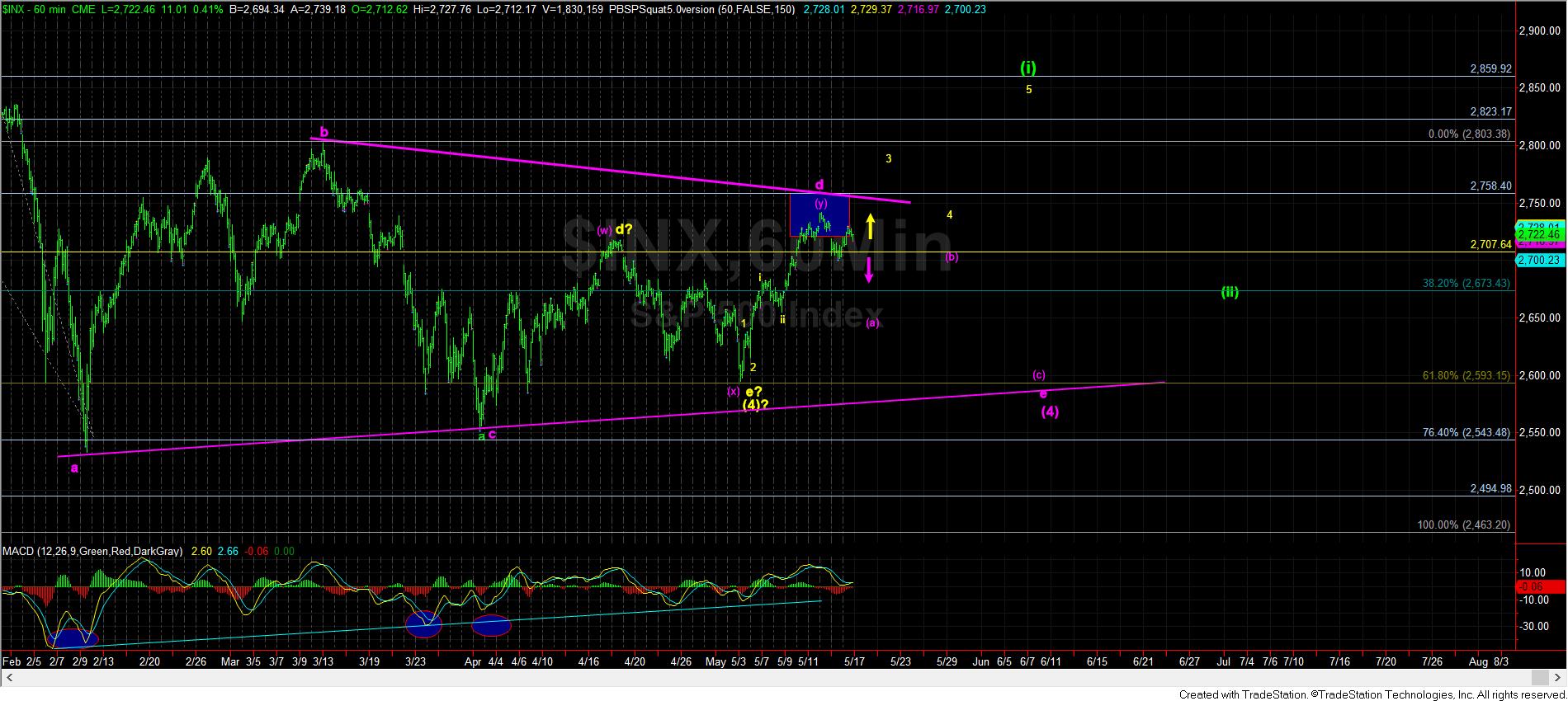 60minSPX