Support Broke – Let's Discuss Where That Leaves Us
With support breaking, we also invalidated the impulsive structure we were following. Therefore, while we did not get a pivot from the Fed, you may be getting one from me.
I am trying to keep all options open, but without a SOLID and CLEAR 5-wave rally off the lows, I have to move into the "top is in" perspective for now. Yes, I still have major issues with that count, as I have outlined many times before. But, as I have said, the main reason I am doing it at this time is due to risk management concerns. Therefore, our focus should now be to raise more cash should we continue to rally in the coming months, as the red count is pointing us much lower over the coming year.
Now, due to the major issues I have with the top is in count, I am still going to track a bullish potential, but I simply cannot make it my primary count again unless the market actually proves it. And, what that count represents is a slight variation of the count we have been following until now. It would suggest the top we recently structure was the wave [iii] of a leading diagonal, with this being a wave [iv] of that diagonal. The difference between this and the red count will likely be based upon is how the next rally takes shape. If we rally off whatever low we develop on this decline and top out in the 4000-4050PX region, and then see a larger pullback, I would have to begin to consider this count again. And, even if this does play out, I will only adopt this count if we get a (1)(2)[i][ii] break out. Until then, this will have to become my alternative count.
So, again, this now forces me into the red count. But, I am viewing this pullback as the [b] wave within this red count. Should we see an impulsive rally off support, then I will view that as wave 1 of the [c] wave rally.
In summary, without a solid impulsive structure off the lows, I simply cannot entertain a bullish outcome in the larger degree, despite that still having strong potential in the back of my mind for all the reasons I have outlined throughout the year. The prudent course of action is now to focus on risk management and raising further cash on the next rally back up towards major resistance. Should a bullish pattern resurrect, I will certainly inform you of such. But, I still think there could be a greater potential for that to occur than most believe at this point in time. And, if it does, there will be another entry. For now, I have to discount that potential for risk management concerns.
5minSPX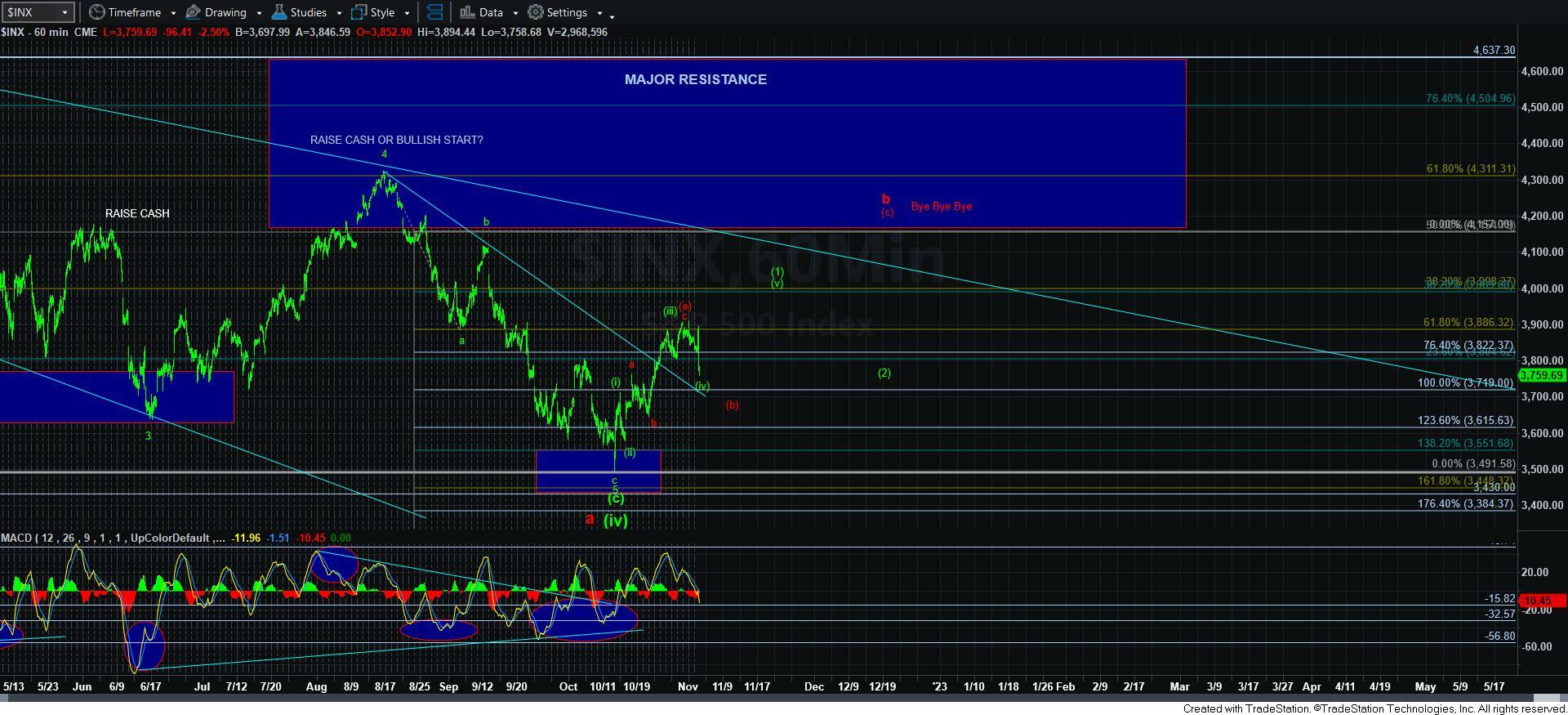 60minSPX