Last week, I wrote about how the 2nd wave was really getting quite relatively large for a normal 2nd wave structure, which began bothering me about the pattern. Yesterday, we had a VERY shallow retrace, that did not even reach the .382 retracement of what we had labeled as wave i of 3 down, and we followed through to the downside nonetheless. Today, the market had the opportunity to see a sustained break of 4427SPX, and only spiked it and then came back up through it.
There are times when the market provides to you subtle messages that the standard expectation is not going to follow through. And, this may be one of those times.
Of course, the alternative count we have been tracking up here is the purple count. And, to be honest, the larger size of the retracement into the 4512SPX region seems more aligned with a b-wave, as they tend to be a bit larger than 2nd waves, at least in my experience.
Moreover, the shallow "bounce" we saw yesterday could be more aligned with a 4th wave bounce within the c-wave of the purple count. And, with the market now trying to find support in the region that represents .618-.764 the size of what would be waves 1-3 in the purple count, well, it seems to begin to align more with a 5th wave in the c-wave of the [b] wave in the purple count than it does with the blue count.
Of course, the market can morph into an ending diagonal in the blue count. But, as you know, I do not rely upon those structures, at least not this early in the structure path.
So, where does that leave us?
Well, it tells me that until the market is now able to follow through below 4400SPX (as it really should have today in the blue count but did not), then I have to consider switching gears to the purple count. And, if the market moves over yesterday's high, that places the purple count front and center, with it confirming by a move over 4512SPX.
For now, I guess I am somewhat neutral after a failure to follow through in the blue count to the downside. But, as long as we remain below 4450-4460SPX, it is still alive. Yet, I will not hesitate to move to the more immediate pattern pointing us towards the 4800SPX region. But, I must warn you, it likely will be somewhat sloppy. I guess that is par for the course for the last two years.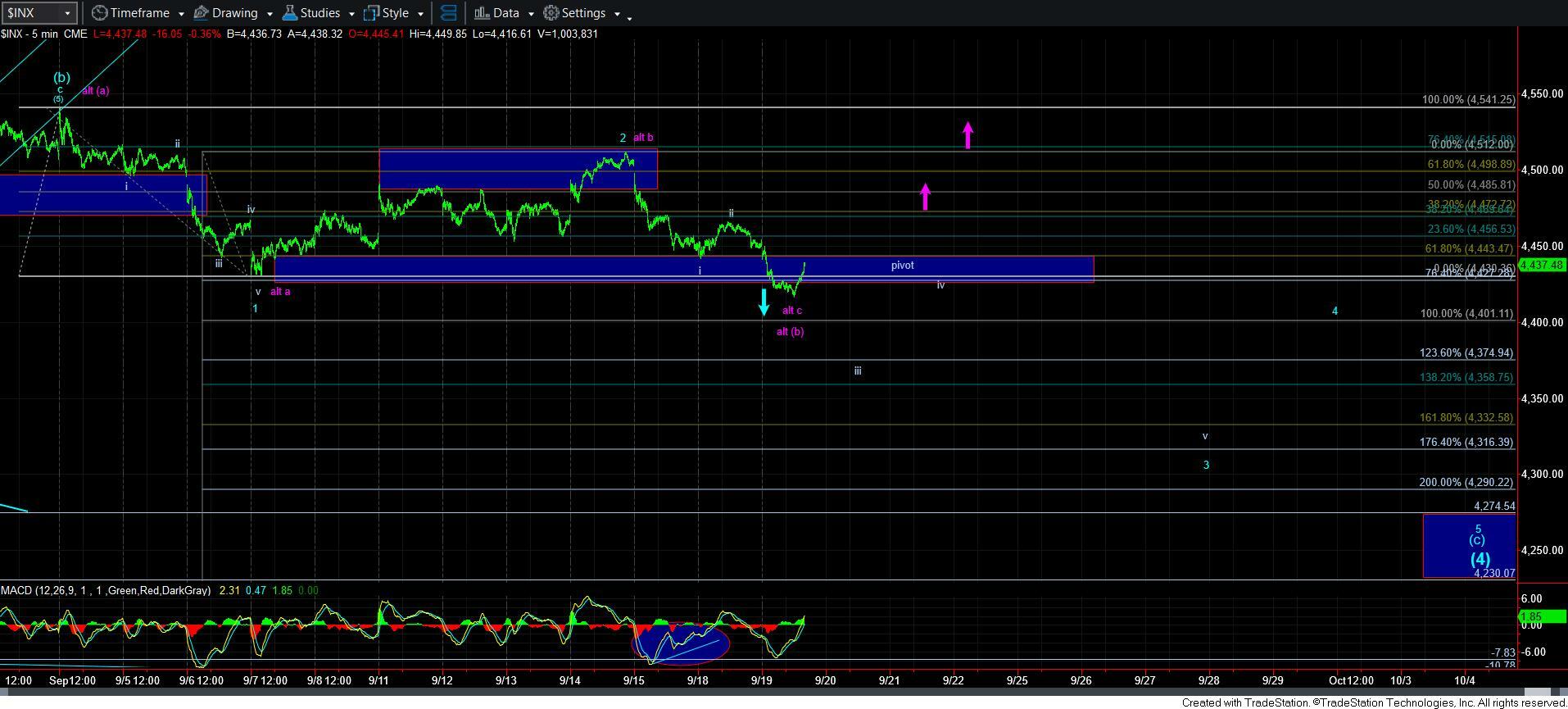 5minSPX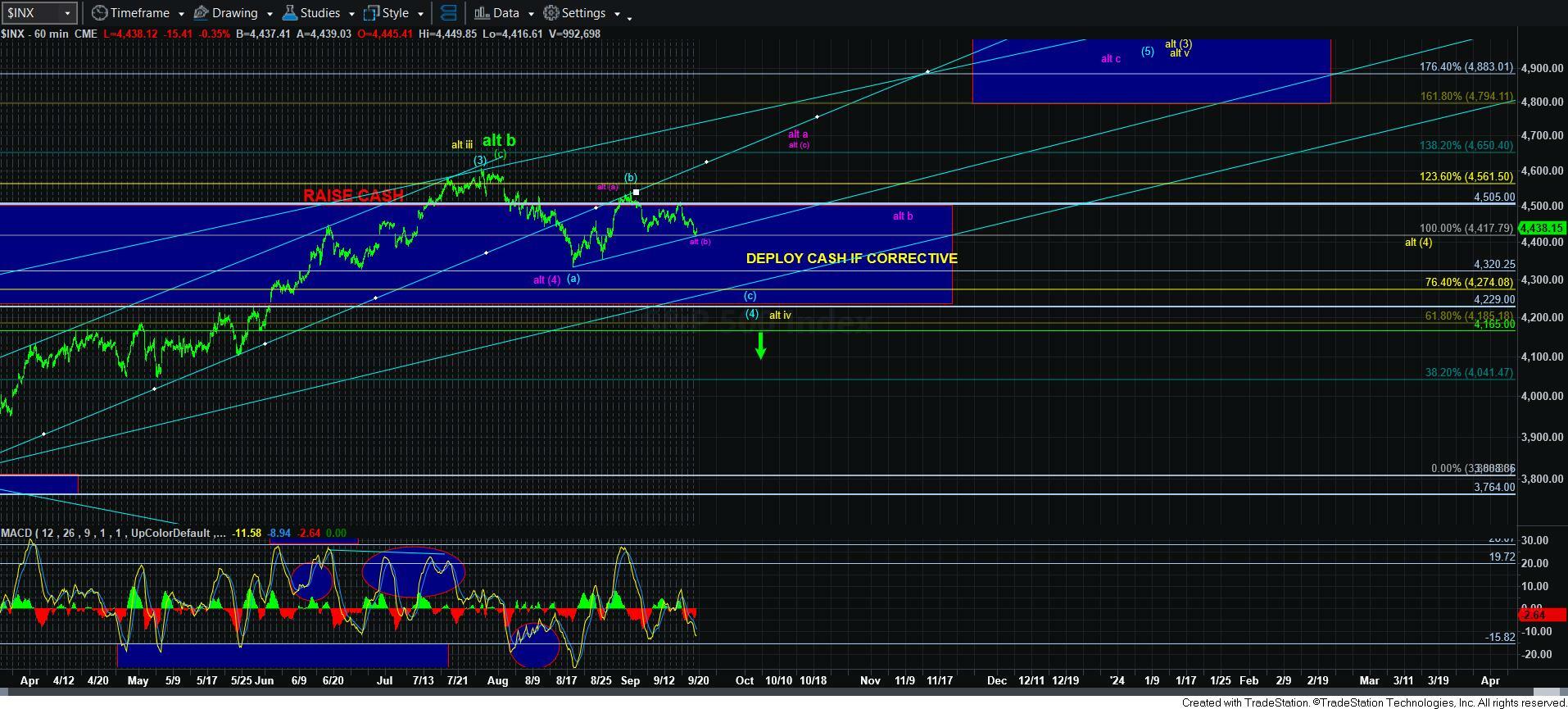 60minSPX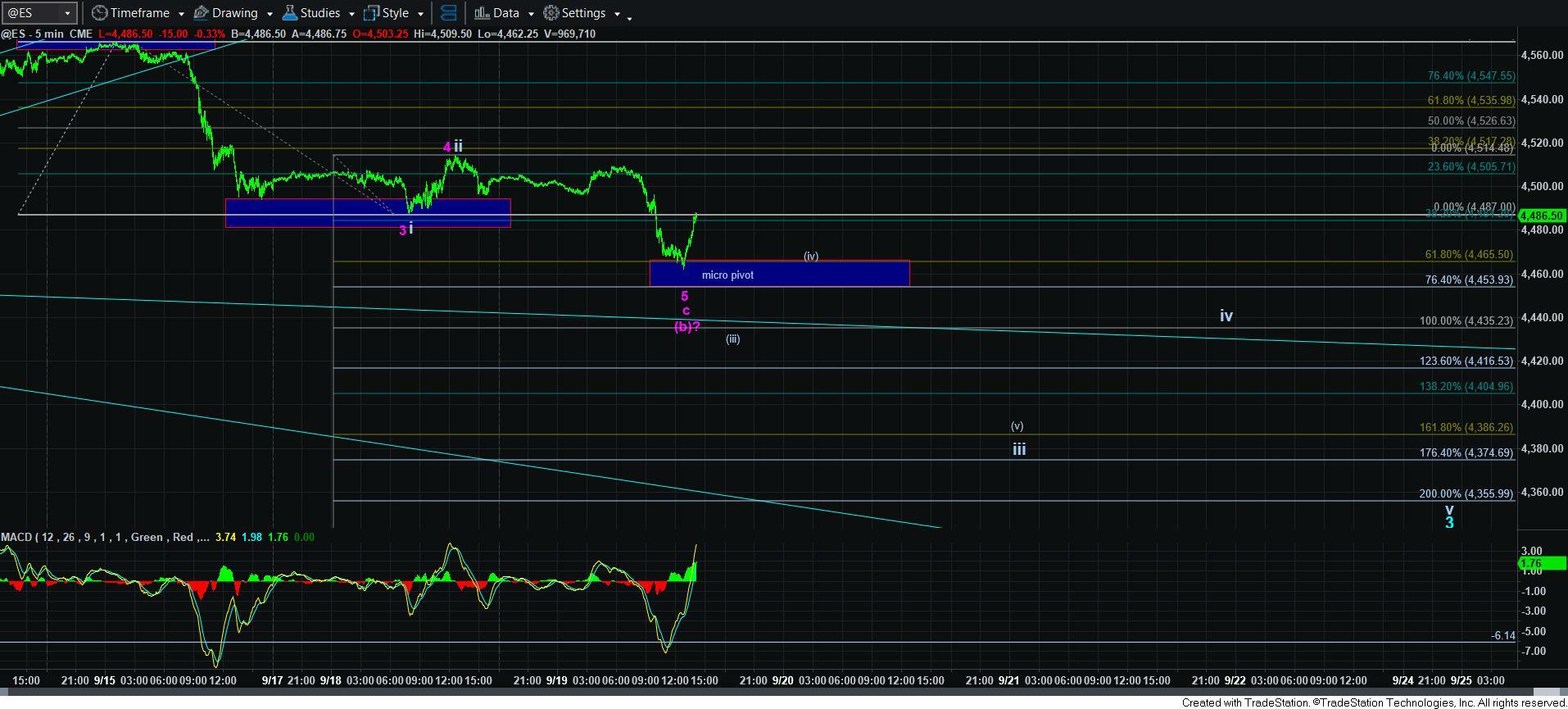 5minES