Several Ways To Slice This
When I left you last week, the market was pulling back into the .618 retracement of the rally we got that week. And, I noted that as long as we hold that support, I would expect the market to rally to the 3700SPX region for wave i of [iii] in a bullish structure.
The reason I picked the 3700 region is because that was the .618 extension of waves [i][ii] and that is the typical target for wave i of [iii]. So, while we did get a sizeable rally to begin this week, it well exceeded the .618 extension, and even slightly exceeded the .764 extension. It is not often that we see wave i of [iii] extend that far. This certainly puts questions in my mind as to the potential bullish structure off the recent lows.
Yet, if we were going to get an a-b-c corrective rally, that came short of its ideal a=c target. So, it seems as thought the market is playing in between the lines of both potentials.
As you can see on the 5-minute ES chart, I am still giving some room to the more bullish count as long as we hold the 3660ES support right now for a potential wave ii. However, should we see a sustained break below the 3660ES, then I am going to have to assume that the rally was an a-wave, with the current pullback a b-wave. And, take note, that would bolster the potential of the "top-is-in" count, with this current rally then being a corrective rally, as outlined in red on my 60-minute chart. Should this take shape, then I will likely move into this as my primary, and the higher high as an alternative. Therefore, I think this is quite important as to how the market reacts over the coming week or so.
Now, some of you may be considering that this a-b-c rally may just be another 4th wave, pointing to a test of the 3430SPX region. Of course, that is certainly well within reasonable probabilities. But, I am still relying on the MACD on the daily chart to have me leaning towards the low being in place for now.
So, the bulls are going to have to thread the needle here. They will need to hold 3660ES, and follow through to the upside through the pivot of 3775-3795ES and then not break back below it. It's a tall order, but this is what I am going to have to see over the coming days to maintain some amount of bullish bias for a higher high in the coming year or so.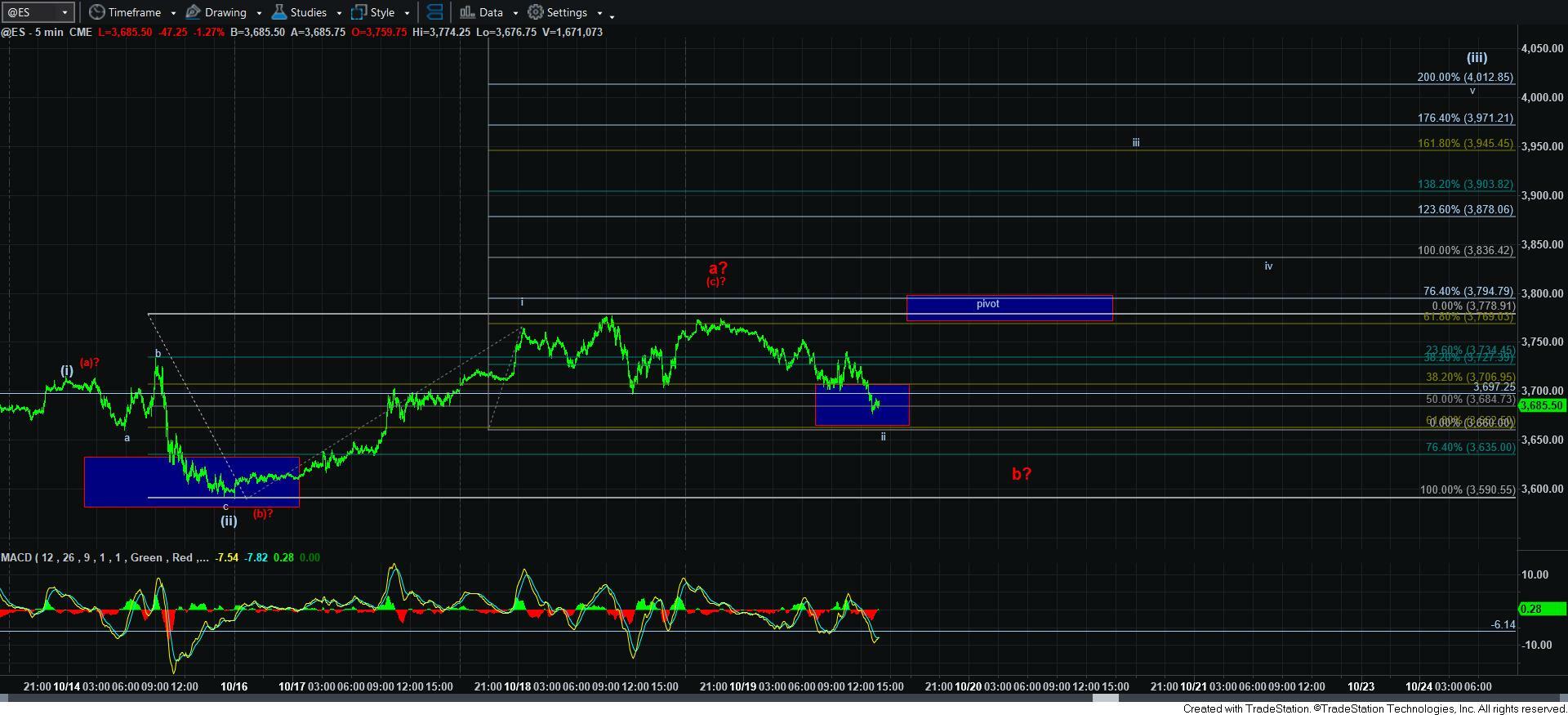 5minES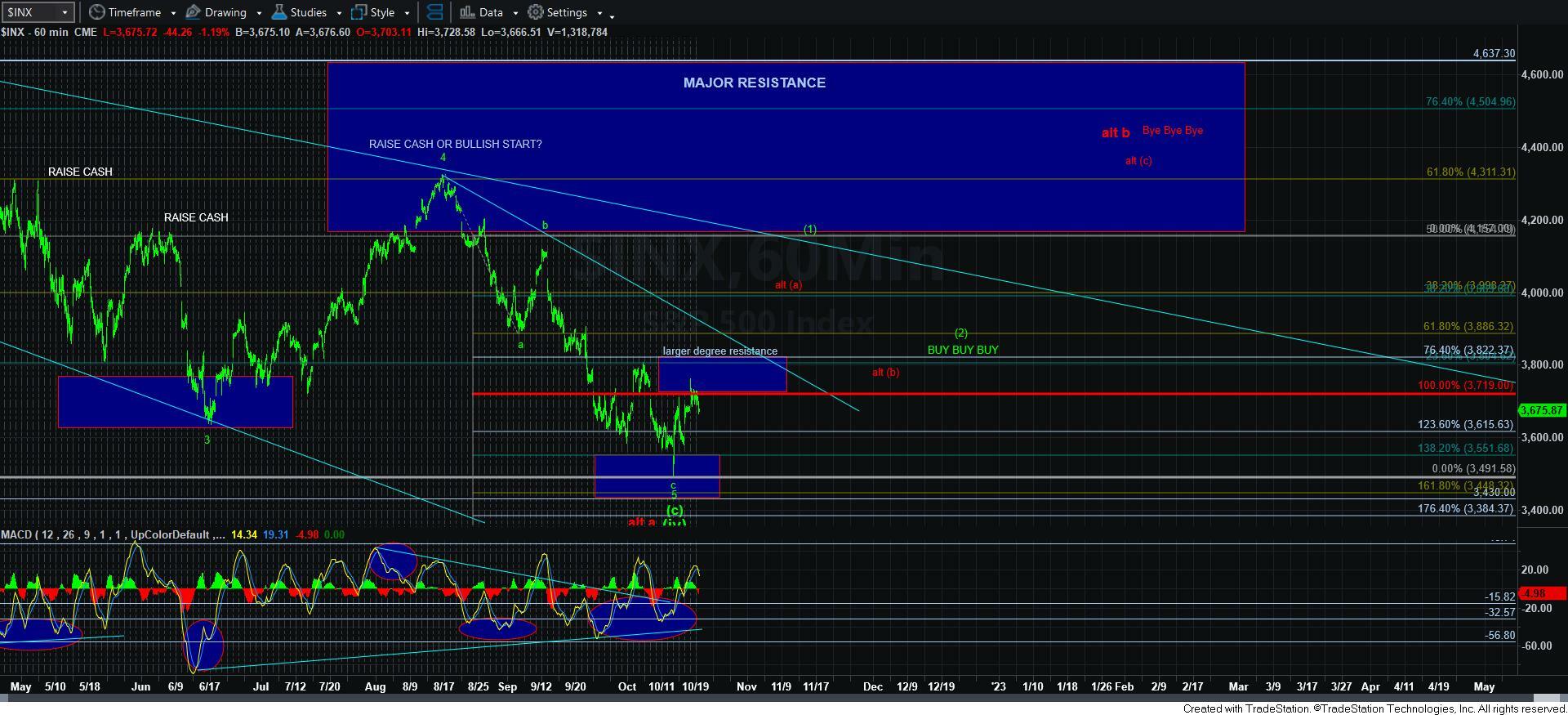 60minSPX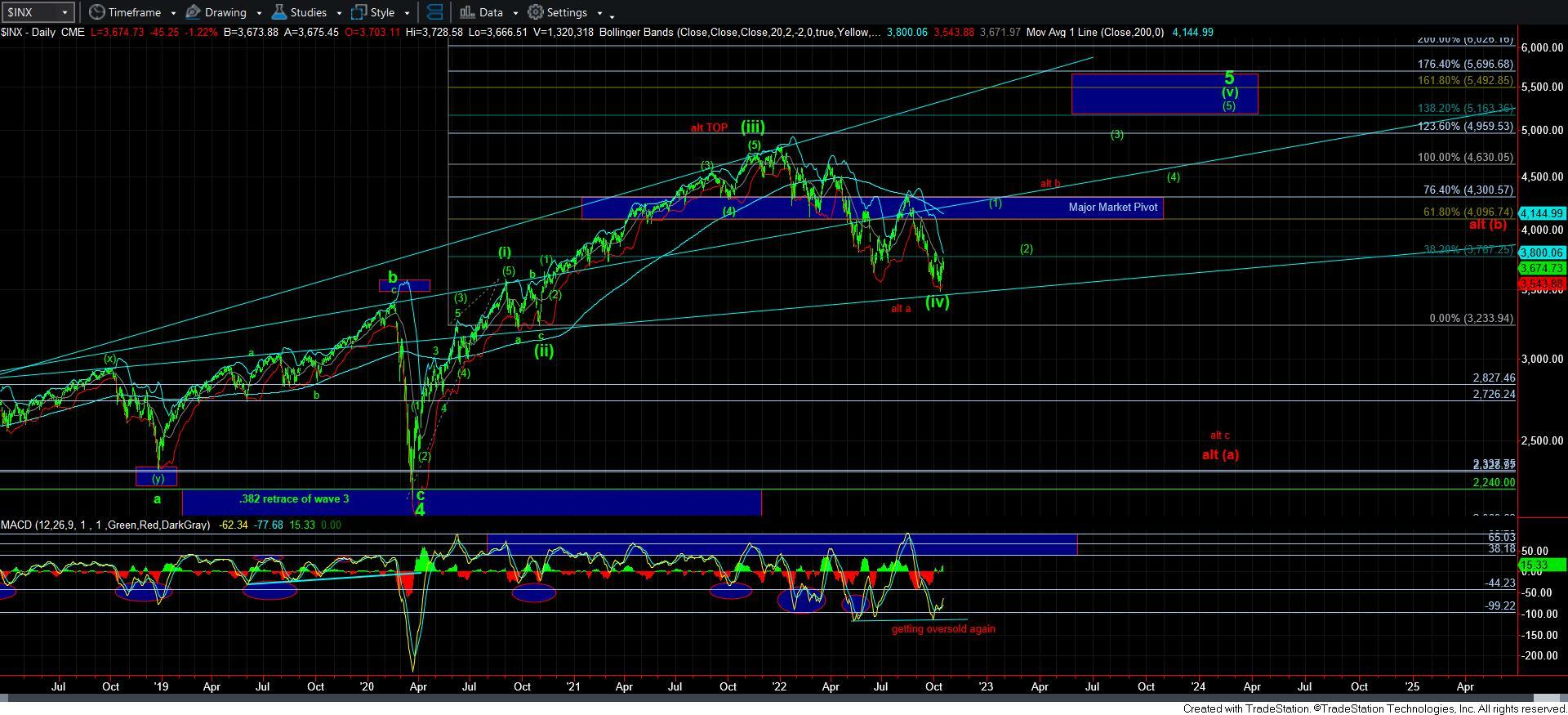 SPXDaily