SPX Pushes To New Highs But Still In The Topping Region
Today the SPX continued to push higher breaking the previous high struck on November 14th thus making it less probable that this move up is still part of a wave b ready to turn down imminently in a wave c. Now I will note that while the SPX has broken this high the ES has yet to break that high so I am still going to allow for this move to be the wave b which I am now showing in red on the SPX 5 min chart. I do however think that it is less likely that we are topping in that wave b thus making it more probable that we are going to push a bit higher to finish off this pattern.
Even with a push to new highs, it does not change the larger degree count as I am simply counting this push to new highs as an extension of the green wave (a) or yellow wave (1) as shown on the 60min chart. In fact, I think that this push to new highs fills out a better five wave move up off of the 11/3 low for the wave c of either that wave (a) or the (1) of the yellow count. So with that being the case, I do think we ideally should push a bit higher to finish off the micro pattern as I have laid out on the SPX 5min chart. I have good fib confluence in the 4042-4050 region on the SPX which also should get the ES to a point in which it pushes over that high stuck on November 14th thus giving us a pattern that is not truncated.
The initial signal that a top is in place will come with a break back under today's low of the day at the 3998 level followed by a break under the 3988 level. From there I would then want to see a move into at least the 3800 level which is near the upper end of support for the wave (2)/(b) as shown on the 60min chart which comes in at the 3821-3612 zone below. As long as that zone holds on the next larger pullback then we should see a larger degree push higher in the later part of 2022 and into the new year.
So again and as noted above, I am not viewing this push to new highs as changing the overall and larger degree count all that much at this point in time and in fact I think it cleans things up quite a bit. I still am looking for a pullback over the next several weeks before seeing a strong and sustainer break higher. That said and until we see a break of the support levels noted above I do think this may have a bit of unfinished business to the upside before that top is seen.
SPX 112312 5m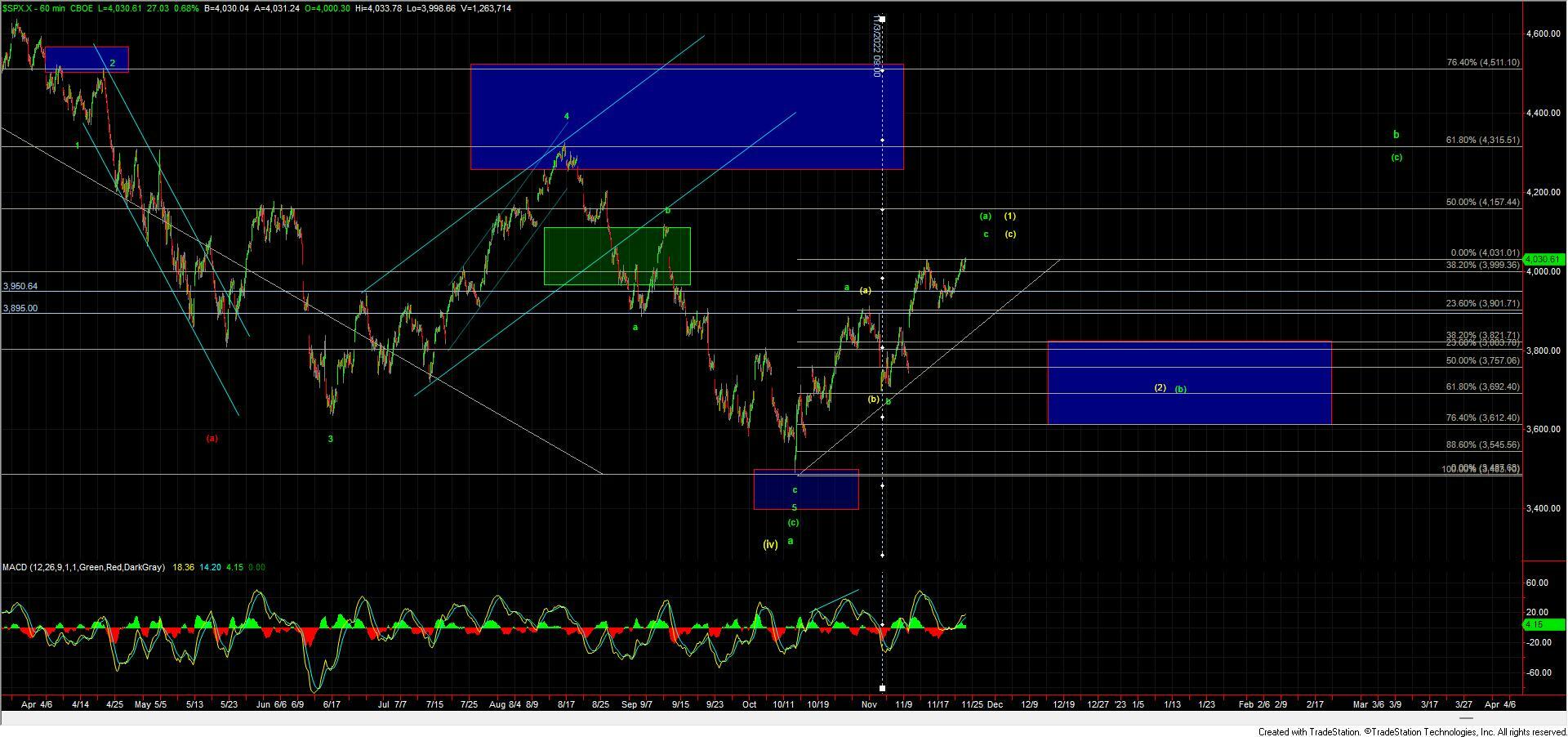 SPX 112312 60m