Risk Continues To The Downside As The Market Is Unable To Get Up Off Of The Floor
Today the market was unable to break out over even the lower end of the overhead resistance level to give a reprieve to this sharp move lower that we have seen this week. That inability to breakout has left the market sitting in a fairly precarious spot in which we have to be quite cautious of a continued "waterfall" type of accelerated move lower This is due to the fact that while far from ideal we do technically have a 1-2 setup sitting on the board as I am showing in red on the ES chart. That red count was previously labeled as the purple variant of the red count however with the direct push lower and break of the 3930 low I have now simplified that red count and placed the wave 2 at the 3979 high. The reason that this red count is far from ideal is the very shallow retrace of the potential wave 2 as it only hit the 23.6 ext of the potential wave 1. So with that, it is a bit less reliable than had we had a more standard retrace however the potential accelerated downside count under this case certainly is something that we need to be cautious of. Furthermore, I have been tracking a similar count in the Volatility space that simply refuses to break down which has me on high alert here. Finally, the Nasdaq continues to be extremely weak and has already broken the 9/6 low and is also sitting on a very similar bearish potential setup. Now I do want to note that even with a continued break to new lows I do have a more muted bearish count which I am showing in yellow on the charts which would suggest that the high at 3979ES was only a wave iv thus making the current move down a wave v of (c) of a b. This case would result in a bottom sooner than the red path but still could see another drop of anywhere from 50-150 points before that bottom is seen. So again while I do have some issues with this red count there is still enough of a risk of it following through that caution is certainly warranted in this region.
Red Count
Under the red count, we should see a continued fairy direct move lower with the next key pivot coming in at the 3833-3799 zone. This represents the 61.8-76.4 ext of the wave 1 under this case. If we do break through this zone then the next key pivot comes in at the 3743 level which is the 100ext of the wave 1. Should we see a break of that level then the door would open up to see a move into the 3653-3508 region before an ultimate bottom is seen in the red wave c of (iv).
Purple Count
The new purple count would suggest we see a larger retrace for a wave 2 after bottoming in a wave 1. I do not have great confirmation of this in the other charts that I am watching but it still remains a possibility as long as we hold over the 3799 level. Should we see a corrective retrace higher while holding that level this count will remain valid.
Yellow Count
If we can manage to hold over those upper pivot levels then we still could see the yellow count play out in which case I would expect the wave v of (c) of b to find a bottom, again somewhere in the 3833-3743 region. We would need to see a full five up off of one of those fib levels to suggest that the yellow wave c up is underway. If we are unable to get a full five up off of one of those fibs then it would suggest continued downside action per the red count ultimately taking this back under the June lows.
So again while I have some issues with how shallow this retrace has been there is enough evidence out there to continue to be cautious here as the risks to the downside remain quite high in this region. When the market bounces the structure and depth of that next move up will help give us a better idea as to whether we are going to see the most immediately bearish path or whether the market is ready to make a longer-term bottom. For now, however, I do still remain cautious.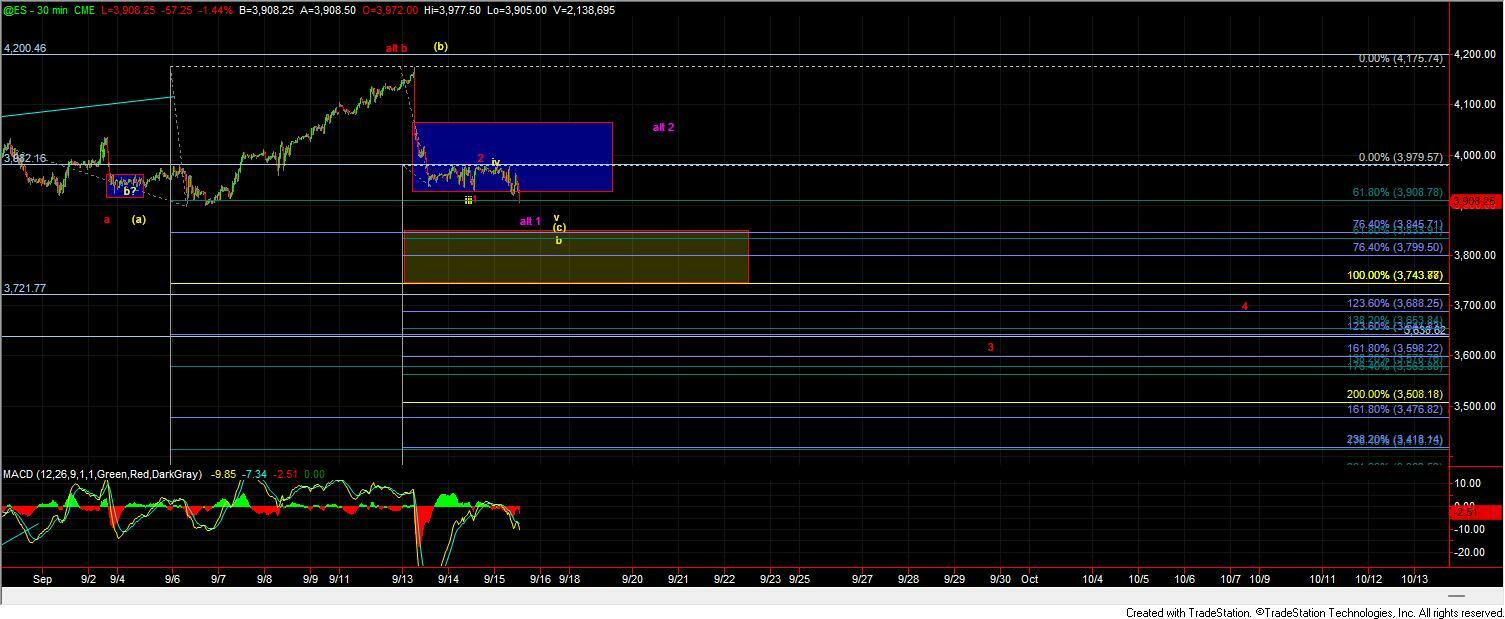 ES 30m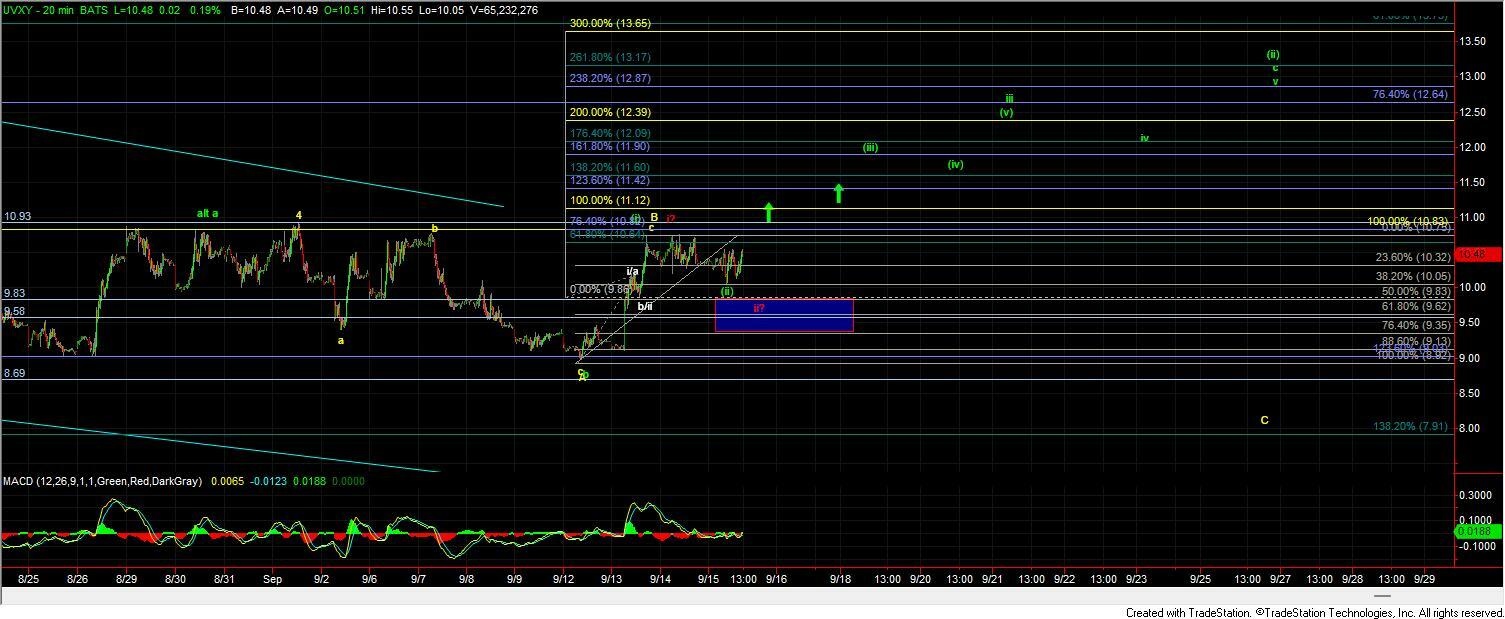 UVXY 20m
SPX 91512 60m