Remember, This Is A Bull Market
With the low holding yesterday, the market headed up towards our target for today in the 2475SPX region.
The question now is how extended this move wants to become. The micro structure suggests that this is only wave 3 in wave (v) of iii. That means the higher wave 3 goes, the more likely it becomes that we may even be able to make it to the 2480-2485SPX region in wave (v). And, should that occur, it makes it more likely that we can actually attain the 2500SPX level before wave (4) takes hold. But, if wave (v) tops out at 2476/77SPX, then we may not make it beyond 2487SPX for all of wave (3), which is the bottom of the long term target box on the daily chart.
Now, while we have been accurately tracking this rally up for quite some time now, and it has generally reacted as expected, I still have a word of caution to all those who are thinking about aggressively shorting for wave (4).
First, remember, wave (4) is a 4th wave, and will not likely take us down to the 2300-2360SPX region in a straight line. Since wave (2) was quite sharp to the downside and quick, the rule of alternation would suggest that this can be a grinding wave (4), and it may even turn out to be a triangle, as I had mentioned months ago.
Second, remember this is a bull market, and bull markets are known for their extensions. While the smaller degree structure is only pointing to the bottom of the long term target box, the market may still provide us extensions that take us deeper into our target box.
So, while it may make sense to lighten up on your long positions as we head towards our long-term target, or even hedge your long term portfolio, I would not be suggesting aggressively shorting a 4th wave pullback. Remember, these 4th waves have a way of chopping traders up.
For now, as long as pullbacks hold over 2463/65SPX, I am still expecting one more 4-5 to take shape before wave iii completes, and it may take us until the end of the week to complete it.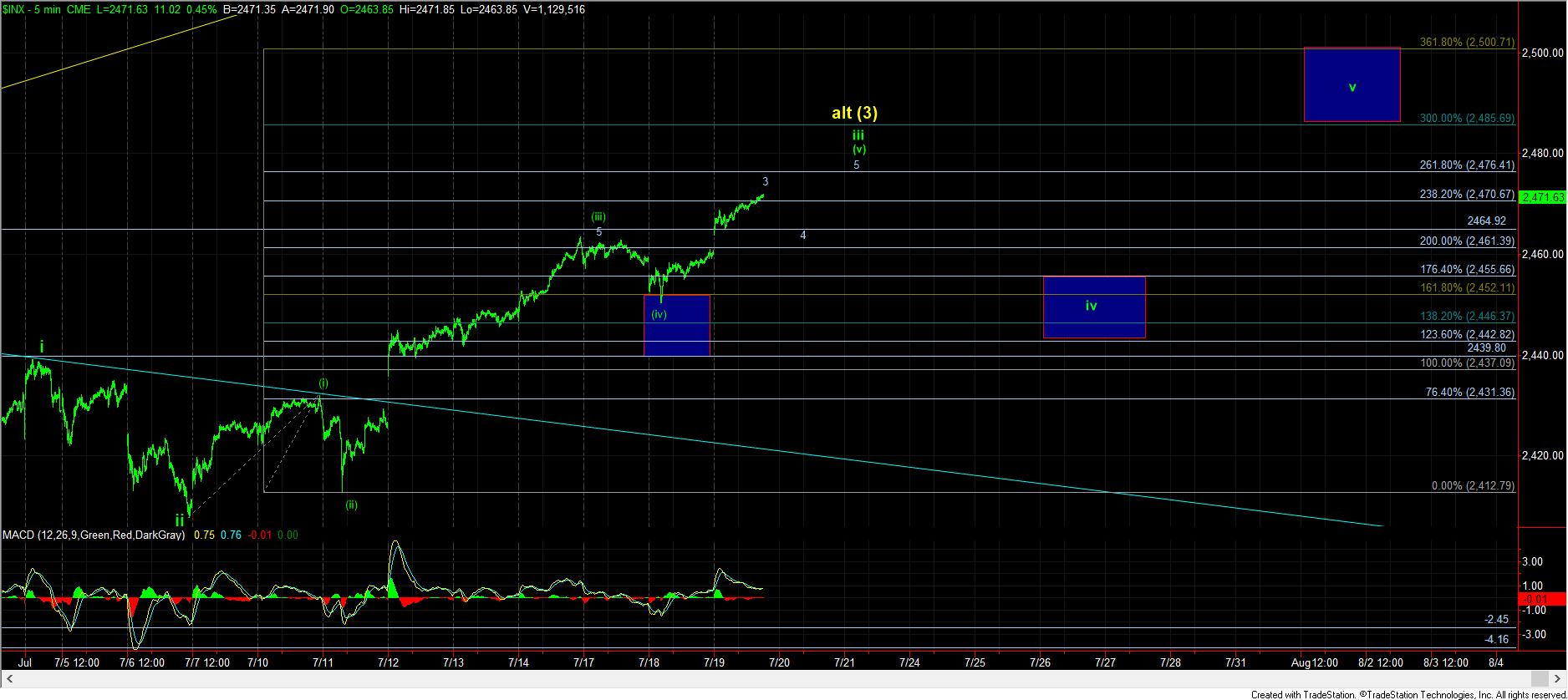 5minSPX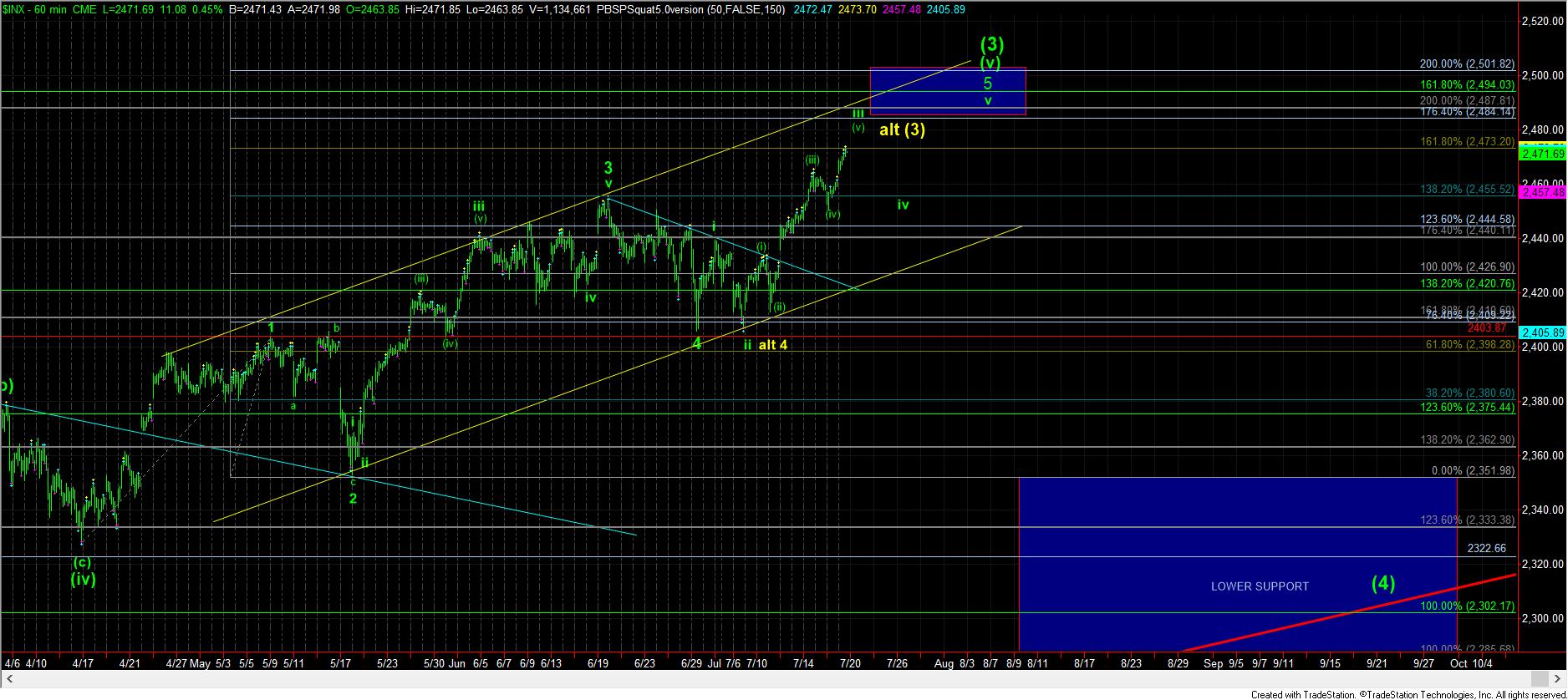 1-60minuteSPX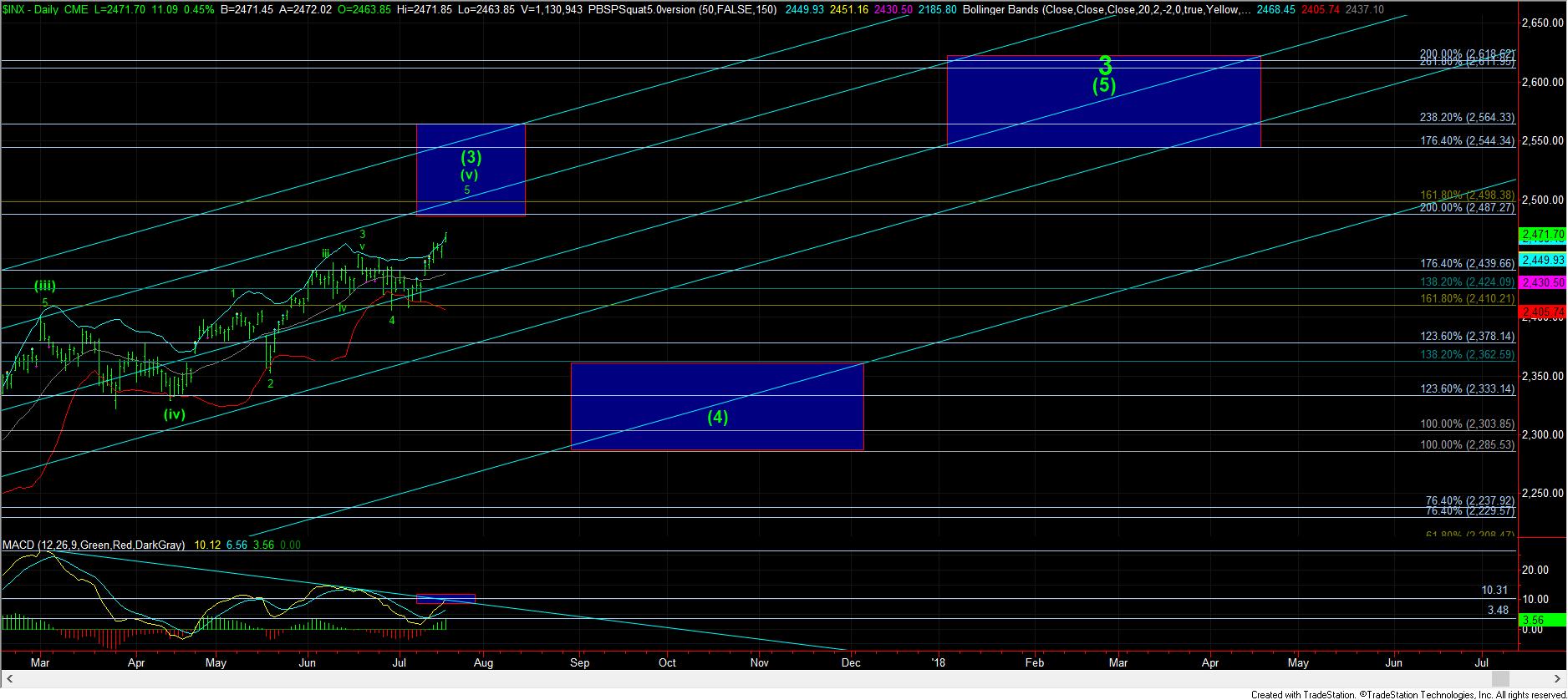 1SPXdaily