Questionable 5 Waves Up
I will continue to harp on this until the market actually provides a break out signal for us. As I have said time and again, I need to see a solid 5 waves up from a low, a corrective 3 wave pullback, which is then followed by a break out over the initial 5 wave high.
With the TF breaking out over a 1.00 extension off last week's lows, and taking us through 1229, it opened the door to develop such a signal. For most of what we were watching today, it was setting up as a standard impulsive move off the lows. That is, until the afternoon, when we broke back down below 1229.
Normally, in a standard Fibonacci Pinball impulsive structure, we should not have seen the TF break below 1230, and then give us a wave v of 3 to a higher high, to complete a 3rd wave off the lows. It would then be set up to provide a 4th wave consolidation, followed by a 5th wave higher to complete wave (1) of green iii off the lows. However, when we broke below 1229, it did not follow our standard path for an impulse, yet it did not exactly invalidate the impulsive count, since the pullback did not breach the wave I of its wave 3 up. So, it still can "technically" complete a full impulse up, with the top of wave 3 to still be struck, and followed by a wave 4 and 5, which is noted as an alternative in blue.
However, due to the deep pullback we had this morning, I would rather count this in the bullish case as a leading diagonal off the lows, assuming we are able to make that higher high. In this count it would mean that a corrective pullback followed by a take out of the high made for wave v of (1) would be a strong bullish indication, and the worst case scenario would be that the take out of the high would only be alt 5 in blue to complete wave (1), and we would just see another corrective pullback. But, I do want to be prepared for the eventuality that the market is ready to break out much sooner than the blue count would suggest.
All this being said, my primary count remains that we are in a wave 4 in IWM, and a b-wave in ES/SPX, with a further decline to be seen to complete the relative 2nd waves in both those patterns. A break down in TF below 1223 before it makes a higher high would confirm we are on our way to those lower lows. However, I am maintaining a VERY open mind to the bullish alternative at this time, should we see the confirmation noted above within the next day or two.
The reason I am putting this out this early is that the market is now in a position to confirm one of these counts, and I want to use this as a learning opportunity for all those reading this update.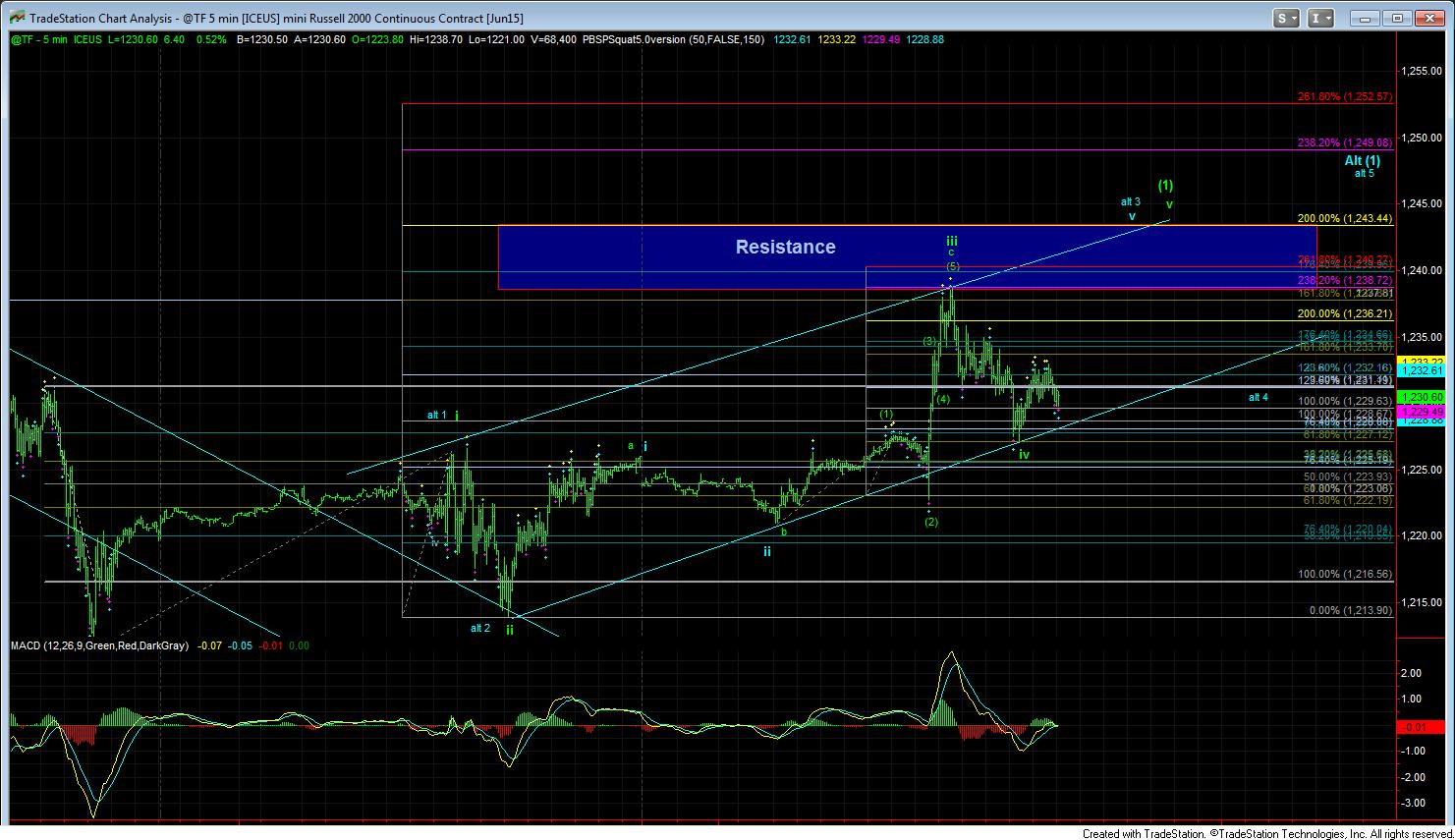 5minTF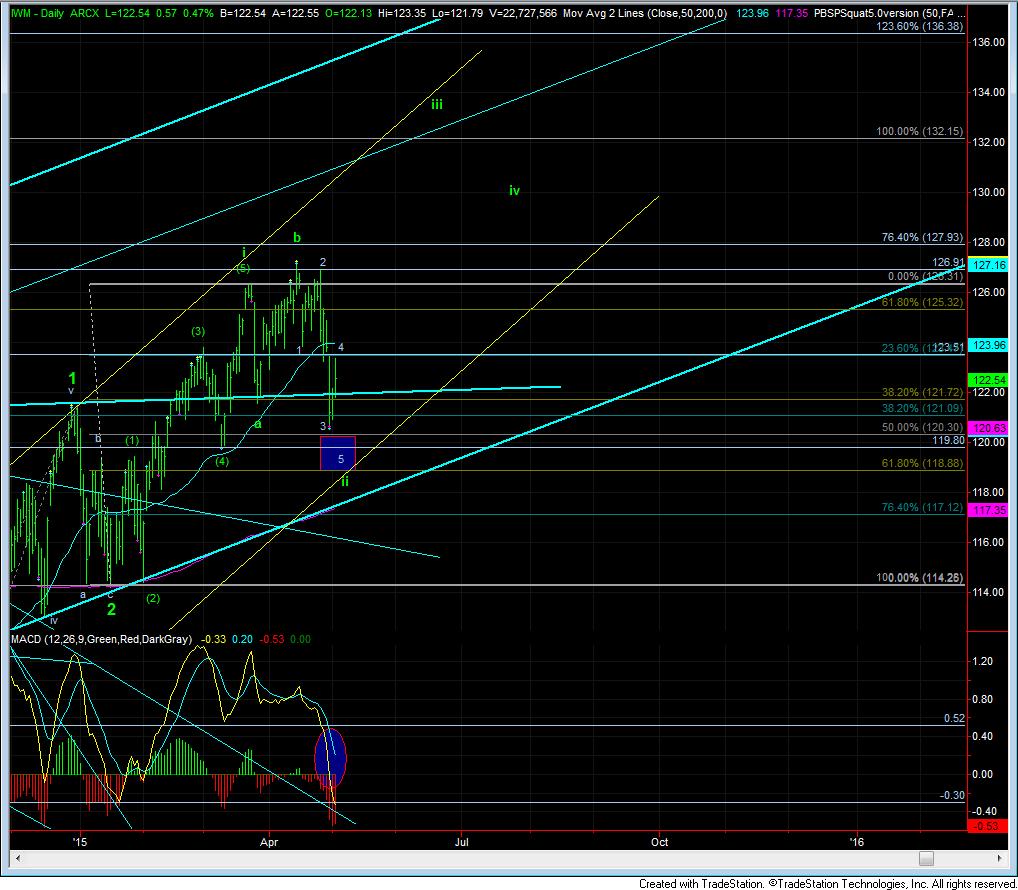 BaseCase - IWM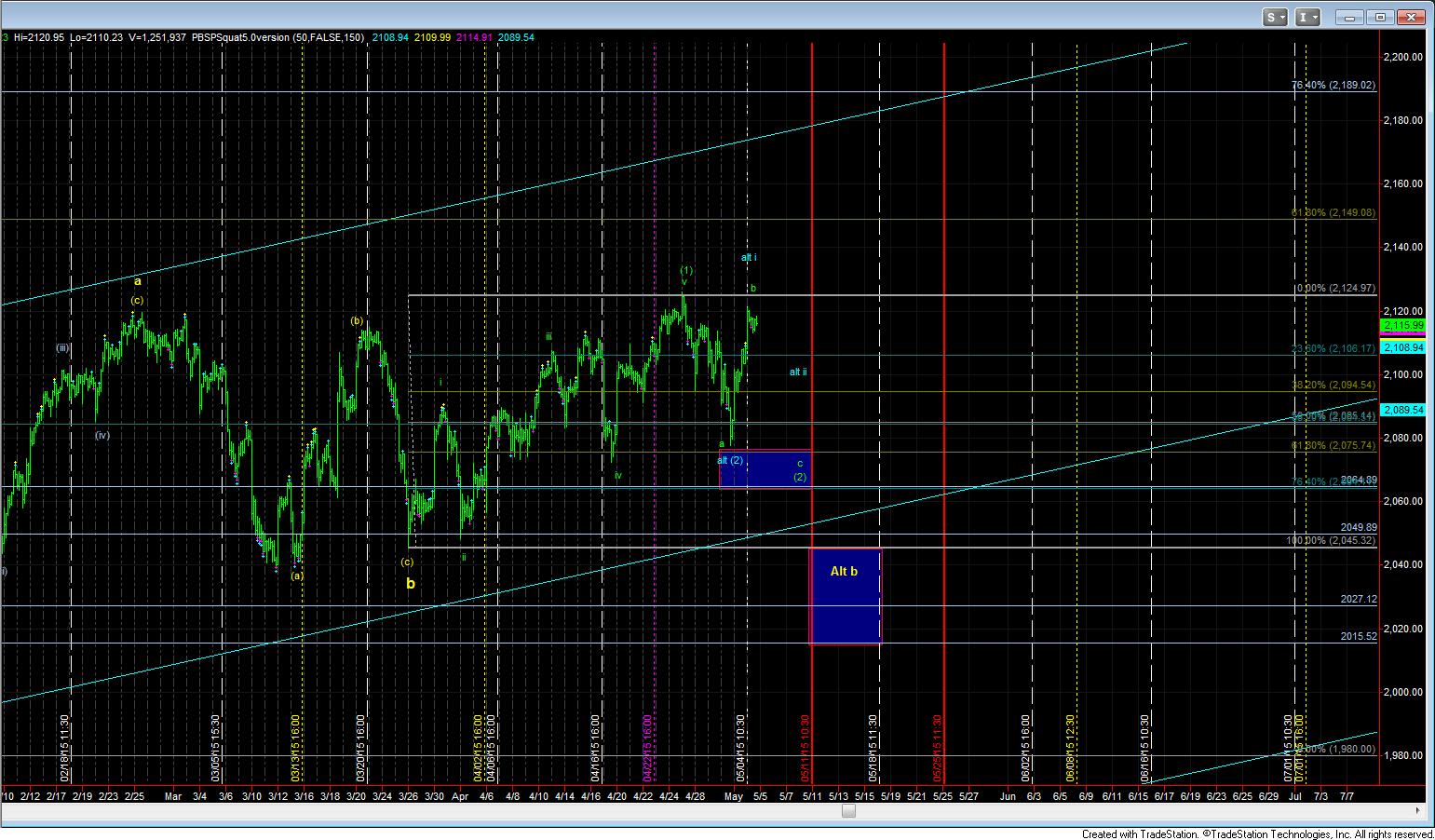 BaseCase - TurnChart